As requested in your July 2015 article, Keeping Water Clean and Fresh, we are suggesting an evaluation of the two-part liquid Pristine (www.pristine.ca) and the Puri Sol water treatments; both use a process utilizing chlorine dioxide for killing bacteria and viruses in contaminated water. This means of sanitizing is purportedly used in hospitals in Europe, and in our experience, it is easy and effective. We have used it in the flexible bladder tanks that were original equipment on our motor-sailer for many years. It is used, apparently, by the military, as well.
Loren and Sandy Acker
Seaweed, Fisher Northeaster 30
Sidney, B.C., Canada
In response to your July 2015 article, Operator Error Strands Vestas Wind: Youre right, of course, its operator error when a boat hits a charted reef, particularly one thats part of a 1,000-mile chain. However, this problem is why weve stuck to raster charts as much as possible on our boat. Those vector layers that show clear sailing unless you drill down are just too spooky. We know of several experienced crews that have lost their boats that way.
The obvious cartography solution is to make the top layer show everything that could sink a boat-just never show clear water unless its really clear. Small reefs would appear disproportionately large, but thats fine with us. If youre anywhere near an obstacle, you would have to drill down to find a way through. Its not simply that this standard would avoid disasters; it would also make the vector charts much less tedious to use. As it is, you really have to go all the way to the lowest level chart on every point of your planned course; otherwise, how do you know its clear?
Beth Van Zummeren
Via www.practical-sailor.com
I think your Standard Horizon HX870 review in the April 2015 issue was pretty good, but it missed a couple of important points.
Volume: My HX870 has noticeably less volume than its predecessor, the HX851 (which I also own). I teach small-boat sailing and am often on the bay using my radio in a Boston Whaler to coordinate with the other instructors in a Sunfish class. The HX851 has plenty of volume, even with the volume turned up only about 80 percent. The HX870s volume is inadequate, even with the volume at 100 percent. This is the most significant flaw. The HX870 is loud enough in a quiet environment ashore, but not on the water.
USB & PC programming: The HX870 has a USB port on the side. You can download programming software for free from Standard Horizons website and use a standard USB cable to program the radio. This makes it much easier to program in waypoints in advance and to build a directory of MMSI numbers than it was with the HX851. You can also use the software to program in the MMSI for the radio. You only get one chance, and doing it from the PC software was easier.
Im not wild about the cover for the USB port, but Standard Horizon (SH) guarantees the watertight integrity of the radio, so presumably they have done their homework.
Power button: The HX870 has the power button immediately above the push-to-talk (PTT) button. More than once, I have grabbed the radio and pressed the PTT button only to find I had actually turned the radio off. This is a problem. SH goofed on this design, in my opinion. The HX851s power button is more sensibly placed.
Manual: Some parts of the manual merely mention menu choices, without ever explaining them. Both manuals are about the same.
Battery: The chart in the April issue says the battery in the HX851 is not user replaceable. The battery is replaceable. Both radios come with a rechargeable battery as well as a battery tray that will take AA batteries. You can buy replacement batteries. The battery snaps in and out with no fuss.
DSC distress button: The HX851s distress button is protected by a flexible, orange rubber flap. The HX870 has a spring-loaded, plastic flip cover. Im a bit worried that it might be possible to catch the cover on the HX870 and break it off. As PS noted, it looks like a more fragile design.
Size: The HX870 is only marginally smaller than the HX851, but somehow feels and looks much smaller.
DSC test calls: Both the HX851 and the HX870 support the DSC test-call feature. This lets you make a call to an MMSI number that is designated as a test. Every weekend Im on the water, I do a DSC test call to the local Coast Guard station. When you do the test call, your radio pings the station you are calling with a signal tagged as a test call. The receiving station sends an acknowledgement signal back; all of this is automated. Doing a DSC test call assures me that if I need to whistle up the Coast Guard, all is well.
Robert Rice
Girl Scout Mariner sailing program
Houston, Texas
Ive enjoyed your magazine for several years now and have found your varnish tests especially useful. I own a pre-war Ed Monk Sr. cruiser with acres of brightwork. Pettits Flagship and Captains have been my basic varnishes, but I also use Le Tonkinois for some things.
Im wondering why Le Tonkinois (original or No. 1) was not included in this current round of tests.
Also, Ive heard that the Fine Paints of Europe (FPE) Marine Yacht Varnish is something special. Have you ever looked at it? Their paint is excellent, but they say their varnish is a real standout.
John Lebens
Sue Ellen, Ed Monk Sr. cruiser
Portland, Ore.
Not too long ago we tested three Le Tonkinois products-Le Tonkinois Vernis (original), Le Tonkinois No. 1, and the teak sealer Huiles Bio Impression, which we also tested with an over-coat of Vernis (original). The original formula was among our recommended products after two years, and the sealer overcoated with the Vernis finished slightly behind the Interlux Sikkens Natural Cetol overcoated with Cetol Marine Gloss. The Bio Impressions sealer initially rated well, but did not last long outdoors. (The maker does not recommend the sealer alone for exterior wood.) For a full report on Le Tonkinois products performance in our tests, see the April 2008, January 2010 and September 2011 issues online. We haven't tested the FPE varnish before, but well add it and the Le Tonkinois products-along with a few other test latecomers-to our ongoing wood finish test; look for a test update in an upcoming issue.
I read with interest the Creating a Custom Med Kit article (see PS July 2014 online). While creating your own kit and planning to use onboard resources is far cheaper than the off-the-shelf kits, I do have to take some issue with your recommendations.
The creation of an onboard medical kit at the outset can seem very simple, but actually can be complicated, depending on what problems a crew can handle. In developing a kit, there are several issues that really need to be addressed before even deciding on what to create. First and foremost, the length of the trip and time to medical care will determine to a fair extent the supplies and training needed. Secondly, plans should look first at the low-probability and high-risk events that could occur, which left untreated would end in severe morbidity or death, and then the potentially minor and common issues seen on board.
The longer the trip and the increased time to medical care will increase the complexity and cost of any medical kit. Besides having all crew medications, the person in charge should talk with their own physician to discuss what is feasible to treat.
For high-risk events such as a heart attack, stroke, etc., there is not much a crew can do; maybe give an aspirin, but fast transport to treatment is needed. For trauma, such as major bleeding, basic supplies and a commercial tourniquet is suggested. Creating a tourniquet out of a belt or other objects will cause more injury, might not work, and could cause loss of limb. In preparing a kit, a commercial tourniquet is preferable. If a significant event occurs that results in severe blood loss, shock, or loss of an airway, there is not much that can be done, again except for fast transport. Finally, anaphylaxis is a severe life-threatening allergic reaction. Time is essential. Having an Epi-pen, Prednisone and Diphenhydramine can be lifesaving.
Common, low-risk and frequent events such as contusions, abrasions, and minor lacerations require basic first-aid supplies coupled with a skin adhesive, steri-strips, etc. I would not recommend suturing unless trained in it. Suturing is not difficult, but on a bouncing boat, it is more difficult. Those not trained to provide anesthesia could use too much anesthetic, which can be toxic to the patient. Staples are much easier and can be done without anesthesia for small to medium lacerations.
Another common issue is seasickness. Prolonged vomiting can cause electrolyte abnormalities, not to mention significant dehydration. For onboard use, remedies include Odansetron, which is very inexpensive and great for vomiting, but its effectiveness in seasickness is questioned. Prevention is key, but if it occurs, having two different medications on board, both oral and suppository, can provide significant relief and hopefully prevent hospitalization.
In reviewing your recommendations on medications, there is a lot of redundancy, and it can be made simpler. Antibiotics for short trips are probably not worth the effort. If insistent, Keflex, Bactrim, and Doxycycline would provide coverage for most one would consider treating. The Medrol dose pack is not recommended; it is very expensive and not needed. Prednisone is more cost effective, coupled with the patients own medication. For allergic reactions, consider Prednisone, Diphenhydramine, and Zantac. Also I would recommend carrying an Epi-Pen on board; while very expensive without insurance, it just is expensive with it.
Finally, I definitely recommend that all sailors take a first-aid course as well as CPR.
It is best to keep any kit simple, use what is on board, and think of the common minor and severe rare events that the crew should be prepared for.
My background: I am board certified in Emergency Medicine and Emergency Medical Services; Im also trained in wilderness search and rescue. I have been an active sailor and racer since 1967-from racing Lasers to my current Beneteau First 38s5, including offshore trips and long-distance races such as the Port Huron Mackinac Race.
Marc S Rosenthal
PhD, DO, FACEP
Emergency Physician, Medical PhysicistStargazer, 1993 Beneteau First 38s5
The phone number for Signature Finish listed in the June 2015 article on exterior varnish was incorrect. The correct number is 772/287-6077.
Rigging Quiz Answered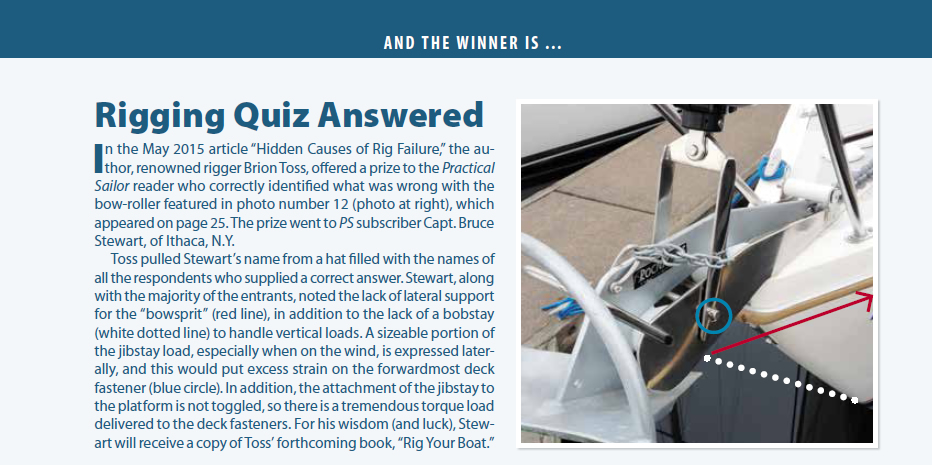 Water Filter Installation