After several fits and starts, the LED lighting revolution has hit its full stride. Sure, el cheapo LEDs with their flickering beams and buzzing radio frequency interference (RFI) still flood the market-the number of LED bulb factories in China is staggering-however, thanks to this report, the second in a series that began in the May 2014 issue, you can now invest with confidence in that long-postponed interior lighting overhaul.
To produce this report, our own ursus technophilus, Ralph Naranjo, spent a long winter in the dark cave of his basement, flicking switches, checking meters, and staring into pools of light on a neutral gray screen. When he emerged, he carried with him a fistful of LED lights that not only promised to reduce the power requirements of your interior lights six-fold, but to do so without producing a discordant hiss on your VHF radio.
Practical Sailor has been up to our hips in LEDs in recent years. Naranjo metaphorically shimmied up a mast to compare LED tricolor lights (see PS February 2010 online), and in 2013, he evaluated seven different spreader lights (See PS August 2013 online). PS Editor Darrell Nicholson delved into the world of interior lighting with a few updates (see PS May 2010 and January 2009 online), but that was before sophisticated solid-state circuitry swept through the market.
The new LED lineup is dominated by dimmers, bi-color lights, touch switches, and watertight seals. Sailors who lived through the days of kerosene oil lamps can appreciate the LED revolution better than others, but you don't have to be an antiquarian to appreciate the way LEDs turn a grotto-like cabin into a brightly lit home without draining the boat batteries.
Its easy to underestimate the energy savings achieved through a switch to LEDs. Over a five-hour period (one night), five 10- to 15-watt incandescent cabin lights can account for 40 to 50 amp hours of energy use. Substituting equally as bright, LED cabin lights can result in a five- to six-fold reduction in overall power usage. So, by transitioning to LED technology, your five cabin lights will consume approximately 7.5 amp hours. No wonder so many sailors and boat builders are swapping out older incandescent lighting for the LED alternative.
What we tested
We tested 26 LED lights from nine makers. Manufacturers ranged from smaller companies that target the U.S. recreational vehicle market to multinationals like Hella Marine and Imtra. To simplify the reporting, we divided the test field into four specific lighting groups-bulkhead-mounted reading lights, small dome lights, large dome lights, and special-use lamps. In the May 2014 issue, we looked at dome lights; in this report, we focus on reading lights, overhead lights, and what might be called special usage lights. We also looked at three kinds of replacement bulbs. As in the previous test, we recorded the level of illumination as exposure value (EV); a higher number means a brighter light. (For details on testing, see How We Tested.)
Switches varied from traditional toggles and handy rockers, to touch-sensitive and variable dimmers that had no penetration of the housing. Some of the products incorporated red or blue illumination and high/low level switching. The trend toward Miami Vice-style blue drew groans of dismay from our testers. A more-welcome trend was the surge in waterproof lights, all good candidates for forepeak and locker illumination.
Bulkhead reading lights
The most uniform group in this test was the bulkhead-mounted reading lights, designed to deliver a relatively narrow beam of illumination. Makers offered either soft off-white or crisp snow-white LEDs. The variation in hue, measured in degrees Kelvin (K) of color temperature, averaged around 3,000 Kelvin for warm white and 5,000 Kelvin for cool. Anywhere within this range is suitable for a reading light, depending on your preference.
Alpenglow
Alpenglows large-diameter, brass (or chrome) bell reading light comes with a toggle power switch and a rotary dimmer. The single-point LED light delivered the brightest beam of the reading lights. It also provided the largest diameter illumination of all the reading lights. The built-in digital dimmer efficiently controlled intensity, and the beam was very even and consistent. There was very little RFI feedback, and the two-wire connection was simple.
Bottom line: Performance (9.6 EV at 0.4 amps) and construction quality earned the Alpenglow bulkhead a Best Choice rating for reading lamps.
MISEA
The MISEA Opal M LED adjustable reading light is a streamlined stainless-steel and translucent-glass lamp with a round rocker-style power switch. The dense blue glass shade houses a 2.03-watt, warm white, elongated LED bulb. The design configuration causes much of the light energy to be consumed in the illumination of the translucent glass reflector.
The MISEA Classic 21-LED light is an adjustable, brass, bulkhead-mounted reading light with a round rocker-type on/off switch. It required just .25 amps to deliver a bright, even light that was easy on the eyes.
Bottom line: While the deep purple/blue glow of the Opal M lamp housing might help set the mood on a contemporary powerboat, the amount of useful reading light (7.4 EV at 0.2 amps) lagged behind several others. Overall construction quality of the MISEA Classic (9.3 EV at .25 amps) was a little below average, but the quality of the light delivered made up for the shortfall.
Cruising Solutions Marinebeam
This traditional, chrome-brass, bulkhead light uses a G-4 LED disk. The Cruising Solutions Marinebeams reflector bell and mounting bracket construction quality was quite good, and thumb-screw adjusters added a functional feature.
Bottom line: Radio interference was minimal, and the warm, white light (9.3 EV at .25 amps) and lamps compact size make it a good bunk reader or addition to any nav station.
Imtra
Imtras Auckland chrome-plated, bulkhead reading lamp incorporates a heavy brass casting with a threaded, closed bell that incorporates an effective diffusion lens and conical reflector. The result of this combination of illumination, reflection, and refraction is a bright beam that offers welcome relief to older eyes reading small print. The diffuser helps modulate the beam for an even spread. The lamp tilts in two planes, but it has no friction adjustment. The tilt bearing was a little stiff in the lamp we tested, but thats better than being too loose.
Bottom line: Bright (EV 10 at 0.3 amps) and energy efficient, the Auckland was a close second to the Alpenglow. Its Recommended.
Special-use lamps
The least homogenous of our groupings, the special-use category comprises two groups of related product. The first is lights designed for illuminating large areas; the second is lights designed for ideal illumination for small areas.
Alpenglow
Alpenglows classic 10-inch by 6-inch by 2-inch dual red/white, high/low power lamp retains its signature hardwood trim, but the Montana maker has swapped out fluorescent tubes for top-tier LED components. We were able to put the antenna of our RFI-sensing VHF radio right on this light without even raising a whisper. The bright, wide-angle illumination is a byproduct of a unique custom-molded diffusion lens, and its an example of electronic success. The high-power setting sucked up 0.6 of an amp, but the illumination delivered was worth it. Testers liked the reliable simplicity of the high-quality rocker switches and the warm glow of chosen LEDs.
Alpenglows new 7-inch by 7-inch overhead light is slightly dimmer and draws less current than its big brother. Both lights come in solid teak, mahogany, oak, or cherry trim, are easy to mount and can turn a quarter berth into a cozy cabin.
Bottom line: These efficient overhead lights offer first-rate illumination with the support of a company that has long specialized in sailboat illumination. The larger, 10-inch by 6-inch light was our Best Choice for area-illumination.
Cruising Solutions
Cruising Solutions 18-inch High-Line Twin Tube overhead light is a huge source of wide-angle illumination. The dual-level lamp comprises two 12-inch LED tubes that pump out more light than any other source we tested. Commensurately, it also used more power than any other competitor.
Testers noted a hiss on the VHF receiver when within the 2-foot sampling zone, but this wont be an issue in the engine room, or galley, so long as it is remote from the nav station. According to Cruising Solutions, its lights are tested and EMC certified to EN55022, EN61547, and EN60945, which include the strict standards for conducted and radiated emissions.
Bottom line: If a bright working light is what youre looking for, this overhead light delivers.
Dr. LED
Dr. LEDs John model dual-color LED appealed to testers, and it seemed to fill the need for a bunk lamp. Its wide angle and even lighting characteristics deliver both reading light and general-area illumination. Energy-efficient red or white light is available, and testers measured current consumption at 0.1 amps (red) and .24 amps (white).
Bottom line: The low-profile, rounded ends, and oblong design make this a light thats easy to install and can fit in tight places. At just $59, it gets our Budget Buy pick in this group.
Hella
The Hella EuroLED Touch 150 is a sealed, touch-switch cabin light with multi-level red and white illumination. The single-source white light was bright (9.3 EV at 0.3 amps), and the peripheral ring of red LEDs delivered the most realistic red colored lighting-a tough challenge with LED lighting. The textured acrylic lens diffused light evenly over the illuminated surface.
The Hella DuraLED 12 is designed to survive the rigors of outdoor use. Its wide-angle beam, and sealed, waterproof design make it an excellent contender for lockers where wetness seeps in. It generated the least amount of RFI hiss in the Hella line up, which is quite quiet to start. Consuming just 0.2 amps, the lamp ranked high for efficiency.
Bottom line: Both of these New Zealand-made lights are Recommended. Either would be well-suited for forepeak or locker illumination, or lighting up odd corners in the engine room.
SalVinCo
The low-priced Salvinco lamps are fabricated with lightweight plastic housings. Unsealed, they are structurally much less rugged than the dedicated marine cabin lights in our test. However, the three units we tested (including two dome lights in the May 2014 report) were energy efficient and delivered even, appealing light. Our main question was whether lights designed principally for the recreational vehicle market could meet the needs of the sailor.
The 4-inch by 4-inch 21 LED Utility Light we tested for this comparison featured a plastic housing, rocker switch, and diffusion lens. It was equipped with a cool, white LED that didnt upset the VHF reception.
Bottom line: We were pleased to see that the budget-priced LED Utility Light successfully tamed RFI. A year of rigorous field testing should answer our concerns about durability; stay tuned.
Conclusion
The best LED lights incorporate reliable constant-voltage controllers, properly angled reflectors, and optically efficient diffusion lenses. In addition, the housing needs to be built sturdily enough to handle the wear and tear of the marine environment. Lumens count, but when it comes to reading or general cabin illumination, features such as even illumination, color temperature, and beam width take priority.
The radio frequency issues surprised us. In some cases, we noted that the RFI caused by a poorly suppressed light was actually impressed into the DC wiring and propagated throughout the boat. In such cases, putting a VHF handhelds antenna near a 12-volt DC power lead well away from the light would cause the reception to come to a halt, a potentially serious problem.
As we noted in Part I of this report series, testers generally preferred the warm tone, white LEDs over the cooler, bluer-hued alternatives. Although the sealed, touch-sensitive switches have sex appeal and an advantage in wet environments, we still prefer high-quality, rocker-type switches.
When it came to overall rankings, it became obvious that the higher cost lights from Alpenglow, Imtra, and Hella lead the pack. However, there are clearly some bargains out there in the middle- and lower-price ranges in some categories-particularly for dome lights.
The Alpenglow reading light rose to the top with its well-engineered housing and efficient, bright light. The Alpenglow 10-inch by 6-inch overhead light was our pick for providing wide illumination in the galley, salon, or larger berths, For tight spaces where wet is expected, the Hella Dura fits the bill.
Intensity, Angle, and Diffusion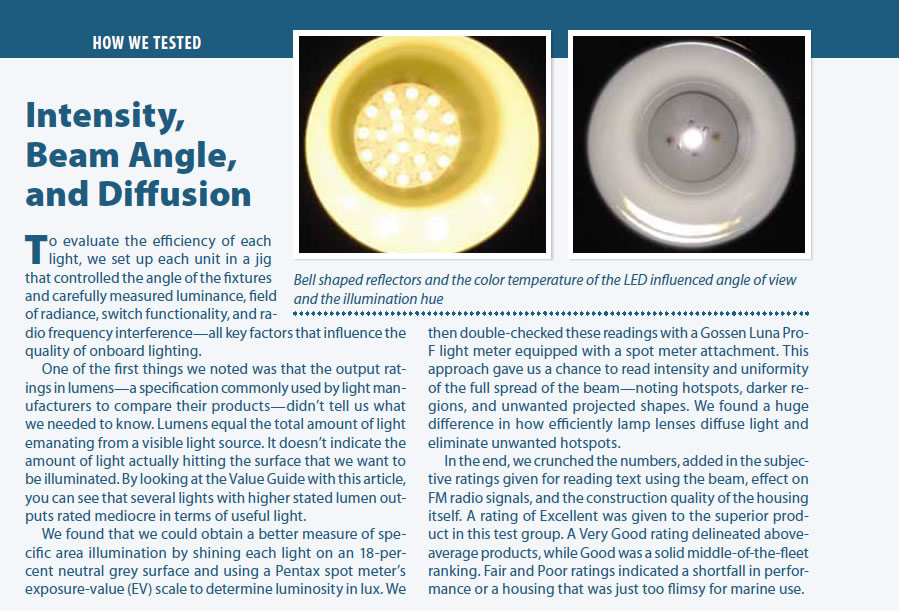 Led Cabin Lights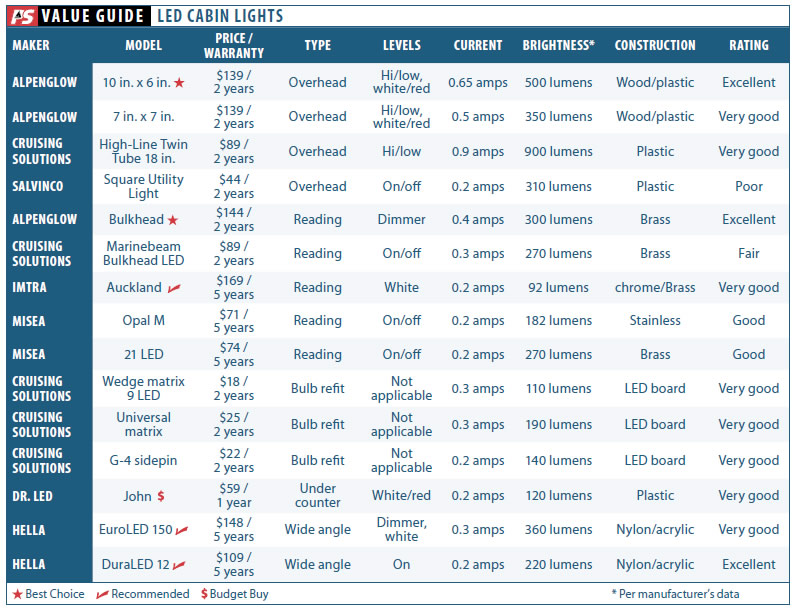 Switching to LED Bulbs