To begin with, lets make clear which Ericson 34 were reviewing about here because Ericson Yachts has a handful of boats in the 35-foot range. Back in 1967, the first Ericson 35 was a typical Cruising Club of America cruising boat, with a long keel and attached rudder. In 1978, an IOR-inspired Ericson 34 was introduced along with the 34T (same hull with a different deck). The boat we are describing here was built by Ericson and then by Pacific Seacraft, post 1991, where it evolved into the new Ericson 35.
Designed by Bruce King, the 34-2, was conceived an up-to-date racer/cruiser that combined sensible proportions-no IOR bulges in this one-with accommodations to meet the needs of a cruising family.
With healthy sail-area displacement and ballast ratios, a moderate fin keel, and a semi-balanced shallow spade rudder, it is an able PHRF performer. And with a fiberglassed hull-to deck joint, keel stepped mast, and lead ballast keel, it is built to take the knocks of cruising.
For a taste of what it looks like to ocean sail and Ericson (albeit the larger 38), you'll enjoy Christian Williams YouTube videos, like the one of his race to Hawaii (www.youtube.com/watch?v=z5m9yT06Khg).
Deck
The Ericson 34s cockpit and deck layout is a good example of what you should expect of a sensible crossover racer-cruiser from the late 80s. You'll see similar elements in the Sabres, C&Cs, Tartans and similar performance cruisers.
The T-shaped cockpit allows room for a 42-inch wheel, or enough room for the helmsman to squeeze past the standard 36-inch wheel to move forward. The raised cambered seat with gull-wing hatches offers an excellent view of what lies ahead and provides a extra vertical space in the lazarette.
The cabin-top mounted traveler means the single-handed sailor is out of reach of the mainsheet and traveler, but this can be remedied with minor modifications. A mid-boom sheeting arrangement can make the boom-end more vulnerable when the boat rolls in a seaway-but the boom is relatively high above the deck, so conservative sailing in a beam sea will guard against trouble (see The Best Prevention is a Preventer, PS July 2017).
The double-spreader rig and high aspect sail plan, combined with inboard shrouds and an inboard genoa tracks allow for tight sheeting angles, and will permit a boat with a good set of sails to easily tack through 90 degrees in a moderate breeze.
Outboard tracks mounted on the toerail permit more open sheeting for off the wind. The wide side decks, allowing easy passage fore and aft outside the shrouds, are about as good as we see in a monohull of these dimensions.
The boat we sailed was Nomad, a Pacific Seacraft built model owned by PS reader Brad Kuchinic, who keeps the boat in Chicago. The boats hardware was a step above the standard equipment listed in the Ericson brochure. The original specs call for smaller standard Barient winches, with only one set of genoa winches (Barient 27s). By comparison, Nomad is loaded for bear. Lewmar 52s are mounted aft on either side of the cockpit coaming next to the helmsman and matching pair of Lewmar 43s are in front of these.
A pair of self-tailing Lewmar 30s to starboard of the companionway are dedicated to halyards, reefing lines, traveler, and the mainsheet. Another ST30 and a standard Lewmar 24 on the opposite side of the companionway handle vang, reefing tack line, the other side of the traveler line, and jib halyard. The boat also featured a rigid boom vang that provides good control of the mainsail twist, as well as supports the boom when the topping lift is slack.
Jib furling lines as well as the genoa sheet was within arms reach of the helm. A simply lazy jack system made setting and dousing the main a breeze.
Although we're not big fans of mid-boom sheeting for cruising, keeping the cockpit clear of a track in this case is worth the trade-off. One of the biggest advantages of a the sail plan from a cruising perspective is the room it allows for a tall bimini top over the helmsman.
Engine
The 34-2s built by Ericson came with a Universal MD 25, rated at 21-horsepower at 3,200 RPMs. Like others built by Pacific Seacraft, Nomad is equipped with a Volvo MD-2030 developing 28 horsepower at 3,200 RPM.
With the added power comes some extra expenses for parts and service. Volvo parts for this engine can be three or even four times as expensive as those for Universal.
One of the known trouble spots on these engine is the fuel governor, which has some small springs and other components that can break and the engine will refuse to start. These should be in your engine spare kit if you are cruising.
Interior
Despite being relatively narrow compared to some of todays 34-footers, the Ericson 34-2 has a reasonably roomy, well thought out interior. A real teak and holly sole with ample teak throughout give it the appearance of a Maine-built boat, and all of the fittings and hardware are above average in fit and finish. Although our inspection saw no signs of leaks, some owners have complained about leaky portlights and soft cabin sole near at the mast step.
Starting forward, the conventional V-berth features storage shelves over, drawers and bins below. There are also twin hanging lockers on either side. An optional 25-gallon gallon water tank fits under this berth to supplement the port and starboard tanks (20 gallons each).
The keel-stepped mast dominates the main saloon. A fold-down centerline table surrounds it. To port is an L-shaped setee that converts to a double berth. To starboard is long settee, perfect for naps. Plenty of locker storage and an ample shelf lies above each settee.
The L-shaped galley has a double sink, top loading fridge. The tight counterspace is remedied partly by a fold-out extension. Because the galley serves as a passage to the aft cabin, the cooks domain can become a traffic lane if guests are aboard.
Opposite the galley is a forward-facing navigation station that is large enough for chart navigation, as well as space for mounting common electronics, like a navigation data repeater, autopilot control, 8-inch multifunction display, or radar.
Just aft of the nav station is the head and shower. Both are accessible from the main cabin. Although some would see this location to be less desirable than an en suite forward head, it makes good sense on a cruising boat. Aside from being convenient to anyone on deck, the aft head also serves as place to hang wet foul weather gear where it is quickly accessible.
Behind the galley is a double quarter berth with drawers and a small hanging locker and a pair of opening portlights to provide ventilation. While the berth will be stuffy in the tropics, it has enough ventilation that it will be quite comfortable in cooler regions, It also gives kids, or parents, their own berth.
We suspect that the full-time cruiser inevitably will convert this into storage for big toys, dive gear, folding bicycles, etc.-the danger is gathering so many bulky items that you wont have room for guests who do finally decide to visit.
Performance
Our afternoon sail on Lake Michigan in winds ranging from 12-15 knots with higher gusts was one of the better ones we had all year. Even in the moderate breeze, we tucked a reef in the mainsail and rolled up a portion of the 130 jib, down to about a 110. The main reason for the reefs was to accommodate the stronger gusts without fuss. Many of the readers of our surveys described the boat as tender compared to other boats.
While Ericson will heel sooner than todays beamier boats. Its proclivity to heel is more a function of its sporty, high-aspect sail plan. The heel never got beyond about 15 degrees all day, and locked in solidly at about 12 degrees.
The boat backs smartly under power, tacks on a dime and was exceptionally well balanced. Although one or two of our survey respondents mentioned weather helm, we suspect they may have been carrying a full mainsail in gusty conditions similar to ours.
In our case, each time a gust came off the tall buildings downtown, the Ericson responded quickly with only a modest amount of heel that quickly translated into a surge in speed.
The fact that we were able to hold 6.8 knots on every point of sail between 60 and 130 degrees apparent wind, suggests we had a good sail plan for reaching in those the conditions.
Theoretical hull speed is 7.2 knots, and thought the boat will surf at higher speeds off the wind, its more seakindly underbody tracks well during dinghy-like surges off the wind.
All of this is to say that even if you don't live in a windy city, the Ericson 34 will still offer an enjoyable sail in lighter winds, and will be a bunch of fun you when you bring an asymmetrical or spinnaker into the mix.
The nicest part was that the helm never went soft, nor did it round up sharply in a gust, a habit shared by many contemporary cruising boats (see Practical Sailor takes a look at trends in modern sailboat design, February 2009).
Conclusion
The Ericson 34 finds a comfortable middle ground between racer and cruiser about as well as any boat in this size and price range. In terms of value, it can be compared with Cals, Pearsons, Tartans, Sabres, C&Cs, and J-Boats of this era.
The Ericson 34 is a responsive boat that is both fun to sail, competitive as PHRF racer (rating range is about 125 handicap), and sensibly designed for coastal cruising, if not for more longer-term liveaboard adventures. It has the stability, construction standards we would expect in an offshore boat, and several of these boats have crossed oceans-proving their mettle in the Atlantic and Pacific.
Ericson-34 Interior Notes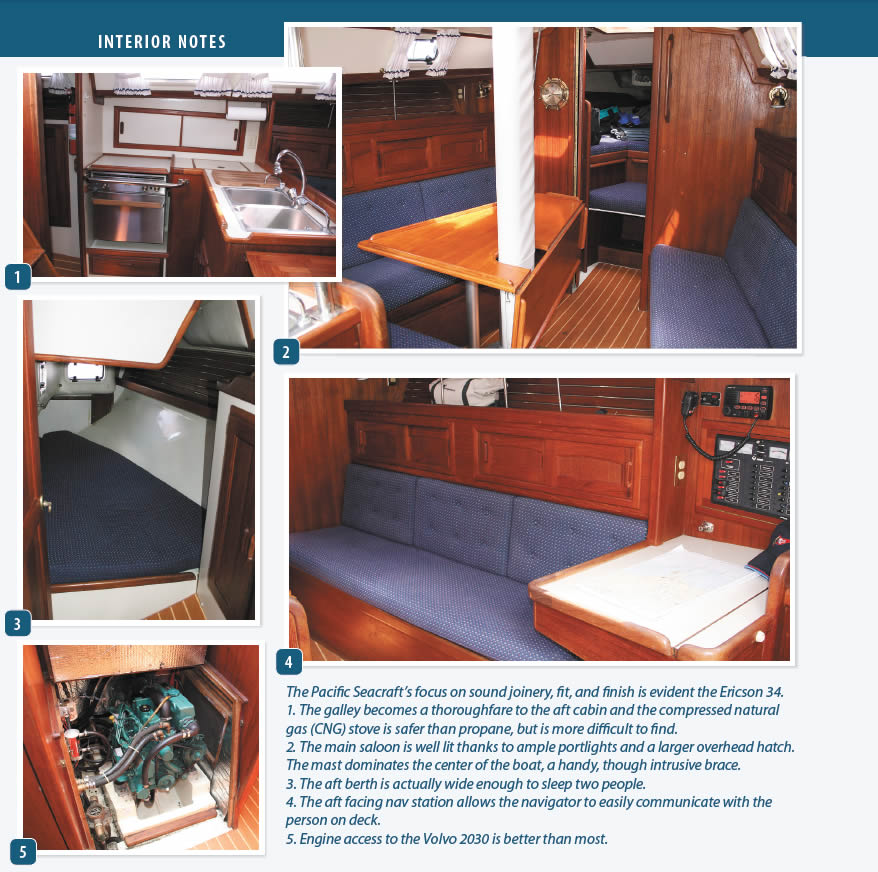 The Pacific Seacraft's focus on sound joinery, fit, and finish is evident the Ericson 34.
1. The galley becomes a thoroughfare to the aft cabin and the compressed natural gas (CNG) stove is safer than propane, but is more difficult to find.
2. The main saloon is well lit thanks to ample portlights and a larger overhead hatch. The mast dominates the center of the boat, a handy, though intrusive brace.
3. The aft berth is actually wide enough to sleep two people.
4. The aft facing nav station allows the navigator to easily communicate with the person on deck.
5. Engine access to the Volvo 2030 is better than most.
Pros & Cons: Ericson-34
Ericson-34 Construction Details
Used Boat Review: ERicson 34