In 1974, I was 22 years old and after reading Robin Lee Grahams articles in National Geographic and his book, Dove, I started my own sailing adventure quest. With a shoestring budget I bought a 27-foot 1969 Albin Vega and equipped it with the most basic equipment. The plan was to stop in Hawaii and sail back, but the South Pacific beckoned.
Photo courtesy of Tor Johnson; all others by John and Amanda Neale
Fast-forward 21 years to January 1996 and I was on the edge of another adventure with 140,000 offshore miles under my belt. I was sailing down the Antarctic Peninsula aboard my 1983 Hallberg-Rassy 42 with four sail-training students plus a new girlfriend Id met eight months earlier. Amanda Swan was working in the rigging shop in Auckland, New Zealand where I was replacing the rigging. On our first date I asked if shed ever sailed before. A little, she said, without letting on shed recently completed the Whitbread Around the World Race as rigger aboard Maiden. A week later we set sail in the Roaring Forties for Tahiti and Cape Horn.
In 2002, after nearly seven successful years of sail-training and having found a keen and capable partner, I took the plunge and ordered a new German Frers-designed Hallberg-Rassy 46. The starting out with new really paid off and we were amazed how few repairs and how little maintenance was required for the first eight years and 80,000 miles. At ten years and 100,000 miles we wintered in a Swedish boatyard specializing in refits. There we replaced rigging, lifelines, furler, engine components, and two hatches.
Now, after 200,000 miles, we've again sailed back to Sweden where we've replaced the engine, shaft, prop, teak decks, rigging, all instruments, radar, autopilot, fridge and freezer. Even though everything we replaced was still working, because we plan on sailing-training another 100,000 miles or so, frequently in isolated places, upgrading to new equipment made sense.
Navigation
I never dreamed GPS navigation would be so easy from my days of plastic sextant, Zenith TransOceanic radio and a Timex watch. Gone are the frustrating days of waiting hours for a break in overcast skies to take a sextant shot. While on ocean passages we continually run a small Garmin fixed-mount GPS under the hard dodger, carry paper charts for everywhere we sail, and plot our position every three to six hours on a small-scale paperchart.
For electronic navigation we have Navionics charts running on the Raymarine C80 multifunction display (MFD) and C-Map electronic charts running on a laptop utilizing Rose Point Coastal Explorer. Each has occasionally missed small islands or dangers, but theyve never missed a hazard simultaneously. We generally use both systems while sailing on soundings but mid-ocean well only periodically turn on the multifunction display to check AIS and radar.
We specified Autohelm ST-50 instruments on our current boat, and they proved incredibly reliable. Although they have been out of production for nearly 20 years, the few times we needed parts, the Raymarine repair facilities have repaired them with used parts scavenged from dusty shelves. This year, we will be upgrading to i70 series instruments, which draw less power and are far easier to read.
Recently both Standard and ICOM have introduced fixed-mount VHFs with built-in AIS transceivers, and were just now having an ICOM M506 (with a built in AIS receiver) installed. On passage we always have the VHF on, so I figure this will give us one more notification of approaching vessels when we might not have the MFD turned on.
We installed a Raytheon R20X 24-mile radar when the boat was built, but at ten years its motherboard died, and Raymarine said it was not repairable or replaceable. A 48-mile, 4 kW C80 replaced it and although it has worked flawlessly for ten years, the CF chart cards have been discontinued. Our new set will be a digital Raymarine Quantum 24C and an eS97 multifunction display at the nav station with an eS75 display in the cockpit. Im disappointed that its range is only 24 miles, but the lower power requirements and sharper resolution are welcome.
When it first became available, we added a Raymarine AIS 350 receiver and then a few years later replaced it with an AIS650 transceiver. Instead of installing a second antenna for the AIS, we installed a COMAR ASR 100 antenna-splitter which has worked flawlessly. Utilizing the masthead antenna means that we frequently receive AIS signal at up to 100 miles.
Communication
In 1975, while in Samoa I passed my amateur radio license and installed a ham radio, which I used frequently. When outfitting my third boat, an
HR 42 in 1989, I installed an ICOM SSB radio, but after installing a Trimble Galaxy Inmarsat-C Satcom, the SSB fell out of use. With our current boat I installed an ICOM M700 SSB, but have hardly used it since Iridium Satphones became readily available. For the past ten years weve carried two identical Iridium 9555 units, one mounted on a cradle at the nav station and wired into an external antenna mounted on the radar pole, and a spare kept in the ships safe, which acts as a Faraday cage. Ive tried several different pricing plans but now am pleased with pre-purchasing minutes in 500-minute blocks plus using compression software ($39 per month from www.uuplus.com). Once we leave European waters where very low cost GSM data is available, well likely add an Iridium GO!, which offers a $129 per month unlimited data plan.
The best find for data in 140-plus countries is T-Mobiles 4G LTE mobile Wi-Fi hotspot, with which we frequently have 4G coverage up to 30 miles offshore, without any type of booster or antenna. We currently pay $50 per month for 10 GB of data, but there is also a 6 GB plan for $35 per month plan. If you also have a T-Mobile phone, there is a $10 per month discount on the above prices. Because of the excellent coverage in places as remote as Spitsbergen, Iceland and the Faroe Islands, we've hardly used any Iridium minutes in the past cruising season and expect the same this summer as we sail from Sweden to the Med and then Canaries.
I researched and nearly installed an external Wi-Fi antenna and booster, but the international mobile hotspot has meant that was unnecessary.
For a handheld VHF, Standards HX870 floating VHF/GPS unit is tough to beat and we keep one in our abandon ship kit.
For receiving weather information, we use Sailmail's GRIB forecasts, a Furuno Fax 208 Weatherfax. And in Europe, we supplement that with a Furuno Navtex receiver.
Living Aboard Comfortably
On my Vega 27, I installed a Taylors kerosene bulkhead-mounted heater for warmth and sewed a simple sun awning for the tropics. I ditched the head to gain more storage space and increased the permanent 17-gallon water tank with two 10-gallon flexible tanks under saloon berths. Twelve-volt watermakers had not yet been invented.
A clean efficient heating system is a high priority of ours as we both enjoy high latitude cruising, with three trips from New Zealand to Spitsbergen, Norway and two seasons spent in Patagonia and Antarctica. Were delighted that our two original 20-year-old Webasto forced-air heaters are still working perfectly; we have them serviced every seven years. We've never needed to run both, even when we've been totally beset in ice. We've also found that in the tropics after a real tropical deluge with 100 percent humidity, occasionally turning on one of the furnaces for 10 minutes rids the boat of moisture thus preventing mildew and mold.
Instead of air-conditioning which would require an AC generator, weve relied on eleven Hella Turbo fans; one for each berth, and one in the head, galley and nav station. For extreme heat when not underway we have a substantial Sunbrella sun awning. Having 14 opening hatches and ports plus seven dorade vents also really helps.
Tasty drinking water is important. We are fortunate in having stainless water tanks installed with a standard replaceable-cartridge water filter. Weve recently added additional filtration (see Amenities, page 7.) Practical Sailor has covered water treatment in great depth and offered some useful tips for purifying contaminated tanks (see Keeping Water Clean and Fresh, PS July 2015).
To save water for many years I used a Sunshower hung from the boom for showers, then upgraded to a pump-up garden sprayer, but for running training expeditions on my HR 42 I installed a Katadyn PowerSurvivor 80E and on our current boat, a Katadyn Endurance 160 gallons-per-day 12 volt watermaker. Ive tried to be prompt about biociding the system after three days of nonuse in the tropics or seven days in temperate waters. This has allowed 6-7 years between membrane replacement. We may eventually replace this system with a Spectra watermaker, which offers twice the efficiency, but takes up more room.
In the tropics, a separate seawater shower on the swim step allows us to soap and rinse with seawater, saving freshwater for a quick final rinse.
Also in the living aboard category come heads, or marine sanitation devices. After ten years and about 400 sail-training students, we switched the forward (crew) manual Jabsco head to a Jabsco Quiet-Flush electric. Aside from the noise (it's not as quiet as it claims) and having the motor shaft seal wear out every three years, it has surprisingly required less maintenance than the manual version, with paper towels being its only downfall.
Energy Systems
In 1974, I started out with an old and unreliable Albin gasoline engine with a starter/generator and two Group 27 flooded batteries. The masthead anchor light (tricolor nav lights werent yet available) was one of my few power draws besides the ham radio. Solar, wind or towing generators were yet to be an option and I relied on kerosene interior lamps.
European boats over 45-feet are nearly always 24-volts since high-load items like windlasses, bow thrusters, electric winches run more efficiently and smaller, lighter wire can be used. We chose to have an optional 12-volt house battery and panel installed instead of individual step-down transformers, and this system has worked well. Items that werent available in 24-volts 20 years ago included VHF radio, Xintex Propane Solenoid, stereo, and Katadyn watermaker. These run on the 12-volt system. Instead of installing an AC generator, I built a tray in the engine room that holds an additional two 8D batteries, in addition to the two standard 8Ds for the 24-volt side. The 12-volt batteries, located under the aft bunks, consists of one Group 31 starting battery and two Group 31s for the 12-volt house load.
I have tried many different types and brands of batteries, but have been very pleased with the improved performance and longevity Lifeline AGMs. I really appreciate the fact that they are available nearly worldwide and are standard sizes. Monitoring the state of our batteries is easy: we utilize Xantrex LinkLITE battery monitors. It is simple to use, relatively inexpensive, and has stood the test of time.
For charging by engine, I installed an optional high-output alternator mounting kit from Volvo for the 95 hp TMD31 engine and added a 110-amp, 24-volt Balmar alternator with Balmar MaxCharge regulator. There is a separate 12-volt, 115-amp alternator though a splitter for the 12-volt house and starting batteries. We use the optional Balmar alternator and battery temperature sensors, which decrease alternator output if either is starting to overheat.
I switched the original Balmar alternator out at 7,000 hours, not realizing the only problem was the charge indicator bulb on the engine panel, and pulled the spare off at 14,000 hours when we repowered; it was still working perfectly. The engine we replaced last year had 14,300 hours, started instantly, never used oil, had good compression and identical oil analysis results as to when it was new.
Although 14,300 hours sounds like a lot of motoring, in those 19 years wed sailed the equivalent of seven world circumnavigations. In temperate climes we run the engine an hour every other day and in the tropics 30 minutes twice a day. The storage capacity means that we can go for three days in the tropics and six days in temperate waters with the Frigoboat fridge and freezer running without being plugged into shore power.
On passage we find that Aquair 100 towing generator covers 90 percent of our power needs, so that every second day well only need to run the engine for 30 minutes. Unfortunately, the Aquair is no longer readily available, although Hamilton Ferris says it is working on a new water-towed generator (look for a future report on these). On our previous boat, which had a 12-volt system, we towed a Hamilton Ferris towing generator for much of the 70,000 miles we sailed, and it provided 100 percent of power requirements while under sail.
Originally, I carried a portable step-down transformer to turn 220-volts to 110 volts to charge the batteries utilizing our Trace inverter-charger when shore power was available outside of North America, but last year we had two Mastervolt Chargemaster battery chargers installed (one for the 12v and one for the 24v) which accept 90-265 volts, 50 or 60 Hz input and they've worked flawlessly.
Conclusion
All equipment on a sailboat eventually wears out and the more miles you sail, the quicker the gear deteriorates. Manufacturers frequently don't support products past 5-10 years, and new replacement parts rarely fit older equipment without modification. This means that the long-term cruiser has to budget for a refit.
The good news is that the newer gear is always more efficient, lighter, smaller and better. Do your research. Don't purchase a product when it first hits the market and bear in mind that frequently there are bugs to work out with anything new.
Don't lose sight of why you're on the water – you can spend all your time outfitting and miss the freedom and joy of sailing! A sailboat is but a vehicle and platform to get you out there; in nature, visiting new places and meeting new people.
Amanda and John Neale spend seven months at sea sailing 10,000 miles a year while leading sailing training expeditions. The have more than 500,000 sea miles combined experience. When not at sea, they enjoy winter kayaking from their island home at Roche Harbor, eight miles east of Victoria, B.C. Their website is: www.mahina.com.
Ensuring Clean Water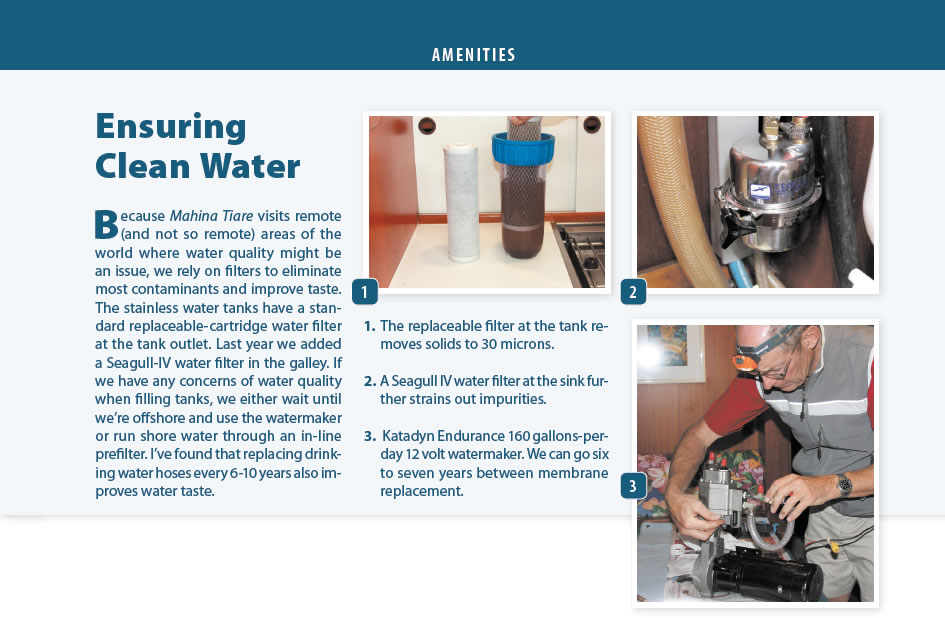 Because Mahina Tiare visits remote (and not so remote) areas of the world where water quality might be an issue, we rely on filters to eliminate most contaminants and improve taste. The stainless water tanks have a standard replaceable-cartridge water filter at the tank outlet. Last year we added a Seagull-IV water filter in the galley. If we have any concerns of water quality when filling tanks, we either wait until we're offshore and use the watermaker or run shore water through an in-line prefilter. I've found that replacing drinking water hoses every 6-10 years also improves water taste.
The replaceable filter at the tank removes solids to 30 microns.
A Seagull IV water filter at the sink further strains out impurities.
Katadyn Endurance 160 gallons-per-day 12 volt watermaker. We can go six to seven years between membrane replacement.
Energy and Monitoring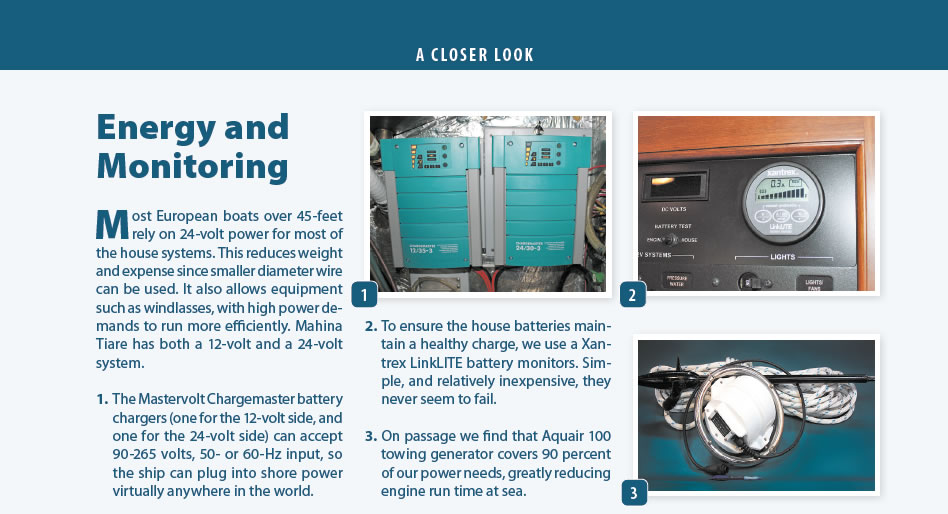 Most European boats over 45-feet rely on 24-volt power for most of the house systems. This reduces weight and expense since smaller diameter wire can be used. It also allows equipment such as windlasses, with high power demands to run more efficiently. Mahina Tiare has both a 12-volt and a 24-volt system.
The Mastervolt Chargemaster battery chargers (one for the 12-volt side, and one for the 24-volt side) can accept 90-265 volts, 50- or 60-Hz input, so the ship can plug into shore power virtually anywhere in the world.
To ensure the house batteries maintain a healthy charge, we use a Xantrex LinkLITE battery monitors. Simple, and relatively inexpensive, they never seem to fail.
On passage we find that Aquair 100 towing generator covers 90 percent of our power needs, greatly reducing engine run time at sea.