Like the character Jaws in the old James Bond movie, rope clutches grab hold with a ferocious bite. This month we take another look at these toothy devices and how changes in materials and design are reshaping the art of clamping down. Since our last test (see Practical Sailor March 2009 online), several manufacturers have improved their existing designs to grip better than ever. Others have unveiled completely new approaches.
The last round of testing was dominated by ratcheting, cam-type compression locks. Mechanically, this design is fairly simple: a lever and cam apply force to a serrated metal plate that compresses the rope and locks it in place. The challenge, as we found in 2009, is to provide sufficient grip without damaging the rope during repeated use. More effective grippers featured teeth that applied pressure on two sides of the rope, had a V-shaped clamp, or applied pressure over a larger surface area.
Like most leaps forward the latest evolution in rope clutches is borne of necessity. Its no secret that cruising boats are getting bigger, and along with the increased sail area comes higher loads. In many cases, however, even owners of mid-size racing boats, multihulls, or performance-oriented cruisers suddenly find that their old reliable clutches are no longer performing up to snuff. The source of the trouble can often be traced to a seemingly harmless upgrade.
A typical improvement (or dealer option) often involves replacing low-stretch Dacron halyards or Dacron/wire-rope halyards with even less stretchy ultra high molecular weight (UHMW) cordage such as Dyneema SK-75. Because the UHMW fibers are several times stronger than Dacron (and more expensive), downsizing to slightly smaller diameter cordage is common practice. Although the new diameter still meets the diameter specs for the existing clutch, several factors can make it a poor match for the UHMW line. Although both cordage and clutch manufacturers have known about this issue for years, there are still boat dealers who offer performance packages that upgrade the cordage on the new boat, but not the hardware required to handle it.
The shortcoming is most obvious in clutches matched to halyards. Older polyester (Dacron) rope stretched considerably as tension in the halyard increased. If a halyard slipped a little in the clutch, it usually went unnoticed. But when high-modulus rope entered the scene, it didnt stretch much at all (in some cases, even less than wire rope), and a small amount of slippage significantly diminished line tension. This is due to the change in the stretch-to-load ratio between different types of line.
For example, a 100-foot-long Dacron halyard may have four or five times the elasticity of a high-modulus Dyneema SK-75 halyard. If each halyard slips an inch as the tension is transferred from the winch drum to the clutch, the high modulus line will lose more relative tension because its initial elongation was much less. As a result, clutch manufacturers are exploring new ways to minimize slip, especially when it comes to mainsail halyard clutches.
In order to solve the challenge of increasing loads on higher-modulus, smaller-diameter lines, clutch designers have increased pressure, expanded the contact surface, and increased the bite on gripping surfaces to gain more traction. An example of this evolution is apparent in the latest clutch from Karver, which features a triple-jawed, conical gripper designed to sustain greater loads. Other solutions include curving the contact surfaces to increase the area of contact with the rope and introducing alternative ways to grip the line.
About half of the clutches we looked at remain committed to a flat, pressure-plate and single-sided cam arrangement, but many of these have expanded the area of contact even further and increased the pressure that they are able to place on the line.
What we tested
In this round of testing, we compared top contenders in the previous test to new designs. The entries represented all major rope clutch manufacturers who have strong presence on the worldwide sailing market. Even before load-testing began, testers were amazed by the wide range of approaches to the seemingly simply task of seizing a rope.
Our field included Garhauer, with its big-bite stainless-steel teeth and flat pressure plate approach; Antal, featuring its V-shaped, serrated surface cam; Spinlock, with two clutches showcasing its new aggressive reactor-cam, the XAS/1 and the XTR 0812/B; Lewmars D-1, with its familiar stainless-steel tilting-tiles; Karver KJ 15, a next-generation, triple-jawed, conical grabber; and Ronstan Constrictor, a new Dyneema device unlike any clutch weve tested. These seven clutches represent a wide range of design concepts-some similar to what we saw in our last test and others that are completely new renditions.
Antal V-cam 814 Silver
This large, heavy-duty Antal V-cam 814 features a V-shaped lever-operated jammer that wedges double-braided line into a concave surface at the base of the clutch. The clutch smoothly engages the jaws over a lengthy arc to enhance the grip on the line.
The combination of an injection-molded, fiber-reinforced shell and galvanically-isolated alloy and stainless-steel structural components make this a reliable, well-built unit. The clutch is rated to handle 8- to 14-millimeter line, but we did note that slippage increased with smaller diameter rope. The V-cam system applied a rock-solid grip to half-inch double braid with a polyester cover. The Silver series lever made it easy to release the clutch, even with 1,000 pounds of tension.
Bottom Line: The V-Cam design proved to be a smooth operating workhorse with a powerhouse grip when larger-diameter line was used. Recommended for offshore sailors who don't mind paying more for rugged construction and good looks.
Garhauer 1411S
The all stainless-steel, gear-linked, ratcheting cam lock is supported by a welded stainless-steel framework that provides support for the rotating cam. The lever engages a spring-loaded, toothed line-lock that firmly held a variety of line diameters in place. Its parts are easy to access, and the simple bolt-together structure allows for repair and parts replacement.
The Garhauer 1411S proved to be a durable, cost-effective clutch that is corrosion-resistant and easy to maintain. Testers liked the all stainless-steel construction, but also noted that the cam teeth can pinch a finger if you inadvertently have one hand on the lever and the other on the clutch body with a finger on a side port. The other quirk that testers noted was the tendency of the telescopic lever to accidentally extend and snare lines.
Bottom line: This is a heavy-duty, corrosion-resistant clutch, with few moving parts that efficiently coped with testing loads. Price and a 10-year warranty make it an obvious Budget Buy choice for offshore and coastal sailors alike.
Karver KJ 15
One of the most innovative designs, the Karver KJ 15 squeezes the line on three sides, over a large area. The conical aperture causes the three pressure plates to uniformly close down on the line that passes through the clutch. A latching mechanism opens the jaws, allowing you to lead the line through the clutch. A simple tug on the release line trips a spring-loaded linkage that causes the three tapered pressure plates, running the length of the clutch, to engage the line. This long, even grip on all sides is extremely effective in preventing slippage. When its time to open the jaws, a wire-rope cocking mechanism disengages the cleat and allows a line to pass through freely.
Testers were impressed with the way the devices grip on the line increased with the load on the line. The more tug applied to the rope, the greater the grip. However, in cases when the load had been significant, or tension spiked, the testers found they were unable to engage the quick-release. In these instances, testers simply took up tension on a winch in order to help open the clutch.
Another valuable feature is the way you can remove the main barrel of the clutch from the bracket assembly itself by simply loosening a single Allen screw. This allows you to attach the clutch bracket independently to the deck.
Bottom line: Karvers revolutionary conical design led the field when it came to preventing slippage. For performance-oriented sailors or racers (who might better stomach the $500 price tag), it earned our Recommended rating. However, its reluctance to release under full load dropped it back a notch in overall ratings.
Lewmar D-1
The tilting-tile locking mechanism efficiently binds line, and the unit scored an Excellent anti-slip rating. Its internal structure comprises a stainless-steel backbone and locking components. Two machine screws open the clamshell case that holds captive the investment-cast stainless components. However, theres a pesky spring inside that has a mind of its own, so it takes a little fiddling to get it all back together. Fortunately, theres little need to disassemble this clutch.
The sides of this clever rope clutch are made of fiber-filled thermoset plastic that is reinforced with stainless steel. Engaging the clutch lever causes tile-like parallel rows of locks to grip the line. These rows smoothly slide open or closed as the lever is lifted, even under the highest loads. A simple Phillips screwdriver allows disassembly, and the combination of stainless-steel entry and exit ferrules and structural components lend rugged support to this compact plastic clutch.
Bottom line: Recommended. In our last round of clutch testing, we liked the Lewmar clutch, and this time around, we liked it even more.
Ronstan Constrictor
Like a turbo-charged update of the old finger handcuff, the novel Ronstan Constrictor clutch relies on cordage, rather than cam-induced pressure, as a locking device. A two-foot length of braided Dyneema cover acts as a glove-tight skin over a halyard or other piece of running rigging. Allowing this cover to stretch taut binds the line, transferring the load to the machined titanium mount.
When the control line attached to the sleeve is tensioned, the halyard slides through freely. And when the time comes to lock the line, this control string is released, and the braid cover is stretched by a bungee cord.
The Ronstan Constrictor can immobilize a highly loaded line, and it does so with the least amount of cover abrasion and core torment of any clutch tested. With the recommended 1/2-inch diameter lines, testers found the textile clutch performed poorly. It was stubborn to take hold, and once set, equally unwilling to let go until the load was taken up by a winch. However, with smaller-diameter lines (3/8- and 7/16-inch), it performed as advertised. We will be conducting more onboard testing to evaluate durability and performance in real-world applications.
Bottom line: Wed only use the Constrictor at deck level or on or near the mast in long-term applications-such as a halyard on a furling headsail. Installing it up near the mast as a main halyard lock would be more of a gamble.
Spinlock XaS, XTR 0812
Spinlock has greatly expanded its line of rope clutches in recent years, with some extremely rugged big-boat clutches designed for the mega-yacht and maxi-racer arena. For our test, Spinlock sent us two different clutches aimed at the mainstream cruising and racing market.
The lightweight, elegantly simple XAS clutch comprises a fiber-filled plastic shell, a firm gripping rotating cam, and a slightly concave mating bottom surface. Teeth on top and bottom portions of the gripping surfaces improve holding power.
A lever smoothly activates the spring-loaded engagement-opening the jaws and allowing the line to pass through ferrules at either end. To disassemble the clutch, you simply loosen three screws on the lightweight fiber-reinforced plastic body. It held well and released easily throughout a wide range of line diameters and cover types. However, the resin-based shell is not immune to chemical sealants, so polyurethanes and polysulphides should be avoided.
The Spinlock XTR 0812/B comes with what the maker calls a reactor cam that engages top and bottom line grippers. Toothed edges on both the top and bottom aid the locking cam design. Testers found this approach to line-clamping worked very well on smaller-diameter ropes that are appearing more frequently, even on bigger boats. On 12-millimeter, line the XTR locked down like the jaws of a bulldog. The modular design makes it easier to disassemble the operational parts while the frame remains attached to the boat. The combination of stainless steel and fiber-filled plastic components and smooth-working cam levers make this a user-friendly clutch.
Bottom line: The quick and precise grip of the highly versatile XAS earned it a Recommended rating. The quick disassembly and all-around performance of the XTR made it our Best Choice.
Conclusion
For this comparison, instant grip and anti-slip were high on our list of priorities, but other factors also came into play. Construction quality also affected ratings. We werent just interested in how strong they were out of the box, but how well each clutch could handle the test of time. We looked closely at issues such as structural integrity and the potential for long-term reliability. In our experience with these devices, metallurgy and material choice are good indicators of how well a clutch will withstand the elements.
We also were interested in ease of operation and any design features that prevented unintentional opening of the clutch. We measured the tension needed to open a clutch under load and checked for damage to the outer cover on double braided lines.
When the dust settled, we gave top billing to Spinlocks XTR, an evolutionary step in clutch design. Karvers novel conical triple-jaw design led the field in grip, but the KJ 15s reluctance to release under full load tilted the scales toward Spinlock XTR. Garhauers pricing, rugged design, and very positive line stopping ability caused judges to overlook its minor quirks and give it our Budget Buy rating.
We also recommend Antal as a solid all-around performer, along with the Lewmar and Karver clutches. Going forward, well be doing some more long-term testing. Well be interested to see how well the Constrictor performs in action, and how well we can keep the Spinlock XAS fasteners sealed with a product that is neither polysulphide nor polyurethane.
Rope Clutches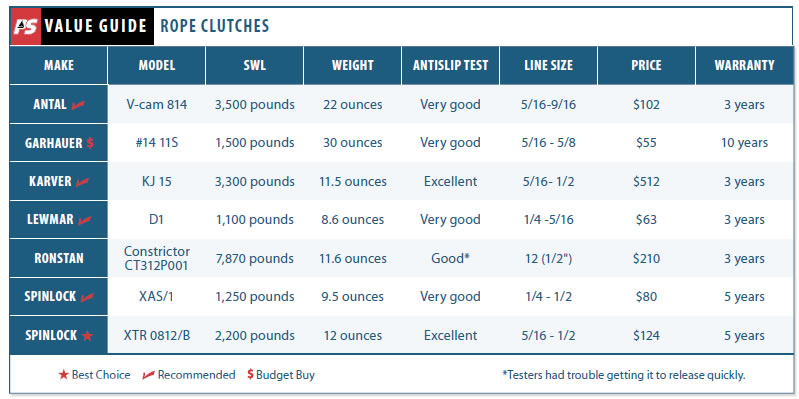 Rope Clutch Tests Compare Grip, Ease of Release, and Slip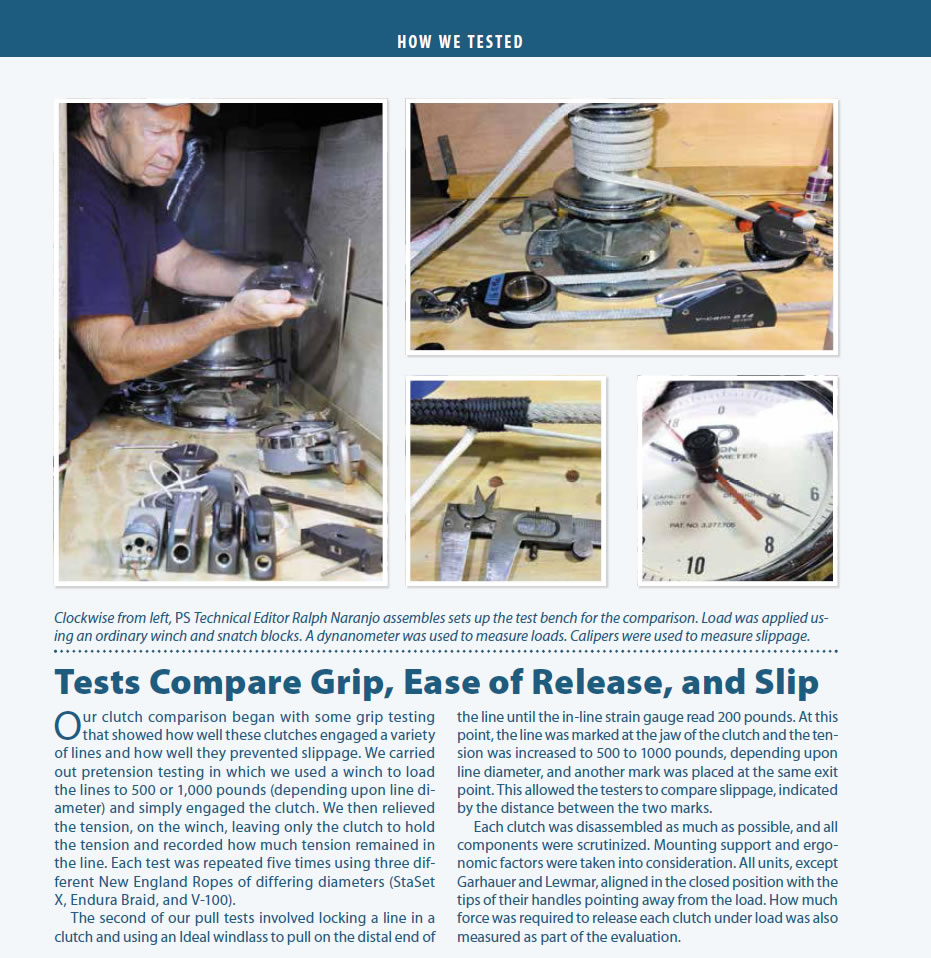 What We Tested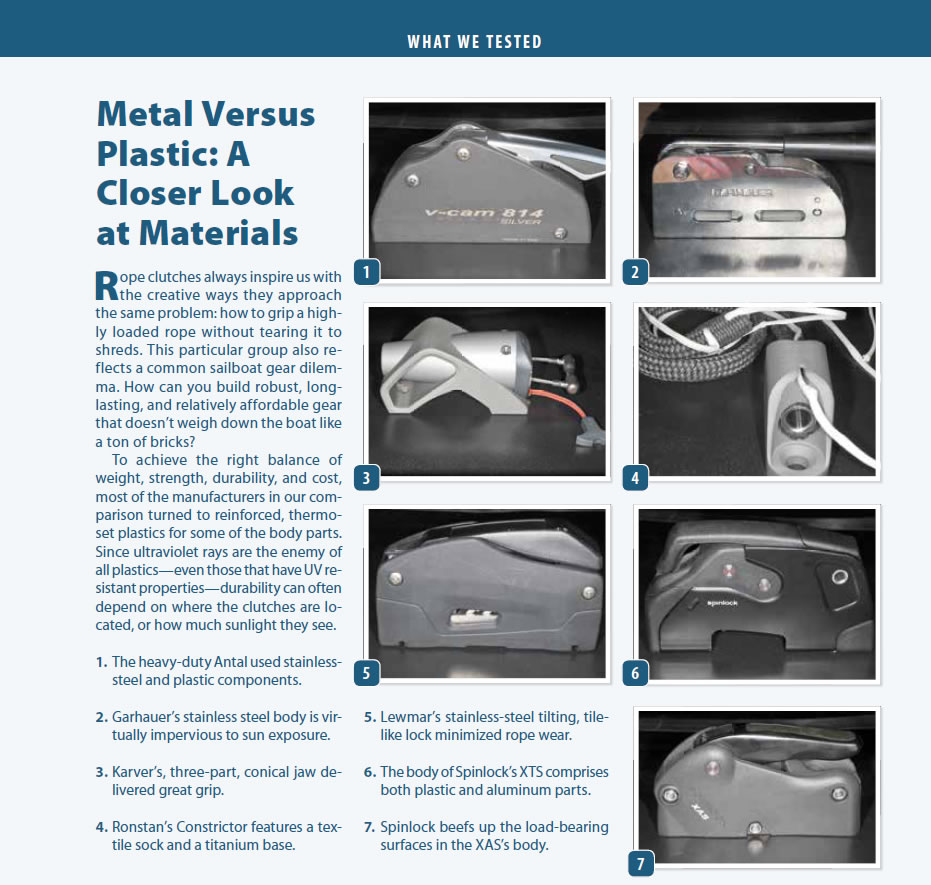 A Closer Look