Breathing life into an older fiberglass boat always entails more work than was expected, but for a person with the time, skill, and do-it-yourself inclination, it is often worth the extra effort. The DIY approach makes even more sense when the boats structural quality and big-ticket components meet the grade, and the skipper and crew are ready to tackle the cosmetic makeover.
Assuming that the Fiber-reinforced plastic (FRP) boats hull and deck structure are sound, a DIY crew can turn their attention to the dings, scrapes, and scuffs that are evidence of the test of time. Filling and fairing these imperfections with epoxy is an essential step in what is often the most ambitious aspect of a cosmetic makeover of an old boat: a new paint job.
A professional-quality makeover with sprayed-on Awlgrip paint is the benchmark of topside refinishing, but this comes with a four- or five-digit price tag. For boat owners with time on their hands and a bit of skill with a brush and roller, a roll-and-tip paint job is a low-budget option for topside refinishing. (See DIY Topside Paint Test: Two-part Linear Polyurethanes Face Off, PS August 2009 online.) Even a smaller project, like refinishing the cockpit or your dinghy, will require some practice with filling and fairing.
So whether your refinishing project is big or small, youll still want to have good working knowledge of the filling and fairing products that are on the market. In past issues of Practical Sailor, we covered top-coat paint options and the primer and prep techniques that precede the application of the final glossy finish. (See Topside-Paint Endurance Test 3-Year Checkup, PS December 2012.) In this two-part series, we will look at the epoxy fairing materials that are used just like an eraser. With a little two-part magic, they can make docking disasters, gelcoat scrapes, cracks, and crazing simply go away.
The Big Picture
Before we uncap these epoxy fillers and fairing compounds, wed be remiss not to question the motives behind this enterprise. We often tackle cosmetic projects without considering our expectations. What type of repair or finish are we hoping to achieve, and are we willing to invest the time and money into achieving that goal?
Its important to remember that recreational sailboats werent always so flawless and shiny-and working boats never will be (nor do we expect them to be). Shine and gloss are elements of traditional yachting that have become so ingrained in conventional thinking that most people just assume that a boat should gleam with an automotive showroom finish. In truth, maintaining a glossy white hull while cruising is like wearing a white shirt when you change an oil filter or varnishing the floor of your mudroom until it shines like a Steinway piano.
However, gloss has a utilitarian aspect as well. A smooth, glossy topside resists staining far better than a rough, porous surface that allows dirt to penetrate. And a glossy surface seals off underlying laminates to prevent moisture intrusion. In fact, a contemporary epoxy primer and linear polyurethane topcoat is both aesthetic and durable. But attaining perfection is a costly process, one that makes every docking maneuver a threat to the grand-piano gloss.
Interestingly, the makeover mavens in automotive body shops cringe at the mention of epoxy-ready-to-sand polyester putty makes the most sense. Theres good reason why epoxy wins out in the marine environment. It possesses a combination of traits required to survive in the elements: better adhesion, water resistance, and a tendency to avoid cracking and crazing. Over the years, marine pros have learned the hard way that epoxy resin is the right binder for fairing and filling putties used above and below the waterline.
What We Tested
In this first round of our testing, we look at six pre-thickened, kit-type fillers and fairing compounds. These off-the-shelf epoxy compounds vary in formula and are specifically designed for marine use. Some are more like glazing compounds, which spread smoothly and are not meant to be applied in thick layers. Others are easier to sand and can be applied in greater thicknesses. In part two of this report, we will look at systems that allow you to mix various density filler material with epoxy resin to suit your own specific fairing, sanding, and filleting needs.
The six off-the-shelf fairing compounds we tested for this installment come from four different makers and are all meant for marine use. Each manufacturer carefully notes whether the material is appropriate for underwater application. Three products are what we will call a glazing or finishing filler, fillers that are butter soft and meant to fill minor gouges and infuriating pinholes. One is a profiling filler, a heavy-build filler designed for changing keel shapes and filling larger dings. The other two products are a blend of the two types of fillers. All of the products we tested are acceptable for above- or below-the-waterline use, although some are best suited for one or the other.
We tested three products from Interlux, an Akzo Nobel brand best known in the recreational market for its marine finishes. Interlux Watertite is an epoxy filler that comes in an easy-to-mix 1:1 ratio; Interlux Interfill 830 is a lightweight profiling filler; Interlux Interfill 833 is a creamy fairing compound that fills pinholes as well as larger scrapes and gouges.
From System Three, a company whose epoxy products have a loyal following among amateur and professional boatbuilders, we tested QuikFair epoxy filler. QuikFair comes in kits ranging in size from 4.5 ounces to 1.5 gallons. The filler mixes (2:1 ratio) into a butter-smooth, sag-resistant product that can be hand sanded after three hours and is ready for machine sanding in four hours.
Mas Fairing Compound is a 50-50 mix of yellow and blue pastes (part A and B) that yields a consistent, green hue when mixed properly.
And rounding out the test field was Total Fair, the house brand epoxy filler of Jamestown Distributors, an online marine wholesaler and retailer that sells an extensive range of boatbuilding, maintenance, and repair products.
How We Tested
Our evaluation protocol examined key features that can have an impact on application: sandability (shaping), resistance to sag, and cure time. We also tested the adhesive quality of each pre-thickened epoxy filler. For details of the test protocol, see the accompanying How We Tested.
Findings
Most of the epoxy products we tested proved to be more water resistant and much more adhesive than the polyester control. The downside was that none of the epoxies were as easy to sand as the polyester, and the time before overcoating epoxy with paint is much longer than with polyester.
But these epoxy shortcomings were handily offset by advantages. None of the polyester-filler coupons survived the hot water submersion test, while most of the epoxy-filler coupons came out of this torture test intact. And, in practice, the most obvious downside to epoxy-that it is more difficult to sand-can be overcome with more careful application. As long as you don't slop the epoxy on, extra work will be minimal.
Interlux Watertite
The popular Interlux Watertite lives up to its name. It is a smooth-spreading filler for both above and below the waterline application. The relatively fast cure affords good spreading characteristics and is sandable in three to 24 hours, depending on ambient temperature. Not only did Watertite win the adhesion test, but its creamy consistency made for a glazing putty that was easy to spread. This was important because the puttys higher hardness rating made it more abrasion resistant and a bit harder to sand than other products in the lineup. To get the most out of this product, it helps to be sparing in the application. If you can eliminate as much excess as possible, theres less material that needs to be sanded away.
Bottom line: Recommended.
Interfill 830
A profiling filler, Interfill 830 is best used to fill extensive low spots or to refine keel shapes. It is a sag-resistant filler that will cure in single-coat thickness up to 2 centimeters. Testers found it to be very user-friendly. It was easy to trowel, allowing the applicator to build up thickness via multiple layers, each up to -inch thick.
The material is available in two different hardener speeds (regular and fast), so you can use it in a wide temperature range. The 830s shaping and sanding characteristics were also very user-friendly. It comes in two-gallon, 50/50 mix kits with either a fast or standard reactor. To ensure the best adhesion and performance, it should be spread over a sanded surface that has been washed, wiped with Interlux 202 solvent, and primed with Interprime 820.
Bottom line: Recommended.
Interfill 833
A 50/50-mix filler, Interfill 833 is more of a glazing compound than a high-build filler. The 833 is often used for the second stage in a fairing project, after the surface has been profiled with Interlux 830. The 833 can be used below the waterline, but should then be overcoated with at least two coats of Interluxs Interprotect 2000E/2001E. Testers liked the 833s sandability, adhesion, and low void content.
Bottom line: Recommended.
System Three QuikFair
The QuikFair by System Three proved to be a creamy, easy-to-handle fairing compound that contoured well and cured to a hard, but easy-to-sand surface. It was easy to mix, thanks to the similarity in consistency between part A and B. The value of mixing ease pays off in the uniformity of the cured product.
Testers found the QuikFair surface hard but sandable. As with the Interlux Watertite, QuikFair is user-friendly and easy to spread, and the applicator should aim to minimize the amount of extraneous putty thats left to sand away.
Bottom line: Budget Buy.
MAS Fairing Compound
The MAS compound is a 50/50-mix putty with stiffer consistency than what we refer to as glazing fillers. The cured epoxy was easy to shape and delivered excellent adhesion. It resisted drooping or sagging. The contrasting colors of the resin and hardener make it easy to discern when a batch is thoroughly mixed.
The MAS product is usable above and below the waterline. At 70 degrees, it can be sanded six hours after application. The filler is formulated to provide good anti-sag characteristics and moisture resistance.
Bottom line: Recommended.
Jamestown Total Fair
The 50/50-mix Total Fair filler is a sag-resistant, anti-hydroscopic fairing compound that is sandable in three hours (at 80 degrees). The color and odor of the part A and B compounds were quite similar to the MAS product.
Upon opening the base (resin and filler) container, testers noticed large, clumps that refused to mix with the hardener. It tested so poorly that we figured something was up and ordered another kit. Though we didnt have time to go through the entire test protocol with the new kit before this article was published, the new batch mixed and sanded with much better results.
We later learned that the first test kit had been part of a recalled batch.
Most online reviews of the Total Fair are positive, and our own queries to regular users were also positive.
Bottom line: This appears to be an economical alternative to MAS, and we are doing more testing to confirm. Our experience with the second batch eased our initial disappointment.
Conclusion
Testers found that pre-thickened, epoxy-filler kits delivered several benefits. Perhaps the most important was batch-to-batch consistency in hardness, working time, and adhesive reliability. The ease with which small batches of filler can be mixed lessens the risk of ending up with a big blob of putty prematurely hardening prior to application. Texture consistency is another big plus, and those who surface profile large areas give high marks to the pre-thickened products.
Once the sanding dust had quite literally settled in our lab tests, Interlux had swept the field. Its highly thixotropic 830 profiling compound is easy to apply and easy sand; its the right choice for major keel fairing and for coping with larger surface-area imperfections. Interfill 833 is a less viscous, creamier epoxy putty that is optimized as a cure for scratches and scrapes above or below the waterline. Interlux Watertite was the easiest to handle and delivered the hardest surface cure in the Interlux lineup. It is a great choice for final fairing (glazing) above or below the waterline. The only downside in this product lineup was that the smallest kits in the 800-series range are jumbo sized (1 gallon for the 833; 4 gallons for 830). This means that small jobs will likely steer the DIY practitioner toward Watertite, a perfectly acceptable, all-purpose fairing compound.
Testers also favored the creamy, easy-to-mix, user-friendly System Three QuikFair, which excelled at filling fine cracks and small holes. It displayed an excellent ability to fill voids without being pulled away from the surface as the spreader passed by a crack or low spot. This blend of high adhesiveness and lower cohesiveness is tough to achieve.
A final element to consider in choosing an epoxy compound is compatibility. In general, any epoxy fairing compound is a good candidate for priming and re-painting. But if you know you are going to be using a specific paint, then it makes sense to use the same brands fairing compound. This is especially true when it comes to super-size projects like refinishing a hull or deck.
Because paint failure has dire consequences, each paint maker tests how various layers in the filler-primer-topcoat regime interact. Interlux was the only company in this comparison that has a full range of pre-thickened fairing products to be used with a complete line of paints and primers. However, there are other paint companies that make their own fairing compounds-Pettit and Sea Hawk come to mind-and we would encourage anyone tackling a major finishing project to try to stay within the same brand from start to finish.
Pre-Thickened Epoxy Filler kits

Fairing Compounds Routine: Mix, Spread, Shape, Repeat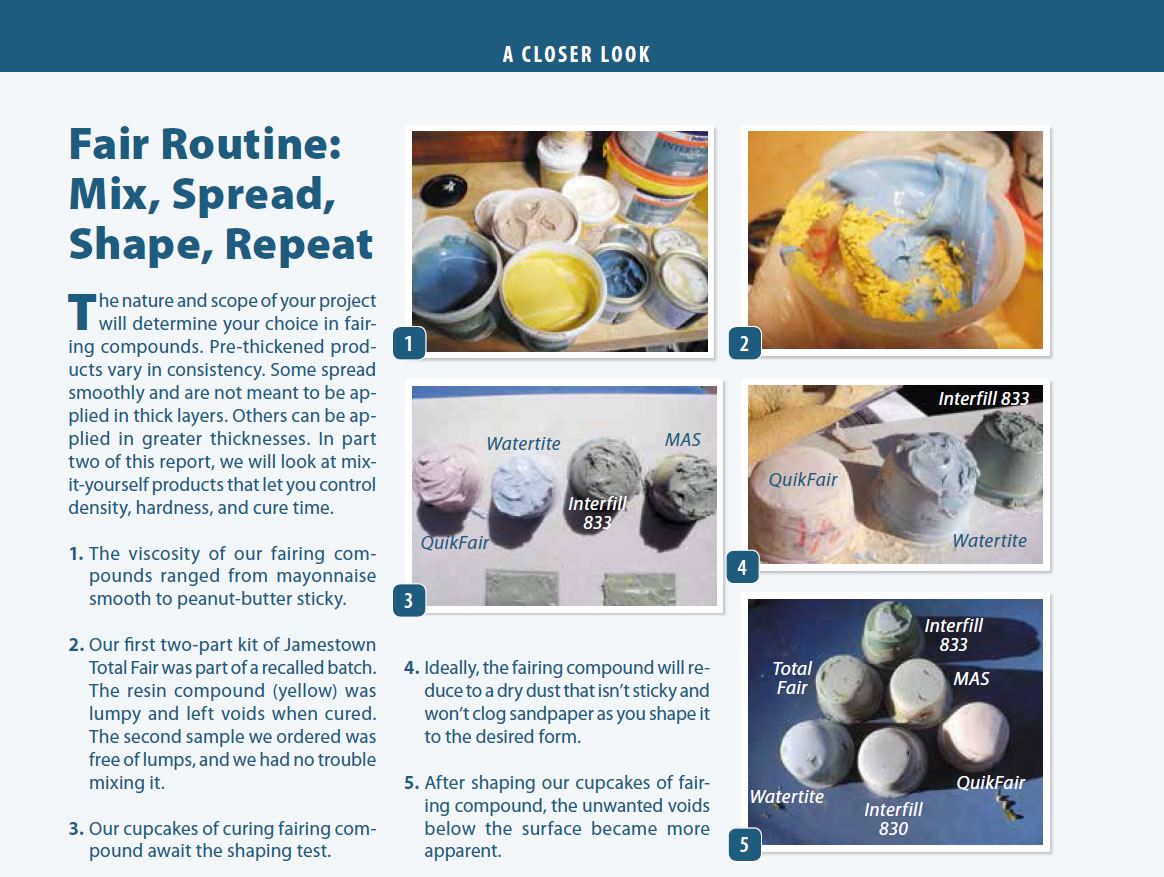 The nature and scope of your project will determine your choice in fairing compounds. Pre-thickened products vary in consistency. Some spread smoothly and are not meant to be applied in thick layers. Others can be applied in greater thicknesses. In part two of this report, we will look at mix-it-yourself products that let you control density, hardness, and cure time.
-The viscosity of our fairing compounds ranged from mayonnaise smooth to peanut-butter sticky.
-Our first two-part kit of Jamestown Total Fair was part of a recalled batch. The resin compound (yellow) was lumpy and left voids when cured. The second sample we ordered was free of lumps, and we had no trouble mixing it.
-Our cupcakes of curing fairing compound await the shaping test.
-Ideally, the fairing compound will reduce to a dry dust that isn't sticky and won't clog sandpaper as you shape it to the desired form.
-After shaping our cupcakes of fairing compound, the unwanted voids below the surface became more apparent.
In Search of a Smooth Finish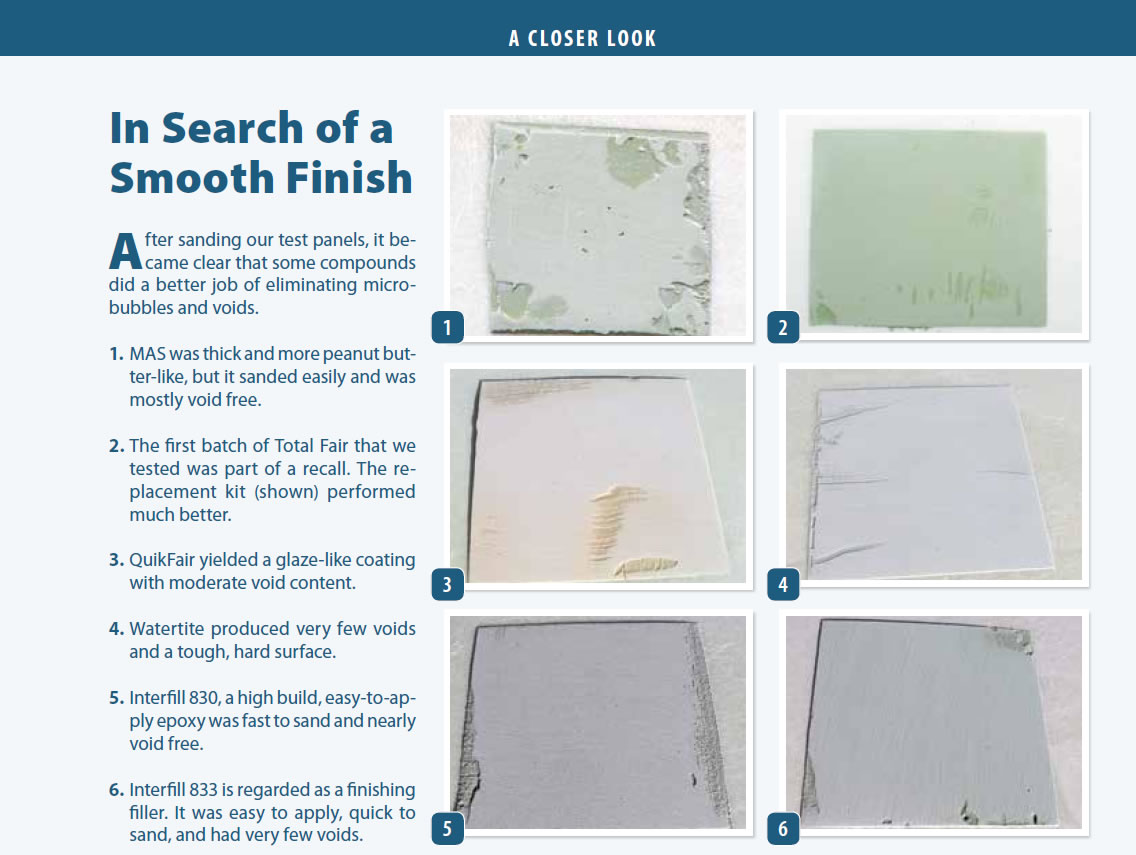 After sanding our test panels, it became clear that some compounds did a better job of eliminating micro-bubbles and voids.
1. MAS was thick and more peanut butter-like, but it sanded easily and was mostly void free.
2. The first batch of Total Fair that we tested was part of a recall. The replacement kit (shown) performed much better.
3. QuikFair yielded a glaze-like coating with moderate void content.
4. Watertite produced very few voids and a tough, hard surface.
5. Interfill 830, a high build, easy-to-apply epoxy was fast to sand and nearly void free.
6. Interfill 833 is regarded as a finishing filler. It was easy to apply, quick to sand, and had very few voids.