In the world of bottom paints, six months can make a world of difference. With conventional antifoulings, there comes a point at which the biocide has completely leached out of the paint, rendering the coating useless against hard growth such as barnacles and mussels. Depending on the paint, the environment, and how the boat is used, that limit is reached sometime after the six-month mark. In our experience, the big drop-off occurs at the 18-month mark, the time-frame for this antifouling paint test report. After 18 months, even if new paint isn't needed, the owner needs to be more vigilant against barnacles, and if the boat is just sitting in one place, a regular slime-cleaning (the least aggressive, the better) will help extend paint life.
This year's 18-month checkup saw nearly half the field succumb to barnacle growth, a slightly higher percentage than the previous set of paints. One explanation could be that the new test site, Sarasota Bay, Fla., might be tougher on paints than the locations we have been using for the past several years—Long Island Sound near Stamford, Conn., and a canal in Tavernier, Fla. However, we have seen years of particularly heavy fouling in those locations as well. Last season, simultaneous testing in all three locations showed fairly close correlation.
WHAT WE TESTED
This article covers one set of 65 antifouling paints that PS began testing in June 2009 at the Sarasota Sailing Squadron. The panels were inspected in December and June 2010, and January 2011. The participating companies include Blue Water Paints, Flexdel, Interlux, Pettit, Sea Hawk, and Coppercoat, maker of an epoxy-copper blend that claims multi-year protection. An experimental stick-on antifouling, BoatKoat Laminate, is also being tested.
The 18-month test results are tabulated on pages 10 and 11 and are divided by paint category, hard and ablative. These two types of paint work differently, but for most boat owners, the key distinction is the maintenance regimen.
Hard paints resist cleaning and can usually be burnished smooth for racing. However, they leave behind resins and pigments that build up over time and eventually will need to be sanded off. Also, many hard paints lose their punch when they are stored out of the water for long periods.
Ablative paints wear away, so they don't build up thick layers. Bottom-tier workboat ablatives slough away with water friction to activate more biocide. Other, copolymer ablatives release biocides at a controlled rate. Some "hard" ablative paints resist light scrubbing and are suitable for trailering.
Paints are formulated for specific needs: freshwater paints, aluminum paints, racing paints, water-based paints (easy for the do-it-yourselfer to apply), and eco-friendly paints. The best performers in each of these subcategories earn a Recommended checkmark in the Value Guide tables.
Before buying, check compatibility. Some previously painted surfaces are not compatible with some of paints.
BLUE WATER
Blue Water Paints holds a relatively small slice of the antifouling paint market, but its coatings have fared well in our tests. Two copper-laden hard paints earned Good ratings, the Copper Pro 67 Hard and Copper Shield 45 Hard, but the former is no longer available. Copper Pro SCX 67 Hard, containing the antimicrobial pesticide Irgarol, is a good alternative. In the ablative category, all of the Blue Water paints were free of hard growth, with Copper Shield 45 Ablative and the new self-polishing copolymer SPC 99 earning Good ratings. SPC 99 was the third cleanest panel behind Epaint's EP2000 and Interlux Micron 66. Blue Water Paints are also available at boatyards or distributor Donovan Marine (www.donovanmarine.com) under the MarPro label.
EPAINT
Epaint takes a unique approach to bottom paints. Its products like EP2000, EP21, and Ecominder contain zinc oxide, which is also found in sunscreen, shampoos, and diaper creme. Although Epaints' zinc coatings are generally considered biocide-free, they act like biocide-boosted paints. When exposed to light, water, and dissolved oxygen, they release an inhospitable layer of hydrogen peroxide around the boat hull. Although Epaint's other three contenders, the hard racing paint Z0-HP, the ablative Ecominder, and the freshwater ablative EP-21 all succumbed to barnacles, EP2000 emerged after 18 months almost as clean as it went in. The EP2000 is not compatible with other bottom paints, so switching brands may require some extra prep work. It is only available in white and grey, and because it is photoactive, it is recommended that you put at least three coats near the waterline where there is strong sunlight exposure.
FLEXDEL
Flexdel's aluminum friendly, low-copper paints have excelled in previous tests, and their prices are very competitive. This time around, however, the fertile waters of Sarasota Bay proved too much to handle. After holding growth at bay for 12 months, Flexdel's water-based Aquagard, a similar product to Pettit's Hydrocoat, had succumbed to barnacles. Flexdel's other aluminum-friendly, water-based product, Alumi-Koat II, had given up the ghost at the 12-month mark. It was one of the few paints in this test to fail at 12 months. It should be noted that Aquagard performed well in a head-to-head field test against Pettit's Hydrocoat (March 2009) in Chesapeake Bay, although barnacles set in on both paints at about the 15-month mark.
INTERLUX
Interlux has effectively marketed its top-tier trio of self-polishing copolymer paints Micron Extra, Micron CSC, and Micron 66, and the paints have generally lived up to expectations in the field. Micron 66 has been a perennial winner over the long haul, but it is expensive. It also is not a good choice if you plan to spend more than a couple weeks in fresh water, since this can rob the paint of its potency.
Micron Extra was no longer keeping hard growth away at 18 months, but Micron CSC maintained a Fair rating, and the Micron 66 had very little slime, keeping its Good rating. A third Interlux standout in the ablative category was Trilux 33, an aluminum-friendly paint.
In the hard paint category, two Interlux paints were still standing: the racing paint VC Offshore and the fast-drying Bottomkote Classic (replaced by a new formula, Bottomkote NT) scored well in their respective categories. Ultra, a copper-heavy hard paint, is not doing as well as it has in past tests.
PETTIT/WEST MARINE
With most of its tested paints still fighting hard growth, Pettit Paints—including the some newly reformulated blends it supplies for West Marine—are excelling at the 18-month mark. Copper-laden paints Trinidad and Trinidad SR are holding up well, and some of Pettit's other hard paints also showed good results at the 18-month mark. Vivid, which comes in a rainbow of colors, is still doing well, and the economical West Marine Bottomshield, along with Blue Water's Copper Shield 45, stands out as a Budget Buy.
On the ablative side, the old standby Horizons is putting in a good showing, with a bit more slime than other panels but it's still barnacle free, and its price remains attractive. Also doing well are the West Marine paints made by Pettit: PCA Gold (re-branded Ultima SR-40) and West Marine CPP. Both the Bottomshield and West Marine CPP use Pettit's copper composite technology (CCT), a formula designed to promote extended protection with less copper.
Pettit's aluminum-friendly Vivid Free and Alumacoat SR paints (identical blends) have both lost their oomph at the 18-month mark.
SEA HAWK
Islands 77 Plus, a new ablative formula aimed at warm-water sailors, was the cleanest paint from Sea Hawk in this round. Just behind it was Tropikote Biocide Plus. Two other hard paints, Tropikote and the budget priced Sharkskin are also hanging tough.
An interesting Sea Hawk standout was Inflatable, a "hard" ablative paint for inflatable boats, which is still strong at 18 months. Most major paint companies have a paint for inflatables, but the application process needs to be followed closely because adhesion tends to be a problem. Transhield, Sea Hawk's transducer paint, is also holding up well. The firm's affordable "semi-hard," water-based ablative Monterey, which held out strong for 12 months in 2006-2007 season, is still in the race. Its high-end, zinc-boosted ablative paint Biocop TF dropped to Poor, although this paint is still doing well on one of our test boats in the Chesapeake after 12 months.
ALTERNATIVE COATINGS
Our two alternative products, the three-part Copper Coat and the stick-on from BoatKoat Laminates, are struggling. The Copper Coat, which blends actual copper granules into a two-part epoxy base, survived at six months, but at the 12-month and 18-month checkups, hard growth was apparent. The product is promoted as a 10-year coating, but it does require regular cleaning to expose fresh copper. After the 12-month checkup, testers cleaned and lightly sanded the panel and returned it to the water, and the process was repeated at the 18-month check. The experimental BoatKoat stick-on had failed to ward off barnacles at the six-month mark, and at this check, it had begun to peel off the panel. Our recently immersed panels, which we will report on later this year, have a newer version of this paint.
CONCLUSION
It was good to see that some of the better performing paints at 18 months also fell into the affordable category. Paint prices are expected to rise this spring, but you can still find a paint that provides at least 12 months of protection for around $120 per gallon. If you are looking for an economical, water-based, single-season ablative that is easy to apply, consider the water-based Blue Water Aqua Shield 45, Pettit Hydrocoat (West Marine Pure Oceans), or Sea Hawk Monterey. West Marine's PCA Gold (Pettit Ultima SR-40) or Pettit Horizons are slightly pricier solvent-based paints that scored highly.
To move up a tier in price and protection, opt for Micron 66, Micron CSC, or the new self-polishing copolymer from Blue Water Paints, SPC 99. EP2000, Interlux's Trilux 33, and Blue Water's Kolor edged out the two other aluminum-friendly ablatives that had made it past the 12-month mark, Pettit's Alumacoat SR (same blend as Vivid Free) and Sea Hawk Mission Bay.
If you prefer a hard paint, Blue Water's Copper Shield 45, Sea Hawk's Sharkskin, and West Marine Bottomshield are the most economical options. Copper Pro 67 Hard was the best high-copper paint, but it's discontinued. Sea Hawk's two Tropikote blends, Pettit's two Trinidad paints, and Blue Water's Copper Pro SCX 67 also did well in the high-copper category. In the multi-color hard paint category, Pettit Vivid was king. Copper-free EP2000 will appeal eco-conscious racing sailors in search of a clean, smooth bottom. Interlux's VC Offshore maintains its spot as another top pick for racers, while the thin-film paints from Interlux and Seahawk also maintain a following among sailors who favor a slick bottom over anti-fouling protection, particularly in fresh water.
Hard Paints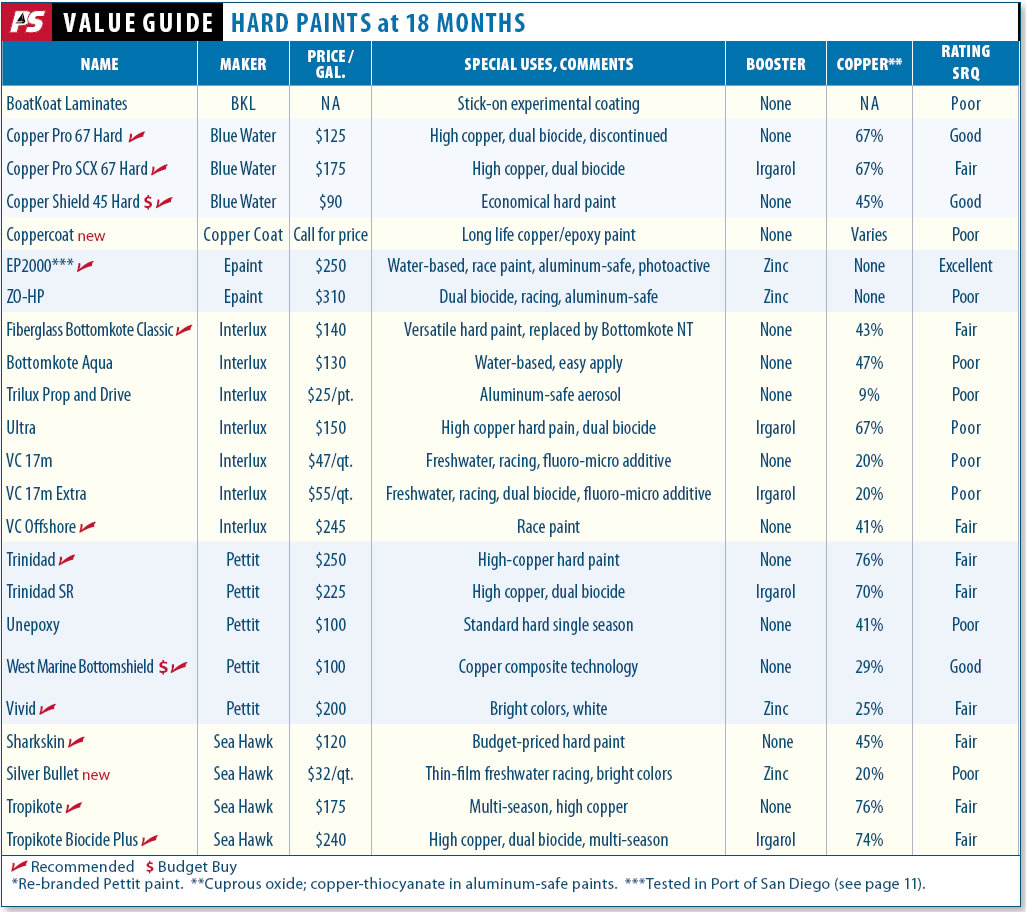 Ablative Paints