My primary anchor is a big hunk of steel on an all-chain rode, handled by a windlass. Secure in all bottoms, idiot proof, easy to handle, and thus perfect for everyday use. But when the need arises to set a second anchor-either to restrict swing or to increase holding in horrible mud-the last thing I want is a heavy steel anchor connected to chain that I have to drag across deck.
I have an aluminum anchor, but the chain leader weighs twice the weight of the anchor. Carrying the anchor and chain means using both hands and hoping the boat doesn't rock. Recovery is manual and means hauling chain and piling it on the deck while trying hard not to step on it or scratch the deck.
Chain can't be easily secured to a cleat, and chain loves to grind against the topside of the boat. I sought something other than a bulky nylon-only rode that might work. Dyneema, renowned for its strength and chafe resistance, seemed the obvious choice.
Conventional wisdom is that at least one boat length of chain should accompany any anchor for chafe resistance and to keep the rode angle low during initial setting. However, when a secondary anchor is set in a V-tandem, the rode doesn't see much chafe since yawing is nearly eliminated (see Tandem Anchoring, PS August 2016). The same goes for kedging. I only deploy the Fortress in a V-tandem when the bottom is very soft mud and thus there are few cutting hazards. (In sand, my conservatively-sized primary anchor is more than enough.)
Any rocks or shells imbedded in mud are pushed aside by the rode. As for chain helping with setting, Fortress cautions against excessive weight near the shank in soft mud because this actually drags the shank down before the flukes engage, impairing initial setting ability. Finally, in soft mud, the Fortress sets very deeply and will drag at least 15 feet of rode underground with it; weight doesn't help there.
Chain can restrict the ability of an anchor to bury deeply. Testing by Practical Sailor (see Anchor Rode Report, Practical Sailor, February 2014) and others confirm that a thin rode can increase both the setting depth and holding capacity. The more deeply an anchor sets, the more secure it is in wind shifts, and an anchor that sets more deeply can be slightly smaller. This is helpful, since most sailboats don't have enough power in reverse to set a large anchor well.
What We Tested
Steel cable is well proven, but its awkward to handle. As for chafe resistance, I've used just polyester double braid with no leader many times, and many Chesapeake Bay sailors use rope rode with only short chain leader. So I swapped my 30-foot chain leader for 20 feet of -inch Dyneema single braid.
It is 20 percent stronger than the chain it replaced, stronger than the rope, and 10-40 times more chafe resistant (depending on the abrading surface) than the -inch nylon rode its attached to.
Naked Dyneema alone may have worked fine, but after just a few deployments it was obvious that Dyneema is difficult to cleat during break-out, very hard to grasp, and a hazard to fingers. To fix this, I covered the Dyneema leader, splices, shackle connections and all, with 1-inch tubular climbing webbing, which has demonstrated excellent resistance to chafe when used as free-floating chafe gear (UV, Chafe Protection, Practical Sailor, March 2015).
Whenever the webbing comes across a rough or sharp surface, it rotates and slides with that surface and is nearly impossible to cut, because it is not under tension and does not hold still. No shackle is required to join the Dyneema leader and nylon rode since the spliced eyes can be interlocked. The result is a hybrid Dyneema/nylon rode that is light, thin, abrasion-proof, easy to handle, and cheap.
Bottom Line
I've been using this rode for two seasons and love it for secondary anchors. Lugging the secondary out-and we've been using it far more often than conditions required in the name of testing-is less of a struggle and performance is improved. The webbing cover barely has a mark on it and the Dyneema remains pristine (the cover slides up for inspection). While chain and nylon remain the standbys, this is one more application where Dyneema has made our cruising better.
Longtime contributor Drew Frye is a technical editor at Practical Sailor. You can find his blog at www.saildelmarva.blogspot.com.
The Pros and Cons of Dyneema Leader for Rode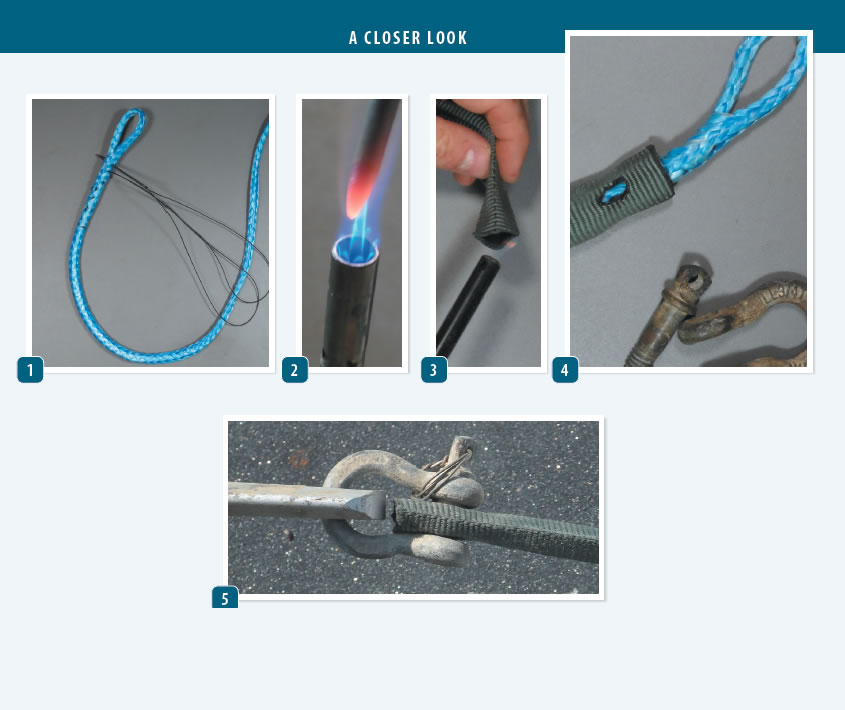 Once we covered the Dyneema with webbing it handled much like rope. The anchor/rode combination became so light that we could easily set it by kayak. It did not collect mud like chain did. Splicing high-modulus rode is no more difficult than splicing a core-and-cover rope, although you will want to follow the manufacturers instructions to a T. We did not use a thimble for the eye-splice, as this can introduce more chafe (see "Re-evaluating Eye-splice Thimbles," PS May 2018).
Cons
This is an unconventional arrangement suitable for special circumstances of a shallow, soft bottom and is NOT a primary anchor. It is not meant to replace a primary anchor with all chain or nylon/chain rode. Most anchors benefit from the weight of chain during setting in typical bottoms. An anchor with no chain can have a hard time resetting if it drags, or the boat veers. In deep water, the ability of the catenary to buffer loads is lost, which decreases holding ability. Chain is especially important when the bottom type is unknown or littered with debris.
As robust as the hybrid rode is, I wouldn't like it as well as chain around rocks or coral. All chain rode provides security in extreme situations, and like many cruisers, I prefer chain as a primary rode. Anchoring is all about security.
This sort of hybrid rode won't work with a combination windlass gypsy. In areas with strong tide, alloy anchors without any chain can have trouble getting to the bottom and can skate around during descent, potentially fouling on the rode.