The basic design of the humble boat hook hasn't changed much over the years, but it has seen upgrades in construction and materials, along with some minor design tweaks. For this report, we set out to determine what constitutes the ideal boat hook. We evaluated boat hooks currently on the market and took a look at some old models still in service.
Most modern boat hooks come with put-or-take hooks at the tip. These feature a secondary, forward-facing hook of variable size for placing a loop over a piling (put), as well as the standard, aft-facing hook (take).
Theres not much required to create a good put hook, but designing a durable take hook requires some thought. It needs to be strong enough to heave with, yet still slim enough to slip under a line; a cheap, plastic hook simply wont do.
The question of the ideal boat-hook length is often debated in sailing circles. Six feet is a minimum, in our opinion, and 12 feet is adequate for almost any boat. Telescoping poles give you the stowability of the shorter pole with the boosted reach of a longer pole, and they can serve double-duty as mop/deck-brush handles, but as we found in our test, telescoping poles are less foolproof than fixed poles. For the full-time cruiser with adequate room for a fixed-length pole, it will undoubtedly last longer with fewer hassles.
An 8-foot boat hook is a good compromise, but if youve got room to stow a 12-footer-especially on a bigger boat-you will find good use for it. The ideal inventory, in our view, is a fixed pole for routine docking and use as a deck-brush handle, and a telescoping 12-footer for situations requiring long reach. Unfortunately, the brush-handle versions we tested were not impressive.
The following is a summary of the testing; for more detailed information on each of the poles, see the Inside Practical Sailor blog post The Blow-by-Blow Boathook Test."
What We Tested
For this test, we looked at 15 boat hooks-telescoping and non-telescoping-from five manufacturers: Davis Instruments, Garelick, Sea-Dog, Seachoice, and West Marine. The selection included a tiny 25-inch model, emergency paddle hooks, and a 14-foot monster that reached halfway across the neighboring slip.
How We Tested
We tested the hooks in the lab and on the water. Testers evaluated telescoping poles for slip when being pulled and pushed, both wet and dry. We also observed whether the poles would float for at least five minutes. We pushed, scuffed, and gouged the poles against a soon-to-be-scrap fiberglass boat, looking for evidence of gelcoat damage.
We then put them to work on our test boat, snagging lines off pilings, and pulling on docks and toerails. Once the field testing was complete, we took one of each model and bent it over a soft edge 48 inches back from the tip until it would no longer telescope. This showed testers whether the pole would still be useful after getting bent or stepped on.
Davis Instruments
All of the Davis poles share the same very strong, dexterous hook, a key plus. Its hooks were undamaged in our pull testing. While we like the idea of a hook-cum-deck brush, threaded tips offer little advantage due to their inadequacy for placing lines. Testers found the telescoping action to be the smoothest and most dependable; however, we do wish Davis made a non-telescoping pole.
Paddle hook: Any small-boat sailor would understand why a paddle needs a hook; in light winds, both tools are useful aids in getting you back to the dock. These arent meant to be used as regular oars, but they are effective as emergency paddles on small boats, and the bright orange blade makes an effective, short-range distress signal. Davis also makes a regular paddle (4330) that we like better as a paddle, as its shorter and the rounded handle is more comfortable to use.
Bottom line: We like dual-purpose products that work. The Davis hooked paddles (models 4372 and 4330) are Recommended for small dinghies or trailer-sailers as emergency paddles.
Telescoping boat hooks: Davis offers several sizes of telescoping poles (models 4122, 4132, and 4152). Featuring the same compact, strong hook, smooth locking mechanism, and lightweight design, these were our favorites in this category. Theres nothing flashy about these boat hooks, but they tick all the right boxes and held up well.
Bottom line: Davis has put some attention to detail in these telescoping hooks, which stood out above the others, earning the Best Choice pick.
Garelick
One of our favorite, non-telescoping, aluminum poles is made by Garelick, and weve been it using for over 20 years. The thick-walled stick has survived the test of time extremely well, better than a lot of other gear that saw much less use. Sadly, Garelick doesn't make that model anymore (it does offer a different fixed-length design though), so we checked out the companys telescoping Premium Twist-lock (55170/02) and Tri-tube (552901) models.
Premium Twist-lock: Testers liked the above-average, twist-lock mechanism on Garelicks premium telescoping boat hook; it was not difficult to lock down beyond any reasonable push or pull. But the hook gave way under energetic pulling, snapped when used to pry, and it was clumsy fetching lines.
Bottom line: This is an adequate boat hook, but its performance in our tests was middle of the road.
Tri-tube: Unique in the group, this pole uses a spring pin to lock the pole in extension rather than the typical twist-lock mechanism. The usual twist-and-hunt routine to find the pin is avoided by using a rounded triangular tube section, ensuring that as the pole is extended, the pin will always drop into place.
During testing, however, the pin lock fell out of position when the pole was dropped, leaving us with a non-functional boat hook. Corrosion was also a problem with this pole, and it bent and jammed where others did not. The poles thread would not screw into the commonly available marine-grade deck brushes that we tested it with.
Bottom line: Although it appears robust, the Tri-tube was the only hook to bend in ordinary use. Garelick makes fixed-length boat hooks (55004, 55006, and 55008) in this line, which would surely not suffer the same problems.
Seachoice
As we often find, one manufacturer often does a good job with one design element but doesn't match the others in a more critical feature, and this was the case with the Seachoice boat hook.
Telescoping boat hook: The telescoping Seachoices (model 71050) low-profile tip was the only one tested that would pickup a line off the dock with either the tip or the hook. It also passed the strength test with flying colors. The test unit survived being stowed on deck for 15 years, proving its durability. This model is still in production.
Bottom line: This is the cheapest hook in our test. It will serve the average boater fine, but it is not up to the rigors that a fixed-length pole will endure. It gets the Budget Buy pick.
Sea-Dog Line
Sea-Dog poles mate only with Sea-Dog brushes, which is a drawback in our opinion. They have the best hand grips, but the hook tips were not as strong as others during hard pulling. The hooks are rubber-coated all around, which makes them a little more secure for fending or grabbing a toerail. The downside is that they do not easily slide along a line, which was occasionally awkward. Since you can't have it both ways, this compromise is a matter of taste.
Fixed length: The fixed pole models (491012-1 and 491013-1) got the job done, but the hook fell short of expectation, bending when others did not.
Bottom line: Recommended. This boat hook will hold up to ordinary use, but the hook could be stronger.
Telescoping pole: The telescoping mechanism in Sea-Dogs models (491036-1, 491021-1, and 491024-1) featured a knurled grip at each joint that locked securely and easily. In fact, it required the lightest twist of those tested. However, the twist-lock became noticeably stiff from corrosion and salt deposits after a few months, and eventually jammed due to exposure to rainwater. Additionally, we consider the hook to be under strength.
Bottom line: There are better choices.
West Marine
West Marines role as the nations largest marine retailer has given it plenty of opportunity to learn what works and what doesn't in boat gear.
Fixed Length: For day-to-day use, we like a sturdy, one-piece pole. We spotted two of these poles on cruising boats that had been bent by people stepping on them. Not surprisingly, they still worked, supporting our preference for simple tools. Unfortunately, the clunky head on the West Marine model (6867840) isn't as good as others for grabbing lines.
Bottom line: This is a suitable one-piece pole. The price is competitive, too. Recommended.
Telescoping: West Marines telescoping poles (8243123 and 71050) featured an average locking mechanism, a strong but bulky tip, and both the hook and pole held up well in our strength testing. This, combined with their relatively light weight, add up to an average, but very usable pole.
Bottom line: Recommended.
Heavy-duty Boat hook: Extendable to 14 feet, the West Marine Heavy-duty hook (7784267) is the longest of the group, and you certainly can do some burly pushing with it-though you will need some strong arms to control it. Adding two feet to a boat hook is a bit like Nigel in the movie Spinal Tap, touting a guitar amplifier that goes to 11 instead of 10. The extra reach isn't that much greater than that of a 12-foot pole, especially for a smaller person who will have to broaden his or her stance to support its weight when fully extended.
We were disappointed to see the tip bend when we hauled hard, and surprised when the rubber guard split as it slid off the toerail. West Marine was smart to leave the Acme thread off; this isn't a pole that you are going to use for deck washing. It is noticeably stiffer and stronger than other poles.
Bottom line: This is a heavy-duty pole, but the bendy tip and added weight pushed it out of the running as a favorite.
Traditional hooks
Just for fun, we tested two old hooks we had lying about.
Plain aluminum hook: We found this no frills, plain, 6-foot boat hook by a dumpster 20 years ago. It outperformed all but the Davis hooks in general utility. This is why it remained our standard hook for so long; we like no frills.
Bottom line: Our experience with this hook confirms that simple can be good.
Crabbers hook: Although about twice as heavy as the equivalent aluminum poles, this 10-foot, wood pole with an iron hook was also over twice the strength of any other pole, proving that wood remains a good construction material for boat hooks. The iron hook has the potential to scratch fiberglass, but it grips a piling better and was one of the few hooks adept at handling line in tests. Sea-Dog and others sell smaller bronze hooks for sailors who prefer to make their own boat hooks.
Bottom line: Proof that a traditional wooden pole is still a valid option.
Conclusions
These boat hooks were closely matched, so the data itself tells only part of the story. On the water is where a single winner really shined. By the end of the summer, testers realized we were always reaching for the same pole: the Davis Instruments telescoping boat hooks. The company offers a length for every purpose in its three models: 4122, 4132, and 4152. They are light, durable, and the telescoping action is easy and fast. The thin take hook and compact head make it easy to snatch a line off a piling singlehanded.
Despite the advantages of a telescoping pole, our testers prefer fixed-length poles. While the telescoping poles will survive being stepped on, so long as they are collapsed when not in use, the one-piece poles still work even when bent. We didnt like the idea of putting extra padding on the tip. Were on a boat, not a porcelain vase. A plastic hook isn't going to scratch anything, and adding a cover made us feel like a butler with white gloves.
The extra rubber on the Sea-Dog and the West Marine Heavy-duty hooks made pulling along a lifeline and fending a little more secure, but they were more clumsy when handling lines, a trade-off that may come down to use and personal preference. We much preferred a pole we could hold out with one hand-weight is important, especially when reaching out to lay a line on a piling. Light and basic won the day.
Adding and removing a brush-head turned out to be more of a hassle than wed imagined, and the scrub brush thread is not as good as a proper hook for snagging a line from a piling. We returned to a plain 4-foot broom handle for deck washing.
The classic-boat owner should consider a wooden pole with a bronze tip. Yes, it is a little heavier and the tip could mark something if mishandled, but they are relatively light, stiff, potentially beautiful, and will out-live the boat if properly maintained. Fitting the bronze hook and finishing the pole, perhaps with some fancy work, sounds like a pleasant winter project.
There are many more boat hooks on the market than we could test. If you find one in a store that you like, its easy enough to give it quick trial. Find something you can hook it onto. Can you lift your own weight? Does the tip bend or the locking mechanism slip? Can you pick a three-quarter-inch line off the floor with the tip or hook? Can you hold it out with one hand? If it passes all these tests, it is probably good for the job, although passing the durability test can only happen with time.
Boat Hooks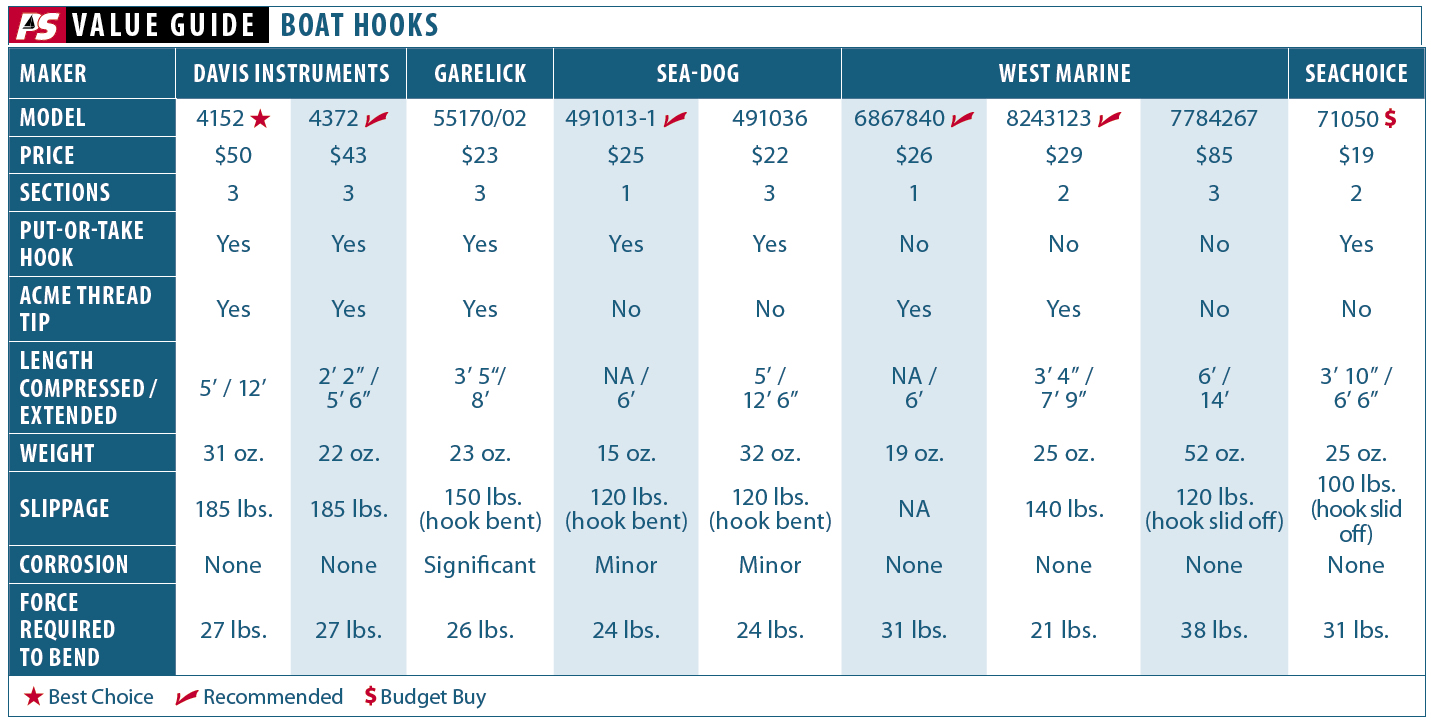 Damage Assessment on the Captain's Hooks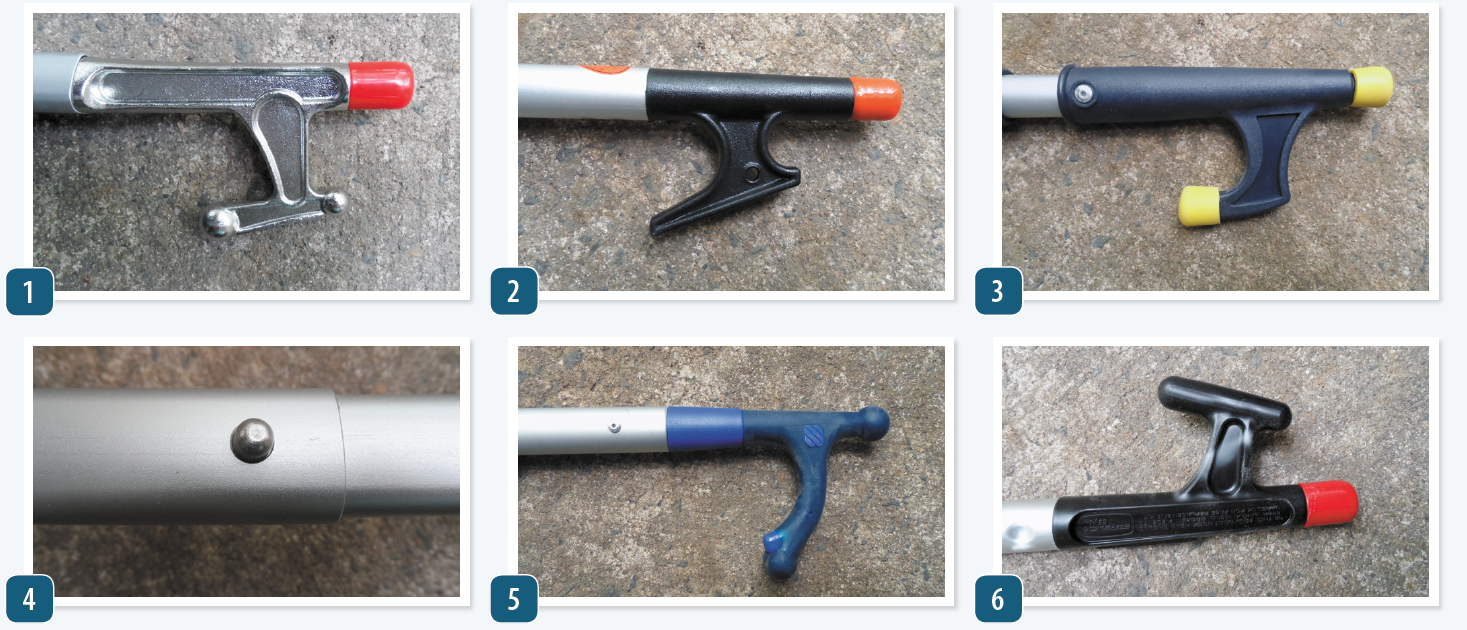 As with a lot of essential boat gear, the ideal attributes of a boat hook are at cross purposes. We want them to be inexpensive, lightweight, and strong. Aluminum and plastic meet the first two requirements. The third? Not so much.
1.The Garelick Tri-tube head was the strongest, but it was also the only one that would scratch gelcoat.
2.The tip on the Davis poles were the only ones that could pick up a line off a dock. It earned its "unbreakable" billing.
3.The head on the fixed-length boat hook from West Marine held up well during our stress test.
4.The locking pin on the Garelick Tri-tube was easy to use, but it unexpectedly released during testing.
5.The tip of the West Marine Heavy-duty boat hook turned out to not be so heavy-duty.
6.The Garelick Twist-lock tip bent during load testing.
Hook Woes, Snafus, and a Win
Some ideas that look good on paper don't seem so brilliant in execution.
1. The head was a weak link in many of the boat hooks we tested, and although the pole often survived the test, replacement fittings were not an option. Only the Davis tip (bottom) was stronger than the pole, allowing it to still be usable. Our tester was surprised how many of the poles snapped under relatively light loads.
2. Our tester's old, thick-walled Garelick fixed pole bent, but it could be straightened back out. Several others in our test crumpled beyond repair.
3. Stainless steel and aluminum don't mix. Without some insulating compound like Tefgel, Duralac, or Lanacote, the locking pins on some designs invite corrosion.
4. The Garelick Tri-tube has an industrial-strength head that is meant to double as a deck brush—except common deck brushes won't fit.
5. Our brushes didn't fit the Sea-Dog hook, although a Sea-Dog brush will.
6. Testers like Davis paddle/hook for use aboard engineless, small boats.