Here at Practical Sailor, we take sitting around very seriously. In the July 15, 1998 issue, we took a look at cockpit seating. The report went into anthropometry (the measurement of the human body) and discussed important work done in ergonomic seating. Before that, we reviewed a variety of portable seating options, including a few beanbag chairs designed for boats (PS, May 15, 1995 and Aug. 1, 1996) and fold-up cockpit seats like the top pick Paradise Sport-a-Seat (PS, December 1996 and Nov. 1, 2002).
Since those reports, dozens of new portable chairs have entered the market-some of them seemingly well-suited for onboard duty-so testers thought it a good time for a test update. We rounded up five new padded chairs with self-supporting backrests and compared them to the reigning favorite, the Paradise Sport-a-Seat.
What We Tested
All six test chairs have multiple reclining settings with self-supporting, framed, and padded backrests. All except the West Marine High-back Go Anywhere Seat 2 can be stored flat. All of the test chairs covers, which range from Sunbrella to polyester, are marketed as weatherproof. And all of the test chairs are made with open-cell foam, which easily can become soaked by weather and spray, and takes forever to dry completely.
The test chairs are: the Paradise Sport-a-Seat; Picnic Times Oniva and Ventura designs; G2 Products ComfortSeat; and retail giant West Marines Go-Anywhere Seat 2 and High-back Go-Anywhere Seat 2.
Nevin and Lynne Paradise designed and made their first Sport-a-Seat 27 years ago. They continue to source materials and manufacture the chairs in the U.S. California-based Picnic Time was founded 30 years ago, selling traditional European-style picnic baskets in America. The company has since branched out to offer a variety of leisure products.
Florida-based G2 Products imports and distributes the Netherlands-made ComfortSeat line of seating products and accessories.
How We Tested
Practical Sailor evaluated the portable chairs on construction quality, materials, and features (nonskid bottom, armrests, and whether the chair is foldable and stowable). To gauge comfort, portability, stowability, and durability, testers used each chair for an extended period on board sailboats in varying wind conditions, at the beach, and camping.
Testers ideal portable chair would have a Sunbrella cover, closed-cell foam cushion, and a galvanized-steel frame. It would be comfortable enough to sit on for hourslong watches and would have a nonskid, water-resistant bottom; adjustable backpack straps; and a carrying handle. It also would be affordable and have a long warranty.
Sport-a-Seat
The Sport-a-Seat, PSs top pick in the 1996 and 2002 tests, continues to score big with testers. There is a Goldilocks-esque balance of size, quality, and comfort in this lightweight chair.
Sport-a-Seat has an internal, six-position ratchet hinge and a galvanized carbon-steel frame. The chair is filled with high-density foam and covered in Sunbrella fabric, which is known for being easy to clean, durable, and UV- and water-resistant. The chair has a fabric carrying handle and can be used fully upright, laid flat, or in one of five recline settings. The frame will hold up to 300 pounds.
It retails online for $115 and comes with a one-year limited warranty for the internal frame and hinges. Unlike some cheaper, Made-in-China knock-offs, the Sport-a-Seat is made in America using high-quality, durable materials.
Bottom line: The chair is pricey at $115, but it is well constructed and wed expect it to last many years. Wed like to see a longer warranty, but its worth the cost, in our opinion. It tied the ComfortSeat for Best Choice.
Picnic Time Oniva Picnic
Times Oniva seat was the smallest chair in our test group. The polyester-covered Oniva has a steel frame and high-density foam cushion. The thick foam is comfortable, and can be accessed via zippers on the chair back, but its open-cell nature will quickly become water-logged should the chair fall or blow overboard.
The backrest, which is shorter than the others in the test, folds down flat and has six adjustable positions for reclining. The seat has an attached, adjustable webbing shoulder strap and a black bottom that hides dirt and repels dampness but does not offer nonskid traction. Testers liked the reinforced bottom, but they prefer a nonskid bottom and a cover made of durable Sunbrella rather than polyester, which is more likely to mildew, fade, and tear.
The chair comes in six colors, weighs 6.25 pounds, and carries a manufacturers lifetime limited warranty. Testers found it on several retail websites for $30 to $50.
Bottom line: The Oniva Seat was the most portable and the easiest to stow; however, its polyester cover makes it one of the least durable. However, it does have a lifetime warranty.
Picnic Time Ventura
The polyester-covered Picnic Time Ventura seat was the only chair in our test group with collapsible armrests. The armrests provide additional support, but testers noted that the space between them is not wide (15 inches); boaters with wide sterns might not fit comfortably with the armrests up. If you prefer a wider seat, the armrests can be inverted, increasing the width of the seat to 20 inches.
The adjustable backpack straps are a convenient and hands-free way to transport the Ventura. Testers found that the Ventura cushion, which is accessed via a zipper on the back, was not quite as thick as others, making it less comfortable than some for extended sitting, like on long watches. The chair has six backrest positions.
Unlike the Oniva, the Ventura has a water-resistant, black PVC-coated bottom that keeps the seat from getting damp, damaged, or soiled, and its small nubs offer good nonskid-an important feature for using the chair on deck, underway.
The chair comes in four colors and can be found online for an average price of about $50.
Bottom line: Not as durable or as comfortable as some top-tier chairs, the Ventura boasts a nonskid bottom, backpack straps, a low price, and a lifetime warranty.
ComfortSeat
The ComfortSeat has a galvanized-steel frame surrounded by a super-dense, coated polyether foam cushion and covered with UV-resistant Sunbrella. A dark blue, rubberized nonskid covers the chair bottom and is much grippier than the Venturas nonskid. The 6-pound ComfortSeat was one of the lightest chairs in our test group, and it has a contoured, padded hand grip, allowing for slightly more comfortable hand carrying. All definite pluses, in our book.
Best of all, the ComfortSeat -which is adjustable to 14 different positions-is as its name implies: quite comfortable. It is available in six colors (and stripes), sells for $100, and is covered by a one-year warranty.
Bottom line: The nonskid bottom and molded hand strap ties the high-quality, high-comfort ComfortSeat with the Sport-a-Seat for the Best Choice; but for the price, wed expect a better warranty.
West Marine Go-Anywhere 2
West Marines Go-Anywhere Seat 2 has a powder-coated steel frame with a ratcheting, five-position hinge. Its style is very similar to the Paradise Sport-a-Seat, but the Go Anywhere 2 is slightly smaller and has a cut-out at the seat-back juncture.
Construction-wise, the two are quite different. Unlike the Sunbrella-covered Sport-a-Seat, the Go Anywhere 2 is made with a UV-resistant polyester fabric that is urethane coated to prevent moisture absorption. The chair, cushioned with high-density, open-cell polyurethane foam, does not have a nonskid bottom, but it does feature a handy mesh storage pocket and a fabric carrying strap. The Go-Anywhere Seat is lightweight and stores flat.
The $90 chair comes with a six-year warranty for the frame and three years for upholstery. Its only sold in navy blue.
Bottom line: The Go-Anywhere Seat 2 was comfortable and portable, and its slightly less expensive than the top picks. However, wed opt to spend the extra $20 or so for a chair with a Sunbrella cover and nonskid bottom.
West Marine High-back Go-Anywhere 2
Testers voted the West Marine High-back Go-Anywhere 2 as the comfort king, but they werent as keen on its hefty size and weight. Style-wise, the double-stuffed chair looks like a videogamers chair, with a high back and low armrests. It also has a number of bonus features: an adjustable headrest pillow, cup holder, mesh back pocket and smaller side pocket, and backpack carrying straps. But all this comfy luxury comes at the price of easy portability and stowability. Folded up, the High-back Go-Anywhere was by far the widest and deepest chair tested, and at 14 pounds, it was by far the heaviest.
Construction is the same as the Go-Anywhere Seat 2, with a powder-coated steel frame, an encapsulated open-cell foam cushion, and a water-repellent, polyester-cover.
The stitching connecting the backpack straps to the chair tore during testing, while testers were simply carrying the chair by the strap. (The chair had seen only normal use for about two weeks before the seam came apart.) West Marine customer service confirmed that repairing it would be covered by the upholstery warranty.
For $140 (the most expensive in the test), testers would like to see upgraded construction quality. The chair carries a six-year warranty on the frame and a three-year warranty on the upholstery.
Bottom line: The High-Back Go Anywhere was the most comfortable we tested and is loaded with features, but its also the least portable and was the only chair that showed wear during our test. However, if youre looking for easy-chair comfort on board and have space to spare, you can't beat the comfort of this chair. We Recommend it, but suggest you test drive it before buying it, locate a storage space before hauling it onboard, and never let it get wet.
Conclusion
All six chairs were comfortable, but the Sport-a-Seat and ComfortSeat chairs-which have Sunbrella covers and galvanized frames-were our top picks, tying for Best Choice. The main differences between the two is the ComfortSeats nonskid bottom-which we found is a must for use on deck underway-and the fact the Sport-a-Seat is Made in the USA, which speaks to its excellent construction quality.
We suspect that the marine environment will prove too tough for Picnic Times Oniva and Ventura chairs, but the chairs are lightweight, very portable, and comparatively inexpensive.
Testers felt the term portable was overly generous when used to describe West Marines High-back Go-Anywhere Seat 2, but the chair is definitely comfortable and fitted with lots of extras. We Recommend it for those looking for a living-room experience in their cockpit or saloon, who have the space to stow it, and who are looking for a chair to use at anchor or belowdeck.
Portable Chairs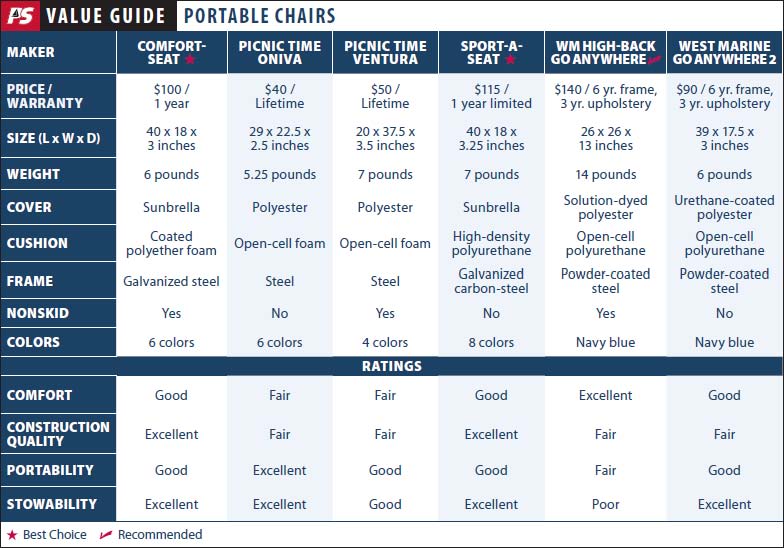 A Closer Look