Canvas dodgers and biminis are the hallmark of a cruising yacht, keeping the sun at bay and allowing the crew to dodge the worst of the weather. On board, canvas also protects sails, windows, and machinery. Collectively, these represent a substantial financial investment, and we wanted to find the best way to protect the investment and get the most life out of the canvas.
Sunbrella makers recommend that routine maintenance include frequent freshwater rinsing plus spot cleaning the fabric. After a more thorough cleaning, Sunbrella advises owners to apply a treatment (specifically Gold Eagle Products 303 High Tech Fabric Guard) to restore the fabrics repellency. In this article, we take a look at treatments designed to keep on-board canvas water repellent and looking its best.
Waterproofing canvas is based on making the surface hydrophobic enough that water cannot wet the surface. Factory canvas comes with some pretty effective treatments, but after two to three years in the sun, they tend to wear off. Treatments containing waxes, PTFE (Teflon), and silicone promise to renew the repellency, if only for a month or so.
When we refer to canvas here, we mean acrylic marine fabrics like Sunbrella, not cotton duck, which some traditionalists still use. The chemistry of cotton and acrylic are quite different-cotton accepts treatments more readily, but acrylic is more naturally repellent-and weve previously tested water repellents for cotton duck (PS, June 2004).
For maximum water repellency, boat owners could use impervious waterproof fabric instead of canvas, but that typically isn't a good idea. Waterproof sail covers hold moisture, mildewing sails more quickly. Waterproof dodgers sweat and hold condensation, drying slowly and mildewing. Waterproof machinery covers would trap salt and humidity, accelerating corrosion. For most on-deck equipment-protection tasks, water-repellent, breathable, durable acrylic fabrics are best. These include Top Gun, Weathermax, and Sunbrella, which we tested and reported on in the December 2011 and November 2012 issues.
What We Tested
For this evaluation, we tested seven treatments formulated to add water-repellency to marine canvas that has been in use for a few years. The test field featured: AquaTech Marine Water Repellent, Marykate Waterproofer (CRC Industries), 3M Outdoor Watershield, Gold Eagle 303 High-tech Fabric Guard, NikWax TX-Direct Spray-on, Star brite Waterproofing with PTFE, and Iosso Water Repellent.
The 3M Watershield is an aerosol product, while all other test products are spray-on liquids. Refills are available for the AquaTech, Star brite, and Iosso products, and all but the NikWax and Iosso contain petroleum distillates. Both Strataglass clear vinyl and Sunbrella manufacturers advise strongly against the use of silicone-containing products; they have been implicated in fogging vinyl windows and damaging the long-term stain resistance of Sunbrella. Use of silicone-containing products may even void product warranties.
How We Tested
The canvas treatments lie right on the fabric surface, making them very vulnerable to weathering, so of course, the treatments performance after a month of UV exposure doesn't always equal their Day 1 performance.
Industry tests for waterproofing treatments are based upon the percentage of the surface wetting, or how well the treated surface beads water. Our tests, designed to be more long term, evaluated the treatments performances at 30-day intervals over a four-month period.
Testers applied the test products to clean swatches of Sunbrella mounted to test panels and to Sunbrella aboard a PDQ 32 catamaran for real-world testing during extended periods of the Virginia summer.
The test panel Sunbrella swatches (8 by 10 inches) were cut from a well-weathered, 16-year-old boat cover and were affixed over cut-outs in painted plywood sheets that were mounted outdoors for 24-7 exposure. We selected old Sunbrella as we felt that the factory treatments on new Sunbrella material would overwhelm the effectiveness of the spray-on products. The test canvas was washed through two standard cycles with laundry detergent (without fabric softener), and then washed once again without detergent to ensure complete rinsing. Each sample included one horizontal lap-felled seam with the open side down. The samples were treated every 30 days according to manufacturer instructions and exposed to the weather for up to four months. One untreated control was included on each panel.
To gauge the performance of the canvas treatments, we identified their most important-and measurable-traits: compatibility with clear vinyl (as in bimini windows), water repellency (initially and after one month), and stain resistance.
While we did not test canvas cleaners, we did investigate what effect cleaning would have on the longevity of water-repellent treatments. What became clear is that vigorous cleaning with the surfactants needed to remove stubborn stains from canvas will remove all spray-on treatments and that you will need to reapply the treatment after cleaning.
Most canvas treatments are not compatible with clear vinyl, so care must be taken when spraying it around windows on dodgers or biminis. Keeping overspray from the vinyl isn't always easy, so we checked the compatibility of our test products with vinyl. (For more on the dangers of treatment overspray and vinyl bimini windows, see the accompanying On a Side Note sidebar and the December 2013 article on protecting clear vinyl.)
Testers evaluated water repellency by exposing the samples to a light spray of water for 10 minutes with the panels set at a 45-degree angle. Samples were rated for dripping, surface wetting, and dampness on the reverse side. During the initial two test periods, no cleaning was performed. During the last test period, testers scrubbed the swatches lightly to gauge what effect cleaning would have.
A more directed spray from 2 feet was then used on each panel; every treatment failed this test; light mist penetrated the fabric. Perhaps the results would be different with new Sunbrella.
Water repellency and stain resistance would seem to go hand in hand. The theory is that anything that prevents wetting should prevent stains from penetrating the fabric; they should rinse right off. Exploring the stain resistance theory with our test canvas required finding some dependable fouling birds and nice big stretches of canvas right under the rigging. A second sort of stain repellency is mildew and algae resistance; it stands to reason that anything that can keep the canvas dry will help.
Once the test results were tallied from the panel testing, the top four performers were applied to canvas aboard one of our test boats, tester Drew Fryes PDQ32 catamaran. The products were: Star brite Water Repellent with PTFE, 303 High Tech Fabric Guard, 3M Outdoor Watershield, and NikWax TX-Direct Spray-on. Testers applied the products to sections of the previously untreated windshield cover (eight months old) and mainsail cover (16 years old). We graded the treatments for coverage, water repellency, and soil resistance.
Observations
Remarkably-and a testament to the durability of Sunbrella-not even the untreated controls leaked during light-spray testing. However, the untreated samples did wet quickly, wick, and drip where the frame made contact. All of the test products continued to prevent seepage for over 60 days, even though surface beading stopped by that time on some samples. Well-sewn seams were no more prone to leaks than plain fabric.
None of the treatments seemed to draw any more dirt than any other, nor did they keep the canvas noticeably cleaner. Interestingly, the products tested on panels and on the boat tended to perform better on-boat than in the shoreside panel test. Testers believed that this was because of differences in the amount of atmospheric fallout (fine dirt); having dirt on the canvas degrades the treatments performance. This highlighted the fact that you should not apply repellent treatments to soiled canvas; it will reduce the effectiveness of the treatment and will seal the dirt in. During on-boat testing, we confirmed that regular treatment with effective repellents and hosing off the canvas occasionally was a more-effective approach.
Across the test field, ease of application and product coverage were pretty much equal, with a few exceptions as noted below. All of the test products are applied until the fabric is wet, and each covers 50 to 75 square feet of canvas per pint, depending on how thoroughly you wet the fabric; more is better up to the point of saturation. As with most coatings, manufacturers recommend two thin coats versus one heavier coat.
For covers that are not drum tight, we found it preferable to remove them, lay them flat, and smooth out all wrinkles, and then spray on the treatment.
The spray patterns of the hand pump bottles seemed more even than that of the 3M aerosol spray. The pump sprayers also were more efficient. Testers found the 3M aerosol to be a bit more difficult to apply, especially in any kind of breeze. The mist is very fine, and in a breeze, users must hold the can closer to the canvas than is optimum, making it difficult to get a smooth coating. All products must be allowed to dry completely before it rains.
After drying, the products caused no color change in the canvas. The noticeable color differences in the photographs-between treated and untreated areas-are the result of absorbed water darkening the areas that wetted out. The obvious corollary, of course, is that as water repellency fails, the appearance of the canvas can become blotchy. If appearance matters, don't just touch-up the areas that are leak-prone; instead, apply an even coating.
All of the effective repellents allowed stains to rinse way with zero to minimal residue. However, once a spot is soiled by a bird, the repellent coating is removed from that spot, and the area will wet out and appear darker, and it may leak. Time to re-apply. Mildew and algae resistance followed the same pattern; because the wetting of the fabric is reduced, treated canvas showed very little growth, while untreated areas only inches away turned solid green.
Iosso
Less effective than other products, the Iosso Water Repellent did prevent complete wetting of the fabric and penetration by light spray. It seemed safe for use around vinyl, and it does not contain petroleum distillates or silicone.
The 32-ounce bottle sells for $20, but it also available as a concentrate.
Bottom line: At 63 cents per ounce, the Iosso in inexpensive, but its repellency didnt last as long as some other test products.
Star brite with PTFE
Tied in performance with 303 High Tech Fabric Guard, Star brites Waterproofing with PTFE (Teflon) showed good initial repellency and good durability. It was still more than 80 percent effective after 30 days on the test panels, and after several months on newer canvas. Star brite recommends the treatment for boat tops, covers, tents, and clothing. It does contain petroleum solvents, but in tests, it seemed harmless to clear vinyl.
At 98 cents per ounce-not the cheapest product in the line-up-the Star brite with PTFE provided the most waterproofing durability for the dollar. Our only reservation is that it contains minor amounts of trimethalated silica, and we don't know how this will perform long term, compared to silicone oils. Early trials suggest that it does not increase staining, but we plan to follow up.
Bottom line: A top performer at an affordable price, the Star brite spray earned the Budget Buy pick.
NikWax TX-Direct Spray-on
A general-purpose product from perhaps the best known producer of aftermarket waterproofing treatments for outdoor clothing and gear, the NikWax TX-Direct spray ranked in the top three in our tests. It is the sole product approved for use on Gore-Tex and Event PTFE laminate fabrics.
The TX-Direct showed Excellent initial repellency that mostly lasted the long haul; it was still over 50 percent effective at the 30-day mark. However, it didnt seem to be as durable in the sun.
Because it is a water-based product, it can be applied while canvas is slightly damp-it was the only test product where this is approved by the manufacturer-though applying it to dry canvas will give slightly better results. Testers also believe the NikWax spray may be the safest for use near vinyl windows because it is water based and solvent-free.
NikWaxs wax-based products, while effective, had a reputation for attracting dirt. The TX-Direct uses a completely different technology, formulated for use with more technical modern fabrics. As a result, this product is also the most suitable of the group for use on rain gear and windbreakers.
Bottom line: While more expensive-the 16-ounce bottle costs $1.34 per ounce-it is a handy, multi-purpose product that we Recommend.
AquaTech
Almost as effective as our top choices, the AquaTech Water Repellent provides good waterproofing with decent durability. Unfortunately, it also rapidly hazes clear-vinyl window materials, making any overspray a serious risk. It was the only test product to affect the 40-mil Strataglass test swatch within two hours of application. Although we cannot recommend this product for use on dodgers for this reason, it is still an excellent choice for treating sail covers and any canvas away from vinyl windows.
The 16-ounce bottle costs $1.22 per ounce.
Bottom line: An OK performer, AquaTech should not be used on biminis or dodgers with vinyl windows.
Marykate
Less effective than other products at the 24-hour and 30-day marks, CRC Industries Marykate Fabric Waterproofer did prevent complete wetting of the fabric and penetration by light spray. And although it contains petroleum solvents, it seemed safe for use around vinyl.
Bottom line: At 70 cents per ounce (30-ounce bottle), Marykate is one of the least expensive sprays in the test field, but it was not a top performer.
3M Outdoor Watershield
While providing excellent repellency, the coverage of the aerosol 3M Outdoor Watershield seemed significantly less consistent than the sprays. In any breeze, the fine mist is more difficult to apply.
Once we got an even coat, it worked well, providing perhaps the best initial repellency of the group and lasting fairly well. Testers noted that the 3M contains silicones, which give us concern about using it around clear vinyl, though our brief test showed no damage.
Bottom line: The least expensive of the lot at 46 cents per ounce, 3Ms Outdoor Watershield repelled water well, but testers preferred the pump-spray, silicone-free products.
303 High Tech Fabric Guard
Made by the same company that brings us STA-BIL fuel treatments, 303 High-Tech is a dependable performer, doing very well in both panel and on-boat testing. Generally, this is considered to be the gold standard for Sunbrella waterproofing treatment, and we agree.
Bottom line: The most expensive product in the test, the 303 Fabric Guard was also the top performer, earning testers Best Choice pick.
Conclusion
The 303 High Tech Fabric Guard, Star brite Water Repellent Treatment with PTFE, and NikWax Direct sprays performed the best, with the top pick going to 303 High Tech Fabric Guard.
All products tested provided significant improvements over untreated canvas, preventing through wetting and leaking for at least two months. Soil and mildew repellency was effective as long as the water repellency lasted-three to six months for the best products.
We cannot recommend any product that affected vinyl windows.
Canvas Waterproofing Treatments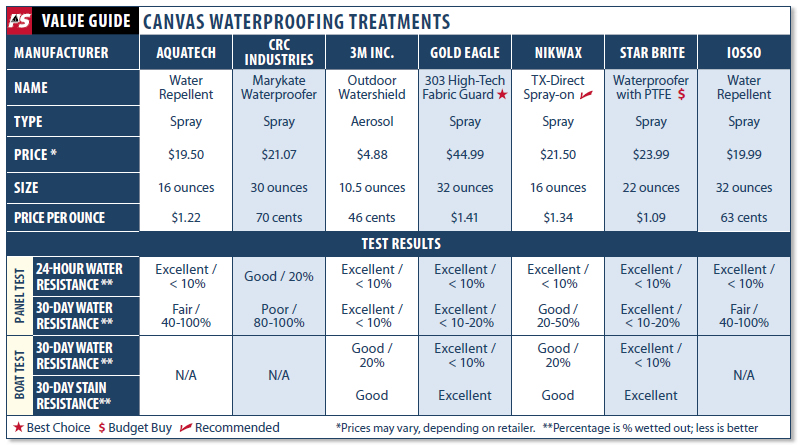 Effects of Treatments on Clear Vinyl Windows