Lately, readers have been asking us about which antifouling paints serve well for specific bodiesof water (or type of water). So, in this article-our annual spring bottom paint report-we will try to answer these questions with some recent reader survey data and sales reports from the two biggest brands in the U.S. (Pettit Paints and Interlux Yacht Finishes). But before we get into the regional breakdowns, a quick recap on choosing bottom paint and our paint testing program is in order. If youre a longtime subscriber, feel free to skip down to the Current Testing section.
Paint Types
We loosely classify bottom paints into two categories: hard paints and ablative paints. Hard paints hold up well to underwater cleaning and can usually be burnished smooth for racing. However, they leave behind paint layers that build up and eventually must be sanded off. Also, hard paints can lose their punch if they are stored ashore for too long and may require a light sanding before re-launch to re-activate the formula. Most ablative paints can be hauled and re-launched without worry.
Ablative paints, which wear away so they don't build up paint layers over time, come in two main types: bottom-tier workboat ablatives that slough away to activate more biocide and more expensive copolymer ablatives that release biocides at a more controlled rate.
Although ablatives are sometimes called soft paints, some, like the new dual-resin ablatives, are relatively hard. These usually resist light underwater cleaning and are suitable for applying to trailered boats.
Hard and ablative paints are further divided into five broad sub-categories that often overlap: freshwater paints, aluminum paints, racing paints, water-based paints (easy for the do-it-yourselfer to apply), and eco-friendly paints. Paint types are indicated in the accompanying tables, and the best paints in each category earn Practical Sailors Recommended ratings.
Current Testing
In this issue, we have four tables presenting results from two different test-panel sets. The six-month tables present our first look at a test of 66 paints that were submerged at our test site in Sarasota, Fla., in June 2013. The table Antifouling Paints at 16 months wraps up data from a smaller test of paints, many of them copper-free, introduced in 2012; there is a short article along with the table, analyzing those results.
As for the newer panel set, most of the paints are still fighting hard growth fairly well, as would be expected after such a short time in the water. A couple of the newer copper-free blends are struggling, but most of the panels rinsed clean when they were sluiced with water prior to being rated. Each paint is rated either Poor (hard growth), Fair (heavy soft growth), Good (light slime), or Excellent (spotless); the ratings are relative to each panel set. For details on our test protocol and rating procedures, see the online version of this article.
The 2013 panel set features several new paints using Econea, a pesticide recently introduced to take the place cuprous oxide (copper), which is falling out of favor for environmental reasons. As states such as California clamp down on copper use in antifoulings, these paints offer a glimpse of what a copper-free future may look like for sailors. Econea is still in the experimental stage, in our view, as paint makers try to find a formula that is both effective and affordable. (Econea is more expensive than copper.)
So far, the copper-free results have been mixed. Although a couple of Econea paints are doing extremely well, our only failure after six months was a new water-based Econea paint from Pettit. Epaints have been the most reliable copper-free paints in our tests, but even they can't keep up with the longevity of copper paints.
It is important to remember that unlike boats, our test panels do not move, and our test waters may be very different from the ones you sail. These test results are one of many data points to consider when narrowing down your choices of bottom paints.
Regional Preferences
As it turns out, the preferences in our reader survey closely match the general trends observed by major marine paint manufacturers Pettit and lnterlux. Budget-priced ablative paints had a more loyal following in the north, while sailors in Florida and Southern California, where sailing is year-round, gravitated toward copper-loaded modified epoxies like Trinidad and Ultra.
Northeast and Mid-Atlantic
In the Northeast, where seasons are short and many sailors apply a new coat of bottom paint every year, the budget-priced paints, particularly ablatives (because they don't build up year after year) like Interluxs ACT, had a larger following than in other regions. A high percentage of sailors in this area also used high-strength ablatives such as Interlux Micron Extra. We presume these boats are being relaunched the following season without being repainted.
Favorites from Interlux included: Micron 66, Micron Extra, Fiberglass Bottomkote NT, and ACT. Pettit paints popular in this region included the ablatives SSA, Vivid, and Hydrocoat, and the budget-priced hard paint Unepoxy.
Southeast
In the warmer waters of the Southeast, the more potent modified epoxy (hard) paints were predominant. The single most popular paint in this region was Pettits Trinidad, although Interluxs Micron paints (Micron 66, Micron CSC, and Micron Extra) combined for a higher number of followers. Pettits Ultima SR 60, a high-strength ablative, and Hydrocoat SR, a water-based paint that attracts do-it-yourselfers with its easy cleanup and no odor, were also top contenders. Other popular Interlux paints included value-priced Bottomkote NT. Sea Hawks Cukote also turned up good numbers on the survey.
Great Lakes
Great Lakes boaters almost universally agreed that Interluxs VC17 was the paint of choice. This freshwater paint goes on about six times thinner than most antifouling paints, it dries quickly, and requires almost no prep work year to year. It has always done poorly in our saltwater tests, although some New England racers who keep their hulls scrubbed each week use it because the finish is so slick and smooth.
Other top sellers for Interlux in this region are Bottomkote NT, ACT and Micron CSC. Pettits thin-film, freshwater paint SR21, and mainstays Hydrocoat and Vivid have a strong following in this region as well.
West Coast
Both Washington and California are moving to eliminate or reduce the use of copper-based antifouling paints among recreational boaters in their waters, but boaters are resisting the change. In the northern waters from San Francisco to the Canadian border, where soft growth such as algae and tunicates are the chief problem, the ablative paints had a larger contingent of followers. Micron 66 and Micron Extra remained popular choices among PS readers. Pettits Ultima SR also notched good numbers in the Washington area. Other Interlux paints that did well in the northwest were the aluminum-friendly paint Trilux 33 and Micron CSC.
In Southern California, where bottom scrubbing is part of the gameplan and anti-copper sentiment is taking hold, harder paints and copper-free paints saw more service. Pettits Trinidad was a favorite among PS readers. Copper-loaded Ultra, water-based Bottomkote Aqua, and copper-free Trilux 33 lead Interluxs roster here. Perrenial favorites Hydrocoat and Eco Vivid round out top picks from Pettit.
Conclusion
Looking at these reports, along with the overall top picks and our top 20 long-term paints, a few names stand at the top in almost every region: Pettits Trinidad, Hydrocoat, and Vivid, and the Interlux Micron series. West Marine paints (PCA Gold and CPP), Blue Water 67 SCX, Sea Hawk Cukote, and Epaint 2000 also made the list, but these were sprinkled throughout the country. These are excellent paints for multi-season use in heavy-fouling waters, but they are overkill for a boater who hauls out and paints every year, in our opinion. For single-season sailors, a budget-priced ablative will serve just fine.
Remember that performance can vary from harbor to harbor, so the information in this report should be regarded as additional data to support your own research with your local yard owners and other sailors in your area.
Ablative Paints pg. 1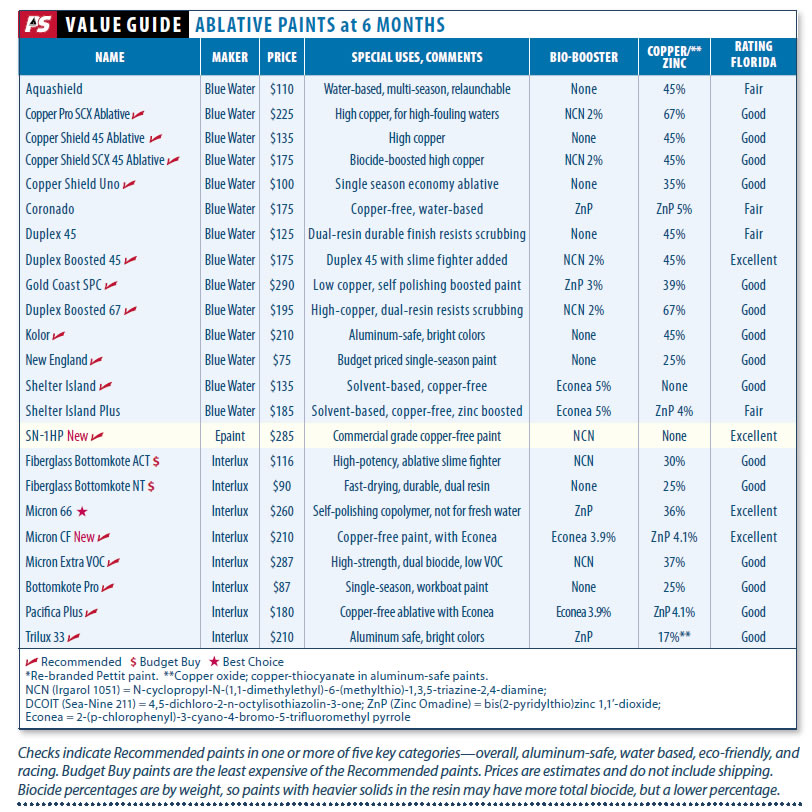 Ablative Paints pg. 2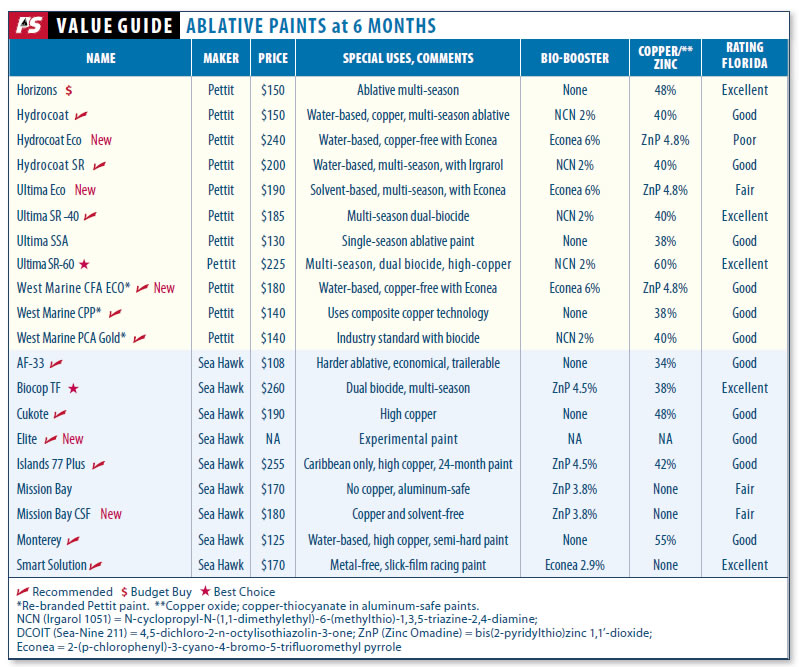 Hard Paints
Antifouling Paints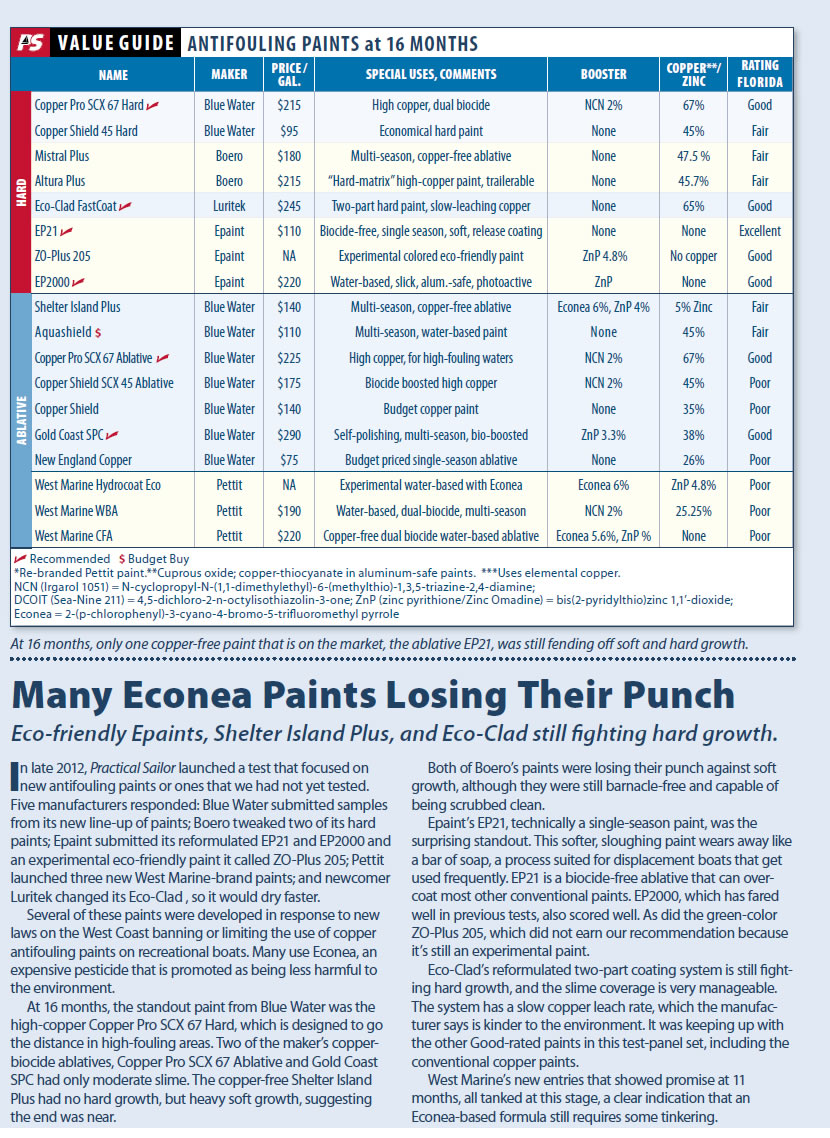 Tips & Techniques