Vinyl protection is about the long run. In the Practical Sailor January 2014 issue, we reported on the performance of a host of clear-vinyl waxes and cleaners, as well as several different clear-vinyl window materials, after testing them for four months on panels. This report is the two-year update on the long-term test of those products, and already the first failures have appeared.
What We Tested
There are two classes of clear-vinyl protectants: spray cleaners that are applied every few weeks and creams or pastes that are applied quarterly. The sprays focus on cleaning and shine, but all claim ultraviolet (UV) protection as well. The creams and pastes provide a thicker film and require more effort to apply.
While there are several manufacturers and two classes of clear-vinyl window materials, our testing is centered on two premium coated products, OSea and Strataglass, and two uncoated products, Regalite and Crystal Clear, which are the uncoated versions of the preceding premium products.
We also tested samples of restored vinyl (original type is unknown) for longevity. We learned early in testing that without continued treatment with sealers, restored vinyl quickly fogs in humid conditions. Protective treatments like those we tested can help prevent this.
Observations
Cold weather can be particularly problematic for clear-vinyl windows. We cracked one reconditioned test panel while cleaning in cold weather (45 degrees); it snapped under light pressure. Reconditioned vinyl is stiffer than new vinyl at all temperatures. While products may claim to restore flexibility, our testing in both warm and cold temperatures revealed that no actual softening occurs.
We also lost a new Strataglass 40 test panel to icefall at about 0 degrees. It didnt just crack; it shattered into fragments. Clear vinyl should not be cleaned, folded, or handled below about 55 degrees.
Humidity is also troublesome. In our previous vinyl restoration report (see PS May 2014 online), we observed that restored vinyl was subject to hazing in sustained rainy weather if it was not maintained by regular protectant application. Continued testing showed that this trend increases with time, and all restored vinyl became hazy, even with regular protectant application.
When new, the coated (OSea and Strataglass) and uncoated (Regalite and Crystal Clear) clear vinyl is effectively indistinguishable. The uncoated vinyl is generally a little more flexible, but visibility and haze resistance is equal. However, after two years of exposure, the uncoated vinyl is vulnerable to humidity hazing in sustained damp weather.
Our head-to-head evaluation of the coated OSea and Strataglass vinyls is still inconclusive. We see no visible differences after two years, but the OSea material remains considerably more flexible.
Cream polishes
Similar to our experience with boat waxes, the thicker, cream vinyl protectants seem to have an advantage in terms of longevity. Each of the five cream protectants we tested performed well in this very tight field.
Imar 302
The cream Imar Strataglass 302 Protective Polish cleaner-wax is the only polish endorsed by the maker of Strataglass vinyl for use during the vinyls warranty period. It easily produced a mirror gloss and was among the most effective products for restoring gloss. At nearly $30 for a 16-ounce bottle, it is expensive, but you only use it a few times each year, so the supply should last.
Bottom line: The Best Choice cream.
Star brite Clear
The Star brite Clear is part two of a two-step vinyl restoration system. It was easy to use, polished bright, and beaded water for an extended period. It contains small amounts of siloxanes, which appear to be the same ingredients that Imar uses.
Bottom line: At $1.54 per ounce, this Recommended product got the Budget Buy pick in the protectant group.
EisenShine UV Glaze
Eisenshine was our top-rated, vinyl-restoration system, and the water-based Eisenshine UV Glaze protectant gives a nice shine, repels dirt, and beads water as well as the others tested. The protectant is part of a $50 restoration kit, or available as a 4-ounce bottle for $10.
Bottom line: We Recommend the Eisenshine protectant.
Sudbury Step 2
Although the Sudbury Step 2 is a thin liquid, we included it with the pastes because it requires a second buffing step after drying. It was easy to apply, but given our experience, it will need to be applied more frequently than the thicker pastes.
Bottom line: We Recommend it.
Novus No. 1
Similar to the Sudbury product, the thin Novus No. 1 had reliable, middle-of-the road performance and was easy to use. It offered acceptable protection in our test and is priced relatively inexpensively.
Bottom line: It is a Recommended paste protectant.
Liquid Cleaner/Protectants
These dual-purpose products promise to speed up the treatment process. Weve had mixed results with similar boat wax products, but were surprisingly pleased with this two-pronged approach to vinyl treatment.
Imar 310
Endorsed by the maker of Strataglass for use during the vinyls warranty period, the Imar Strataglass 310 Protective Cleaner is certainly a safe bet, but its not quite the best cleaner available. It is, however, the most expensive of the test field.
Bottom line: This is our Recommended liquid cleaner for Strataglass.
Star Brite View Guard
Hands down, the inexpensive Star brite View Guard cleaner was best of the group. It polishes to a nice shine, is a standout for its ability to sheet the water off, improving wet-weather visibility, and is our favorite to use on the test boat.
Bottom line: This is the Best Choice cleaner/protectant, unless following Strataglass endorsement is a priority.
303 Aerospace Protectant
Performing much like Imars spray protectant, the 303 Aerospace Protectant spray cleaned well but took a little longer to polish. Given our experience in other tests and endorsements for other 303 products from fabric companies like Sunbrella, we know the protectant works.
Bottom line: It is Recommended.
AquaTech
A reasonably effective spray product, the Aquatech Glass Cleaner and Protectant provided some water repellency and polished easily. At $10 for a 16-ounce spray bottle, it was one of the least expensive.
Bottom line: AquaTechs beading did not last as long as some other products.
Camco Armada 210
Several canvas shops recommended the Camco Armada 210 Plastic Cleaner and Polish, the sole aerosol in the lineup, explaining that it is their go-to product when a customer brings in a filthy dodger for repair and restoration. Vinyl manufacturers, however, warn against the solvents in the Armada 210 and say that using it regularly over time can lead to damaging the vinyl, but we have not yet seen any damage on test panels.
Bottom line: Armada 210 is fast and effective. Were withholding a Recommended rating until we can confirm that it doesn't cause damage beyond the two-year mark.
Conclusion
Dont clean or wax your clear-vinyl windows when temperatures dip below 55 degrees. While it is tempting to continue maintenance in the cool season, particularly for those that sail year-round, the risk of breakage is too great. Give the windows a good waxing in the fall and leave them alone until warm weather returns. Restored vinyl windows certainly look much better for a time, but within a few years, the maintenance will increase, and they will likely exhibit serious morning and rainy-weather fogging. Think of restoration as extending vinyls life for one or two years, until you can buy new vinyl. On the other hand, if daysailing is your thing, this may be a minor concern.
Coated OSea and Strataglass vinyl exhibit substantially better resistance to humidity fogging than restored vinyls and the uncoated vinyl from Regalite and Crystal Clear, and they are worth the extra cost for this reason alone, in our opinion. No tested protectant or cleaner prevented this fogging, though the Imar Protective Polish, Star brite Clear, and EisenShine UV Glaze did reduce the hazing for a few weeks.
All of the cleaners and protectants boosted dirt repellency, produced a nice shine and clear view, and were easy to use. Long-term effects have not yet been apparent. The one standout testers noted was Star brite View Guards ability to shed the water beads from the window, providing a better rainy-weather view. However, the Imar product line is the only one that Strataglass endorses. The Imar 302 led the cream protectant field, producing a smoother feel and more durable water repellency and dirt shedding, earning it the Best Choice in that group. The Imar 301 got a Recommendation for use with Strataglass.
All of the cleaners produced an acceptable shine, but the Star brite View Guard was superior in both ease of cleaning and repelling water, earning it a Best Choice pick among cleaner/protectants. At 64 cents per ounce, it also got the Budget Buy pick in this category.
Covering clear-vinyl windows is also a practical solution, perhaps in addition to cleaners and creams. On our test boat, we keep the original vinyl skylights (1997) covered with Sunbrella when not sailing, and they have remained crystal clear without any regular treatment.
This long-term test will continue for at least five years. A practical routine for the typical weekend/seasonal sailor is to use either Imar cleaner/protectant or Star brite View Guard in-season, when the boat is sailed and the windows are cleaned every few weeks; follow this with the Imar cream in the spring, mid-season, and fall. However, at two years, none of the new vinyl panels, regardless of treatment type, are visibly more clear than those simply cleaned twice each year with diluted dishwashing liquid, which was our control. Perhaps benign neglect is not so bad.
Cream Vinyl Protectants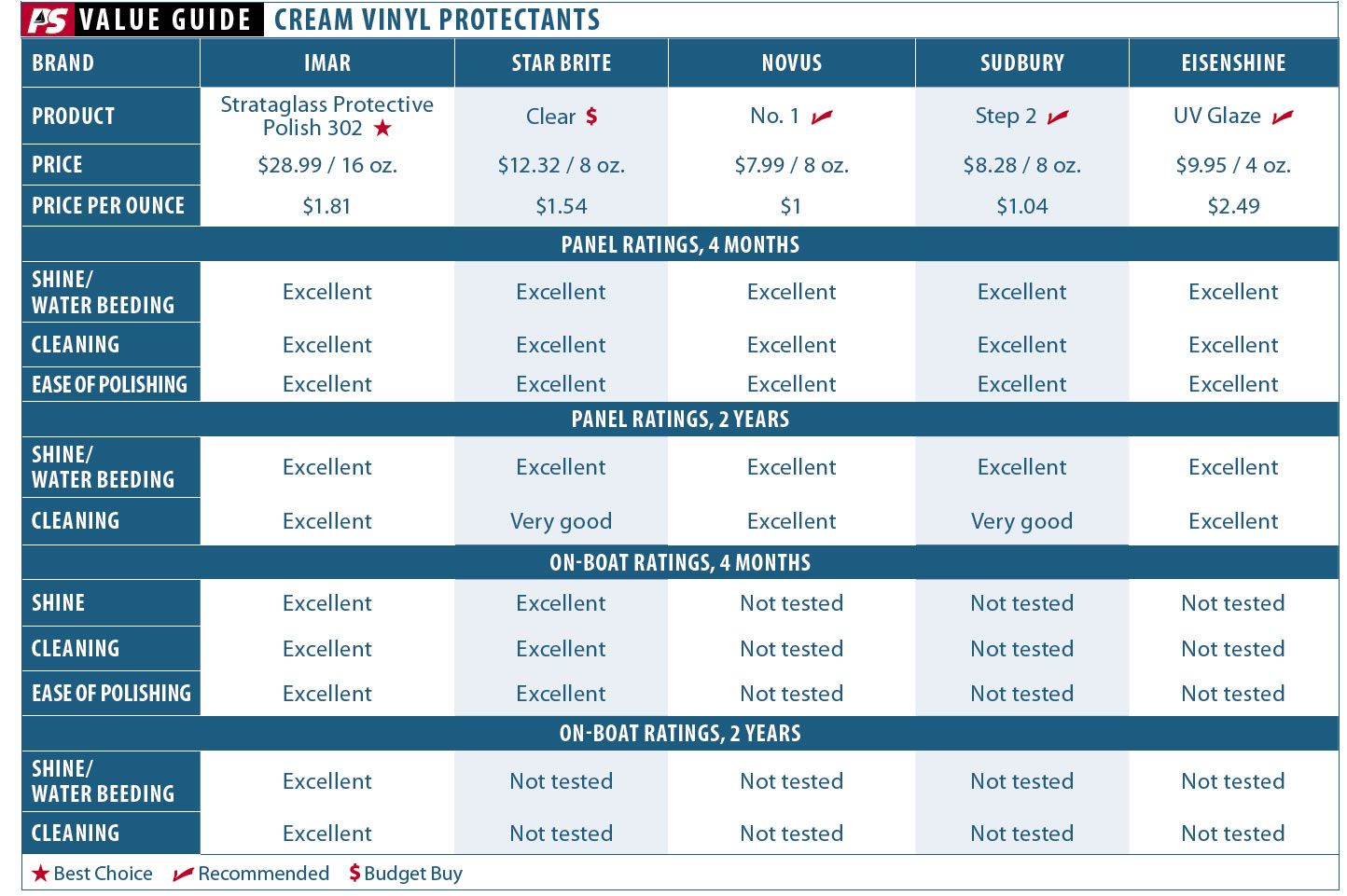 Liquid, Spray-on Vinyl Cleaner/Protectants