Whether you want to cruise the higher latitudes or extend your sailing season this winter, you'll need to think about clothing. Over the years, Practical Sailor has published a number of tests and reports on garments that we can count on to keep us warm when the wind chill dips toward freezing. In this report, we'll take a broader look at the essentials, focusing on the first principles; under layers, accessories, how to wear them, and what materials stay dry.
As a supplement to our previous reports on the various categories of individual garment (hats, gloves, under-layers, boots, foul weather gear, etc.), this study focuses on field trials and the experiences of high-latitude sailors, including racing teams, adventurers, commercial mariners, and Practical Sailor contributors who have decades of experience sailing in the cold. As much as possible, we've looked for affordable, time-proven alternatives to the often over-priced tech clothing.
Photo courtesy of www.mahina.com
The Basics
Staying warm isn't just about clothing. Keep moving. When conditions allow, stand up, stretch your legs, clap you hands, coil some rope, check sail trim. In the fight against cold, your hands are tied if you're sitting still. Keeping busy can also help stave off seasickness.
Air leaks. As it grows colder, air leaks matter more than insulation. Separate jacket and pants allow helpful ventilation in mid-range temperatures. This exchange of air keeps you warm by preventing condensation that will make you colder when temperatures drop. In near-freezing temperatures, however, one-piece outer layers are more efficient than two-piece, jacket and pants. Colder temperatures mean drier air, so the chill, rather than dampness is your chief enemy. Even in the rain, 32F air has only 10 percent relative humidity when warmed to 80F within your clothing. Yes, you still need ventilation, but you must be able to control it.
Full coverage. More insulation on your core is less effective than coverage from head to foot. A hat conserves more BTUs than adding a second sweater. A fleece layer on your legs adds more warmth than a third top layer. Learn to work with gloves. Dress evenly.
Head gear. Wearing a hat is not about just keeping your ears warm. Cape Horn navigator Skip Novak likes his Andean chullo in alpaca wool. High-latitude racers prefer water-repellent synthetic balaclavas made for sea-kayaking. These keep your head dry and seal the neck against drafts. You can wear a ball cap over it to help retain the hood, or a fleece cap if it is really cold; the balaclava helps keep other hats in place.
Eye wear: Its not summer, but you'll still need eyewear. Ski goggles help warm your nose and cheeks by keeping the top half of your face warm. Look for bronze, polarized lenses, which offer an effective combination of UV protection and ability to cut surface glare, even in low light.
Gloves. Sailing gloves are fine for summer, but for winter you'll want better repellency and insulation in your winter sailing gloves. And because work like hauling anchors and mooring lines can tear up more comfortable insulated gloves worn on passage, you'll also want some heavier work gloves.
High-gauntlet PVC gloves used by Alaskan fishermen are inexpensive, dry, and relatively durable, but they are only as warm as the inside liner. Some sailors also like these gloves for the helm, but they are bulky and hard to use when handling lines or winches. Knit freezer gloves, with only the fingers and palms coated get soaked easily, but they dry fast and are good choice for hauling on cold, wet chain or rope.
Gore-Tex ski gloves can do well, though most can't repel constant soakings and are hard to dry. Two-piece systems, incorporating an insulated outer shell and an inner liner, are popular with mountaineers because they are easier to dry. A leather or rubber-faced liner that doubles as a glove can be quite handy in severely cold weather. You can remove the insulated layer, and wear only the liner for tasks requiring better dexterity.
Neoprene dive gloves (3 millimeter) are warmer when wet than most winter sailing offerings, but they don't hold up to rope handing. Waterproof, they are a good choice for long nights at the helm. Whatever gloves you choose, don't forget spares.
Room for socks. Whether you're wearing boots or deck shoes, cold toes can bring misery. Footwear for the winter season should be a larger size than summer wear. For winter sailing, we often wear a drysuit with neoprene dinghy boots, leaving enough room in our boots for both the drysuit-feet and a pair of fleece socks. We also have a pair of deck shoes that are a half-size larger for wearing with fleece socks in cold weather.
Seaboots. Boots for winter should have room for a liner sock and two pairs of fleece socks. Comfort is important. For occasional cold-weather sailors with a tight budget, light duty, Gore-Tex-lined hiking shoes with non-marking soles can make good cold weather footwear. For wetter offshore conditions, you'll want good sea boots.
Windsuit or soft shell. Non-waterproof shells breathe far better than heavy rain gear ever will. A lightweight water-repellent wind suit (top and bottom) takes no space, dries instantly, and is comfortable when working hard in dry weather. With the right inner layers, this light suit can also provide adequate protection in colder temperatures-provided its not too wet.
Layering
An insulated jacket is handy for spring and fall sailing, but for multi-day cold weather trips, the insulation will become progressively sodden even if it doesn't leak. When moisture leaves your skin it is transported outward until it reaches a surface that is below the dew point. In a fleece-lined nylon jacket, this is the inside surface of the outer shell. This moisture will condense on the inside of the jacket, often convincing the wearer their expensive coat is leaking, though it actually is not. Separate layers can prevent this build-up, and if the inner layer becomes wet, you can more easily dry it out. An insulated jacket, on the other hand, will gradually become sodden, not drying until you get home.
Shed layers. There is no combination that will keep you warm when sitting and sweat-free while working. Open a vent, zip open a shell, remove a layer-all of these are options depending on conditions. Sometimes the easiest option for a short task is to take off your hat; your ears might get cold, but you won't overheat.
Odor control. Smelling nice is less important that staying warm, but if you can keep the boat odors tolerable, it will make life more pleasant for everyone on board. Many synthetics are treated with anti-bacterial treatments claiming to control odor, but in our experience the treatments fade after a season of washes.
Typically, the odor is most severe where clothing touches skin. Synthetics for socks, base layers, and all mid-layers will help keep odor at bay. A top undergarment of merino wool also helps control odor. For the low-budget daysailor who wants to control odor, cotton tee shirts will work just fine as an underlayer—despite what all the experts say. They will also insulate well on dry days, but the insulation value is next to nothing when wet.
Stay dry. One main problem with wool is that it takes much longer to dry. Our testing with socks (PS November 2008) tells us that the wool insulates, wet or dry, but dry is always preferable to wet. Cotton is a terrible insulator when wet.
Durability. Wool insulates, but it doesn't match synthetics against abrasion. We've had safety harness straps wear right through a wool pullover. Expensive wool socks won't last long unless they contain about 15 percent synthetic fiber for reinforcement, but more than 25 percent synthetic effectively negates the insulating properties.
Photo by Beth Leonard
Warm and Wet
Invariably, a cold-weather sailor will be caught out in wet and cold conditions, and not have the opportunity to change into dry cloths. This is why synthetic midlayer materials that dry quickly with body heat and still provide warmth are essential. This is not the most comfortable tactic, but it works. In the case of midlayers, a synthetic fleece blend is the economical, practical choice. Wool takes too long to dry. Synthetic base layers are also preferable for the same reason.
No jeans or cotton sweatpants. Although cotton underwear can be used in cold weather, cotton is a poor choice for outerwear—and certainly anywhere you will get wet. Denim and cotton pile lose all insulation value when wet, and they are very slow to dry. Cotton sweatsuits can be nice for evenings and sleeping, but they must be kept dry. We like cotton sheets, but most of our blankets are synthetic. Sleeping bags should have high quality synthetic insulation. Dampness and down don't mix.
Mid-layers. Our favorite mid-layers are synthetic and wicking, for these can be worn on their own, serving double duty. Soccer training pants and fleece pants both make an excellent mid-layers and can even be worn to a casual dock gathering. To keep the knees from wearing through, you can put knee pads over them (see PS August 2018). Some soccer goalkeeper pants already have thin padding on the knees and hips that will stay in place. These garments wick perspiration well and dry very quickly.
Top mid-layers are fleece jackets, with an emphasis on a long, slender torso and good freedom of movement in the shoulders. Sailing gear works great, but there are often less expensive options available through mountain outfitters. The needs of mountaineers and other sports are virtually identical to those of sailors.
Diaper cream. Cold and dry weather can cause the skin to chap, peel, and crack. Applied liberally to face and hands, a zinc oxide cream like Desitin will prevent chapping. There will to be times when you can't get warm and dry, and can't face a shower or even sponge bath. If you don't do something to protect your skin, it can chap and chafe, making for a miserable passage.
Professional Kits
Foul weather gear for tough ocean conditions in cold waters demands incredible durability, functionality, water tightness, and breathability. Expect to spend a lot for a good set, upwards of $1,000. Start with a three-layer Gore-Tex laminate. The fabric is heavy, stiff, noisy, and quite durable. Lightweight gear often uses a two-layer breathable system, but the thin inner liner is vulnerable to internal chafe. Some styles of pants and jacket are protected by a loose internal liner, but this liner slows drying, makes clothing frustrating to put on wet, and is fragile. Look for wear patches on the knees, seat, and elbows.
Keep wind out. Water- and wind-tightness are a must. Adjustable neoprene wrist and neck seals reduce water ingress, though not as completely as a drysuit. A snug bib, with elastic or an adjustable internal belt helps keep drafts out. A high collar and hood that moves with your head is vital to ensuring good peripheral vision. Pockets are valuable, but some designs are less useful than others (see PS, February 2015).
Drysuits
For prolonged cold ocean sails, it is hard to beat a drysuit. Fabrics and construction are very similar, generally with fewer pockets and no hood (some have hoods). Water tightness is complete, providing better protection from hypothermia if you go overboard. Tech editor Drew Frye once spent 6 hours in 32F water (US Coast Guard standard for an immersion suit) in order to test drysuit performance compared to that of an immersion suit that meets the USCG standard.
Look for styles that focus on watertight integrity and function rather than pockets and gadgets. The down side of a drysuit is reduced breathability, limiting its use to temperatures below 55F unless it is very wet. Fitting can be difficult for people outside typical athletic body size and shape.
Good seals. Tight seals at the neck and wrists are essential for good drysuit performance, but seals with rough seams that pinch can be irritating over the long haul. In really wet weather, bad seals will lead to the slow drip-drip of water down the neck, or the sudden rush of ice water to the arm pits when you reach up. For this reason, we like dry suits for extreme conditions and even sustained cold rain.
Traditionally, dive suit seals were black latex and were always supplied too tight, with tapered openings that the wearer could trim to fit snugly, but not too tight. Some drysuits are now offered with adjustable, Velcro cuffs and seals. Although we're sure these will work for some people, we prefer simpler latex seals, the same material used in the suits preferred by most Volvo sailors.
Although quite thin, the latex material is very stretchy and provides a perfect seal with minimum pressure. Compared with scuba dry-suits, which are very snug at the neck and cuffs, sailors require only minimal pressure- enough to keep out the rain and prevent leaks while swimming on the surface.
To ensure the right fit, wear the top or suit for a few days to break in the latex seal, then store them for a few weeks with something relatively large stuffed in each opening (a two-liter soda bottle fits the neck and smaller sports bottles will fit the wrists), and then trim very carefully along the provided guidelines with sharp scissors. If the seal has been trimmed correctly, you will hardly notice the seals after a while. Someday they will tear, but they are not difficult to replace.
Reinforced latex. Reziseal, a type of reinforced latex used at the seals of Zhik dry suits and others, offer the promise of longer life, but at the cost of reduced resilience and a less watertight fit.
Adjustable neoprene. Similar to wetsuit material but thinner, adjustable neoprene seals last longer than latex, but they are less comfortable unless fitted so loosely that they leak just a little. They generally last the life of the suit, but are not easily replaced or repaired.
Foulie fit. Fit is essential for foul weather gear. First, make sure the underlayers and accessories fit first; you'll need to wear all of these when you try on foul weather gear. You will also need to try the gear wearing only the T-shirt and shorts you'll wear in warmer weather.
In cold weather, baggy isn't warm at all, but in warmer weather you need room for air to circulate. The pants must not grab at the knees (a fault in loose pants as well as tight) nor hang down at the crotch or puff out at the hips. You must be able to reach and stretch without binding, and the hood must fit well enough to turn with your head.
Although oversized clothing will never pinch or bind, it is prone to snagging, gets in the way, is cold, and will slow you down. This is an important justification for close-fitting under layers accessories; the slimmer the fit under the suit, the less need for excessive bagginess.
Dry suit fit. To check fit on a dry suit, squat in a tight ball before zipping the last inch to expel excess air; this is how they are worn. A drysuit typically fits more closely than traditional foul weather gear.
PFD and harness.Your PFD/harness or harness must have enough adjustability to fit you well while you're wearing a T-shirt, and while you're wearing full winter gear. Crotch straps are required; no matter how tightly you wear your PFD or harness, they will slide.
Tailor for the boat. Not every boat is a can'ting keel ocean racer, playing submarine and exposing the crew to frequent green water on deck. On a boat with a hard top, enclosure, or large dodger, you can stay dry and warm in some particularly rough conditions, but its better to be safe. The deck watch should always be prepared for prolonged exposure on deck in an emergency.
Workboat flotation suits
Beyond the realm of yacht wear, there are many options.
Fishing Rain Gear. Many sailors wear Grundens, a popular brand among commercial fisherman. These kits are durable, absolutely waterproof, but a little stiff and lacking the refinements of foul weather gear costing five times as much. The hoods are less functional, neck and wrist seals are lacking, and they don't dry fast. That said, with the right layers underneath, this gear is well proven in cold waters.
Flotation suits. No to be confused with immersion suits (see Immersion Suit Test, July 2007) which anticipate going in the water, flotation suits are insulated, one or two-piece suits designed for occupations where going overboard is a very real probability. Numerous European companies make them, and some are available in the US (look for those are certified under ISO-15027-1 and EN 393). These typically provide less flotation than a PFD, but if you subtract the weight of the foul weather gear they replace, the difference is minor. They won't turn a swimmer face-up, though some have inflatable head rests.
As with a dry suit, flotation suits provide protection from hypothermia, allowing a person wearing one to survive several hours in cold water without succumbing to heat loss. They are waterproof, provide insulation even when wet, and, importantly to Baltic fishermen, they cost far less that top-of-the-line dry suits or foul weather gear.
On the downside, they are bulky, and if the air temperature rises above about 50F an active person will sweat profusely, since there is little way to reduce the insulation value. Some are only listed as flotation aides, leaving the question open as to whether to wear a PFD as well.
The target market is primarily fisherman and commercial boaters in the North Sea and Baltic Sea, where cold water and gloomy days are a year-round reality. A harness and tether makes no sense for fishing or working commercial shipping, so falling is a constant possibility.
A flotation suit will keep you warm and dry in extreme conditions, but for sailors, it is less practical than layering with a drysuit. The prevalence of drysuits among Volvo racers confirms this wisdom. Price is a consideration. Drysuits range from $750-$2,100 versus $175 to $480 for an flotation suit.
Cost
As you can see by the cost comparison table, some of the name brand items on the list are pricey. However, through a mix of thrift shore and non-marine shopping, you may be surprised how far the dollar can stretch. With the exception of a drysuit, you can put together a winter outerwear ensemble for coastal sailing for less than $500-sometimes much less. A few proven ways to reduce the sting:
Ugly fleece is just as warm as pretty fleece. Look for a slim fit that offers full range of motion and can serve double duty as cabin wear and pajamas. Second hand stores in ski country usually abound in good used uppers.
Search for discounts. Last year's model is often as much as 40 percent off.
Don't scrimp on footwear, gloves, and head coverings. These represent your contact with the boat and surroundings. They also offer the best BTU/pound savings. More fleece for your torso and legs is cheap.
Choose between a heavy-duty foul weather gear or drysuit, but probably not both. In our view, there should be at least one drysuit on board for in-water emergencies, but most boats don't require such extreme protection, even in nasty weather. Medium weight foul weather gear is more comfortable and will be durable enough. Choose bibs over pants.
Conclusions
As much as wed like to offer a single recommendation, all of the sailing gear is well proven. Commercial gear from Mustang, Fladen, and Grundens offers a lower cost alternative that may or may not meet your cold water sailing needs. Choice boils down to budget, needs, and personal preference.
Test the underlayers and accessories first. How they fit your body both alone and under your foul weather gear is important. Go sailing deeper into the fall, using whatever outer layers you have, remembering that air leaks matter. If your feet are cold, the problem may be your hat or your legs. Only after you've figured out what it takes to stay warm all day, through a variety of activities, are you ready to look at the pricey stuff that keeps you dry.
Consider a drysuit as an alternative to foul weather gear in cold conditions. Although drysuits are less breathable, they make agile deckwear in tough conditions, with unbeatable waterproof protection and warmth. They offer superior hypothermia protection in case of immersion, making them vital for kayaking, dinghy rides in rough water, and for in-water access to inspect the hull and untangle fishing gear. In very cold water, you need either a drysuit or immersion suit for each person, and a drysuit offers an opportunity to save duplication. Pair this with lighter coastal-weight foul weather gear for less demanding conditions.
The boat type (is your helm protected?) and expected conditions will likely determine how much you spend. A full kit, top-to-bottom for extreme conditions can cost more than a thousand dollars, but for most sailors, smart layering you can keep you warm and dry for a fraction of that.
In milder conditions, lighter coastal racing gear is suitable outerwear for more limited exposure (good wrist and neck seals are still important). A drysuit can be reserved for kayaking, dinghy rides in freezing water, and of course, the most horrible days underway.
If you're headed for higher latitudes, comfort is critical, because the best gear is useless if you don't wear it. While on watch on long passages, you'll want to be fully dressed or nearly so, ready in case an emergency requires your attention on deck. In heavy weather, the off-watch crew might also need to be dressed and ready. We've spent many long nights sleeping during the off-watch in bibs, or even full foul weather gear.
Covering Up Head to Toe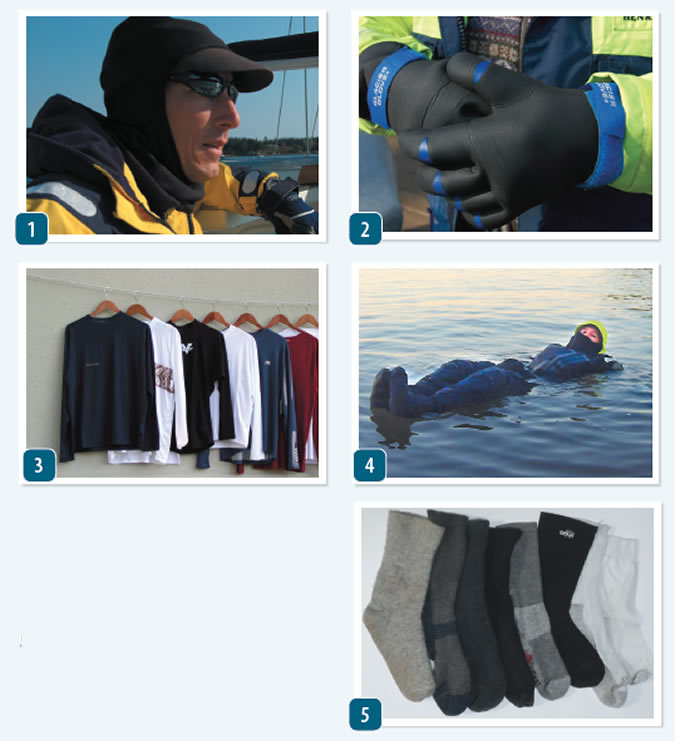 We've done a number of tests on cold-weather sailing apparel, keeping track of the many innovations over the years. While many sailors focus on the big ticket items, often it is the less expensive accessories like hats, gloves, and undergarments that determine comfort when the going gets tough.
1. A ball cap under a balaclava provides warmth and sun protection. Look for our report on headwear for sailors in an upcoming issue.
2. Glove liners under neoprene Glacier Gloves offer excellent warmth and protection against the wet. The only drawback to neoprene is that it can take longer to dry (see PS November 2008).
3. Fast drying base layers are a first step to keeping out the cold (see PS January 2006).
4. Mustang's tightly sealed drysuit takes the chill out of 40-degree Lake Superior. Less expensive brands have also proven effective in our tests. (See PS July 2007, March 2009, November 2014, March 2017.
Plunging into Sailing Gloves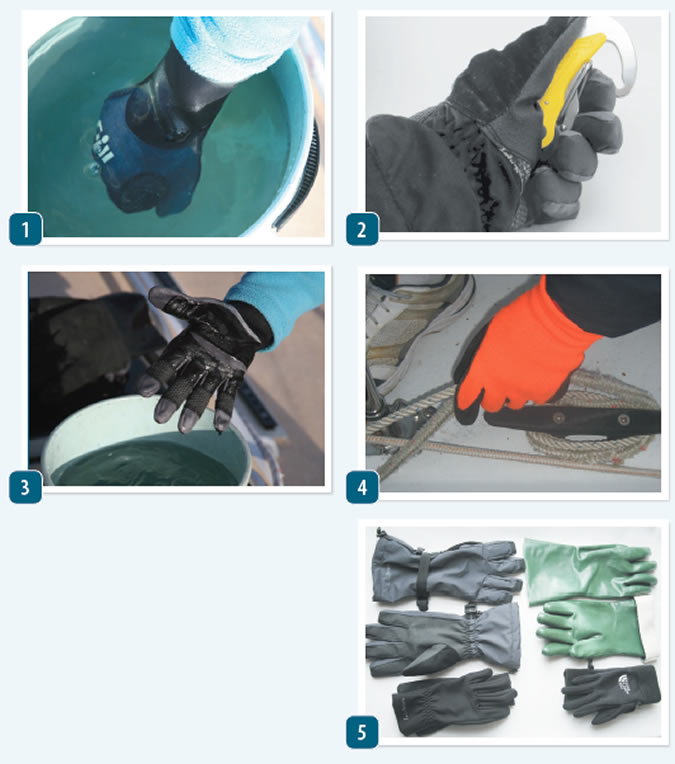 Fit is extremely important when it comes to gloves. Most on deck tasks don't require fingertip control, but you need to be able to operate locker latches, grind winches, and handle lines.
Over the years, we've tested a wide range of gloves. Unlike some other apparel categories, brand-name sailing gloves are not significantly more expensive than comparable gloves designed for other commercial or outdoor pursuits.
1. A Gill neoprene winter-rated glove undergoes an immersion test for our report on cold weather gloves in the November 2008 issue. Only two pairs we examined passed this test.
2. Dexterity is important, especially for deck crew. Check that you can operate small actuators, such as winch handle releases, or latches on snap hooks (shown here).
3. Coated-palm freezer gloves have excellent insulating properties, dexterity, and durability, but they get soaked easily. We keep extra pairs for handling muddy anchor chains and dock lines.
4. Inner and outer gloves offer flexibility and dry more quickly than thicker, heavier insulated gloves. Liner gloves with reinforced grips can also be used alone in moderate conditions.