Gone are the days when casting off the dock lines meant disconnecting from the digital world. Today-thanks to handy navigation apps, a bevy of digital sailing tools, and our social media addictions-its hard for most sailors to imagine leaving land without their smart phone or iPad. But that hasn't changed the fact that electronics and water don't mix, making it is essential to protect your pricey gadgets from the potentially fatal dangers of life at sea-spray, rain, salt, and accidental freefalls onto the cockpit sole.
Dozens of products claim such protection, but which ones can you trust? To find out, Practical Sailor recently tested a sampling of waterproof bags and cases marketed for use with cell phones, digital tablets, and e-readers.
What We Tested
We rounded up nine waterproof bags and hard cases. Some are designed to be left on the device for everyday protection, while others are meant for temporary use, when youre in or near the water. Which type is best depends on your needs. A live-aboard sailor will most definitely want 24/7 protection while being able to access full function of the device; the club racer, however, may only need a dry bag for those weekly jaunts around the buoys.
We tested bags from Aquapac, a UK-based company that offers a full line of electronics dry bags. Another UK company, Lifedge, sent us its iPad case to test. The test field also included tablet bags from two North Carolina companies, DryCASE and Watershed. Started by whitewater river guides in the 80s, Watershed now makes a range of military and recreational dry bags. LifeProof, head-quartered in San Diego, Calif., offers cases for all models of iPhones and iPads. We also tested cases from the Hong Kong-based Aryca, which manufactures waterproof protection for smart phones, MP3 players, and the iPad in China.
With the exception of Lifedge and Watershed, the manufacturers offer a number of products to fit phones and tablets, not just the products we tested.
How We Tested
Before we took the test products swimming, testers evaluated the level of device functionality the bags and cases allowed, and whether the phone or tablets buttons, charging port, and headphone port were accessible. Was the touchscreen responsive? Could the devices camera take clear photos? Was screen viewability, or voice or sound quality diminished?
We used several devices to test the products, including a Kindle, an iPad2, and an iPhone 4S. To check sound quality, testers made phone calls, listened to music, and watched movies and videos. For viewability ratings, testers checked emails, read online articles, and watched videos. Ergonomics ratings took into account how easily a phone could be used with one hand or how easily a tablet could be held and used. All of these ratings were comparative to the field. We also snapped photos with the devices, when the products allowed it, to determine whether photo quality was affected.
All of the test products are rated as waterproof, but to varying depths, so we chose the IPX7 standard for testing. Testers submerged all of the products in 3 feet of fresh water for 30 minutes. This was done with cardboard device-dummies in all of the cases and bags, except the LifeProof Nuud. The Nuud comes with a plastic insert that the company supplies specifically for users to conduct their own in-water test before using the case (a bonus testers really appreciated given the anxiety that comes with dropping a test product in a pool with your bosss iPad in it).
All the test products passed the submersion test, so we sent the products swimming again; this time with devices in them to see whether they would float, leak, or allow water to drip on the devices when we removed them after the dunking. All had water droplets around the closures, so care must be made to completely dry the bag or case before removing whats inside. None of the test products showed any fogging during submersion.
To test shock resistance, the products with shockproof ratings were dropped from 3 feet onto concrete. None failed.
In our final ratings, we considered whether the products could be tethered to the user or boat and whether the case would float or had an attachable float. While these products offer waterproof protection to specific depths, if they happen to sink beyond that depth, all bets are off-so, if you drop your floatless, LifeProof-enshrined iPhone while anchoring and it sinks to 15 feet, its game over for your phone.
Quality of construction, price, and warranty were also weighed. Note that none of the warranties cover items put inside the bags and cases, and water damage usually voids warranties offered by most phone and tablet makers.
iPad and Tablet Bags
Aquapac for iPad
The Aquapac drybag is similar in design to run-of-the-mill electronics drybags you find at West Marine or outdoor retailers, but its thermoplastic polyurethane (TPU) material isn't tacky like the lower-grade-plastic bags, and it has better tactile contact with touchscreens.
Aquapac for iPad offers full function of the tablets screen and buttons, and it features a waterproof connector cord for headphones or speakers. The frosted-gray bag has clear screen and camera windows that rated Excellent for viewability and photo-taking. Testers also gave high marks for sound quality, noting no distortion or tinny effect when listening to music.
Designed for all iPad models, the lightweight bag will accommodate Kindles and other tablets as well. It comes with an adjustable webbing shoulder strap attached with plastic clips. The seams are radio-frequency (RF) welded, and the closure is a rustproof, molded plastic seal that opens by twisting three small levers.
The $60 Aquapac for iPad comes with a five-year warranty.
Bottom line: The Aquapac got high ratings for performance, features, and warranty, earning the Best Choice pick for a tablet drybag.
DryCASE
At first glimpse, the DryCASE appears to be not much more than a highly engineered plastic bag: Its clear plastic is thicker than the Aquapacs TPU and a tad more tacky, however its vacuum-seal system worked well and was easy to use. The DryCASE has two ports: a waterproof connector plug for headphones and a one-way valve for sucking the air out of the bag using a supplied hand-pump. Should you lose the pump ball, no worries-you can suck the air from the bag using your mouth as well. Testers noted that the vacuum-seal kept devices from sliding around the bag.
The clear plastic doesn't affect picture-taking, and users have full use of the protected device, with the exception of being able to charge it. The DryCASE is rated for submersion to 100 feet for an hour, a lofty claim backed up by the companys promise that each product is underwater tested and vacuum-seal tested before it hits store shelves.
The DryCASE comes with a hand strap and an adjustable, webbing shoulder strap with gated metal clips that may find saltwater duty challenging. The molded-plastic closure doubles as a handhold when using the device.
The DryCASE tablet bag costs $60 and comes with a one-year warranty.
Bottom line: Although it was bested by Aquapac in testing, the DryCASE is a quality product, and testers liked the vacuum-seal system. It gets PSs Recommendation for temporary protection.
Watershed Grid
Watersheds Grid tablet drybag, designed more for urban bike messengers or whitewater kayakers than sailors, is a combination travel bag, storage bag, and drybag. Its slick, polyurethane-coated nylon exterior is very abrasion resistant, and its seams are RF welded. The unique bag has a molded, shock-resistant insert to cradle the tablet and a mesh pocket for storage. It comes with an adjustable shoulder strap with metal-gated plastic clips and a flap that snaps over the screen.
Its patented Zipdry closure is basically a heavy-duty Ziploc-style zipper made of rubber. Testers found it easy to seal, but using the two finger tabs to open it took a few tries before mastering the task.
While the Watershed offered the best protection of the tablet drybags, it limited the devices functionality. Viewability, touchscreen use, and sound were on par with other test products, but there is no camera window or access to the devices ports and buttons, and the bags bulky design is less ergonomic for general-purpose use.
Bottom line: The $83 Watershed is a high-quality, American-made bag, backed by an excellent lifetime warranty, but its better suited for the whitewater or expedition crowds than sailors looking for basic on-board protection.
iPad and Tablet Cases
Aryca Rock
Aryca Products Rock case is compatible with all iPad models. The plastic case seals via two hinged locks on one side and handles at its ends rotate to a locked position and snap closed. The handles boosted the heavy Rocks ergonomics rating to a Good.
The case has a clear camera window at the back, and a silicone membrane on its front that allows interfacing with the iPad touchscreen. Testers noted that the sticky membrane had more drag than the drybags and other cases, and the silicone was a magnet for sand, lint, and pet hair. Its thin nature makes it vulnerable to puncturing; however, it can be replaced.
The sturdy plastic case offered a secure fit for our iPad and has an integral stand, but theres no access to the device ports or buttons.
The Rock, which comes with an adjustable lanyard, retails for $80 and has a one-year warranty.
Bottom line: Although it doesn't offer full function of the tablet and using its screen membrane can be frustrating, the Rocks price is nearly half that of the other cases. It gets the Budget Buy among tablet cases, but we suggest test-driving one before buying to make sure you like using the membrane.
Scanstrut Lifedge for iPad
A cool-looking case, the Lifedge comprises a rigid, polycarbonate back plate with a built-in hand strap and a colorful silicone front with an anti-glare screen cover. The silicone grips the back to create a watertight seal, making a positive click as it seals. Right out of the box, the silicone is a challenge to get around the back plate, and Lifedge provides specially designed tools to help with the task. The 5.5-inch tools, which resemble shoehorns, also double as struts to stand the case up. Testers were unable to get the silicone around the back on the first go-despite 20 minutes of trying-so, at Lifedges suggestion, we coated the case edges with Vaseline, and the silicone popped on easily. (Lifedge now supplies a tube of lubricant with each case for this.)
The anti-glare screen cover is slightly opaque, diminishing viewability a bit. The Lifedge offers access to the iPad buttons, and the case is compact enough that it could be used 24/7. However, it does not have openings to the ports, so the case bottom has to be peeled open for charging.
Bottom line: Testers liked the $130 Lifedges unique design, but it was out-performed by the Nuud.
LifeProof Nuud
LifeProof Nuud: The name says it all. To testers surprise, this case has no screen cover. It leaves the iPads Gorilla glass exposed. While this ensures ultimate viewability and touchscreen interface, we questioned the ability to get a watertight seal and the shock-resistance a naked screen would have. But it worked.
O-rings and pressure combine to create a tight-lip seal around the screen. For shock resistance, the case front is raised above the iPad screen, and theres cushioning on the cases outer perimeter that acts as a shock absorber if the case is dropped. According to LifeProof, the company water tests every case before shipping and the Nuud is designed to military specifications for drops up to 4 feet. (To err on the side of caution, we would still buy a compatible stick-on screen shield to use with the Nuud.)
The maker includes with the Nuud a clear plastic insert that owners can use to water test their case before they use it on an iPad. LifeProof also offers top-notch instructions, trouble-shooting help, and care info on its products.
The Nuud comprises a clear back framed in polycarbonate and a front polycarbonate frame. Both have replaceable O-rings, and the two pieces snap together. The process is easy, but taking them apart requires a coin and a little effort-which told us the seal was secure.
The slim-profile, lightweight LifeProof products were the only ones tested that allow users 100 percent function of the housed device, offer access to all buttons and ports, and have camera windows. A tiny (very easy to lose) thumbscrew fits into the audio-out port, where the provided waterproof cord can be inserted to plug in headphones. A backup screw is included, but no other accessories are. Straps, mounts, stands, and an attachable float are sold separately.
The Nuud retails for $130 and has a 90-day warranty; a one-year warranty is available (for free) for users who take a survey on the company website.
Bottom line: The Nuud earned PSs Best Choice pick for tablet cases. It can be used 24/7 with no caveats. However, wed like to see a better warranty and an included stick-on screen shield.
Smart Phone Bag and Cases
Aquapac Mini Whanganui
1)]
The Mini Whanganui is essentially a smaller version of Aquapacs tablet bag, sans the headphone/mic connector. Sized to fit most smart phones, it is made of the same TPU materials as the larger Aquapac, has clear screen and camera windows, and comes with a neck cord/lanyard.
Testers found it easy to use-once they got past the awkwardness of talking into a bag-and rated the viewability and ergonomics Excellent. Voice calls and music were clear, and charts and emails were easy to read. The bag features full access to the screen and buttons, but no access to the ports.
Bottom line: The only phone drybag we tested, the $30 Mini Whanganui gets PSs Recommendation for temporary protection, but we recommend attaching to it a float like those made for waterproof cameras.
Aryca Wave
Compatible with iPhones and Blackberrys, the Aryca Wave is the Rocks smaller sibling, in terms of form and function. It uses a similar sealing system, but has only one twist-lock handle and no hinges. It features the same sticky silicone screen cover and lacks access to the phones buttons and ports.
The Wave was the only test product that came with a float-a bonus in testers eyes. Its sound quality was acceptable for listening to music, although it was a bit muffled. When making calls, the user experienced sufficient clarity and volume, but the call receiver reported muffled sound as well as echoes when using speakerphone. The case doesn't affect photo or video taking.
The Wave retails for $35 and comes with a one-year warranty.
Bottom line: The bulky Wave is not suited to 24/7 use, but its an affordable hard-case option for those who simply want a little protection while onboard so they can take photos or listen to music.
0)]
LifeProof 4/4S
The LifeProof for iPhone is similar to the Nuud, but it has a built-in screen protector. The ultra-slim polycarbonate case features clear plastic lenses that protect the phones screen and camera. The lightweight case has a rubber edge that offers grip but isn't sticky like most silicone cases, so it easily slides in and out of pants pockets.
Also like the Nuud, the LifeProof offers full functionality of the phone and comes with a waterproof adapter for headphones that can be plugged in once the cases tiny thumbscrew is removed. It notched across-the-board Excellent ratings, although testers did note that sound volume was slightly less than an iPhone without a case, but no distortion was reported. The case, rated as shockproof to 4 feet, withstood multiple drops and falls without a hitch.
We tested the LifeProof for iPhone 4/4S, which retails for $80. (The LifeProof for iPhone 5 will be available later this month.) The only drawbacks testers noted were the warranty (which can be extended to a year by taking a survey) and the lack of included accessories. A belt clip ($30) and float ($40) are sold separately.
Bottom line: The LifeProof 4/4S is the Best Choice. It is well made, allows full phone function, and we have confidence in its waterproof design-at least to 6.6 feet.
Conclusion
All of the test products will protect against water intrusion, so choosing the best one comes down to personal preference (bag vs. case), price, and details.
The Best Choice LifeProof products were the only ones tested that offer full function of and access to the devices. These are the best options for a 24/7 case, but we do recommend investing in a float for onboard use.
The top pick bags were the Aquapac products, with the DryCASE for tablets coming in close behind. The Aryca products earned Budget Buy picks for temporary protection at an affordable price, if youre set on a hard case. However, for the money, wed go with the Mini Whanganui over the Wave as it was a better performer and has a longer warranty.
No matter which you choose, underwater test it before each use. If a stream of bubbles appears, air is leaking and water is soon to follow.
Protection for iPads and Tablets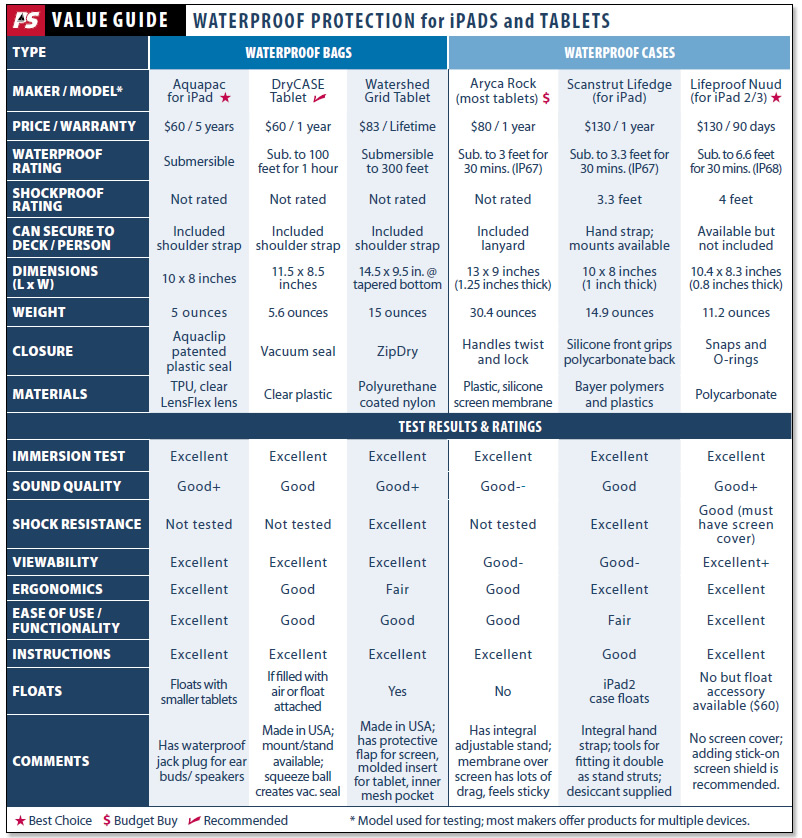 Protection for Smart Phones