American sailboat manufacturers have had their highs and lows, and many have dropped right off the map, but Catalina has been going strong for more than four decades, and looks to be gearing up for at least 40 more. If you want a history lesson in how owner Frank Butler navigated this company through a fickle, cyclical industry, you can check out one of our many reviews of Catalina boats online at Practical Sailor. The more recent trends are the most relevant to this boat review, an update to one originally published in 1991.
Since 2010, Catalina has been redesigning its big-boat fleet (27-feet and longer). These are Series 5 boats denoted by the 5 at the end of their name. These include the 44-foot 445, the 37-foot 375 (see PS October 2010), the 35-foot 355, the 31-foot 315, and the 27-foot 275. Aside from beamier hull shapes, easier maintenance, and roomier interiors, these newer designs raise the bar on production quality. The approach makes marketing sense. If price alone is what a sailor cares about, Catalina can't compete with itself-too many of its older boats are still on the market. Which brings us to the Catalina 34.
Exactly 1,800 Catalina 34s were built between the years 1991-1999, and the boat has gone through several iterations. The hull we focus on here is the relatively narrower one built between 1986 and 1995, generally referred to as the Mark 1, or Mark 1.5. The Catalina 34 sold between 1994 and 2001 (production run officially ended in 1999) is known as the Mark II has a larger cockpit. The boats are easiest to recognize from the stern-the Mark I has a traditional closed transom, the Mark 1.5 has a cutout for accessing a swim ladder, and the Mark II has an open transom.
Design
There is nothing fancy about the design. Except for the old Catalina 38 (which was not a Frank Butler design), all Catalinas of this era have a similar conservatively modern look-fin keel and spade rudder, short overhangs, and a flattish sheerline. The distinctive cabin house and diamond-shaped sail emblem help identify a Catalina. The hull of the 34 is modern, with full sections to provide lots of room below. It seems more refined than the original (Mark I) Catalina 27, 30, and 36, which is probably why we prefer the 34. Like Catalinas of this era, the 34 combines a long waterline, a moderate to light displacement, and a large sail area to ensure good sailing performance. Some recent improvements such as a new elliptical rudder ($1,200 plus shipping) have raised performance a notch.
There are some design details we don't like, such as the huge companionway hatches and molded furniture pans that limit access to the hull. The more serious complaints-slop in the rudder bearing, messy wiring-seem reserved to older boats.
Overall, we cannot take serious objection to any important aspect of the design. The 34s are wholesome coastal cruising boats, also suitable for island-hopping expeditions. Although some European boats have notched adventures in the North Atlantic, wed look at beefier designs for long offshore work. With any 20-plus year old hull, wed consider dropping the rudder and keel for inspection before heading too far offshore. The post 1988 era also brought in a five-year warranty against blisters, a problem reported on earlier hulls.
Deck Gear
When Practical Sailor first took a close look at the Catalina 34 back in 1990, we were impressed by the equipment. Self-tailing primary winches are standard and adequately sized; sail-handling hardware is all good; brand-names abound everywhere-stove, pressure-water pump, and head. With rare exception (the traveller system and leaky ports in pre-1988 hulls), the deck hardware has held up well on this boat.
The list of standard equipment was complete enough that you could conceivably sail the boat away with no options, a far cry from the old-fashioned method of selling a base boat with no lifelines, bilge pumps, or cushions aboard. The 1990 boat we looked at carried a base price of $60,100 (approximately $110,000 in 2015 dollars), which included a mainsail and 110-percent jib, mainsail cover, two-burner stove with oven, hot and cold pressure-water system, two batteries, 110-volt shore power system, boarding ladder, and lots of other equipment.
Although prized in areas where local fleets are active, the Catalina 34 Mark I cannot be expected to hold its value as time passes. At last check, there were about three-dozen boats for sale in the U.S. Prices have continued to fall. The rate of depreciation can vary by region. Asking prices for a fully equipped 1990 Catalina 34 today is between $40,000 and $50,000.
Interior
The interior design is in the European mode, the first of the Catalinas to have the head aft by the companionway. Unlike European boats of this era, such as the Beneteau or Jeanneau of the same size, however, the Catalina is very full forward, with a big V-berth cabin and a big dinette and settee ahead of the L-shaped galley and nav station. (Some early models had the water tank forward, which is less desirable.)
The starboard-side aft cabin-entered through the galley-will likely be used as a guest cabin or storage space, especially in warmer climates where limited ventilation makes it less desirable than the V-berth for sleeping. It has a sizable athwartship berth, and theres a seating area between the berth and the galley. Cooks are never happy with a door that opens into their galley, but this is a necessary compromise for having an aft head, a valuable asset on a sea boat, where it can double as a wet locker for foul weather gear. The other galley complaint was the limited storage for LPG gas in earlier models, although members of the very active owners association offer various ways to solve this.
According to our owner survey, the interior is the most praised aspect of the 34, with comments like most room for the money appearing in a majority of reports.
Performance
The second most highly praised feature is performance, with several owners commenting on the boats favorable PHRF rating in their local fleets. We sailed the 34 on Lake Michigan, and found the boat to be a delight to sail.
It was a puffy day, so the boat was occasionally over-canvased and developed a strong weather helm-something that the newer, longer elliptical rudder solves. A flatter mainsail helps as well (the original Catalina sails on older boats have a fuller cut). Even with a well-cut mainsail, we suspect that cruisers will want to take an early reef as the wind builds. The standard furling jib in Southern California and the Chesapeake is a 155-percent genoa. Sailors in windier areas may want to invest in 110-percent working jib, which will perform better than the furled headsail.
The 34 sailed well on all points of sail, but it could have used an asymmetrical downwind. With a PHRF rating around 144, she is about in the middle of the speed range for contemporary boats her size, considerably slower than the J/35 but significantly faster than the Crealock 34.
Wed call her sailing ability respectable, good enough to make smart cruising passages and quick enough to sail to her handicap rating on the race course.
The Catalina 34 we sailed had the standard 5-foot, 7-inch draft fin keel, but the boat also is available with a wing keel option, drawing 3 feet, 10 inches. A tall rig, which adds 26 square feet of mainsail (a 5 percent increase), is also an option. Several respondents to our owner survey gave decidedly mixed reviews to the wing; others praising its seaworthiness and the good ride. Unless we were desperate for the shallow draft, wed be inclined to go with the standard fin rather than the wing. The nice thing about the fin keel is that you can upgrade to the longer elliptical rudder, a widely praised upgrade that greatly reduced the boats tendency to round up in puffs and adds lift. The new elliptical rudder for the wing keel version is not as deep, so the performance gains are not as noticeable.
Standard power is a three-cylinder Universal 25 diesel, which we found adequate. However, owners again report mixed feelings about the engine. Vibration with the two-bladed prop is a common complaint; a few thought the boat was underpowered. A three-bladed 15 x 10-inch prop (or the Catalina-specified 15 x 9 inch prop) solves both these problems. If you are looking at a pre-1988 boat, you'll want to make sure it has the new alternator mount, which came with the upgraded Universal 25XP. Without this upgrade, you run a risk of the cylinder head cracking because of vibration.
Racers or performance cruisers who don't want the drag of a three-bladed prop can opt for a feathering prop like the Autoprop, a folding Maxprop, or-the cheapest option-a well-balanced Martec two-blade.
Construction
Layup, laminates, plywood deck core (not balsa), and other construction details are conventional. The boat is generally well engineered and well-executed. It is certainly adequate for typical coastal cruising, weekending, and daysailing.
If good engineering is defined as doing a good job of adapting means to ends, or materials to functions, then the Catalina 34 is well-engineered.
The foredeck seemed to have a little more flex compared to balsa- or foam-cored boats in this class. But we know a 1972 Catalina 27 well, and its foredeck has the same feel now that it had when new. It has served well and, we must conclude, it was engineered and built as planned. We don't like the way the pan liner flexes either, or the way it hides most of the inside of the hull, but it holds up and it performs the cosmetic function for which it was intended.
The chainplates seem small when we compare them to the half-inch stainless plates on a boat like the Carter 36. But we've never heard of a Catalinas chainplates failing, and they're undoubtedly up to the job.
Some boats are overbuilt, which can be expensive-a waste of money for an American coastal sailor who has no plans to sail in the Southern Ocean. Worse is to build a boat no better than the Catalina 34 and charge $30,000 more.
Conclusion
The Catalina 34 is a successful, all-around design from a hugely successful company. Because Catalina sells so many boats and runs an efficient manufacturing facility, its boats typically sell for less than other brands of comparable size. The relatively large number of used Catalinas on the market mean that a buyer can be quite selective.
In general, satisfaction with the Catalina 34 rates very high. We suspect this is due in large part to the great support that owners get through the Catalina 34 International Association, Catalina, and Catalina Direct, an independent provider of upgrades and parts for older boats. This wide forum means that prospective Catalina owners buy with their eyes wide open-there are very few surprises that a previous owner has yet encountered-so long as they do their research.
We do not recommend the Catalina 34 for extended offshore cruising, at least not without making some modifications to the companionway, upgrading the rigging, and possibly stiffening areas of the hull.
Catalina 34 Interior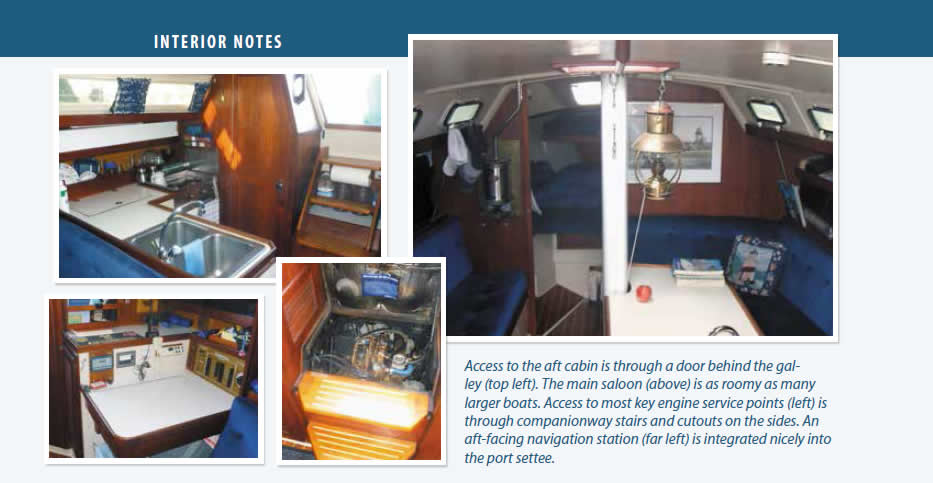 Pros & Cons: Catalina 34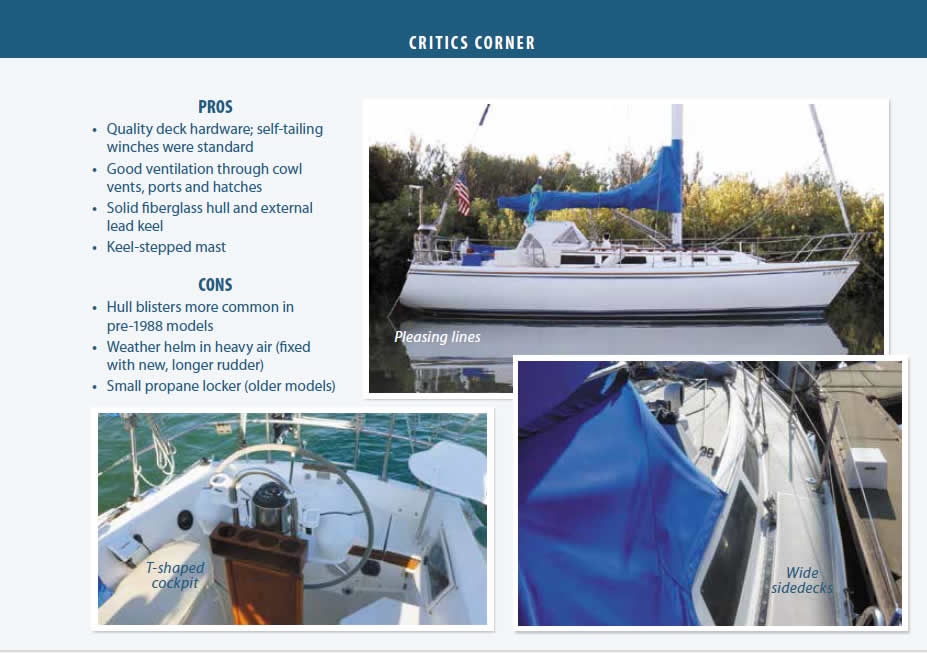 Catalina 34