In 1985, after nearly a decade of building its popular Sabre 34, Sabre Yachts significantly revamped the design. The resulting boat-beamier, roomier, faster, and more powerful than the original-is usually referred to as the Sabre 34 Mark II. Despite distinct differences between the two boats, the family resemblance is still obvious. The Mark II, like its predecessor, still hews the performance-cruising line that the South Casco, Maine builder established with the introduction of its very first boat, the Sabre 28, in 1971.
As with all the Sabre models launched before the company ran into financial trouble in the early 1990s, the Mark II was designed by company founder Roger Hewson, a transplanted Canadian engineer who raced International 14s and has been described as a born tinkerer.
Hewsons penchant for lively boats, combined with the detail-oriented Maine craftsmanship, is a chief reason why used Sabres remain so popular among split-personality sailors who enjoy PHRF racing as much as a leisurely summer cruise-something that can't be said of many boats of the same vintage. Another element that has led to the lasting value of the boat is the strong manufacturer support it enjoyed during its production run. In nearly all of our surveys taken during the mid-1980s through the late 1990s, owners reported exceptional customer service from Sabre dealers and the manufacturer. Even today, the owner of a 25-year-old Sabre will find an active number of owners associations-mostly East Coast-to turn to.
Faced with significant debt problems in 1992, Sabre underwent a major reorganization, and by 1994, the company was revitalized under new ownership. The powerboat business that Hewson started saw a major expansion, and Sabre hired a new house designer, Jim Taylor, who brought in a new generation of sailors to sample his vision of a performance cruiser.
Design
Hewson clearly listened to Sabre 34 (Mark I) owners when he went about designing the Mark II. While much of the attention went into improving creature comforts and creating more space below, and the hull and deck got much needed attention.
In plan view, there is little hint of the International Offshore Rule (IOR) tendencies toward disproportion that were evident in the Mark I. A more U-shaped, broader, flatter stern replaced the originals V-shaped, IOR-hallmark stern.
The fine bow entry is reminiscent of some Sparkman & Stephens designs from this period, as is the long bow overhang that helps keep anchors from clanging against the hull. Like Charlie Morgan, Hewson preferred a stern that followed the angle of the backstay, an eye-pleasing touch that is most apparent on paper.
The sheerline is flat and contemporary, with a low, well-proportioned cabin-top. While many Sabres sport a fashionable blue Awlgrip hull that brings out the teak toerail, a white gelcoat model will offer fewer maintenance hassles over the long run.
Underwater, the boat has a fine entry, with a U-shaped hull that resists pounding better than some faster, flatter-entry boats we see today. The aft sections are also rounder and fuller than many contemporary cruisers, but theres more than enough flat surface area for the boat to achieve double-digit surfing speeds and still be in control.
One of the universal praises for the boat is how well it handles in a breeze-even at the top end of its design limits. The bolt-on, lead-ballast fin keel has an efficient NACA profile, as does the balanced rudder.
Our test boat was a 1992 Sabre 34 Mark II. Hull number 430, the wing-keel boat was the last hull built. It is owned by Alan Pressman, a Sarasota, Fla.-based regional dealer for Sabre. In 12 to 15 knots of wind, the boat required minimal effort to steer-and sailed herself for much of the time.
The keel-stepped mast is a tall, double-spreader, masthead rig (the Mark I had only single spreaders), with a high-aspect mainsail and overlapping jib. The standard jib is a 305-square-foot genoa, which can test the standard 42C primary winches. Although you can't expect a Sabre to eclipse a comparable J/Boat in a light-air race around the cans (see Sabre 34 in Context), it enjoys a favorable rating in most Performance Handicap Racing Fleet (PHRF) associations, and will leave many of its contemporaries astern.
The 11,500-pound displacement boat came in three models: the performance-oriented fixed-keel model, which draws 6 feet; the centerboard model, which draws 4 feet with the board up and 7 feet, 8 inches board down; and the wing-keel version, which draws 4 feet, 6 inches.
Interior and Systems
The Mark II featured two interiors, one is an aft-cabin model with a private double to port. Our test boat had the traditional layout: Moving aft from the V-berth, theres a head and shower to port and a hanging locker to starboard. In the main saloon, twin settees face a fold-up dining table. The U-shaped galley is aft to port, across from the navigation station and a double pilot berth.
The boat has a 6-foot, 3-inch headroom throughout most of the interior, and all berths are 6 feet, 4 inches long, even the settees, which will make good seaberths with the addition of lee cloths. Cabin ventilation is good with two hatches and four dorade vents-seagoing essentials that seem to have been forgotten in many contemporary designs.
Although the original brochure calls for two opening ports, the boat we tested had six. Seventy-six gallons of fresh water in two tanks and a 30-gallon holding tank offer adequate range for coastal cruising, but the water and diesel (20 gallons) will likely need to be supplemented for longer cruising. Storage is adequate, and engine access-partially blocked on the portside-is rated as fair to good by most owners we surveyed.
Theres a surfeit of teak trim throughout the boat, and being stick-built-in which the furniture components are built into the hull individually rather than dropped in as a large pre-molded form, as is the norm today-there is more room for owner customization.
The original stove was a two-burner Shipmate alcohol stove; a CNG stove was optional. Since CNG is difficult to source, particularly when sailing in the islands, many owners have made the relatively straightforward conversion to propane. (Sabre ended up replacing the balky Shipmates for many owners without complaint.) Sliding cupboards offer room for plates and canned goods. The icebox is well insulated, although its placement next to the engine room means it needs to work harder than most. A fold-up cutting board adds counter space. It is a tight, but functional galley for a boat of this size.
Standard propulsion is a 27-horsepower Westerbeke (marinized Mitsubishi) with a two-blade propeller. The unprotected offset prop, which exits to port of the rudder at an angle, was cited by a few owners as a concern in areas with lots of lobster traps. Some owners mentioned that they missed the advantage of being able to use prop-wash to maneuver at low speeds.
All through-hulls are bronze and grounded to the keel. The standard electrical system included two 100-amp hour batteries, enough for modest cruising demands. Access to the engine was the number one complaint, particularly the stuffing box, which can only be reached through a cockpit locker. In general, long-time owners rated the overall ease of maintenance on the systems as fair to good.
On Deck
The Sabre 34s T-shaped cockpit is better suited for daysailing than long-term cruising. There is no place to nap. Crew have enough room to recline against the cabintop, and the helmsmen has a clear view to steer from out of the fray-a positive that comes to light in PHRF racing.
Some single-handers complained that neither the jib sheet nor the mainsail is easily accessible from the helm, but added that an autopilot solved that issue.
The coamings are fairly low, good for leaving and entering the cockpit, and broad enough to sit on in the forward sections. Two catch-all bins, a tray locker (starboard), and a deep seat locker (port), as well as a deep storage area aft, offer adequate space for storing lines and fenders. A high bridgedeck and solid teak hatchboards keep the cockpit dry. There is no molded coaming for a dodger or sprayhood, but many owners have been able to add functional dodgers without too much trouble.
Winch placement is fairly conventional for its day, with halyard winches on the mast. There are two coaming-mounted primaries (Lewmar 42C) for the genoa, a secondary to starboard of the companionway (Lewmar 30C) for the outhaul, and the mainsheet winch to port of the companionway (Lewmar 16C). The jib, mainsheet, and spinnaker halyards on the mast (all Lewmar 16Cs) are served by rope clutches. The 6:1 mainsheet leads to a mid-boom traveller, in front of the cockpit, where it wont interfere with a big bimini top. Most boats have the optional self-tailing primaries; some owners have upgraded to larger primaries-not a bad idea.
Two genoa tracks-one on the rail, one inboard, recessed on the deck-allow for optimal trim on and off the wind. Chainplates are well inboard, allowing tight sheeting angles, even when the sheet is led outside the shrouds. Passage fore and aft is good with teak handholds extending just forward of the mast.
Formidable 10-inch stainless cleats handle dock lines fore and aft, although there are no dedicated mid-ship cleats for spring lines. The anchor locker offers plenty of room for extended cruising. Although our test boat came with a cast fitting to serve two anchors, this is not standard in some early models.
Most boats came equipped with Profurl furling gear, a serviceable product that is now eclipsed by much more reliable equipment. A Profurl boom-furling arrangement was also an option, but this is not something we would recommend.
Performance
At the end of the day, the reason to look at the Sabre 34 is two-fold: quality of construction and performance. We sailed a shoal-draft 34 in 12 to 15 knots true wind on Sarasota Bay, Fla. Most of the windward work was carried out under a partially furled jib (about 100 percent), which kept the boat moving at about 6.3 knots, when hard on the wind. The inefficient sail shape impacted tacking angles, which hovered around 53 degrees, once leeway figured into the equation.
On a beam reach, the boat trotted along at 7 knots with fingertip control, but off the wind (120 to 145 degrees), speed dropped to 5.7 knots-something an asymmetrical spinnaker would fix.
Helm response and balance was superb throughout the sail-even when we deliberately tried to impart some lee helm-and the boats high-aspect rig quickly translated heeling forces into forward acceleration. Every owner in our survey gave the boat high marks for performance.
Under power at just over 2,000 rpm, the boat cruised at 5.6 knots. Engine noise was above average. Vibration was minimal. At higher, less-fuel efficient speeds, the boat cruised at 6 knots, indicating enough reserve power to buck most tidal currents. Handling under power, as mentioned, is average, better than a full-keel boat, but less than a fin-keel boat with the prop center in front of the rudder.
Conclusion
The boat we sailed was an exceptional example of the Sabre 34 Mark II, and few boats will be as clean or have as many of the upgrades that wed recommend for a cruising model-propane stove, twin bow rollers, and upgraded primary winches and traveller. Nevertheless, even a stock Sabre 34 Mark II will be a cut above boats in the same category.
The downside of having a boat that boasts Maine craftsmanship is that it comes with a corresponding price tag. However, the Sabre doesn't carry the same cache as a Morris or Hinckley, especially once you stray outside the New England and Chesapeake regions. The Sabre market outside of these regions doesn't seem to agree with owners optimistic pricing.
We would give a well-surveyed Sabre 34 a very good to excellent rating for a couple or a small family looking for a boat that will serve them well in local club races, yet still offer the chance for summer escapes to the islands or further afield, with the proper investment in equipment. It is not without quirks, but the Sabre 34 Mk IIs many positives far outweigh its downsides.
Interior Notes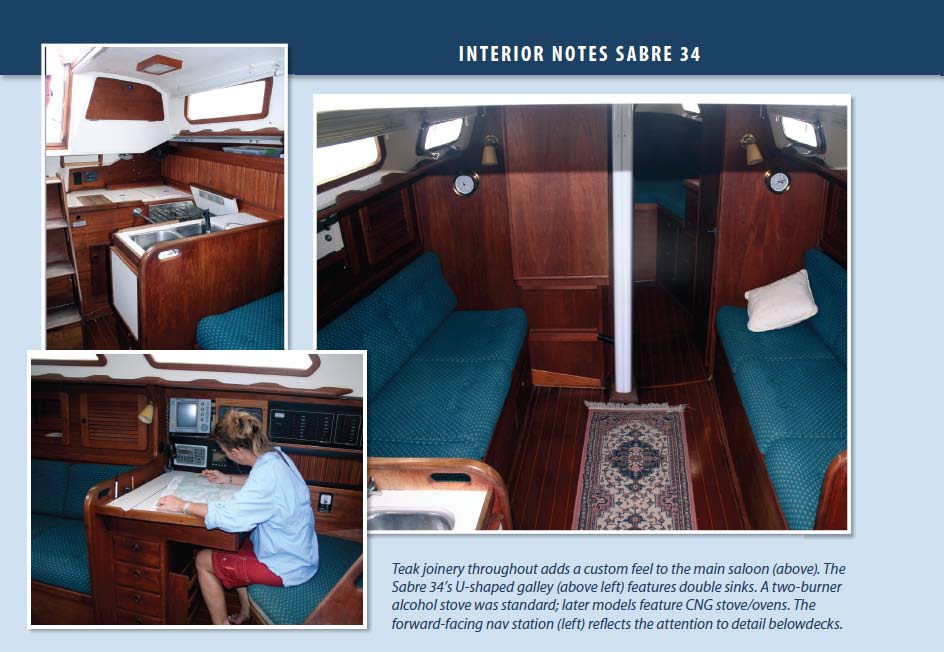 Construction Details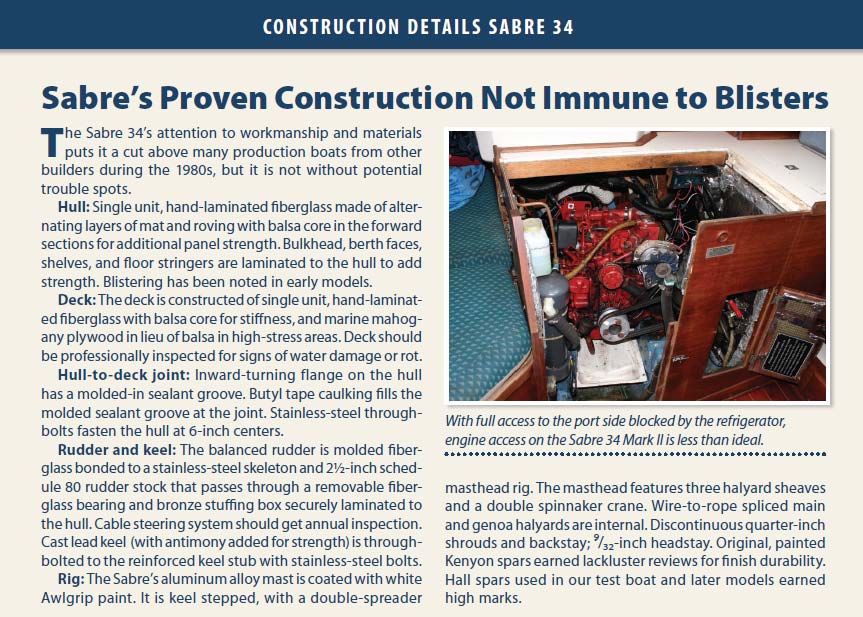 Critic's Corner
Comments

In Context