If this were a follow-up article on polyester sail repair, we would have waited two years at least. Wed have added a few stitches during our annual inspection, but major sewn repairs in sound cloth are expected to last for years. Our test boat is sailed frequently, vigorously, and with a lot of tacking, but we're not crossing oceans. Polyester would have held up.
Instead, we're talking about laminate sails, and we've been experiencing the more rapid decline that aging laminate sails are known for. They held their shape beautifully for 80 percent of their life, but now in their twilight, areas subject to flogging or snagging are starting to fail. Heres an update to the PS November 2018 report: Making Sail Repairs Last.
Mainsail Repairs
Because the sail is fully battened it does not flog, reducing stress on the repairs we made for the first report.
Luff Tape Tear
Because the sail lacked fibers running perpendicular to the mast, in the non-load direction, the Mylar was unsupported and failed. We repaired a two-foot tear with reinforced Mylar tape and self-adhesive Dacron tape. We used three-inch wide Laminate Sail Repair Tape (From Sailrite, heavy Mylar with Kevlar and carbon fibers laid at 90 degrees) over the tear on both sides, covered the luff tape with polyester tape to prevent needle line tearing, and hand-stitched through the sandwich. The outside edge was secured with polyester tape, since we were uncertain how the heavy tape would adhere. The repair remains sound.
Luff Tape Repair
The tape had become frayed in the bottom eight inches of the sail, snagging on the feeder. We soaked it with West Systems G-Flex Epoxy and pressed it back into shape. It fed well for more than a year, but the epoxy repair made a stiff spot and the luff tape failed catastrophically just above the repair. We just trimmed off the bottom bit and faired it with sail repair tape. We also faired a few frayed spots higher up with rip stop repair tape, a practice we have used before on mainsails with bolt ropes hoisted up a grooved mast; the repair typically remains sound for several years and is easily re-taped, sometimes with a few stitches to help hold it in place.
Jib Repairs
The jib was about eight years old and spent most of its time furled. Jib repairs are particularly challenging because of the amount of flogging that they do.
Tack Repair
A sharp bit of hardware on the bowrail tore some holes near the tack. We attached a Sunbrella wear cover using polyurethane sealant (Sika 291). Although rather stiff, it remains like new.
Foot Repairs
The Mylar failed in multiple locations due to rubbing on the bow rail and lifelines. The tears did not run, because they were constrained by a sewn-on Sunbrella cover. Repairs using laminate tape and polyester tape have both held up well, though the polyester tape adheres better.
Leach Repairs
The most serious repair was a four-foot tear where the Sunbrella cover met the laminate. The combination of a row of needle holes, and more importantly, the hinge line created by the stiffer cover, caused the Mylar to fail.
Sunbrella covers are not appropriate for laminate sails. Once again, there were no fibers supporting the Mylar in the non-load direction. We glued on a long laminate cloth patch, using Dr. Sails on the lower portion and West System G-Flex on the upper portion.
The G-Flex patch was stiff but stayed in place. Although very flexible and tough at first, the Dr. Sails epoxy gradually peeled. This surprised us, because our roof test rack Dr. Sails samples remain less affected by weather than G-Flex or Sika 291 material. Although the sail was on a furler, the leach was well protected by the Sunbrella cover.
Our conclusion is that some sun must have snuck in under the overlap, which is minimal in the affected area. Perhaps improper furling left it exposed occasionally. Fortunately, we had also repaired the tear on the reverse side with Laminate Repair Tape, and that held. The Dr. Sails patch was on the outside and the tape repair on the inside.
Sailrite Laminate Sail Repair Tape #104990
Made from a heavy Mylar film with Kevlar and carbon fibers crisscrossing at 90 degrees, the stuff is strong but doesn't stick that well. It is also too stiff, making a hard spot on the sail. Although technically lower in stretch than Dacron insignia cloth, were beginning to think this is more hype than reality. Under high stress, the adhesive creeps long before the cloth stretches, and given an equal adhesive area (equal tape width), Dacron tape is 50-80 percent stronger than the Mylar-based tapes and far more resistant to peeling.
Bottom line: Handy for certain high strength repairs, but only when backed up with stitching and secured with Dacron tape.
Sail Rite Dacron Sail Repair Tape #2353 & #721
We like that its grip becomes more tenacious with time, that you can sew through it, and that unlike heavier tapes, it does not create stiff edge that encourages new tears. It is visually conspicuous on a laminate sail, but that is far less important than a durable repair, and unimportant on an old sail. Also available in 10-, 14-, 18-, and 54-inch widths as Insignia Adhesive-backed UV Dacron.
Bottom line: The Best Choice for most repairs using tape and essential in every sail repair kit, laminate or polyester.
Life safe Sail Bandage
The jib contains some older repairs using this material. Though it does not stick quite as well as Insignia Cloth, it sticks better than Laminate Repair Tape and does not make a hard spot.
Bottom line: Recommended for reinforcing tired film.
Adhesives
Adhesives showed great promise in part one, as they should given the price. But the long-term results had us rethinking the rankings.
Dr. Sails
We were surprised to see our beautiful repair peel. In the short run it is stronger than tape, but tape seems more reliable in the sun. That surprised us too.
Bottom Line: Useful as a laminate sail repair adhesive, but keep it out of the sun.
West Systems G-Flex
The repairs were stiff, but they held up reasonably well.
Bottom Line: Wed use G-Flex in a pinch if Dr. Sails was not available, but our first choice would be to use Dacron tape.
Sika 291 Polyurethane
Although the repairs tend to be stiff and bulky, they have proven extremely tough and durable. Bottom line: Suitable for wear patches and anywhere stiffness and bulk don't matter.
Conclusions
Although we had fun playing with the high-tech materials, we came back to Polyester Repair Tape/Insignia Cloth as the most versatile, reliable tape for polyester or laminate sails. Wed love to see a 3- or 4-inch width for larger repairs, but cutting down from a 10-inch insignia cloth roll works. We're going to keep using Sika 291 where it makes sense. We think we're done with Mylar tape and epoxies.
Tapes and Adhesives for Laminate Sail Repair
Laminate Repairs Fail Quickly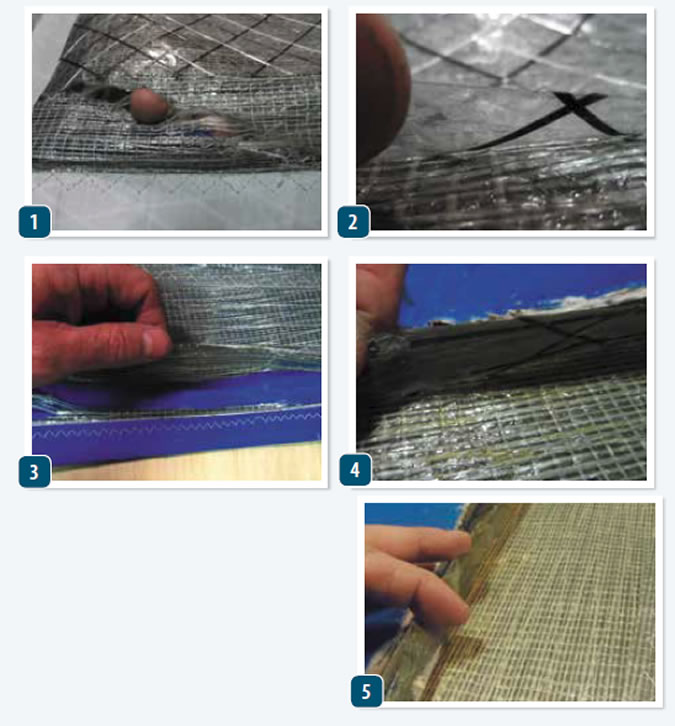 At some point, there is nothing you can do to save a laminate sail that has begun to disintegrate due to weathering and wear. Repairs that would have lasted for years in Dacron sail began to fail as the laminated fabric fell apart.
A new tear started at the edge of the stiff Mylar tape. A recurring theme with aging laminate sails is that they tear at stiff boundaries, so repairs must be very flexible.
Stiff tapes tend to peel at the edges unless held down with polyester tape. Taping the edges down is very affective when strong tape is desired.
This tear started along a stitch line.
Dr. Sails epoxy has become brittle and started to peel. From the appearance we believe UV exposure was involved, though the sail has a cover. It is possible some light leaked in. Fortunately, we taped the backside of the repair, so it did not fail.