Sailors often have a love-hate relationship with spreader lights. On one hand, they can turn a dark deck into broad daylight, making whatever task is at hand easier to accomplish. But this abundance of illumination causes pupils to constrict and spoils night vision. Photopic (cone-based) vision dominates in daylight, while scotopic (rod-based) vision is the eyes response to darkness. It takes 30 to 45 minutes for eyes to fully adjust to the latter. If youre the helmsperson, overly bright or misdirected spreader lights can be a big problem.
The upside of spreader/deck lights is the reassuring bubble of glow that surrounds the boat. The downside is the pitch-black abyss that extends just beyond the perimeter of the deck. Prior to turning on the boats spreader light(s), the helmsman can usually discern shapes in the dark, see the horizon, and has a good chance of spotting other boats running lights in time to take evasive action. Unfortunately, when lots of light hits the deck, all of those important visual cues to collision avoidance tend to disappear.
In the last decade or so, marine light housings have changed, and a light emitting diode (LED) revolution is in full play. These are two of the reasons we decided to take a fresh look at deck illumination and the options available. In this round of spreader/deck light testing, weve taken a close look at lamp design, manufacturing approaches, and how each unit works. Weve bench tested each product and looked at how the light beam behaves at simulated spreader heights. Brightness has been measured, field of coverage quantified, and the current consumption tracked.
We found that too much light can be as much a detriment as too little, and that theres a fine art to illuminating the area from the mast step to the bowsprit, while keeping the helmsmans night vision intact. LED lights offered the best lumens-per-watt ratio in our tests, and when it comes to good waterproof longevity, we found that housings and brackets do matter.
The good old days of seeing a pair of chrome-plated Perko sealed beams perched under the cross trees are gone. There was a lot to like about those venerable sources of even lighting, but what caused concern was the 10-amp draw they demanded when switched into action. Smaller, but only slightly more energy-efficient quartz halogen bulbs chased sealed beams from the waterfront. And as LEDs entered the picture-and proved that they do a much better job of turning electrical energy into light, run cooler, last longer, and give a lighter, more compact deck illumination-the evolution became a revolution.
What We Tested
The Doctor LED crew, based in Seattle, has been making marine LED lights and replacement bulbs for some time. The two products they sent us were the Kevin, an inline, four LED single-point, pivoting deck light, and the DaveX3, a low-profile, submersible puck-style light. From Forespar, a Southern California maker of a variety of marine products, we tested a cost-effective pair of mast-mounted deck lighting products: the ML-1 and ML-2. The lamps have injection-molded plastic housing and conform to the shape of the leading edge of the spar. Hella Marine, which is a worldwide marine lighting specialist headquartered in New Zealand, submitted its Sea Hawk light for the test. The light has a 12-LED array and a polyamide lens. From Scandvik Marine, a Florida manufacturer of a range of marine products, we tested a four-LED flush-mount light and a four-LED spreader light.
The high-tech LED lighting and safety product company Misea Group markets the Signal Mate line of LED lights. All of their deck illumination lamps are based on LED lighting that provides even, highly directable illumination. We tested several Signal Mate lights: two spreader-mounted lamps, one projecting a white beam and the other a red; a combo bow and deck light that has a 3-nautical-mile rating; and a standalone mast-mount deck light.
As a side test, we checked out a generic set of LED mini bullet lights that we picked up at a boat show. The small, energy efficient, bell-shaped lights are stainless-steel and adjustable, but the wiring requires that extra holes be drilled into the spar. We found that these little lamps behaved like a dim flashlight, providing enough discernment to get a foredeck job done while having the least impact on night vision, and using only 0.1 amps at 12.6 volts DC. Testing determined that rather than deck lights, the compact bullet lights would serve well in wet lockers and other spots where a small, water-resistant, wired light fixture is desired, so we decided not include them in the roundup.
Some of the test lights are adjustable (see Value Guide), but adjustability in a spreader light isn't that big of a plus, in our opinion. Wed prefer to mount them at a fixed angle rather than risk them being redirected by a flailing halyard.
Dr. LED
Dr. LEDs Kevin and DaveX3 lights offered lots of light per watt, delivered even illumination through a wide voltage spectrum, and the lamp housings are marine quality.
The four-LED Kevin provided wide-area illumination and topped our intensity scale. The 0.7 amps at 12.6 volts was just a little higher in current appetite than other similarly configured deck lights. The Kevin has lots in common with the Scandvik unit we tested. Their performance, color temperature, beam width, current demand, and minimal heat generation were both superior. However, the T-shaped mount is likely to snag errant lines, and it would be up to the boat owner to come up with a better bracket arrangement. The Kevin runs about $153 and comes with a one-year warranty. The model is set to be upgraded in 2014, according to Dr. LED.
The DaveX3 is a small, sealed dome light thats built to ISO 8846 standards and belongs underwater, and thats precisely why we kept it in the deck light mix-a sailboat at sea is as close to being underwater as you can get. Testers appreciated that its polycarbonate body is corrosion resistant and galvanically inert.
The three-LED DaveX3 is meant to be water cooled for continuous-duty operation, but as a flare up light for intermittent sail-trim checks, it can be mounted on the foredeck, directing its beam upward toward the mast and sail. Keep in mind that when looking aloft while hoisting a sail, one stares into spreader/deck lights, and thats why a foredeck-mounted light makes lots of sense.
At $180, the DaveX3 waterproof light runs at the mid to high end of the test fields price spectrum, and it comes with a one-year warranty.
Bottom line: Those looking for power to light up a large area should take a close look at the Kevin lamp. The ruggedly built DaveX3 is an ultra waterproof unit that will survive a wet foredeck and is handy for short-term headsail trim checking or as a flare up light for others to visually pinpoint your vessels location.
Forespar
The design features of the two Forespar lights we tested, the ML-1 and ML-2, make it obvious that they were engineered by a company that understands spars and rigging. Their injection-molded plastic housings are immune to electrolysis and can be easily mounted on most masts, using self-tapping screwed or pop rivets.
The ML-1 unit is solely for deck illumination, and its sealed quartz-halogen bulb and efficient reflector lens do a good job of keeping the beam aimed at the mast base and foredeck. It was the most current hungry of all we tested (1.8 amps at 12.6 volts DC), but if the light is not used for continuous duty, the total power consumed will remain small.
The ML-2 unit uses the same deck light as its sibling, but it also has a 2-nautical-mile, U.S. Coast Guard-certified, long-filament festoon bulb steaming light. Its a handy combo and at $75, its priced very close to the $66 ML-1. In tests, it consumed 1.2 amps at 12.6 volts DC. Both come with a three-year warranty.
Bottom line: The Forespar ML-2 is an appealing product for the price-point shopper not looking for LED energy efficiency. Its our Budget Buy. The ML-1 is a compact, lightweight light, and its easy to install on smaller spars.
Hella
The Hella Sea Hawks polyamide lens and 12-LED array provide an even beam with good brightness that effectively and evenly illuminates the deck. The absolute brightness was a little lower than the four-LED inline units from Dr. LED and Scandvik, but when looking aloft, the Hella lamp was not as blinding as the others.
The Hellas current consumption (0.3 amps at 12.6 volts DC) was half that of the slightly brighter Scandvik and Dr. LED units. Its not surprising to see that New Zealand-based Hella had a solution to the halyard snagging issue testers noted in other inline multi-LED deck lamps. The Kiwis are consummate sailors, and their full-width, 316 stainless-steel bracket keeps halyards from snagging the lamp as if it were a horn cleat. Priced in the middle of the pack, the $136 Hella comes with an impressive five-year warranty.
Bottom line: Hellas Sea Hawk edged out the competition with its light weight (8.8 ounces) and snag-free mount design. Its our Best Choice. The even illumination and brightness, without a central hot spot, earned high ratings.
Scandvik
The two Scandvik lights we tested-one flush-mount, one bracket mount-are both well-made, well-engineered lamps that employ an inline four-LED design. Their illumination is excellent. When compared with lamps containing quartz-halogen bulbs, Scandviks deck lights deliver equivalent brightness and a radius of illumination at about 20-percent of the formers power usage. We measured a 0.6-amp current demand at 12.6 volts DC and were pleased by the wide circular beam. Initially, we assumed that there would be more of an ellipse shape beam, but by optically setting up the lens and LED configuration, the inline housing still delivers a circular beam.
Scandviks deck lights are energy-efficient, effective light sources, but the bracket mount is less than ideal. It consists of a single stainless-steel toggled machine screw that allows one-axis tilting. The problem is the brackets potential to snag a halyard and change the lights tilt angle, resulting in light being redirected toward the cockpit instead of the foredeck. A bit of creative mount fabrication under a radar bracket would solve the halyard snag factor. In short, high marks are given to the flush-mount lamp, but bracket mounting on sailboats will be an issue.
The flush- and bracket-mounted lights run $90 each and come with a one-year warranty.
Bottom line: Efficient lighting in a well-made housing, but the T-shaped bracket and non-flush mount is a halyard snagger.
Signal Mate
The energy-efficient, mast-mounted LED deck light is aligned with the spars centerline, rather than raked forward to send more illumination to the foredeck. Fortunately, the optical ability of the light to deliver sharp cutoff edges was good, and the 0.3 amps volts DC current demand (at 12.6 volts DC) delivered effective illumination. At $289, the Signal Mate deck light was the most expensive standalone light in the test.
Signal Mates three-LED spreader light also focused a similar, medium-radius white beam, using the same current demand. The red version of the LED lamp delivered a narrower beam, and testers found looking aloft toward the red light to be very visually disconcerting. While we like the idea of preserving night vision, we had some concern about beating to windward and having the heel angle cause the red LED to be misconstrued as a navigation light. The spreader lights, at $199, are more expensive than the other brands of lights we tested.
The combo bow and deck light was a very efficient package. The 3-nautical-mile steaming light consumed only 0.2 amps, and the low-profile housing fits closely to the spar. It runs $689.
The Lexan and anodized aluminum Signal Mate lights come with three-year warranties.
Bottom line: Signal Mates well-made LED combo light is a good choice for larger vessels. The deck light and spreader lights provide even illumination, using very little current.
Conclusion
Brilliance is in the eye of the beholder, and determining how bright deck lighting should be is a balance of competing interests. We maintain a strong pitch for the maintenance of night vision, and those who chase solutions with technology may want to install two different intensity spreader/deck lights. It was a tough task to come up with a winner among the inline LED lamps. Dr. LEDs Dave X3 put out the brightest, broadest beam. Scandvik put out nearly as much light, using a pinch less current. But Hella, which offered a little less brightness, proved to be a current miser, and nosed out the competitors with its sensible bracket design and lighter weight.
Signal Mates combo lamp is an expensive but well-made piece of kit. We will do a longer-term test on the red LED version of Signal Mates spreader light and report our findings in the future.
When all is said and done, LED efficiency needs to be thought of in a duty-cycle context, and if your spreader/deck light(s) are seldom used, and used for only short duration, LED efficiency may not justify the added expense. Running lights are another story-they remain on all night, and for passagemakers, LED lights can add up to significant power savings.
But when it comes to infrequent, short-term deck illumination, perhaps the Forespar ML-2 makes the most sense. You can compromise short-term by putting up with bright but inefficient deck lighting, and investing in a good LED masthead tricolor lamp for the time you are under sail and tapping into the battery bank reserve.
How We Tested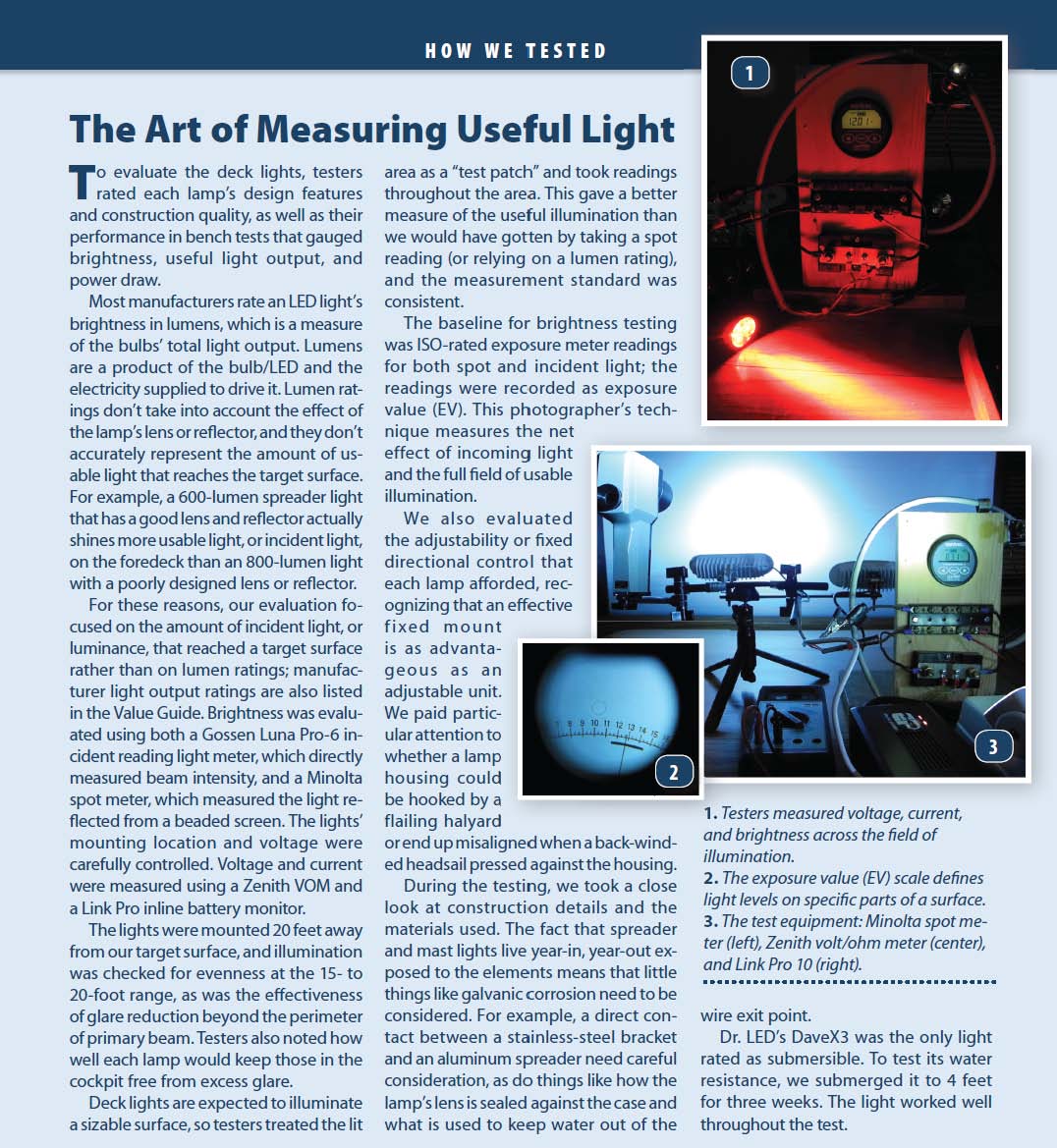 Value Guide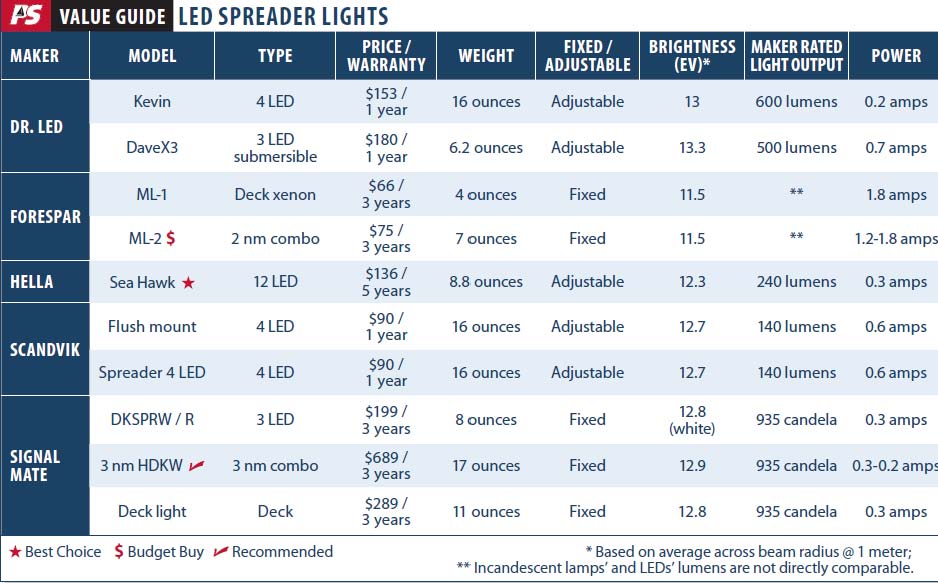 Tech Tips