If youre a boat owner, chances are youve used-and cursed-more hose clamps than you care to count. Their use is ubiquitous for onboard systems: fresh water, gray water, sanitation lines, through-hulls, fuel lines, engine cooling, exhaust hoses, propeller shafts, etc. And while we should all use good-quality, doubled stainless-steel clamps, there are some applications where using a high-quality hose clamp is critical-such as on engine hoses under pressure or through-hulls.
Stainless steel is a corrosion-resistant alloy that comes in varying grades and finishes. Grading stainless steel is complicated, and standards are different around the world. In marine hose clamps, the stainless should have a minimum of 10-percent chromium, but better grades have up to 25-percent chromium, and added nickel, manganese, or molybdenum helps resist corrosion and makes them virtually non-magnetic. Grades 430 and 440 are common for general purpose, but for marine use, the stainless should be at least 304. A 316 grade, which is used in food and surgical applications, is best for onboard use because it has more molybdenum. Some clamps are stamped with the grade, but most just say stainless steel, so it can be hard to know what youre getting.
An easy do-it-yourself test to gauge the grade of stainless is to take a magnet along when you shop for hose clamps. If the clamp is very magnetic, its likely to corrode more quickly in a saltwater environment. Be sure to magnet-test all components of the clamp, especially the bolt and bolt housing. Manufacturers often incorporate other metals into the hose-clamp design-like a stainless band with brass bolts or bolt housings-because pressing together two stainless parts (like a nut and bolt, or the band, bolt, and housing of a hose clamp) can cause pitting and galling, which can lead to premature corrosion. These magnetic components are usually the first to corrode, as our tests have shown. Also look for No. 316 SS markings on the band.
To get an idea of the quality of hose clamps available and what type of onboard working life they may have, Practical Sailor launched a series of bench tests using the brands commonly found at marine chandleries and hardware stores, as well as one hose clamp from an automotive parts store.
What We Tested
Practical Sailor evaluated stainless-steel hose clamps from 11 manufacturers. We are aware of six other hose-clamp brands that were not included-either because they were not available locally or they are only marketed to boat makers or commercial industries.
The test field included clamps from Shields, ABA, Murray, AWAB, Breeze, American Valve, Ideal/Tridon, Trident, Koehler, and Norton. We tested sizes 28 (for hose sizes 15/16 to 2 inches) and 32 (for hoses 1 to 2 inches), so prices arent directly comparable and some are sold only in boxes of 10.
Two of the test clamps, the Shields 720-2000 and the Trident 720-2140, are the smooth-banded T-bolt design; comparing them to the others is a bit of apples to oranges. The T-bolt clamps are typically more expensive than regular hose clamps, and because they are only available in larger diameters, they are best suited for use at the marine head outlet or in exhaust systems.
Seven of the test clamps are tightened via a worm-screw mechanism with a regular bolt, bolt housing, and a perforated band. The other two worm-drive clamps, the ABA and AWAB, feature bands with embossed indentations rather than perforated holes.
How We Tested
On saltwater boats, all stainless-steel gear should be non-magnetic, which indicates better corrosion resistance than magnetic metals. For marine use, stainless steel should have sufficient non-ferrous metals to de-magnetize the iron molecules.
With that in mind, we started the bench testing with a simple magnet test of the whole hose clamp, then its individual components like the bolt and bolt housing. (Testers noted the results in the accompanying Test Results table.) Some showed no magnetism, and others showed varying degrees, so we applied a numerical value to the results of each part for a more specific representation. The sum quotient of each clamp is given in the table; the lower the number, the better the corrosion resistance.
Testers also measured the thickness of the metal bands with a digital micrometer. We did not compare weight, because not all bands were the same length and the bolt housing designs varied. All clamps were closely examined and compared for quality of construction and workmanship. The relative finish and polish of each clamp were considered, but they were all pretty much the same, and how shiny they are does not correlate to function or longevity. The same is true for smoothness and ease of turning the bolt; some may be a little more difficult to turn, but not so much that it would be a determining factor in choosing a hose clamp.
The testing also compared compression, torque failure, and corrosion resistance. For the compression testing, we tightened each clamp to 50 inch-pounds and used a specialized digital meter to measure clamp compression at that torque. The manufacturers we spoke with generally agreed that a torque of 45 to 60 inch-pounds is sufficient for critical hose compression (through hulls, exhaust hose), and that 15 to 20 inch-pounds is normal for non-critical hoses (potable water supply lines).
The less torque needed to achieve good compression, the less chance of failure at the bolt, so any clamps that generated greater compression at 50 inch-pounds of torque (and we found two clear winners) would be considered superior.
To measure the failure point, we tightened the clamps on a PVC pipe until the hose clamp broke or began to slip. We found a couple of surprises here.
Based on our experience, corrosion is the chief cause of failure, so we were most interested in the clamps resistance to corrosion. All test clamps were attached to a 2-inch PVC pipe and immersed in a saltwater bath for 12 weeks. Testers observed each clamp weekly for signs of corrosion. The ratings are comparable to the field with Excellent ratings denoting no corrosion at all and Poor ratings given to those that began corroding only a week or two into the test. Although we are confident in these initial findings, we plan to continue testing for corrosion resistance to see if anything changes.
Shields
The Shields Rubber Co. was merged into Sierra Supply, then taken over by Teleflex Marine Inc. You may find the same clamps marked Shields, Sierra, Uniflex, and other names, all made by the same manufacturer. We tested the 316 stainless-steel Shields T-bolt 720-2000 clamp (purchased from West Marine), which features a smooth, looped, and riveted -inch band, a stainless nut, and a long, stainless bolt.
The Shields showed minimal magnetism in its housing, but the coated clamp nut (Shields calls it silver coated) developed corrosion after 12 weeks in the saltwater bath. According to Shields, this coating failure is cosmetic and will not affect the integrity of the nut or clamp.
As the Shields T-bolt is clamped, it compresses very tightly and evenly around the hose. We squeezed our 2-inch PVC pipe to 180 inch-pounds of torque, at which point we ceased the test because the pipe began distorting. This was more pressure than any other hose clamp handled, except the Trident T-bolt, which tied the Shields performance. The Shields T-bolt also developed the least amount of compression at 50 inch-pounds of torque, likely due to the friction between the nut and bolt.
Bottom line: The $13.50 Shields T-bolt was the most expensive clamp tested, but it can deliver tremendous compression before failure. It gets our pick for a specialized hose clamp for head outlets and exhaust systems.
ABA
ABA, founded in 1896 in Sweden, is now part of the Norma Group in Germany. The company has plants in Belgium and Holland, and its clamps are sold through many retail stores and marine distributors. ABA offers many types and grades of clamps, including 430, 304, and 316 stainless, for automotive, marine, and industrial applications. The clamps have distinctive embossed serrations on the bands, instead of the more common perforated slots. We were told that ABA will be introducing a new design with a one-piece bolt housing in the near future.
Our torque test showed the ABA bolt slipped over the embossed grooves at 75 inch-pounds, the lowest failure point in the test, but compression reached way up to 52.9 inch-pounds at 50 inch-pounds of torque, the highest in the group.
At $5.50, the ABA is priced at the higher end of the test-field price spectrum, but it features top-quality construction. With a band measuring nearly a half-inch, the ABA clamp showed no magnetism in any of its parts, indicating high resistance to corrosion, and it emerged from our corrosion test with no signs of rust.
Bottom line: One of the top performers, the ABA clamp is high quality and has top-notch corrosion resistance, earning it a Best Choice pick-especially in areas that may be exposed to salt water.
AWAB
The AWAB line of clamps was merged into ABA in 1990 and is also part of the Norma Group. The clamps we tested from ABA and AWAB looked identical. Both have 0.485-inch bands, are 316 stainless, and use stamped serrations rather than holes.
The AWAB hose clamp reached 80 inch-pounds before slipping and also reached an impressive 45.2 inch-pounds of compression with 50 inch-pounds of torque. Like its test twin, the ABA, the AWAB clamp showed no signs of magnetism or corrosion. We found it online for about a $1 less than the ABA.
Bottom line: Another top performer, the AWAB clamp is high quality and has smooth operation. Testers liked the stamped serration design. It earns a Best Choice pick for a general-purpose hose clamp, and its less expensive than the ABA.
Murray
The Murray Corp., located in Maryland, has been manufacturing clamps for more than 100 years. The company offers a full line of worm drive (both perforated and embossed), constant tension, T-bolt, and seamless pinch hose clamps. Our test samples were the Gold Seal perforated-band type.
One downside of the Murray clamp that testers noted was that when the band is unscrewed completely, the bolt falls out-not a major knock, but we prefer captured bolts. In the torque-to-failure test, the bolt simply disappeared into the housing, making it impossible to tighten it any further. We tried a second Murray clamp, and it did the same thing.
The half-inch band was magnetic, and its bolt showed slight magnet attraction. It compressed to 20.3 inch-pounds and failed with 85 inch-pounds of torque.
Bottom line: The Murray hose clamp had a lackluster test performance, is made of more-ferrous metals, and its construction quality wasnt impressive.
Breeze
Breeze Industrial Products Corp. started more than 50 years ago with special vibration-proof hose clamps for aircraft engines, and now, the company offers numerous types and grades for industry, retail hardware, auto, aircraft, and marine applications.
Our half-inch Breeze test clamp was faring very well during the torque-failure test when, at 100 inch-pounds of torque, the head of the bolt sheared off, making it impossible to get the clamp off the test pipe. We repeated the test with two new Breeze clamps, and those bolts held without breaking. They slid over the serrations at an average 95 inch-pounds.
The Breeze clamp showed a little magnetism in its band, but none was indicated in its bolt or housing. It was rated Excellent for corrosion resistance.
Bottom line: The inexpensive Breeze clamp would serve fine in non-critical applications, but the bolt failure kept it out of the running in this test.
American Valve
American Valve, which has been around for over a century, offers a wide line of valves, connectors, couplers, and clamps that are sold through retail outlets like Lowes.
Our American Valve test clamp was stamped simply with an A, no other identifying name or model number. In our torque test, the perforated, worm-drive clamp failed at 95 inch-pounds as the bolt slipped the perforations, and it compressed to 24.8 inch-pounds with the 50 inch-pound load.
The American Valve clamp had the most magnetism in the test, and as we expected, it showed some corrosion at the bolt after just two weeks in the salt bath. By the tests end, the bolt was extremely corroded and had become one with the housing.
Bottom line: We would not recommend the AV clamp for use on saltwater boats.
Ideal / Tridon
Ideal Clamp Products Inc., headquartered in Tennessee with plants in Europe and Asia, manufactures a variety of general purpose and special application clamps and couplers.
The No. 36 clamp we tested, purchased at Home Depot, did well in the magnetism test, with only the band showing slight magnetic attraction. After 12 weeks in the saltwater bath, a minute amount of rust had appeared at the bolt-housing connection, earning it a Good for corrosion resistance.
In the compression test, the perforated, half-inch clamp notched 27.1 inch-pounds and didnt fail until the 90-inch-pound mark, when the bolt housing broke.
Bottom line: At $1.27, the Ideal No. 36 clamp was the least expensive of the decent performers. Its the Budget Buy.
0)]
Trident
Trident Rubber Inc., also known as Trident Marine Systems, manufactures high-quality marine hoses, fittings, and clamps specifically designed for high-temperature exhaust systems. The company offers the No. 720-series T-Bolt clamps and the No. 730 series constant torque clamps. The smooth-banded T-bolt model looks identical to the Shields T-bolt. Unfortunately, our 720-2140 test clamp was too large for the 2-inch hose on our compression tester, but its torque failure results were identical to the Shields, so wed expect its compression performance to be very similar as well.
1)]
The three-quarter-inch band and housing bits showed no magnetism, but by the end of the test period, a minimal amount of rust appeared on the nut.
Bottom line: A high-quality-but expensive-T-bolt clamp that is worth considering for specialty connections.
2)]
Koehler
Koehler Enterprises EZ36BK, sold through AutoZone stores, has an interesting feature that no other test clamp had: a bolt knob. No tools are required to fasten the clamp, and each one comes with a plastic knob to tighten the clamp by hand. Once tightened, users can remove the knob and store it for reuse. The bolt does not have a screwdriver slot, so if you lose the knob, you will need a crescent wrench or a -inch square socket to remove or retighten the clamp.
Testers were able to get a compression of only 11 inch-pounds and a torque of 15 inch-pounds by manually turning the knob. Using a socket wrench gave us better mechanical advantage, and we were able to get a respectable compression of 31.1 inch-pounds with 50 inch-pounds of torque. It withstood 80 inch-pounds of torque before slipping.
The Koehler clamp did not do well on the magnetism test, and not surprisingly, it was the first to show corrosion (on the bolt after less than a week) in our saltwater bath test.
Bottom line: A tendency to quickly corrode is not a favorable characteristic in a marine hose clamp.
3)]
Norton
Originally established in 1902, Norton Industries has been manufacturing stainless-steel hose clamps in California since 1965, and the company sells primarily to the OEM, commercial, and fisheries markets.
One of our No. 32 Norton test clamps failed at only 40 inch-pounds of torque when the housing came loose. We re-tested with two other Norton clamps, and those broke free at 80 and 85 inch-pounds-a much better showing. The clamps compressed to 16.9 inch-pounds in the compression testing.
The half-inch, perforated Norton clamp fell in the middle of the pack in the magnet test, but was surprisingly one of the few to survive the saltwater-bath test rust-free.
We found the Norton clamp for $1.30, making it one of the least expensive clamps tested.
Bottom line: Made of quality materials, the Norton is a mid performer with a great price.
4)]
All Stainless
These clamps are available in standard hardware stores, but are simply marked All Stainless with no listed manufacturer. Our magnet and saltwater bath tests supported the all-stainless claim as only the band showed minor signs of magnetism and only a small amount rust developed where the bolt meets the housing.
The No. 32 clamp features a half-inch perforated band and falls in the low end of the tests price range. In compression tests, it notched only 16.9 inch-pounds, and it broke at a torque of 95 inch-pounds, handling the highest load of the worm-drive clamps.
Bottom line: This hardware-store clamp is very similar to the Ideal/Tridon and is a good choice for non-critical use, but because we could find no positive identifying marks as reference, we can't recommend it.
Conclusions
We found some clear winners here, but regardless of how great your hose clamps are, remember to use two on each hose- fitting union that is below the waterline when the boat is heeled.
In our tests, the worm-drive clamps with embossed band serration were the smoothest operators and produced the most compression at 50 inch-pounds of torque. The T-bolts were able to handle the most torque and deliver the greatest compression without failure.
The Shields and Trident are heavy-duty T-Bolt type clamps that compress very tightly and evenly around a hose, but they are quite expensive and designed mainly for critical high-temperature areas. The fine thread of the quarter-inch nut and bolt allows extreme compression and tightness without failure. Both clamps earn our recommendation.
In the torque-to-failure test, the Breeze clamps bolt snapped off and the Koehlers slots broke, but in all the others, the bolt threads simply slipped. It did not seem to matter whether the bolt housings were made of one or two pieces.
The embossed ABA and AWAB clamps gave the best compression using the least torque. The bolt movement was smooth and compression was even without cutting into the hose. Although they are more expensive, they have better compression, were completely nonmagnetic, are made with No. 316 stainless, and showed no signs of corrosion-earning them our Best Choice picks.
For use with general purpose, non-critical hoses, PS Recommends the Budget Buy Ideal/Tridon, which showed relatively good compression and low magnetism, is inexpensive, and can be found at hardware stores. The All-Stainless clamp we found at Ace Hardware (www.acehardware.com) appears nearly identical, but since there are probably a few look-alike, no-brand clamps floating around, we hesitate to recommend it.
Testers noted that construction quality varied, even among hose clamps of the same make and model. We recommend magnet-testing hose clamps before you buy them, and if you can, pick up a few extra in case one turns out to be a dud, as a few did in our tests. Once theyre installed, be sure to inspect them regularly for corrosion.
Specs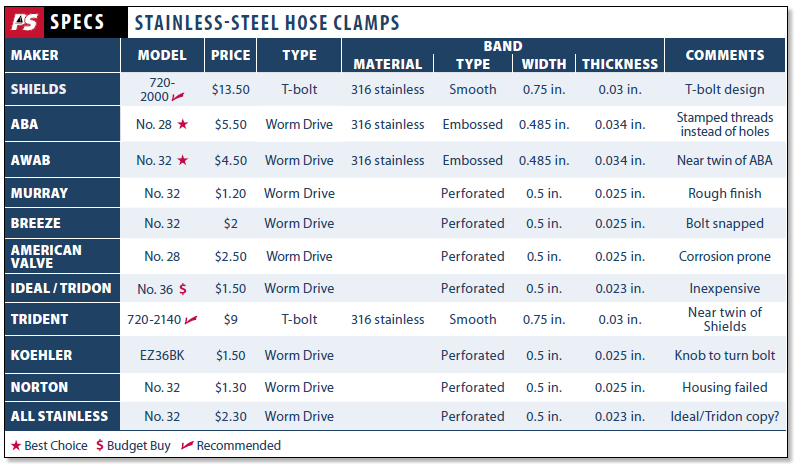 Test Results