Many love the solitude that sailing offers, but not necessarily the limited (or non-existent) communications that can accompany it. For those sailors, there are numerous portable electronics on the market to make sure you can stay connected off the beaten path, while trying to get away from it all.
We began our look at these personal electronics with the January 2013 review of BriarTeks Cerberus Cerberlink and the SPOT Connect. This month, we evaluate another pocket-sized, satellite-based communication option for the cruising sailor, as well as a satellite phone capable of providing worldwide voice communications and a whole lot more.
What We Tested
This second test group comprised two satellite-based communication devices. Yarmouth, Maine-based DeLorme, a longtime leader in innovative mapping and GPS products, provided us with an inReach two-way satellite communications unit to test. Global voice and data communications giant Iridium Communications Inc. of McLean, Va., sent us an Iridium Extreme 9575 sat phone. In the January 2012 issue, we looked at the Iridium Extremes predecessor, the 9555, as well as similar satellite phones for Globalstar and Inmarsat.
While the inReach and the Extreme each have unique features and abilities, they also have some in common: text messaging, tracking, etc. Both also use the Iridium Satellite system-as does the Cerberus-and both use the GEOS International Emergency Response Coordination Center (IERCC) as first responder to an SOS message (as does the SPOT Connect). If youre unfamiliar with GEOS and response center protocols, we recommend checking out our in-depth report on GEOS and its role in search and rescue in the August 2012 issue.
How We Tested
To gauge performance, user-friendliness, and features, testers registered and used the Iridium Extreme and DeLorme inReach during various cruises of the lower Chesapeake Bay and during a weeklong trip to North Carolinas Albemarle Sound.
Our comparison included such things as ease of registration/activation, ease of use, battery life, features, functionality, and price. We put each device through its paces, testing message sending, SOS functions, and tracking.
We also tested both products waterproof claims. The inReach is rated IP68, meaning it can withstand continuous immersion beyond 1 meter, and the Extreme is rated IP65, or capable of withstanding water being sprayed at it from a nozzle. Both claim to meet the 810F military standard for impact resistance, which requires the device to withstand being dropped 26 times from 4 feet onto concrete, and other criteria.
DeLorme inReach
Billed as the worlds first affordable two-way global satellite communication device when paired via Bluetooth with a smart mobile device (phone, digital tablet, etc.), the inReach offers follow-me tracking, find-me locating, SOS alerting with automatic message acknowledgement, and full two-way texting with any cellular or email address when boating beyond the range of cellular networks or VHF radio. According to DeLorme, the Iridium satellite network gives the inReach end-to-end message delivery in less than 60 seconds from anywhere on Earth. (We tried to hit the publisher up for a trip to Tasmania to test this claim-no dice.)
The inReach comes with a clip, lanyard, micro USB cable (for firmware updates), two AA lithium batteries, and a quick-start guide.
Like the SPOT Connect and Cerberus, the inReach uses a free app (DeLorme Earthmate) to interface with mobile devices. The app installs on smartphones or digital tablets and supports free downloads of both NOAA charts and topographic maps.
The inReach is a buoyant, robustly constructed unit that has the highest waterproof rating of the test group, including the SPOT and Cerberus. It features a stubby, fixed antenna; five LED indicator lights (power, tracking, message, signal, SOS); and four control buttons (power, tracking, messages, and SOS).
Setup: Testers found the inReach setup simple and straightforward. To activate the inReach, users must set up an account at explore.
DeLorme.com, where they can choose a service plan and add information about emergency contacts. Once registered and logged into the account, users can add contacts to their address book, customize predefined (i.e. canned) messages, and use the inReach in standalone mode.
The next step is downloading the free DeLorme Earthmate app onto a mobile device. Android users can find it at the Google Play store, while iOS-device owners can download it from the iTunes app store. Once the Earthmate app is downloaded, the inReach is paired to the device (phone, tablet, etc.) via Bluetooth, allowing users to compose messages up to 160 characters on the device and send them directly as email or text messages. Messages can also be posted to Facebook and Twitter as well as the users MapShare page. MapShare is a web-based map that stores your inReach track points and messages so that friends and family (designated by you) can follow your trip.
From explore.DeLorme.com, users can enable and configure their MapShare preferences, allowing visitors to view their location and breadcrumb trail. Here, visitors can also send you messages and ping your GPS position, or you can create password-protected pages to restrict viewing access (perfect for keeping your boss, editor, ex-spouse, beloved Facebook friends, etc. from tracking your every move). After setting up your MapShare account, you can email a link to your friends and family with an explanatory message.
Service plans: DeLorme offers three service plans: the $9.95 per month Safety plan, the $24.95/month Recreational plan, and the $49.95/month Expedition plan. Each plan requires an activation fee of $19.95 and an initial one-year commitment.
In a nutshell, the basic, first-tier Safety plan provides unlimited SOS messages, tracking at 25 cents per message, and up to 10 text messages (send and receive) per month; overage is $1.50 per message. Additional options include a seasonal use plan, although it is more expensive per month and has a four-month minimum. You can switch plans at any time for free, as long as the new plan is of equal or greater value, but downgrading to a cheaper plan costs $24.95 a pop, which seems a little severe in our opinion.
Messaging: Messages up to 160 characters can be composed and addressed on the fly (or by selecting from your phone contacts) and can be posted to FaceBook, Twitter, or your MapShare map. You can also use the inReach Message button to send up to three canned messages that were created on explore.DeLorme.com. (To use this feature when the inReach is not tethered to an Android or iOS device, it helps to have a note or reminder showing you each of these three messages in the order you have set them.) The messages are sent to contacts you designated on explore.DeLorme.com when you created them.
Tracking: The track feature allows users to send their location at selected intervals (from every 10 minutes to four hours) when moving. Once stationary, location is sent every four hours until you move more than 300 feet, at which time, the tracking intervals resume.
Tracking can be initiated via the tethered device or the inReach unit. It can also be initiated from explore.DeLorme.com by anyone who has permission to log into your account.
SOS: When the inReach is used by itself, SOS messages are initiated by pressing the SOS button. Alerts are relayed to the privately run GEOS command center and then to the appropriate emergency responders. When paired with an Android or iOS device, you can also send text messages describing your exact situation. Emergency responders can then try to initiate a two-way conversation with you via the inReach, and if that fails, they will contact your emergency contacts to get further information to assist in the emergency.
Once the SOS is initiated, the inReach increases the tracking interval to once per minute for 10 minutes and then begins to slow the intervals to conserve battery power, ensuring theres enough battery to send position data for days-once every 10 minutes for an hour, then every 15 minutes for eight hours, then once every 30 minutes, etc. The frequency varies based on length of time the SOS was first initiated, whether the user was able to confirm the SOS to GEOS, and whether the user is moving.
Users are able to continue sending text messages to contacts while the inReach is in distress mode; however, SOS messages have priority and will be transmitted first. And if youre the kind who is magnetically drawn to mudflats or river bars, youll be happy to know that DeLorme has partnered with BoatUS to help members contact the BoatUS 24-hour dispatch service using their inReach unit.
The inReachs battery life expectancy in distress mode will vary depending on how frequently the SOS and position messages are being transmitted, but assuming the battery was fully charged when SOS was pushed, the batteries should last 125 hours if Lithium-ion, 75 hours if NiMH, and 72 hours if alkaline.
Concerns: Although the inReach test unit connected with a range of Android and iOS gadgets with no problem, we did have a problem connecting it with one testers Android phone, even though the phone met the required specifications. Battery life has been an issue with the inReach in the past, but operating system upgrades have improved this. Even so, battery life is not as good as the SPOT or Cerberus units we previously tested.
Testers liked that as a standalone device, the inReach can send up to three different canned messages using the units Message button. We also liked that the maps are downloaded (rather than streamed), so they can be used to navigate even when no cell service is available, allowing use of the inReach-smart device combination as a portable backup GPS navigator. Easy, one-handed operation, even with gloves, was another plus.
Bottom line: The inReach is a robust, well-designed unit that brings a lot of features to the table, not the least of which is two-way communication, for a reasonable price: $250.
Iridium Extreme 9575
The name Iridium can be traced to Motorola engineer Bary Bertiger, who came up with the idea of satellite-based phone service back in the 1980s. He envisioned a system consisting of 77 low-earth-orbiting (LEO) satellites, which happens to be the same number of electrons in the element Iridium.
Advertised as the toughest military-grade designed satellite handset ever built, Iridiums 9575 Extreme is a GPS-enabled sat phone that packs a lot of features, yet is still pretty intuitive and easy to use. In fact, this is one piece of cutting-edge technology that your inner geezer can probably relate to easier than your kids.
Although closer in appearance and weight to a mid-90s cellphone than todays smartphones, the slightly tapered shape of the Extreme has a good feel to it. The diamond-shaped, rubberized coating provides a good grip and protective padding in case the handset is dropped.
The Extreme sports a 250-character monochrome display with rudimentary graphics. (Young whippersnappers who want the screen to come to life when they touch it are plumb out of luck.) Such a display may seem tiny by todays smartphone standards, but it works well for what its primarily used for: composing short text and e-mail messages-from anywhere on the planet. (Tell your latt-sipping buddies to try Tweeting from the middle of the Atlantic or the Artic with their androgynous iGadgets!)
The Extreme is GPS enabled, which allows users to send their location with text messages, along with a Google Maps link, providing easy viewing from the Iridium website. SMS messaging is two-way, but typing them up is not as easy as using an iOS or Android device. Another benefit of the Extreme is a big, red SOS button-similar in appearance to the rocket launcher from Austin Powers Shaguar. One push, and the Extreme will alert the rescue service of your choice and help establish two-way communication to assist in their response. GEOS is the default service, but others are available for additional fees.
The Iridium Extreme package includes a number of must-have and nice-to-have accessories: travel charger with international adapters, car charger, USB data cable, hands-free earpiece with microphone, data adaptor plug (similar in shape to the charging cradle), magnetic-mount antenna with a 5-foot cable, leather case, user manual, quick start guide, and a CD with related software.
The charging cradle has a USB port that can connect the Extreme to a laptop, turning it into a data modem. Maximum speeds, per Iridium, are about 13 Kbps (with compression software) and 2.4 Kbps raw throughput. You wont want to download music or videos, but for text messages, checking email, and downloading GRIBs, the speed is sufficient-particularly for those of us who remember dial-up modems.
Setup: The setup for the Extreme is straightforward and painless. Users go online to the GEOS website, www.geosalliance.com/iridium, to set up the account, set preferences, and list emergency contact information. Users can also choose to add Medivac and search-and-rescue insurance coverage to their service plan as part of the registration process.
Service plans: Since Iridium is a wholesaler, pricing for our products and services is determined by the seller and varies dependent upon geographies and value added provided, explained Iridium public relations manager Ashley Eames. Most sellers offer both monthly pricing for airtime and bundled airtime packages for prepaid purchasers. The costs for these vary, but the general rule is that the more minutes you buy, the less you pay per minute. Basic service costs $46.95 per month, plus $1.49 per minute. This is far from cheap, but those who frequent remote areas with no cellphone coverage or who do a lot of international travel will likely find the prices easier to swallow.
Two things users need to keep in mind from a cost perspective: One is that all calls are charged at the global rate, regardless of whether you are calling from Miami to New York or from Boston to Kosrae, Micronesia (great diving there, by the way). The second cost applies to those calling your satellite phone. Depending on charges assessed by landline and wireless carriers, calling a satellite phone can cost anywhere from $3 to $5 per minute. Iridium provides their customers an option to acquire a U.S. number. With that, the caller will incur standard charges to the U.S., while the Iridium subscriber pays roughly $1.50 per minute for a received call.
SOS: Once an SOS is initiated, the Extreme sends an emergency notification (message and call) to GEOS. The message is cross-referenced with the emergency contact information that the user provides during registration, and GEOS coordinates with local rescue agencies. That is the default; however, users can set their account preferences to have the SOS sent to a point of contact other than GEOS. Users also can continue to make calls or send texts while the Extreme is in distress mode.
The distress alerts and position data will continue to transmit every 5 minutes until the user cancels the SOS. Battery life expectancy in distress mode is 26 hours with a fully charged standard battery. However, Iridium plans to introduce an optional high-capacity battery accessory that will nearly double the battery capacity.
Concerns: Smartphone users may find the look and feel of the Extreme clunky-especially with the antenna, which has to be extended during use. Another niggling concern was with charging. Unlike the small plug-in tip found on most sat or cell phones, the Extreme comes with a cradle that attaches to the bottom of the phone. It works well, but it seems like one more item to lose.
According to Eames, the cradle design was necessary to accommodate all the possible uses of the Extreme (charging, connecting to laptop, standing, and laying flat, in a car, on a boat) while meeting the IP65 water-resistance rating and reducing the handset size from previous models. This, she said, would not have been possible with internally mounted connectors. We think that the adapters provide flexibility in use while maintaining a compact, water-resistant design while used in portable mode, she explained. For those that are primarily using the adapter and charger for charging, we recommend keeping the two accessories attached to simplify use.
Battery life (for tracking) is considerably less than the other tracking units weve tested, but that would only be an issue when away from a charging source.
Using the phone as a tracker is a nice additional feature, but it wouldnt be a major selling point for us. The biggest appeal is the Extremes reliable, global voice communications. Any of the other units in our test offer tracking services for much less, but they don't provide global voice coverage. Another thing to consider is that while the phone has an IP65 rating, that goes by the board when opening the little rubber caps to use the power or data adaptor-same goes for the SOS button, should the cap be left open or knocked loose.
Finally, in April 2012, Iridium announced a recall for the Extreme due to problems with the antenna deployment sensor. According to Iridium, the problem was traced to a vendor manufacturing process that has been rectified; new phones do not have this issue, but if purchasing a used unit, ensure that it has been fixed.
Bottom line: While still a considerable expense, sat phones are slowly entering the realm of affordability. For globetrotters, or those who often find themselves off the beaten track and away from cellphone coverage, the Extreme is well-suited to fill the gap. Users should be sure to look for the battery-extending accessory Iridium has in the works.
Conclusion
We found that all of the Satcom devices we tested work as advertised. The biggest dilemma for buyers is matching their wants and needs with their budget. If showing track data is your goal and you can live with one-way communications, the SPOT Connect is a good choice; the unit and basic service plan are the least expensive of the test group. Its our Budget Buy pick.
If two-way communications and tracking are priorities, the choice comes down to the CerberLink and inReach. The inReach has the edge in unit and service pricing, but the CerberLink has a lot of features testers liked, including its alert notification service and the ability to use WiFi when available. Finally, if voice communication tops your wish list, the Extreme is the way to go. Iridium provides the foundation for all of these products, afterall, and the Extreme offers functions the others don't: voice, texting, tethering to your laptop, and even a wireless hotspot when coupled with the Iridium AccessPoint WiFi unit (watch for a future review on this). The Extreme isn't cheap by any means, but it brings a lot to the table.
None of these should be considered replacements for an EPIRB, but they could serve well as backups. Our first choice for an EPIRB backup, of course, would be a personal locator beacon (PLB), which is less expensive and more reliable than most tracking devices. But for a satcom tracking device, the Extreme or inReach would be our top picks for backup safety electronics. Both offer two-way communication, use GEOS, and advertise themselves as emergency response devices-Cerberus specifically does not.
Inreach vs. Iridium Extreme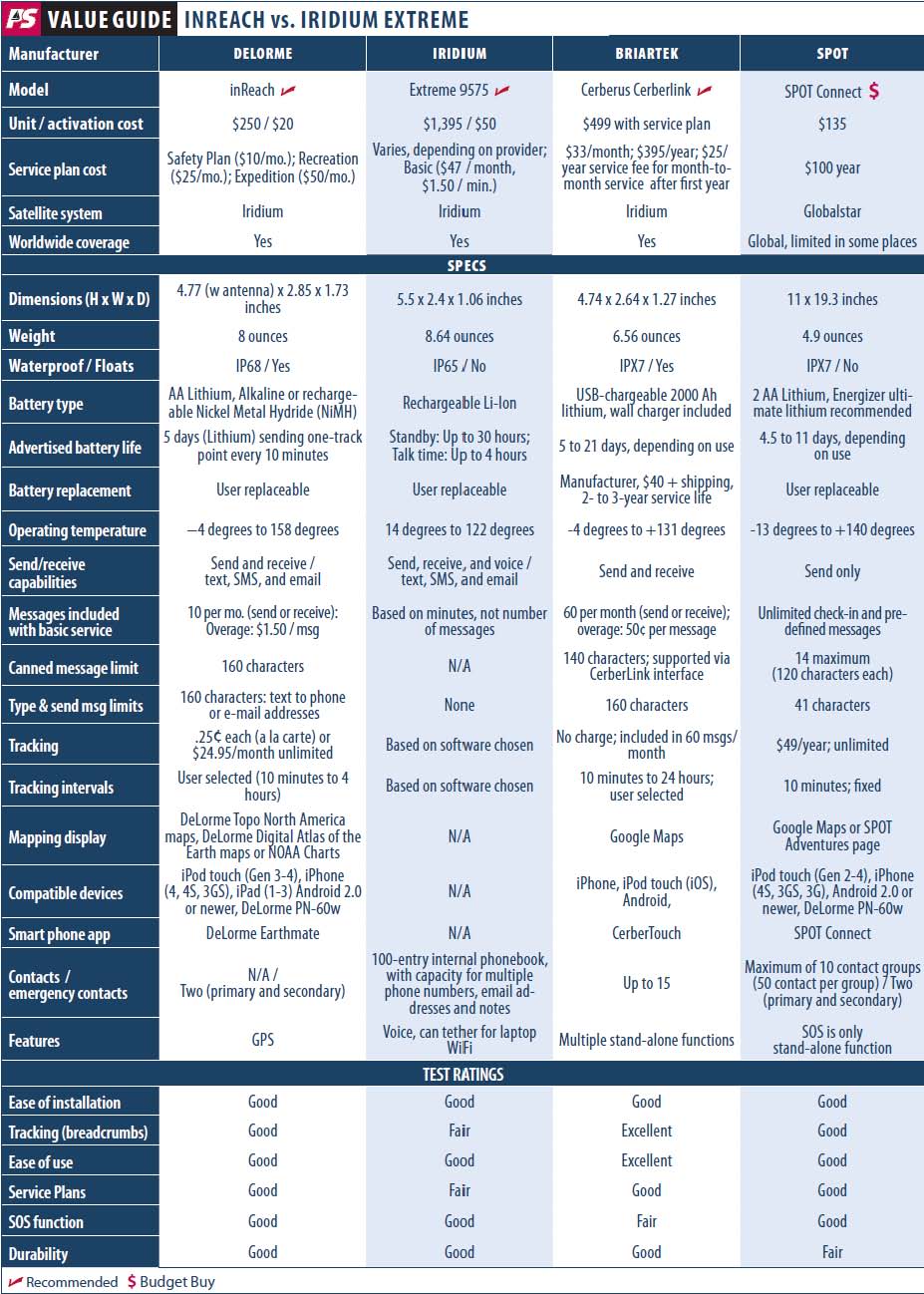 Basic Plan Comparison