Hunter Marine began building auxiliary sailboats in 1974, largely as the result of the first oil embargo and the new energy consciousness that followed. Founded by Warren Luhrs, Hunter began as a division of the powerboat-maker Silverton Yachts, which was interested in expanding its offerings and taking advantage of the new interest in saving fuel.
The companys aim was high-volume production, keeping prices low by standardizing design, making as few tooling changes as possible, and offering its boats fully equipped-while other companies were selling things like bow pulpits and lifelines as options on a 30-foot boat. The original Hunter boats were marketed as the affordable fantasy and came with sails, dock lines, fenders, life jackets, and fire extinguishers, in what Hunter called the Cruise Pak of standard features. About the only option available on the early Hunters was a choice of shoal- or deep-draft keel.
In 2012, Hunter Marine was sold to David Marlow, the builder of Marlow Yachts. With this change of ownership came a change in corporate goals and product offerings. Hunter Marine began-like its chief competitor, Catalina Yachts-with a small group of standardized models. From 1974 through 1977, it offered only the Hunter 25, 27, and 30 models, and from 1977 through 1979, the builder added only the 33 and 37. Today, Hunter-Marlow makes nine production models ranging from trailerable daysailors (15 to 22 feet) to mid-size (27 to 37 feet) and large (40 to 50 feet) keelboats.
Also, Hunters high-volume-production business model has been replaced with the Marlow ethos, which is more focused on yacht-level quality than production volume. Marlow-Hunter produces about 100 boats each year, including trailerable and cruising sailboats, as well as Mainship powerboats, according to Greg Emerson, Marlow-Hunters director of sales.
The Hunter 30
Designed by John Cherubini and built from 1974 to 1983, the Hunter 30 is a coastal cruiser that was designed to offer a lot of boat for little money. With a focus on streamlining construction to boost production volume, Hunter aimed to offer an affordable coastal racer-cruiser. More than 1,000 Hunter 30s were built over the nine-year production run; however, a number of them were sold as Quest 30s, which was essentially a sail-away, bare-hull kit boat, and the purchaser completed the interior and the fitting out.
For this report, we checked out a 1980 Hunter 30 (hull #934) and a 1978 model (hull #568). In contrast to later Hunters, the early Cherubini-designed models were conservative and conventional in design. The longer sister models-the 33 and 37-were, in our opinion, good-looking boats, moderately styled, with an attractive bow line and sheer, and a pleasing coachroof. The smaller boats, the 25 and 27, instead traded in some styling characteristics in order to pack a lot of room into a short waterline, which left them with higher-sided with boxier cabinhouses.
The 30 lies somewhere in between-handsome from some angles but a bit too flat in the sheer and high in the cabintop to impress traditionalists. Still, most of those traditionalists would consider it a much more attractive boat than the modern Euro-styled Hunters.
The 30s hull is very full-to maximize interior space-but otherwise, its quite typical of the racer-cruisers of the 1970s. Overall, the boat is 29 feet, 11 inches long-the maximum allowable length under the then-popular Midget Ocean Racing Club (MORC) rule. The short overhangs result in a long waterline, fundamental for sailing speed. The beam, at just a hair over 10 feet, is moderate by 1970s standards, but narrow in comparison to the big 30-footers that have appeared since. The Catalina 30, for example, is nine inches wider, and many current boats carry a foot more beam (and carry it further aft) than the Hunter 30.
A conventional fin keel, drawing 5 feet, 3 inches, was standard, with a 4-foot shoal keel as an option. We test-sailed the deep-keel version, and suspect it is much to be preferred, unless you absolutely need the shallower draft. Company literature lists the displacement and ballast as identical on both models. That would make the shallow-keel version more tender, requiring crew to reef early as the wind pipes up.
On Deck
The foredeck is on the smaller side for anchor work and sail handling because the cabinhouse extends quite far forward. The 1978 and later models have an anchor well built into the foredeck that is self-contained and large enough to hold over 400 feet of rode, or enough for two anchors. The test boat we sailed had a furling jib, a desirable option in view of the smallish foredeck.
A significant shortcoming of the boats design is the narrow sidedecks. The wide cabinhouse makes it clear that the designers top priority was interior room, with deck work being a distant consideration. Its near impossible to get past the chainplates, especially on the leeward side when under a press of canvas, without climbing atop the cabinhouse.
The boat has a good cockpit, a bit smaller than some other 30-footers (again, a result of maximizing cabin space). A wheel was standard on the boat; its small, which is good for moving around the cockpit, but less than ideal for helming, in our opinion
A T cockpit became standard following the 1980 models, and some people preferred that arrangement; however, you could lie down on the older bench seats, and you can't with the T. The bench seats would benefit from some sort of drain arrangement since they trap water. A deep lazarette behind the cockpit offers additional on-deck storage.
A peculiarity of the decks on the early Hunters is that the nonskid pattern was not molded in as is customary on fiberglass decks. Instead, a nonskid aggregate was painted on. Given the age of the Hunter 30, the original aggregate is likely long gone, and owners have had to apply fresh nonskid paint or nonskid mat. Fortunately, such a repair is straightforward and an easy (although time-consuming), do-it-yourself project (see PS August 2008 and November 2013 online).
On the boats we examined, there was minimal sail-handling equipment on deck-one pair of jib-sheet winches, a small halyard winch for the jib, no winch for the main halyard, no Cunningham or vang, no control lines on the traveler, no flattening reef, a single jiffy reef block, two jib lead blocks out on the toerail, and no backstay adjuster. However, most H30 owners have added deck gear over the years, including a running backstay, so what youll find on Hunter 30s today will run the gamut. A large number of Hunter 30 owners who responded to our survey reported that their boat was rigged for singlehanding, making it easy to sail with a short- or single-handed crew.
The original Hunter 30 owners manual was a great example of a good, clear, simple manual. It has always amazed us how many other boat builders provide the buyer with little or no printed information. If you happen to own or buy a Hunter 30 (or pretty much any older Hunter model) thats missing its manual, simply download the PDF of the original from the Hunter-Marlow website.
Interior
The 30s interior was a strong selling point for the Hunter 30. Almost every owner that responded to our survey commented on the size of the boats interior-often relative to low price-when talking about their reasons for buying the 30.
The interior is well laid out, but plain. Theres a lot here for the money, however. Some of the original details could use changing-the alcohol stove, lack of vents, and small water tank-and many owners have upgraded or modified these systems.
The Hunter 30s layout is conventional, with a good V-berth forward, then a head with small hanging locker opposite, settee berths on each side of the saloon with a double, a drop-leaf table in the middle, an L-shaped galley, with the sink underneath the companionway, and a quarter berth, with a small chart table at its head. The berths are of good size, and on some boats, the port settee can convert to a double berth.
The head area is roomy with enough space for comfortable showering and a door for privacy. The interior also offers lots of storage for a boat this size: The hanging locker can accommodate plenty of clothes and has an overhead shelf; and there are three large storage lockers in the V-berth, plus a host of drawers and under-seat storage in the saloon.
The icebox on the boat we looked at had minimal insulation and would benefit from several more inches all around. Many owners reported having upgraded with icebox conversion kits.
The deckhouse is high and wide, and this gives a look of spaciousness below. The white hull liner overhead helps offset the extensive teak veneer on the bulkheads, ceilings, sole, and furniture.
There are adequate ports and hatches to allow in enough light. The opening portlights-Hunter was one of the first production boats to offer numerous opening ports as standard-offer good ventilation. If youre considering buying a Hunter 30 that has not had any ventilation upgrades, you will probably want to add some Dorades or solar vents to keep the air moving when the ports and hatches must be closed.
The finish downbelow is typical of low-cost production boats, which depend on pre-fab components that can be rapidly installed in the hull. In our owner surveys, there were a great many complaints about the original joinerwork, door hinges, and hardware. The original cabin sole was made of teak veneer, so in instances of water damage, it often cannot be repaired but must be replaced.
Engine
For the first four years of the Hunter 30s production, a 12-horsepower Yanmar diesel was standard. After 1978, standard power was a 15-horsepower Yanmar, followed by an 18-horsepower Yanmar.
The 12 was a particularly noisy engine; the later models were less so. Most of the owners who completed our survey thought the engines were minimal for powering the boat, especially in any kind of head seas; however, by traditional standards, even the 12-horsepower model should be adequate for the weight and length of the boat. Although the 12 is highly praised for its reliability, many people will find the later Hunter 30s to be more desirable because of their larger, smoother-running engines.
Engine accessibility was criticized by almost all of the owners who completed our survey. Access is awful, said one. You must be a left-handed midget to work on this engine.
We thought accessibility was far from ideal, but not excessively bad for this size boat. With a big interior and a small cockpit, its hard to stuff an engine under the cockpit sole without cramping.
The Hunter 30 we sailed (with a Yanmar 12) was well behaved under power; it backed nicely, turned crisply, and drove through strong winds (in protected water) with no problem. Our impression was that the engines vibration and noise were more of a concern than its power. Anyone buying the boat with the Yanmar 12 will probably want to spend the time to get perfect alignment. Wed also look closely at the engine mounts and the shaft-strut mounting.
Some owners have re-powered their boats, usually opting for a Yanmar 2QM15 or Yanmar 2GM20F diesel with good results. A two-blade solid prop was standard, but a number of owners refitted the boat with a three-blade solid prop to improve powering. We doubt if the gain would offset the loss in sailing ability.
Theres a full skeg ahead of the rudder. If you have to remove the propeller shaft for some reason, youll have to remove the engine first, or tear the skeg off. On the shoal-draft version, the skeg also is something of a grounding vulnerability as the rudder is about as deep as the foot of the keel.
Sailing
We were pleasantly surprised by the sailing performance of the Hunter 30. We sailed one in a long, triangular race-two triangles, then windward-leeward-windward legs-in heavy air, a little over 20 knots at the start.
Considering that the test boat had almost no sail controls and old sails, and that the underbody was rough and a bit weedy, the boat moved very well, going to weather respectably in a serious racing fleet, and reaching and running competitively.
The jib we used was the 130-percent genoa on roller furling, and this was about right for the boat in those conditions. When the wind faded near the end of race, the boat was clearly under-canvassed.
The boat is slightly under-rigged with its short mast. To sail well in light air, especially with the solid prop that most 30s have, a sizeable genoa is required. One Florida Panhandle-based owner reports that she sails with a 155 or 170 genoa, both of which are ideal in light winds and can be reefed with furling if the wind picks up. This boat sails nicely and does better in higher winds than light wind. …. It responds very quickly when tacking and can almost sail itself in steady winds, she explained.
We agree: The 30 is a good sailing boat, responsive and easy to steer. Its PHRF rating of 186 (New England fleet) would probably be very favorable. If the boat were rigged with a full complement of sail-handling gear and modern sails, it should be able to stay with other 30-footers of the same era, such as the Pearson 30, Catalina 30 (not the tall rig), and ODay 30. Since sailing is what sailing is all about, our opinion of the Hunter 30 was improved dramatically when we took a first in the races main-and-jib class.
Conclusions
The Hunter 30 was a boat built to a price point-to appeal to the sailor who wanted a lot of boat at an affordable price.
As long as a buyer understands that, not expecting custom quality at barnyard prices, the Hunter 30 can be a good value in a used boat. Many on the used market today have been repowered and had systems upgrades added like refrigeration. Be sure to look for delamination issues, check the nonskid, and examine the cabinhouse around the mast for sagging, as many of these Hunters have had compression post issues.
Its easy to pay too much for a used boat these days, but for a good-condition, roomy coastal cruiser that can make a good showing around the buoys, the Hunter 30 can be had at a decent price-a lot of cruisability for minimal investment. Youll find Hunter 30s on the used-boat market to be priced about the same as comparable boats (Catalina 30 and Pearson 30), with an average pricetag of about $13,500.
Pros & Cons: Hunter 30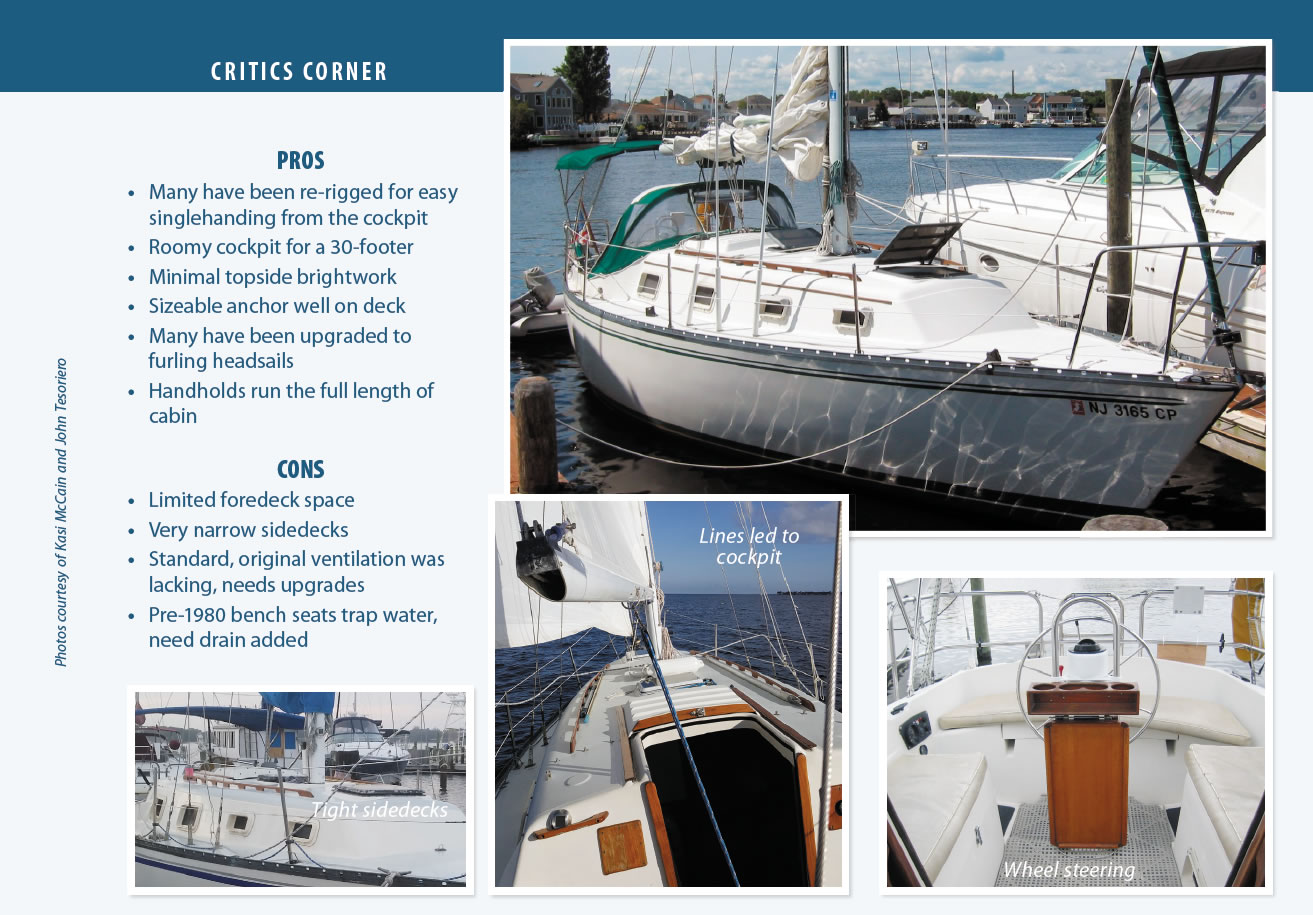 Pros
-Many have been re-rigged for easy singlehanding from the cockpit
-Roomy cockpit for a 30-footer
-Minimal topside brightwork
-Sizeable anchor well on deck
-Many have been upgraded to furling headsails
-Handholds run the full length of cabin
Cons
-Limited foredeck space
-Very narrow sidedecks
-Standard, original ventilation was lacking, needs upgrades
-Pre-1980 bench seats trap water, need drain added
Hunter 30 Interior Notes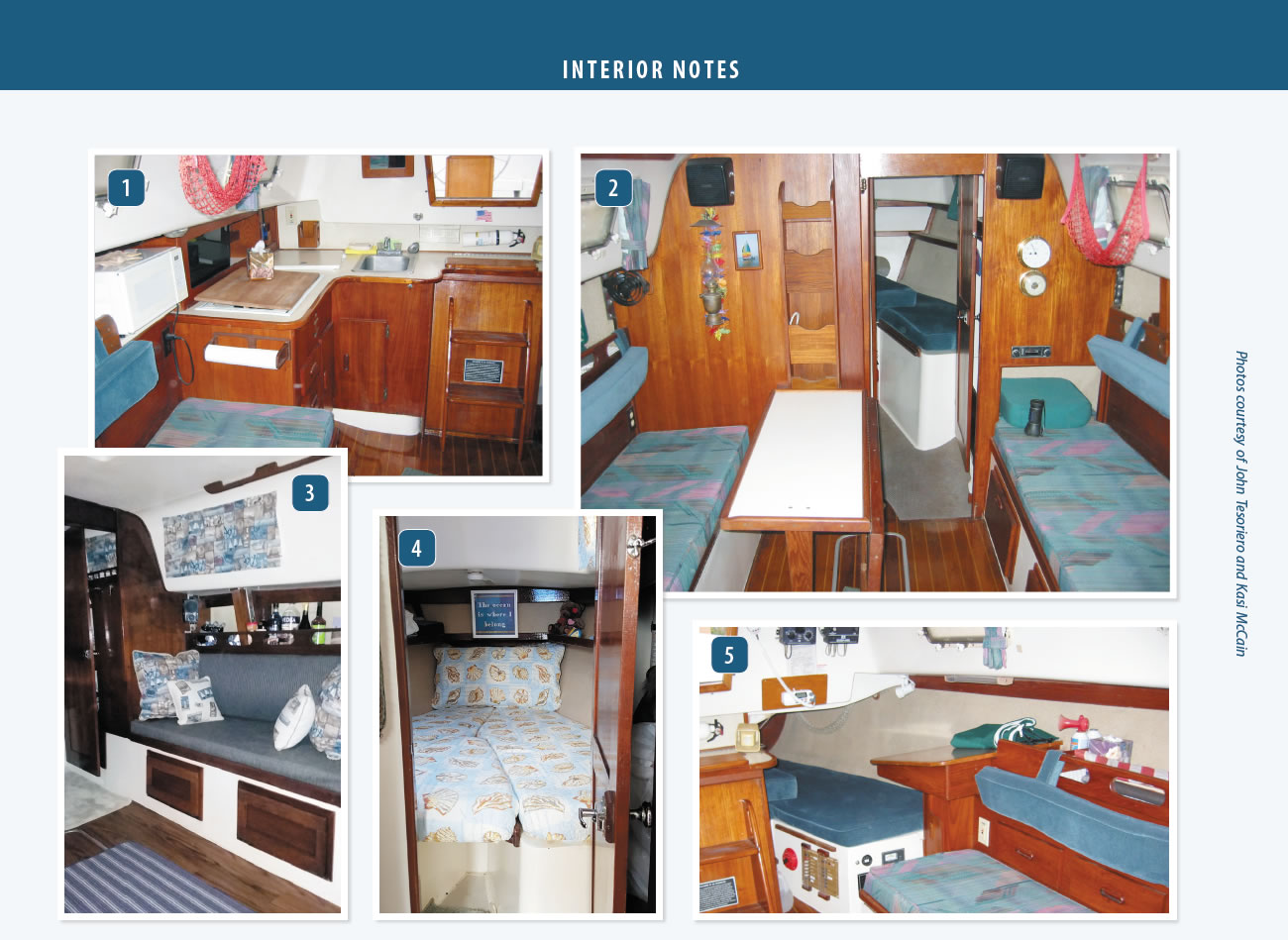 Hunter Marine built the 30 with an aim to maximize interior space. 1. The galley came standard with an alcohol stove, a deep ice box, and a small sink; many owners have updated the cooktop and added some type of refrigeration. The sink is too small to effectively wash dishes. 2. The settees offer full-length berths. 3. The H30 fits a fair bit of interior storage in a small space, including drawers behind and under the settees. 4. The V-berth has additional storage under the bed, which is large enough to comfortably sleep two (friendly) adults. 5. A very small nav desk and a full-length quarter berth are situated to port of the companionway. Electronics can be mounted inside the companionway.
Conventional Construction Hallmark of Hunter 30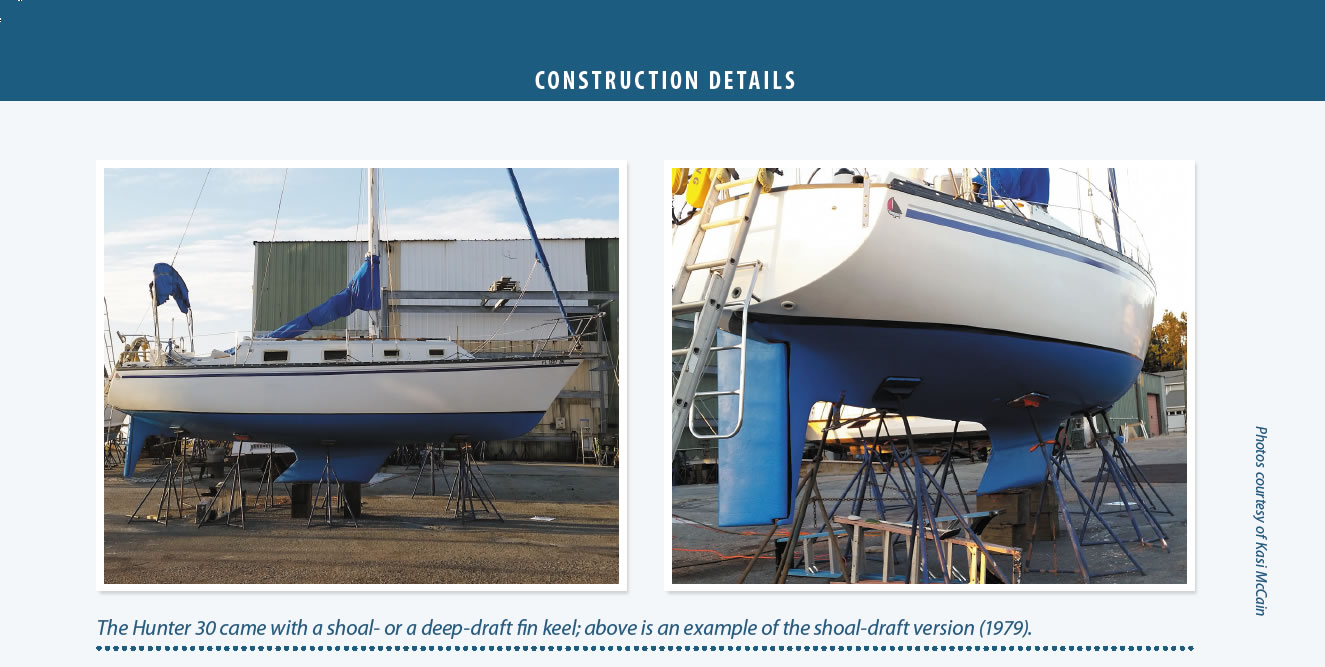 In construction, the Hunter 30 is very conventional—an economical, solid-glass layup in the hull and a balsa-cored deck with plywood for backing under cleats. A conventional flange, with a through-bolted aluminum toerail joins the hull and deck together. The basic construction is quite a contrast to that of present-day Hunters, which can generally be described as highly engineered and Euro-styled, at the opposite end of the spectrum from the early Hunters like the 30.
Testers' opinion of the fiberglass work was that it was good but a little light—marginal for offshore sailing but strong enough for typical coastal cruising.
On one of the Hunter 30s we looked at, there was extensive delamination of the cockpit sole and the bench seats. There also were signs of sloppy glass work—ragged edges and un-resinated glass—in compartments and other out-of-sight places.
Quality-control problems also were cited by a surprisingly high number of the Hunter 30 owners we surveyed for this article. The problems often mentioned included improperly hooked-up fuel-return lines, chafed hoses, leaking ports, poorly fitted hatch boards and lazarette covers, improperly installed exhaust systems, and so on.
Hunter 30 in Context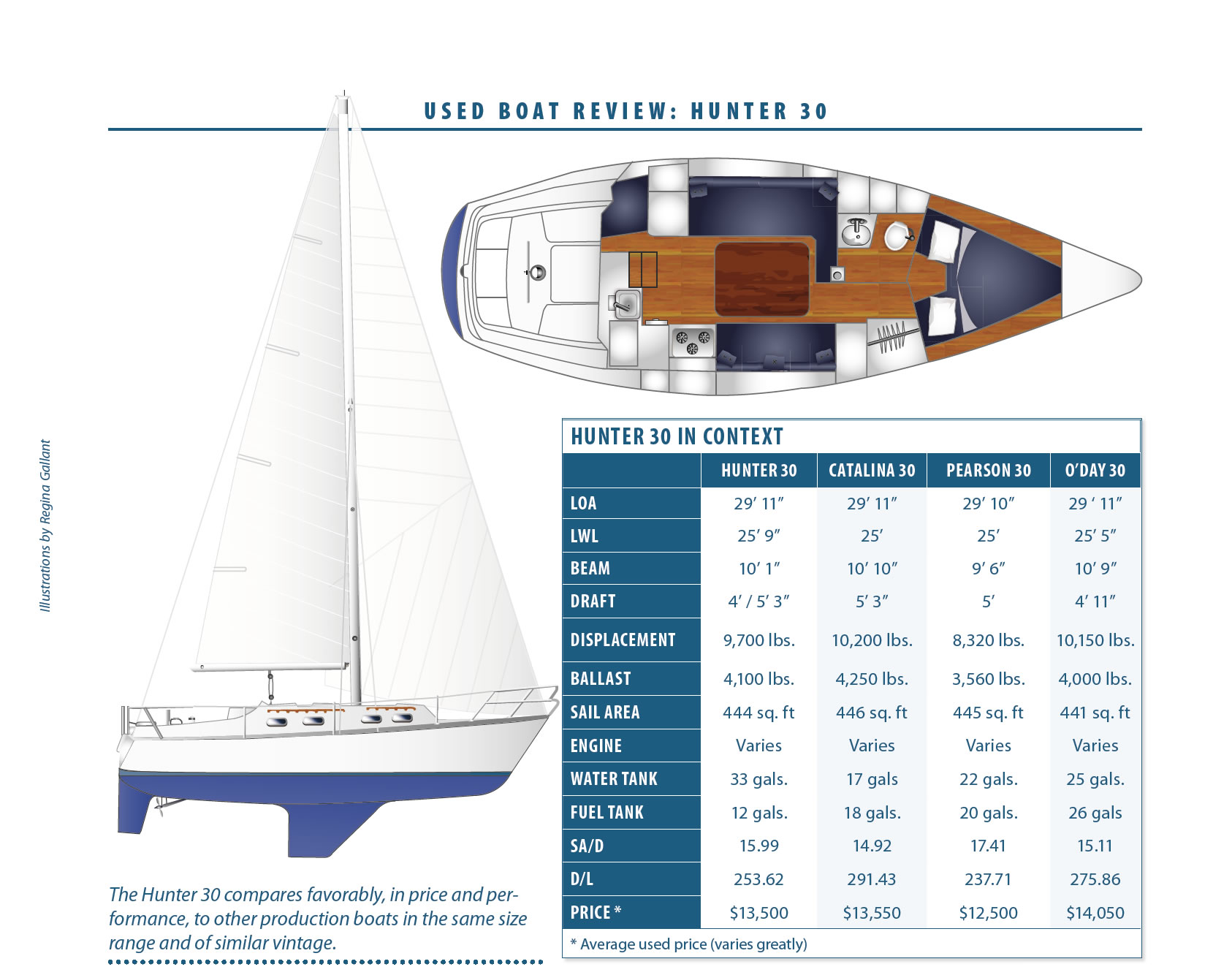 The Hunter 30 compares favorably, in price and performance, to other production boats in the same size range and of similar vintage.