While we respect that winch manufacturers have put a lot of effort into selecting appropriate lubrication products for their equipment, in the enormous world of lubricants we know there are non-marine brands that can do the job just as well. In the wake of our recent winch grease test featuring products from Andersen, Harken, and Lewmar (see PS October 2016 online), we decided to look at budget options.
This review does not evaluate the lubricating properties of each grease, beyond a few anecdotal comments about viscosity and stickiness. As in our review of winch grease, we've only tested corrosion protection, wash-off resistance, and high temperature oxidation. Our focus is low-speed equipment such as winches, windlasses, steering gear, and all of those little bits that need to keep moving. High speed and high temperature applications related to engines lie beyond our scope.
What We Tested
We shopped the auto parts stores and chandleries for widely distributed products, some of which you may have onboard or in your garage already. We also collected a few samples of specialized products for lubricating threads and underwater parts. It is not a complete cross section, but enough to give you an idea of what to look for.
Static and rotating wash-off testing revealed some truly impressive products, able to cling tenaciously and virtually prevent corrosion even in the face of very aggressive galvanic conditions (see How We Tested (Right)). While this is not the sole virtue required of a lubricant, it is certainly a major concern in marine application, and any product earning Excellent ratings should perform well on your boat.
Higher temperatures are irrelevant in most marine applications, but it did reveal a few interesting trends. The only products that did not melt at 500F degrees-Andersen, Lewmar, Super Lube, and Valvoline Full Synthetic-are synthetics. The base material is extremely stable, vulnerable thickeners are avoided, and very long term service without thickening is virtually certain. During the 400 F-degree testing Coastal Marine Grease melted and Star brite Lithium bubbled, suggesting they are not good for wheel bearing or high temperature applications. The remainder showed no signs of oxidation. After an hour at 500 F, only the synthetics were still effective lubricants, the rest either hopelessly thickened or melted.
Omni Lubricants
Waterproof Green Grease
The stickiest of the group, this grease provided near perfect corrosion protection in both static and rotating tests, better than the best winch grease. While this synthetic was stable at 400 F, it did not fare as well when the temperature was pushed to 500 F for an hour; Omni Lubricants claims a 500 F service limit, but it did thicken slightly. Calcium sulfonate extreme pressure additives suggest good gear lubricant performance. We've used this in winches for many years and been satisfied.
Bottom line: Budget Buy for winch lubrication and Best Choice for wheel bearing, and general lubrication.
Star Brite Pro Star
Ultra High Performance
Also green, and nearly indistinguishable from Green Grease in both appearance and performance, this grease is among our favorites, performing well on very wash-out prone outboard linkage applications.
Bottom line: Recommended for winch lubrication and Best Choice for wheel bearing, and general lubrication.
Star brite pTFE
Another high temperature winner, this lube performed very well up to 500 F, suggesting long life. However, the corrosion protection was second tier when ranked against this very tough field.
Bottom line: Good for general lubrication.
Star brite White Lithium Grease Spray
Although this is an aerosol product, we tested it side-by-side with conventional greases, suspecting it would not perform to the same standard. We were surprised, as it did nearly as well, a surprising performance for something in a spray can. While certainly much messier than a spray, were going to be using this for those places where we want maximum protection and lubrication but can't quite reach with a finger full of grease. It should also have better penetrating characteristics in the few minutes before the solvent dissipates.
Bottom line: Recommended for applications that lie in that gap between grease and spray protectant/lube.
Star brite Lithium Grease
Black in color, this product provided average corrosion protection and poor heat resistance.
Bottom line: A traditional product.
Lear Chemical Corrosion Block
A solid performer in both static and rotating corrosion tests, it is sticky and clings very well. We've been using the aerosol version of this-which did very well in Practical Sailor wire corrosion testing, (see PS December 2010 online), for years and been impressed.
Bottom Line: Recommended for wheel bearings and general lubrication.
This was the first grease to melt, at about 300-350 F, we don't like this for wheel bearings. However, the static corrosion protection was very good and it resisted thickening at 500 F, suggesting a very long life at ordinary temperatures.
Bottom line: Not our first choice for wheel bearings and general lubrication.
West Marine Red
We used this on winches and wheel bearings for years before switching to Green Grease. Good corrosion protection, average high temperature stability.
Bottom line: Good for wheel bearings and general lubrication.
Super Lube Multi-Purpose
Synthetic
As the name implies, it is a synthetic with extreme heat resistance, immune to change even at 500 F and sure to resist oxidation and thickening for long periods. We have never used Super Lube systematically in machinery on the boat, only to lube the head pump, because it is known to be easy on the neoprene parts. Unfortunately, it did poorly in the rotating wash-off test.
Bottom line: Were still using it on the head until we can test Green Grease in this application.
Valvoline Full Synthetic
Black in color, this lubricant resisted melting and thickening better than most of the field, but not quite as well as the other synthetics. Corrosion protection was impressive for a product not claiming to be marine grade, demonstrating that water resistance is important to everyone.
Bottom line: Good for wheel bearings and general lubrication.
Conclusions
Are ready to kick specialty winch greases to the curb? No, we are not so bold with such limited data. Winch greases are typically formulated with either calcium sulfonate or high loadings of PTFE and silicones to provide extreme pressure protection and protect during the start-stop moments that squeeze ordinary greases out of key contact areas. Thus, we stand by our recommendation of Lewmar as the best choice for winch grease.
However, the Green products in this round did distinguish themselves spectacularly in corrosion protection, we have used them in winches for many years, they contain the same chemistry (calcium sulfonate or other EP additives), and passed our primitive scuff tests, qualifying them as value buys. They've got the stuff.
We like Green Grease, Star brite Ultra, and Lewmar Winch Grease for practically all marine applications. Synthetics like Lewmar and Green Grease will have superior long-term resistance to oxidation and thickening, and if you really plan on ignoring maintenance for 10 years-not recommended-they may be better.
Multipurpose Greases for Winches and Low Speed Machinery
Cheap Winch Greases Stand Up to the Test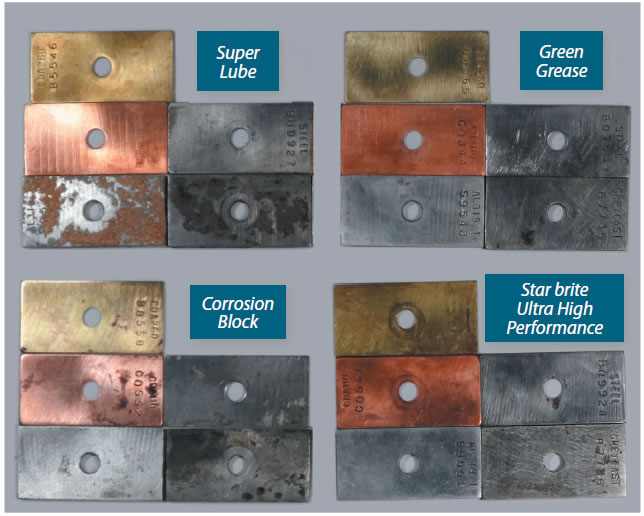 The test methods were the same as Grease Washout Part I ("Winch Grease Corrosion Tests," PS October 2016); static testing in jars and washout testing in a rotating drum with the water changed daily, both using 25 percent seawater. Only the products earning and "excellent" rating in the static test advanced to the 10-day wash-off test. Interpreting the results is more complicated this time, since these products can find application on everything from trailer wheel bearings, windlass gear boxes, steering gear, turnbuckle threads, to seacocks. Not all of these products are gear or bearing lubes.
We then placed a 5-gram sample of each product in an oven at 400 F for one hour, followed by a second hour at 500 F. While these temperatures are unheard of in most marine applications, they serve to accelerate the slow oxidation and thickening processes common in all applications where grease is exposed to air. Although melting behavior above 400 F doesn't matter, stiffening does, as it is a leading cause of failure in winches and steering gear that are neglected for too long. Products that can withstand an hour at 400 F are not likely to stiffen over time, and products that can withstand 500 F should be quite durable indeed. This test is probably not relevant to underwater applications such as seacocks or folding props.