Water heaters are one of those silent heroes that rank high on the list of creature comforts on a cruising boat. Fortunately for us, boat builders long ago moved them from the options list to the standard features tally, and today, they are showing up on smaller and smaller cruising boats.
Ashore, residential water heaters are energy-hungry appliances, but on your boat, theres a convenient, symbiotic relationship between the heater and your diesel auxiliarys need to shed heat. In this case, circulating coolant in the engine is rerouted to the water heater, taking with it excess British thermal units (BTUs) caused by combustion. A heat exchanger inside the water heater then transfers some of this energy to the boats freshwater supply. Cruisers, particularly the stragglers working southward on the Intracoastal Waterway in November and December, appreciate this amicable exchange.
This win-win relationship works best when the right size water heater is chosen and the installation maximizes its reliability. In this in-depth look at water heaters, we focus on how they are made, how they work, and why some cost twice as much as others.
Users and do-it-yourself installers need to know a bit about heat transfer before they twist the tap. Most importantly, you need to be aware just how hot the domestic water supply gets when engine heat is supplied to the built-in heat exchanger. Many diesel cooling systems operate under slight pressure, and that raises the boiling point of the coolant, allowing the liquid to approach 200 degrees without fear of reaching the boiling point. When this heat-laden liquid is plumbed through the heat exchanger in a water heater, the temperature at the domestic water supplys hot faucets can exceed 140 degrees. This is hot enough to cause third-degree burns in only 6 seconds of contact.
If you find your water heater is too efficient when operating in the heat-exchanger mode, and temperatures are too high, you can add a mixer valve that blends cold and hot water as it leaves the water heater. It is important to note that the AC heating element is thermostatically controlled, so you don't need to rely on a mixer valve when operating on shore power.
In port, its inconvenient and inefficient to run the engine solely to heat up water, and that is why most water-heater manufacturers put a secondary electric heating element in the boiler. These straight resistance devices use 110- or 220-volt AC current to electrically heat water in exactly the same way a household unit operates. Each manufacturer adds a layer of thermal insulation between the boiler tank and the outer shell. The colder the air and water temperature, the more important this insulation becomes. There are also gas-flame (usually propane) water heaters, with some safety concerns of their own, but in this round of testing, we focused on engine heat/AC current units.
What we tested
In our last water heater test (PS, February 1999), Indel Marines all stainless-steel Isotemp 0221R was rated as the Best Choice. This is a well-made water heater, that is efficient and shaped to fit the bilge area aboard a wide range of sailboats. PS tester Frank Lanier has had one working flawlessly on his Union 36 cruising boat for five years now. The other standout in the 1999 test was Heat Transfer Products Marine Water Heater (previously called SuperStor Marine), which earned the Budget Buy. Nearly identical models from both of these manufacturers are still available today, and they retain our stamp of approval. Our testing in this round focused exclusively on new or significantly updated water heaters.
Three of the four test heaters derive heat from either recirculated engine coolant or from shore power when berthed in a marina. A generator could also be used to contribute either hot coolant or AC current to the water-warming process. These units also could be plumbed to a raw-water cooled engine, but be sure to consider the corrosive effects of hot salt water before going this route. Using raw-water circulation will surely shorten the lifespan of a water heater.
The main differences among the water heaters we tested were their construction materials and shape. We intentionally sought smaller 5- or 6-gallon models since these are most commonly found in sailboats from 30 to 45 feet. We added an 11-gallon unit to our testing, but kept it filled to the 6-gallon level when evaluating heat-holding efficiency.
Our test field included two units made in Italy, one from Thailand, and one from New Jersey. Kuuma, a subsidiary of the huge recreational-vehicle parts supplier Camco, sent us its 11-gallon tank. The company also sells a 6- gallon unit with the same 1,500-watt heating element.
Italy-based Quick Nautical Equipment sent testers one of its BX Nautique stainless-steel water heaters. These are efficiently designed, carefully fabricated units that can be mounted horizontally or vertically. Both the Sigmar Marine unit and the Quick water heater come with a handy combination check-valve/pressure-relief valve with a built-in drain lever.
Raritan has been building water heaters for decades, and the company has settled on its own approach to delivering a warm shower. The Raritan 1706 was the only unit we tested this go around that used a high-ferrous content boiler.
Sigmar Marine markets an Italian-made unit that comprises a stainless-steel boiler housed in a robust injection-molded plastic housing. The company uses a two-part, poured polyurethane foam in place of sheet insulation.
Desirable features
There is a lot to measure when it comes to heat-transfer experiments, and it would be easy to go overboard monitoring the extraneous. So, before setting up our evaluation procedure, we identified the desirable features of a good water heater for a cruising sailboat.
Useful attributes:
An ability to rapidly deliver and replenish hot water in both modes of operation.
Enough insulation to keep heated water hot for later usage.
Shaped to fit low in the bilge of a variety of sailboat designs.
Easily mounted, plumbed, and electrically connected.
Quality materials and construction.
Kuuma 11842
Both of the Kuuma units we tested feature a shiny stainless-steel outer shell surrounding an aluminum boiler with an aluminum heat exchanger. We saw no signs of corrosion during our short-term test, but we have some concerns about galvanic corrosion as the copper-based AC heating element, aluminum tank, and stainless-steel sheet metal interact over the long haul.
The manufacturer specifies that units equipped with a heat exchanger should not be used in a raw (salt) water cooling context. A ground fault interrupt (GFI) is recommended.
The box-shaped Kuuma 11-gallon heater used the same heating element as the 6-gallon unit, so by keeping the volume of water in the unit to 6 gallons during part of our testing, we mimicked the heating characteristics of the 6-gallon unit. It came as no surprise that this tank, with its 1,500-watt element, was the quickest to reach 120 degrees. The unit we tested was equipped with a rear-mount heat exchanger, and we found that this approach, plumbing the engine coolant loop away from other plumbing and wiring, could be an asset in certain tight installations.
The alloy heat exchanger was highly heat conductive; testers noted its quick warm-up times. Welded-in-place hose barb stubs on the heat exchanger simplified the plumbing hookups. Testers liked the handy nylon drain valve that lets you drain the tank with very little drama.
Bottom line: The price is certainly attractive, but with warranty exclusions for galvanic corrosion problems, longevity may be an important issue.
Quick Nautique BX2012
Quick uses highly corrosion-resistant 316L stainless steel in the Nautique BX2012s boiler, where it counts, and switches to a polished, grade 304 stainless steel for the outer shell, where corrosion conditions are not so hostile. The cylindrical shape of the unit is well-suited for bilge mounting in sailboats, and the stainless-steel mounting bracket and bands expedite a secure installation.
The small 20-liter (approximately 5 gallons) unit we tested is available with different heating elements (500, 600, and 1,200 watts), which significantly affect the time it takes to heat up cold water. The heating element is a nickel-based alloy (incoloy), and the stainless-steel heat exchanger features a large surface area that delivers good efficiency.
Unlike other heaters, the Quick showed no sign of ferrous metal parts. The Quicks shape makes it easier to mount the water heater as low in the bilge as possible. The directions recommend a double-pole switch on the heater element. It disconnects both the neutral and hot leads, a feature that lessens both shock and stray-current corrosion.
The unit we tested was equipped with the largest heating element offered for this size (1,200 watts), so comparing its thermal rate to that of heaters equipped with smaller elements was like comparing a big genoa with a small jib. Its heat-up speed came in just behind the 11-gallon Kuumas 1,500-watt element. Operating in the heat-exchanger mode, the Quick quickly transferred the engine-derived heat energy to the potable water supply. Because of this efficiency, a mixer valve would prove to be a valuable ally.
We liked the vertical or horizontal mounting options, plus the variable angle of the mounting base. As with the Sigmar unit, theres a need for metric thread adapters.
Bottom line: This compact, relatively easy to install, all stainless-steel water heater is a blend of artfully chosen materials and quality workmanship. It is our Best Choice.
Raritan 1706
Raritans units are made in the U.S. (the only in our test), so finding hose barbs or other plumbing fixtures to fit the National Pipe Thread (NPT) three-quarter-inch pipe thread ports wont be a problem. Because Raritan reduces the size of the plumbing at the ports to approximately a half-inch, the tank has a slower flow-rate than other tanks in the test. A pressure-relief valve is supplied, but a back-flow prevention check valve is not. Raritan provided, as usual, clear installation guidelines.
Raritan was the only test boiler made of high-ferrous-content steel. This SA 180 Grade 70 carbon steel meets American Society of Mechanical Engineers standards for forged carbon-steel pressure vessels, but it is inherently more prone to corrosion than the 316L stainless steel used in other heaters we tested. A hard porcelain enamel is thermally bonded to the inside of the tank, to provide a hard sanitary finish on the inside of the tank and protect against corrosion. According to the companys engineers, glass enameled tanks with anode protection will outlast other tanks in typical boat installation with galvanic and stray current problems.
In our view, an owner should first strive to fix stray current problems on the boat, as these can lead to serious corrosion problems in other systems. So long as the user follows maintenance and installation guidelines, galvanic corrosion is not a major worry on a well-made stainless boiler.
In addition, Raritan says its porcelain-enamel inner coating, plastic exterior cover, and enveloping insulation barrier of high-density, closed-cell foam protect the steel from chloride ions in the salt air. We noted that some portions of the tank are exposed to the air, and the outer insulation is not airtight. Raritan offers a five-year warranty on the boiler as long as the large manganese anode ($90 at West Marine) is checked annually and replaced as needed.
It came as no surprise that the drum-shaped Raritan water heater functioned well in both heat-exchanger mode and when operating under shore power simulation. The wiring, thermostat, overheat protection, and closed cell, high-density foam insulation were well done. There was a rugged feel to the three-quarter-inch NPT recessed plumbing seats, but we found that the half-inch plastic inserts in the hot and cold water inlet and outlet restricted flow.
Bottom line: Raritan has taken measures to build a non-stainless-steel tank that will resist corrosion better than thin-walled, mild-steel tanks that lack anodic protection; and the five-year warranty helps to instill confidence. If buying U.S.-made is a top priority, this tank fits the bill. However, in the absence of long-term test results, we prefer a high-quality stainless steel tank-particularly for saltwater boaters.
Sigmar BC30 UC08
Sigmar Marines compact stainless-steel boiler was clad in a heavy-duty plastic skin. The unit, like Quicks water heaters, is based on a stainless-steel boiler surrounded by poured-foam insulation, but in this case, the outer skin is a tough molded plastic. The 30-liter model (7.9 gallons) also used a 1,200-watt heating element. As might be expected, when the tank was full, it was a little slower to reach 120 degrees than the Quick unit. This was due to the fact that the Quick only had 5.3 gallons of water to heat.
The poured-in foam didnt release any odor when operating in the normal heat range (a possible concern at higher temps). This unit is designed to be installed lying on its side. The built-in heat exchanger, like the boiler, is fabricated from 316L stainless steel.
The male threaded pipe stubs welded to the boiler are metric, not NPT, so thread adapters or metric plumbing fittings are necessary. We also found the stainless-steel pressure-relief valve attached to the threaded stainless cold-water inlet needed some Teflon tape or pipe joint compound in order to stop a minor drip. Stainless-to-stainless threaded joints can gall and require care when tightening. Pipe tape or joint compound are a must. The use of a bronze metric-to-NPT thread adaptor solved the problem.
Plumbing connections and the pressure-relief valve/check valve were very similar to those on the Quick unit, and overall, construction quality was very good.
Bottom line: The efficiency of the Sigmars polyurethane foam surprised us, with over 80-degree water 20 hours after shutting off the heating element. It is Recommended.
Conclusion
All four of these water heaters use a 110- to 120-volt AC heating element when shore power or a good-sized generator happen to be available. Otherwise, they are happy with a supply of BTUs that stream directly from the auxiliary engines cooling system. There are a few plumbing challenges and wiring requirements, but an experienced do-it-yourselfer ready to follow manufacturer wiring and plumbing guidelines should have the skills and tools to install a water heater or replace a unit that has seen more than its fair share of sea miles.
We liked Raritans wiring and its all-NPT plumbing, but we had concerns about the high-ferrous-content steel boiler. Fiberglass and plastic liners did not cover all of the metal surfaces, and the reliance on a large sacrificial anode that can add to annual maintenance seemed a less than optimum marine material approach.
The aluminum boiler of the Kuuma unit we tested proved to be operationally sound, but many boatbuilders shy away from aluminum water tanks because the oxidation powder can foul drinking water, and in some cases, even cause poultice corrosion around welds. There are also some concerns about using bronze or stainless-steel plumbing fittings on an aluminum tank.
We liked the units with stainless-steel boilers and the overall construction quality of the Quick Nautique BX2012 SL and Sigmar Marines BC30 UC08 was very good. In the final tally, the Quick unit nosed out its Recommended Sigmar cousin, but the quality and performance ratings were quite similar. When all was said and done, testers liked the idea of a 316L boiler and found the polyurethane insulation very efficient.
These findings and the questions raised motivated us to plan Phase 2 of water heater testing, with a long-term test aimed at getting a close look at tank metallurgy and the effect it has on water-heater longevity.
Value Guide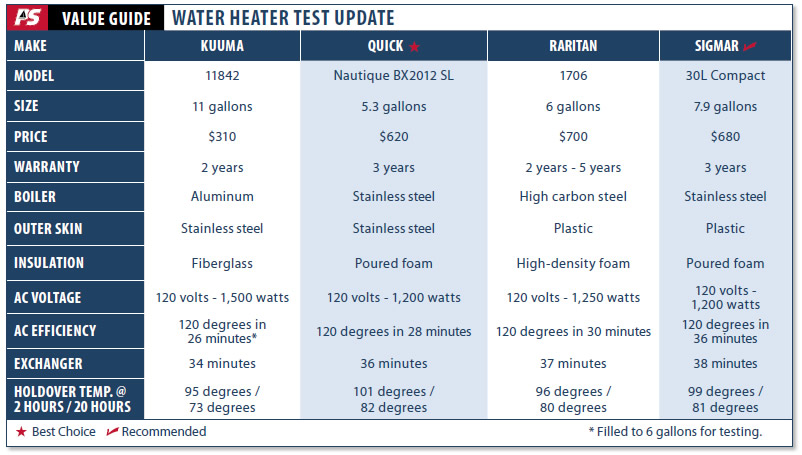 A Closer Look