Bottom paint? Again?
Frankly, sometimes we feel that way, too. According to company lore, more than a few former Practical Sailor editors ran screaming for the exits after phrases like ablative copolymer and Irgarol began creeping into their dreams.
As much as some like to poke fun at our bottom paint obsession, antifouling is a topic that deserves attention. Choosing the wrong paint can set a boat owner back $1,000 or more, but more importantly, antifouling is a fast-moving topic; paints available last spring are suddenly gone, renamed, or reformulated. This is particularly true for the newer eco-friendly paints.
Yes, we realize that we often re-trod old ground, but with every new article come some surprises. We always learn something from our semi-annual look at this topic.
What We Tested
This report focuses on the effectiveness of 55 different paints after 12 months of immersion. Represented manufacturers include Blue Water Paints, Interlux, Epaint, Pettit, and Sea Hawk. Although weve tested several of the paints before, the test field also includes many newer blends that include the non-metal antifouling agent Econea, which has only recently been introduced to paints for the recreational boating market. Others are slightly modified blends, and some products are simply renamed. Any of the test paints that are new in name or chemical composition are indicated in the accompanying Value Guide tables.
The bottom-paint test panels were dropped in the water in June 2013 at the Sarasota Sailing Squadron in Sarasota, Fla. Results of their effectiveness after 12 months of immersion are listed in the accompanying Value Guide tables. In general, most of the paints were doing well against hard growth, while a few standouts were still providing good protection against slime. Given the slight regional variations weve seen, we encourage boaters to also seek out recommendations from local boatyards and professionals to cross-check with this report.
How We Tested
All test paints were applied to 6-foot by 2-foot fiberglass panels for testing. Testers followed the makers instructions for preparation and application. There were no more than 10 samples per test panel.
Prior to rating the paints on each panel, testers sluiced the panel with a bucket of salt water. Paints were rated Excellent (no growth), Good (light soft growth), Fair (moderate to heavy soft growth), and Poor (hard growth). Any paint rated Fair is considered to be active.
A Recommended paint performed best overall or rated best among its specialty peers (best aluminum-safe paint, best water-based paint, best racing paint, etc.). The Budget Buy paints are the least costly among the Recommended paints. All prices were double checked online at the time of publication, but these can vary by vendor.
Any antifouling test is subject to a number of variables. How and where you use your boat, as well as the maintenance regimen, can affect longevity and performance. We suggest supplementing our data with local knowledge from independent sources.
Blue Water
We tested 16 paints from New Jersey-based Blue Water paints. The group included two hard paints, and the rest were ablatives. Four of the paints, however, have since been discontinued. These include the two dual-resin paints Duplex 45 and Duplex Boosted 45, and two specialty, eco-friendly paints Coronado and Shelter Island.
In the hard-paint category, the copper-loaded Copper Pro SCX 67 Hard, which has about 50 percent more copper by volume than Copper Shield Hard, was clearly the most potent. Both paints were free of hard growth, but the Copper Pro did a better job of fending off slime.
In the ablative category, Blue Water offers a paint for almost every occasion, with many aimed at boaters who prefer or are required by law to use a more eco-friendly formula. Its most potent blend is Copper Pro SCX 67 Ablative, a self-polishing copolymer paint that was among the cleanest in its group. The budget-priced New England, a single-season ablative designed specifically for sailors who haul out and repaint each year, also fared well.
The new, fast-drying dual-resin, duplex paints delivered mixed results. The most potent in the group, Duplex Boosted 67, with an anti-slime additive, was one of the cleanest panels in the group, while the discontinued, lower-copper Duplex 45 had a thicker layer of slime, but still wiped clean.
Blue Waters copper-free blends struggled against slime, with only the Shelter Island Plus showing some muscle against hard growth. Blue Waters bright-color, aluminum-friendly paint Kolor showed only moderate protection against slime, but it allowed no hard growth.
Blue Water Paints are available through its website, or through distributor Donovan Marine (www.donovanmarine.com). It is also sold under the MarPro label.
Epaint
Epaint specializes in photo-active, copper-free blends that release a biocide when exposed to light. The blends have consistently done well in previous tests, with EP2000 often being one of the cleanest panels at the 12-month mark, with excellent protection extending up to the 18-month mark in our past tests. At this checkup, EP2000 was already losing its bite against slime, but the other two Epaints were holding up well. The new SN-1HP ablative, which is boosted with the Dow biocide Sea-Nine 211 and has been used to protect the U.S. Coast Guards aluminum boats, was virtually slime-free, although some thinning of the coating was noted. The ZO, a hard, relatively slick, hybrid finish (although not as slick as its high-performance counterpart ZO HP, which is favored by racers) was also keeping slime at bay.
Although users can not apply EP2000 over most other bottom paints, the ZO and the SN-1HP can be overcoated by following the manufacturers instructions for prep work.
Notably absent from this round of testing is Epaints Ecominder, touted as the companys greenest paint and particularly suitable for fresh water or low-fouling environments. It has posted moderate results in our tests in warm salt water, protecting against hard growth for up to 18 months. Keep in mind that all Epaint coatings are activated by sunlight, which is in short supply in some places.
Interlux
Interlux has developed a series of ablative paints that have proven very effective over the long-term by controlling the release of biocide. The Micron series of self-polishing paints has done well in our past tests, with the top-shelf Micron 66 consistently holding a top spot among the long-term survivors in our 24-month checkups. The drawback of these paints is that when they are done, they are done. While you can sometimes squeeze another year out of a copper-laden hard paint with more frequent cleaning, scrubbing an ablative paint accelerates wear.
Micron 66 was one of the cleanest panels in this go-round, one of three paints to garner an Excellent rating. Using this paint in fresh or brackish waters is not recommended.
Among the hard paints, all of Interluxs paints were rated Good. This includes the water-based Fiberglass Bottomkote Aqua, the high-copper-content Ultra, and the slick racing paint, VC Offshore.
In the ablative category, other standouts are the budget-priced Fiberglass ACT and the single-season Bottomkote Pro, which is a good budget option for northern sailors who repaint annually. For those who can't use Micron 66 because they sail in brackish or fresh waters, the Micron Extra with Biolux is a good option. The new Micron CF was fairing the best out of the many new copper-free paints introduced in the last 12 months.
Pettit/West Marine
Pettit (a Kop-Coat Marine Group brand) had several paints that performed well in our test. Pettit also develops a line of paints for West Marine that often strike a good balance between price and performance.
In the past, Pettits hard paints have garnered the highest marks in our test, with Trinidad leading the way, but this time, several reformulated ablatives found the spotlight. The Ultima SR-40 panel was virtually clean of any slime, even cleaner than the Ultima SR-60, which is more expensive and has a higher concentration of copper. While we expect the SR-60 will outlast the SR-40, this is a clear example of how paying for a higher copper content isn't worth the extra money, if you are going to repaint during each annual haulout.
Other perennial Pettit favorites in the ablative category, including Horizons, Ultima SSA, and the water-based Hydrocoat did well, as did their West Marine counterparts, CPP and PCA Gold. On the negative side, Pettits new copper-free blends, Ultima Eco, Hydrocoat Eco, and West Marine CFA Eco, were a flop in this test, with only the West Marine product preventing barnacle growth. These may do better in fresh water or low-fouling environments, but if youre a warm weather, saltwater sailor, there are better eco-friendly choices out there. According to Pettit, the Econea-based paints are doing well in the field, suggesting that perhaps these paints are not fairly represented in static panel testing. We will follow-up with some actual boat-bottom tests to see if these paints perform any better.
In the hard-paint category, Pettit tallied nearly a clean sweep, with only its Unepoxy and Vivid blends showing greater than average slime growth. The cleanest panel in this group for Pettit was Trinidad, which was slightly cleaner than the bio-boosted Trinidad SR. West Marines budget-priced Bottomshield is an alternative for those who insist on a hard, scrubbable paint, but don't want to cross the $150 threshold. Its low-copper content, however, means youll likely be repainting more frequently, and with a hard paint, that means more paint buildup over the years.
Sea Hawk
Florida-based Sea Hawk offers a range of ablative and hard paints, and has been developing new eco-friendly products for more than two decades. Its most popular and potent products are its high-copper-content hard paint, Tropikote, and its top-shelf ablatives, Biocop TF and Cukote. The latter two were among the cleanest panels in our test, and based on previous tests with these products, warm-water sailors can expect at least two years of protection from these blends. For the budget-conscious seasonal sailor, Sea Hawks AF-33, a harder ablative that doesn't wear away as easily as other ablatives (thus making it suitable for trailerable boats) had only a light slime coating that easily wiped away. In the copper-free category, Sea Hawks metal-free Smart Solution notched a Good rating, while the other three eco-friendly contenders Mission Bay, Mission Bay CSF, and Monterey scored Fair.
Conclusion
Most of the conventional hard and ablative paints in this comparison are virtually the same blends weve been testing for years. At 12 months, these paints have settled into a predictable pattern. On our stationary panels, many of the ablative paints, including the softer, budget-priced, single-season ablatives like Blue Water New England or Interluxs Bottomkote Pro are holding off slime as well as the hard paints. The top-of-the line hard paints like Pettits Trinidad, Interluxs Ultra, and Sea Hawks Tropikote-even the slime-fighter-boosted paints like Blue Water Pro SCX 67 and Pettit Trinidad SR-are doing well, of course; they just don't stand above the crowd in terms of slime control
With history as our guide, however, the top-of-the line, copper-loaded hard paints should begin to shine in the coming months.
It is also important to keep in mind that if you sail your boat a lot, your results with ablative paints will differ from our stationary panel test. Getting underway is generally good for the softer workboat ablatives (Blue Water New England, Interlux Bottomkote, etc.), because it exposes fresh biocide. A high-speed powerboat might wear through soft workboat paint too quickly to be economical, but this is generally not a problem with sailboats.
As for the other, harder ablatives, ablative copolymer paints like Micron Extra and Pettit Ultima SR, these paints self-polish without the need to use the boat so frequently (although movement will always help performance). These blends are formulated to be compatible with powerboats as well as sail.
Where this comparison gets interesting is when we look at the newer introductions. These fall into two broad categories: environmentally friendly and dual-resin paints. The environmentally friendly paints are formulated to meet new and pending legislation in states such as California and Washington, and the dual-resin paints are designed to yield a slightly harder ablative that dries quickly.
In the eco-friendly category, another familiar pattern has emerged. Some of the newest blends are struggling against slime; a few even succumbed to hard growth in the very first year. This reiterates our previous admonition against jumping on board with a new paint that hasn't yet seen widespread use in the recreational or commercial market. There still seems to be a bit of experimentation going on with new biocides like Econea and Sea-Nine 211 as makers try to fine-tune the amount of biocide required (this stuff isn't cheap), as well as the biocide delivery mechanism.
If you are looking for an eco-friendly paint, one of the Epaint blends seem to be the safest bet at this point. The latest blend of Sea Hawks Smart Solution is faring better this time, but the last time we put this on our test boat, it wasnt nearly as effective as it was on the static panel. While the literature regarding the new Econea-based paints is encouraging, we havent been able to get consistent panel results from these paints yet. Only Interluxs Micron CF showed real promise in this round.
The other category of paint worth a close look at this juncture is the quick-drying dual-resin, paint from Interlux and Blue Water. In our last report on these paints, only one showed real promise at the 22-month mark. While being able to slap on two, even three coats in a single day is appealing, performance is still the bottom line for us. These products are evolving, so we might see some improvement in this category in future tests. If youve got a small, trailerable boat that goes in and out of the water a lot, this might be a good option, since these are slightly harder compared to other ablatives.
If you plan to haul out for winter and repaint next spring, and 12 months (or less) protection is all you are looking for, then there is no sense ponying up for premium paint. We recommend buying one of the cheapest ablative paints that rated Good or better in our tests. These paints are labeled with a Budget Buy symbol in our tables.
If you are a longer-term cruiser, you can choose between hard or ablative, depending on which maintenance routine you prefer. A high-copper-content, hard paint may prove more resistant to scrubbing over the long haul, even adding another year of protection. However, each new coat of hard paint adds another layer that will eventually need to be stripped off-and the perceived longer life may simply be the result of your scrubbing regimen in the final year. Many full-time tropical cruisers swear by these copper-laden blends despite the added maintenance.
If you go with an ablative paint, we recommend first painting a signal coat of a different color, so you can clearly see when youre reaching the end of the paints effective life. A fresh signal coat gives you a longer warning period than you would get if you simply used your old, biocide-depleted coat as a signal.
To get the most out of your ablative paint, be sure to follow a conservative bottom-cleaning regimen that uses the least abrasive cleaning method possible. This advice applies to all paints, but the softer ablatives are most susceptible to a heavy-handed approach to bottom-cleaning.
Anyone who is interested in long-term protection should also look at our March 2014 report, which is available online. That report highlights U.S. regional preferences, and lists paints that have consistently done well at the 24-month mark. These paints, along with any paint scoring Good or better in this round, have a check mark in the Value Guide tables, indicating that they are Recommended.
It is too early, at this stage, for us to highlight Best Choices. The real proof will come at the 18-month checkup, when many paints lose their fight against hard growth.
As always, we enjoy receiving field reports from sailors who care to share their bottom-paint experiences. Send them to practicalsailor@belvoirpubs.com; put bottom paint report in the subject line.
Hard Paints at 12 Months
Ablative Paints at 12 Months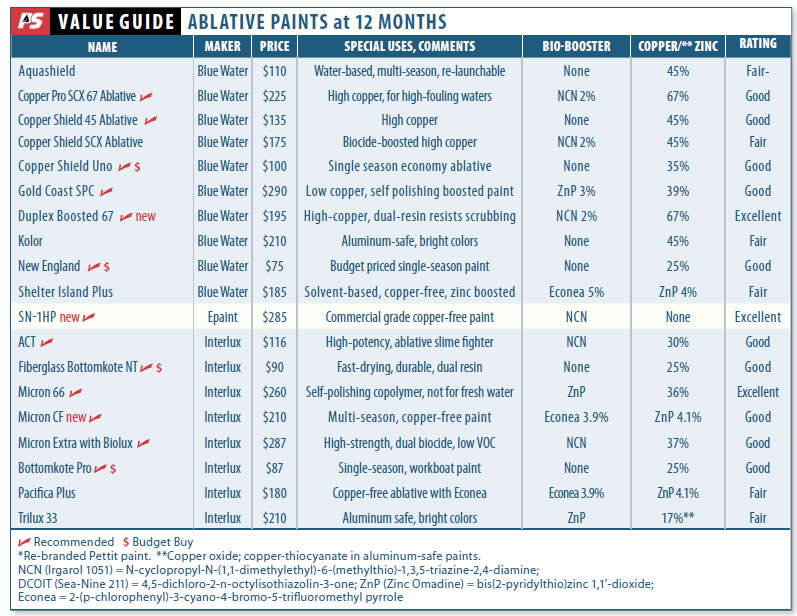 Ablative Paints at 12 Months