We last reviewed spotlights in September 2001 and again in March 2005. What's happened to spotlights since then? Two major developments—the near-displacement of the incandescent bulb by brilliant, long–lasting LEDs and continual progress in battery technology—have given the sailor unprecedented levels of light, driven by more potent sources of power that have reduced weight, heat, and cost.
Some things haven't changed. As we reported in 2001, comparing brightness requires measurement at the target not the light source: "Brightness [at the lantern] is important, but it's far from the only consideration . . . Unless differences in brightness are large, they're not particularly meaningful."
The name itself—spotlight—tells you what the device does: Its beam stays concentrated far enough out into the distance to let you identify something vital or hazardous to navigation. No spotlight produces only a small, intense spot; other, less bright bands of light surround the spot. These other sectors of the beam may or may not make the lamp more useful, but eliminating them entirely isn't practical.
For discussion, starting at the center and going out, we divide the beam into four parts: the spot at the center; a corona of less-bright light surrounding the hot spot; a circle of flood light (except for spotlights, most flashlights are chosen for their flood beams); and spill light, a relatively dim and useless band of stray light at the very edge. Each of these widening sectors varies from model to model, and some models have little radiation in the outermost sector. This isn't considered a problem or drawback, as their main objective is to produce a bright central spot.
WHAT WE TESTED
Many spotlights are available, but we narrowed our selection to seven LED spotlights from five manufacturers: West Marine, Sirius, Coleman, Brinkmann, and Streamlight. Prices range from $50 to $150. Only one of the tested lights doesn't have a rechargeable battery. Representing a cross-section of what's available, this group was selected in order to compare some of the most important features introduced in the last few years. We searched for LED models from the manufacturers that did well in our 2001 and 2005 spotlight reviews, as well as our 2003 and 2008 reviews of other flashlights. The test protocol was pretty straightforward. It looked at construction, battery life, beam angle, and illumination at both close (30 feet) and distant (1/5-mile) targets. For a full description of the testing, see "How We Tested."
BRINKMANN
The Q–Beam LED Night Vision Rechargeable Spotlight Model 800–5000–1 includes only an AC recharger, and we couldn't find a 12-volt DC charging accessory through Brinkmann. Since an incandescent Q-Beam had done well in our two previous spotlight tests, we included the current LED version. We were excited about its prospects until we read the owner's manual, which said the light was "for dry use only." Brinkmann assured us that the Q–Beam and the next model below it in its product line are both rated IPX4, capable of operating in rain and splashing water.
In addition to two power levels, the Q-Beam also offers 33 bright red LEDs that allow you to visually check mast heads, furling gear, and other items from the cockpit without completely spoiling your night vision.
Despite its large form factor and somewhat ungainly weight distribution, the Q–Beam operates smoothly with solid tactile feedback in the trigger switch. The switch is well-protected from accidental activation. Testers could adjust the power-setting control with the same hand used for holding the light. Testers noticed only a minor difference between the two power settings, and the power-setting switch lacked the "crisp" feeling of the off–on switch. Long service was a Q-Beam plus, as it came in second.
Bottom line: Although not the most powerful in our group, the Q-Beam landed squarely in the Budget Buy category. It's lack of a 12-volt charging system would be a drawback on small boats that don't have an inverter.
COLEMAN RECHARGEABLE
The 12-volt LED Power Pack Rechargeable 4351-700 is shaped like an oil can with a foldable pistol grip that's adjustable. It's powered via either a 12-volt socket or a fairly heavy rechargeable (120-volt) battery pack that clips to your belt. Total weight is a hefty 4.5 pounds. Since both power sources are external to the spotlight body, it's not clear why the latter needs to be so bulky.
The power switch is intermittent–only, unless a somewhat awkward lever is shifted, requiring a second hand, at which point the light is continuous. Shifting the lever to allow the light to turn off can be done with one hand. This is the largest unit in this evaluation. Since most of its weight is concentrated in the heavy power supply, the light itself is comfortable to use as long as the battery unit is not hanging on your belt. Once it is, you may need a pair of suspenders to keep your pants up.
The unit's time to half-power is well below average considering its jumbo size.
Bottom line: Flexible power sources in this light did not overcome its bulky form factor.
COLEMAN'S CPX 6
The Coleman CPX 6 spotlight has a pistol grip like the previous Coleman entry but is smaller and with less rated power. It operates from a set of four D-cell batteries or Coleman's CPX 6 power pack, either of which snaps into the same compartment. Whichever power source you choose, installation and removal involve the same simple actions, as the D cells are first fitted into a plastic holder that is the same size and shape as the rechargeable pack. The CPX 6 pack has adapters for charging by 12-volt and 120-volt, and can power other Coleman products such as lanterns and pumps.
Testers found that shaking the light vigorously sometimes caused the light to flicker, probably because the battery would jump, briefly creating an open circuit. The pistol grip adjusts to four positions, including folded against the case for storage. A nice advantage unique to this model is that, despite a seven-hour recharge time, whenever the beam weakens, you can quickly snap out the rechargeable battery pack and snap in either another charged battery pack (sold separately), or a pack (included) loaded with four common D-cells. This maintains your freedom from "umbilical" connections to the central power supply for additional hours.
Bottom line: The CPX 6's bright light, dual battery setup, and affordable price put it on par with the Q-Beam in the Budget Buy category.
CYCLOPS
One of several spotlights offered by Cyclops Solutions, the Sirius CYC–9WS feels good in the hand, and looks like a small radar gun. Although not a leader in power, the Sirius offers a different approach to providing usable red light while maintaining night vision: six separate LEDs driven at low power, combined with a red lens that fits over the front of the unit. You also have the option of a lower–power (600 lux at a half meter) white light, which can be selected with a switch at the back of the unit.
The manufacturer provides only a 90–day warranty. AC and DC chargers are provided. The battery is a basic lead-acid variety.
Unlike any of the other pistol–grip units, the Sirius has a trigger guard, to prevent accidental "firing" of the light. The trigger switch can be locked on for continuous duty. Light weight and compact design made the Sirius an easy one to grab. Battery life put it at the lower end of the power spectrum, although it outlasted the West Marine, which is about the same size.
Bottom line: Although testers liked the ergonomic design, this light's 30-day warranty and finicky switch moves it to the back of the pack.
STREAMLIGHT FIRE VULCAN
We tested two lights from Streamlight, a company that provides lights for the military and police and fire departments. The Fire Vulcan LED 44450 is shaped like a slender brick with a handle on top, but it is much lighter and more ergonomic than any of the other rechargeable spotlights tested. It's powered by "two lightweight lithium-ion nanotechnology cells," carries an IPX7 rating (waterproof at one meter for 30 minutes), and it floats—beam up. Unlike most of the other chargers in this test, its charger unit is a rack designed to be wall–mounted and can be powered by 12-volt and 120-volt. The rack holds the lantern securely in any position until a convenient release bar is fully depressed.
In addition to two light levels, the Fire Vulcan, designed chiefly for firefighters, has two very bright blue LEDs that shine rearward in a continuous or strobe pattern. Its three-way switch has some limited programming capabilities that allow either of the two forward-firing power settings to include, or omit, the rear-facing LEDs.
The full kit includes a removable, adjustable shoulder-carry strap, charger, and 12-volt and 120-volt adapters. A direct-wired 12-volt charging rack is available.
The light, slender unit has selectable low and high beams operated by a simple bat switch that offers crisp engagement and can easily be operated with heavy gloves. Its base allows it to sit on a flat surface with the handle up.
The Vulcan was a fairly close runner–up in the 30-foot illuminance test but it requires a longer 5½-hour recharge period after the 2½-hour run from full power down to half.
Bottom line: Only slightly behind the distance champ Waypoint, the Vulcan Fire earns our Best Choice or its sheer ruggedness and versatility.
STREAMLIGHT WAYPOINT
Streamlight's Waypoint (44900) is a smaller, lighter unit somewhere between the brick and oil can in form. Tiny in size and weight among the other contenders, it is not much larger than the old pigtail–terminal 9-volt lantern battery. It's powered by four C-cell batteries or a 12-volt adaptor. Three modes are available: low, high, and strobe. A convenient bracket swings out allowing the unit to sit at an angle, or a two–handed grip for holding, e.g., with the arms wrapped round shrouds.
If you choose C-cell power, just after you start to turn the screw that locks the battery chamber closed, you realize the funny piece of plastic on the carrying lanyard is a key that has been shaped as a screwdriver just for that purpose.
Not much bigger than a pound of butter, the Streamlight Waypoint can be operated one-handed. It develops moderate heat but provides adequate protection for the hands. Its swing-out top handle can be used to steady it with the other hand, or to set it on a flat surface to function autonomously, a handy option.
Bottom line: The winner of the 30–foot illuminance contest, the Waypoint also leads the group with battery performance. It is our Recommended choice for anyone looking purely for a powerful spotlight.
WEST MARINE
The West Marine LED SuperSpot, Model 10926442 ships with the battery removed, and there are no drawings, diagrams, or pictures accompanying the instructions. You will need a screwdriver or a quarter to open the back and install the battery.
The SuperSpot is the only unit in this group to be equipped with a powerful red laser, controlled by an intermittent switch. Its beam easily out-distances the spotlight, but it's tiny—good for signalling and targeting, but not for spotting persons in the water.
This is a lightweight unit that is well balanced and easy to grip. The main LED switch is a trigger–type progressive toggle: first click, high beam; second click, off; third click, low beam; fourth click, off; the fifth and sixth clicks control the rapid strobe that West claims can be seen five miles away. Since this is primarily a spotlight, the switch's progressive rotation from dimmest to brightest power settings—rather than dimmer to brighter—works. The strobe setting will spoil night vision. The power switch was somewhat mushy in feel, giving more the feeling of compressing air with a piston than operating an electrical switch.
We found little difference between low and high power settings. The SuperSpot exhibited a pattern unique among these spotlights: It would suddenly decrease 50 percent in beam strength, then—as though illustrating an effect in quantum mechanics—just as suddenly jump to a stronger level. Intervals varied. We let the test continue until, at the one–hour mark, the LEDs had grown dim. According to West Marine, this problem is very rare and has only been reported in a few units. Problem lights can easily be returned or exchanged under West Marine's generous warranty policy. West Marine will be introducing two new LED spotlights in March, one of which will be waterproof, and, according to West, brighter than anything on the market.
Bottom line: The laser is handy, but, in terms of spotlight performance, this spotlight performed below the others in our test.
CONCLUSIONS
All of the units except the West Marine spotlight produced good or better reflection from the SOLAS reflector at a 1/5-mile; three spotlights did this even on low power. Our test brought to light—so to speak—several interesting observations. First, beam patterns are important. By comparing how well the spotlight delivers a tightly focused center spot, even in shorter distances, you can predict with some degree of certainty the overall performance. Our 30-foot test results matched very closely with the 1/5-mile test results.
Second, single-LED configurations with deep reflectors shine the farthest. Although this seems counter intuitive, in the case of a spotlight, the ability to concentrate the energy in a single stream of light works best for LED spotlights. Finally, switches are a key to ergonomic satisfaction, but weight and shape matter.
Streamlight's Fire Vulcan LED earned our Best Choice. It is handy, compact, and has a few useful programmable features. It scored a close second in illuminance, developed little heat, and comes with a charging base that also stores the unit—and it's the only spotlight in our test that's rated at IPX7 water resistance (1 meter immersion, 30 minutes). Not surprisingly, it was the most expensive unit. The sheer ruggedness of this light, along with its waterproof rating, make it a good choice for cruising.
Streamlight's Waypoint model scored at the top as a pure spotlight—it shined the brightest and longest. Testers were initially impressed with its deep reflector, light weight, small size, and medium price, and it exceeded expectations during the testing. It lacks rechargeability, but the Waypoint earned a Recommended rating for its other strong features. Two units share the Budget Buy position: the Coleman CPX 6–LED spotlight with its clever "dual-fuel" design, bright performance, and low price, and the Brinkmann Q–Beam for its long battery life and bright performance at a medium price.
Value Guide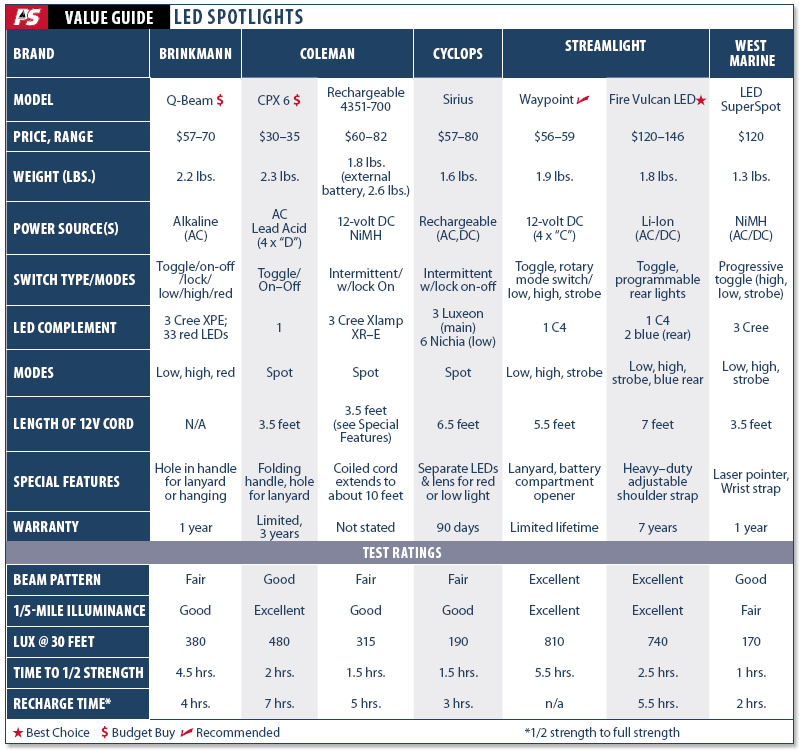 Closer Look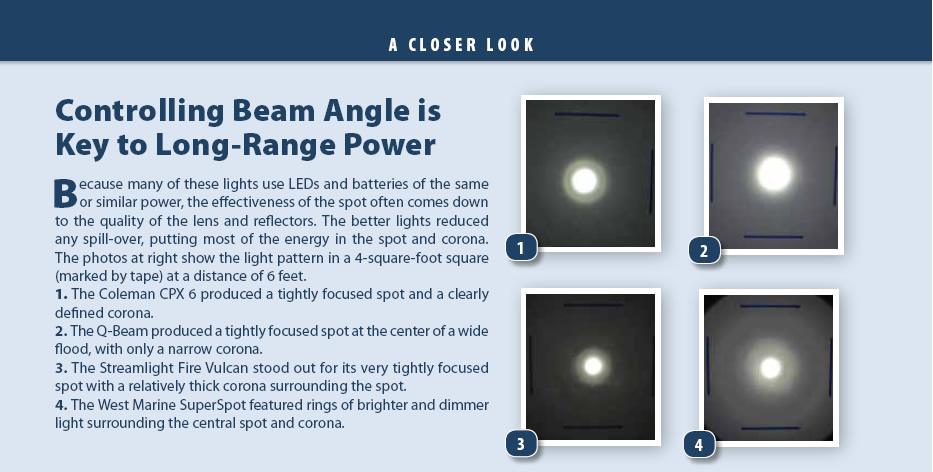 Closer Look