Boarding Step Retrofit
In your February 2016 issue, you had an article about boarding steps. As the freeboard is getting higher and higher on modern boats, there is a need for a practical solution to easily getting on and off the boat. I thought the Edson One-Step (www.edsonmarine.com) that you reviewed was a good solution, so I bought one. Overall, I found it worked pretty well; however, it has a narrow profile that makes the step fairly small. So I came up with my own custom adaptation to that problem (see accompanying photos). Basically, I added a teak step to the Edson frame. It works great. The only real downside is storage.
Andy MacDonald
Blue Sapphire, Moody 47
Seattle, WA
---
Aluminum Anodes
The April 2016 issue had an interim report regarding zinc and aluminum anodes. I did a quick online search, and it would seem that aluminum is significantly more harmful to aquatic ecosystems. Does Practical Sailor have any insight into this concern?
Dr. Harry Grossman
Serenity, Sabre 38
North Brunswick, NJ
Many heavy metals are toxic in a marine environment, and both aluminum and zinc fall into this classification. However, the conventional wisdom is that the degree of toxicity varies in approximately this order, from least toxic to most toxic: cobalt, aluminum, chromium, lead, nickel, zinc, copper, cadmium, mercury. The EPA Toxicity Reference Value (level above which there is greater concern) for saltwater toxicity is 271 parts per billion for aluminum and 81 parts per billion for zinc. Zinc has a Toxicity Reference Value assigned for sediments (68 parts per million), whereas aluminum has no value assigned (aluminum is present in clay soils at percent levels). While not entirely non-toxic, aluminum seems like the less-toxic anode option at this time. We will be reporting further on this anode issue, as well as on their effectiveness, endurance, and other factors in the fall.
---
Boat Co-Ownership
In response to your April 2016 PS Advisor: After co-owning a 24-foot Corsair F24 MK1 sailboat for 23 years, Id like to offer the name of a thin, 148-page book that we found invaluable in forging our boat co-ownership agreement: Yachtsmans Legal Guide to Co-Ownership by Dexter and Paula Odin. When published in 1981, Dexter Odin was a lawyer and Paula Odin was a freelance writer who had successfully co-owned several boats with several co-owners previously. Their book includes a readable co-ownership agreement and discussion of each part of it. The book includes a checklist of items to discuss with prospective partners as well as helpful appendices, including Notes to Counsel, Rules, and Equipment: What and Where.
In 1992, we provided a copy of their agreement to legal counsel for review and comment prior to ordering the Corsair from the dealer. The attorneys made minor changes in order for the contract to conform to Washington state law. After agreeing to the changes, we signed the agreement and the boat was delivered the next year. Since then, individual co-owners have sold their share to a new co-owner who the remaining partners have agreed to. Sale of their share was the individuals responsibility, although other owners were willing to take a prospective purchaser on a demonstration sail. On each change of ownership, we have required all co-owners to sign a clean copy of the agreement, which supersedes all prior versions. This event has occurred at least five times in our history. Two of the original plankowners remain.
The agreement has worked very well for all of us, and I highly recommend reading the book, which is readily available used from online booksellers. None of us are lawyers, but we greatly appreciate the Odins clearly written, very helpful book.
Tim Hanley
Corsair F24 Mk I
Seattle, WA
---
Teak Cleaners
I enjoyed the article on DIY teak cleaners in the March 2016 issue, but was surprised that you didnt include what I have found to be one of the best, environmentally friendly cleaners available: sodium percarbonate (2Na2CO33H2O2). While it isn't easy to find small quantities of straight sodium percarbonate (except online), it is readily available in slightly diluted form in the laundry detergent aisle of supermarkets. Oxygen cleaner brands like OxiClean are a mixture of sodium percarbonate and sodium carbonate (washing soda) and work almost as well as straight percarbonate.
Sodium percarbonate, when mixed with water, releases hydrogen peroxide, a fairly strong bleaching agent, but one that breaks down into oxygen and water, hence its easy on the environment. Its a powder that is best dissolved in hot water. Add a bit of detergent to the mix, and youre ready to scrub it into the soiled teak. (I use a grill-cleaning pad.) The solution has a foaming action that helps dislodge the soil as it bleaches the stains. Allow the oxygen bleach to work for a while, then rinse with clear water, and youll be surprised how much of the gunk is removed-with far less damage to the teak and the environment-than from a chlorine bleach or oxalic acid.
Charles Comer
Robin V, 1968 Bristol 39
Port Washington, NY
In our experience, OxiClean is not exceptionally effective as a teak cleaner, but its performance was on par with that of some marine teak cleaners.
---
MOB Lights
There is one design oversight that really bugs me when it comes to MOB lights and inflatable PFDs: attachment methods. Both the light makers and the inflatable PFD makers are designing their products in a vacuum, as if the other does not exist. These companies need to discuss how to make a substantial tether and an attachment point that puts the light on the PFD where it can be seen. I have been told to thread a line through the very narrow slots on the ACR Firefly and to secure it to my Mustang hydrostatic PFDs wasitbelt. What good does the light do at my waist level when Im in the water?
Im sure there are lots of people willing to offer a jury-rigged fix to this problem, but I want something designed and tested that works. When it comes to life-saving equipment, we deserve only the best solutions.
Right now, the PFD makers are doing an outstanding job of keeping you afloat so you can die of exposure and the light manufacturers are making terrific lights with no way to put them where they need to be on the PFD. Do the lights tested float so I can find it at the end of a tether at night in big seas? There are so many more points to this issue that need to be discussed.
Richard Cassano
Gray Eagle, Tashiba 40
Annapolis, MD
Most personal MOB lights do not float and are designed to be attached to a PFD so that they self align; some even turn on when and if the PFD is inflated. A few require handholding and manual switch-pushing; as we mentioned in the article, we see this as a drawback. In order for a light to float, it must have a larger-volume case or float collar, and this makes it harder (or impossible) to pack inside an inflatable PFD.
---
NASS Response to PS Test
As CEO of North American Survival Systems (maker of the EF-20A-1-Lightning), I found the February 2016 MOB lights article to be well-written, except for the best product choice. I suggest that product performance be the primary subject for testers recommendations; let the reader decide which product is best from the recommended selection.
PS should have mentioned that the Best Choice, the ACR Firefly Pro Waterbug, has a single power source and using its additional functions could render the distress signals approved function useless in an emergency. For example: The flashlight mode could be left on, depleting batteries; its SOS mode is not timed to Coast Guard specifications and possibly unrecognizable as such; water-activation mode could inadvertently come on in rain or splashing scenario and go unnoticed; multiple mode selection could be confusing in a stress situation.
My response to the MOB article comes from the knowledge that future lifesaving devices will not have additional functions operating from the same battery powering the primary function of the device. For these and other reasons, I was surprised that the Firefly Pro Waterbug was recognized as the PS Best Choice in the test. I would have expected PS to focus on the performance of the primary function, the ability to be seen.
Jim OMeara
CEO, North American Survival Systems
Poulsbo, WA
The Firefly Pro Waterbugs auto-on feature can be activated by moisture, spray, rain, etc., but testers still found it to be a useful feature. Storing the device in the off setting solves the battery drain issue. Testers weighed all of the products test performances as well each ones features, price, warranty, and availability before selecting what we feel is the Best Choice in the test field for most sailors. We use the Recommended rating for those products that fit niche categories; as noted in the article, customers who prefer not to have the auto-on feature should go with our manual-only recommendation, the North American Survival Systems Lightning.
---
Dielectric Grease
Your response in the April 2016 PS Advisor regarding dielectric grease was spot on, with two exceptions. I suspect the author intended to say 120-volt plugs, not 100-volt. Also, the response dismissed conductive greases as unnecessary or not required on boats; I strongly disagree. The conductive grease Kopr-Shield is routinely used in marine applications to exclude moisture and corrosion, much like a dielectric grease, while also improving conductivity-something a dielectric cannot do. Theres a place for both dielectric and conductive greases onboard; as you noted, conductive greases can cause shorting, so they shouldnt be used on multi-pin plugs. Elsewhere-on battery terminals, bilge pump, bus bars, and other connections of this sort-they make excellent sense.
Steve DAntonio
Steve DAntonio Marine Consulting,
www.stevedmarineconsulting.com
---
Chart Accuracy
In response to your blog on navigating poorly charted waters (March 9, 2016): We motorsailed down the Intracoastal Waterway from Buzzards Bay (Fairhaven, Mass.) to Fort Lauderdale, Fla. (a few sections outside), and found that using paper charts, a Garmin chartplotter at the helm, and Garmin Bluecharts on a PC were not always sufficient! However, Active Captain (overplayed on the Bluecharts) played a significant role in assisting us to avoid shallows, newly formed sandbars, channel obstacles, and channel deviations, and with missing or improperly located channel markers. It was also a much-valued tool in searching marinas, anchorage areas, etc.
Adrien and Nina Rock
Dolphin, Brewer 12.8 cutter-cruiser
---
Corrections
A photo on page 8 of the April 2016 issue misidentified the pictured rigging terminals. In Photo 2, the first terminal is Hi-Mod, the second is Norseman, and the third terminal is Sta-lok.
Clarifying Chain Hooks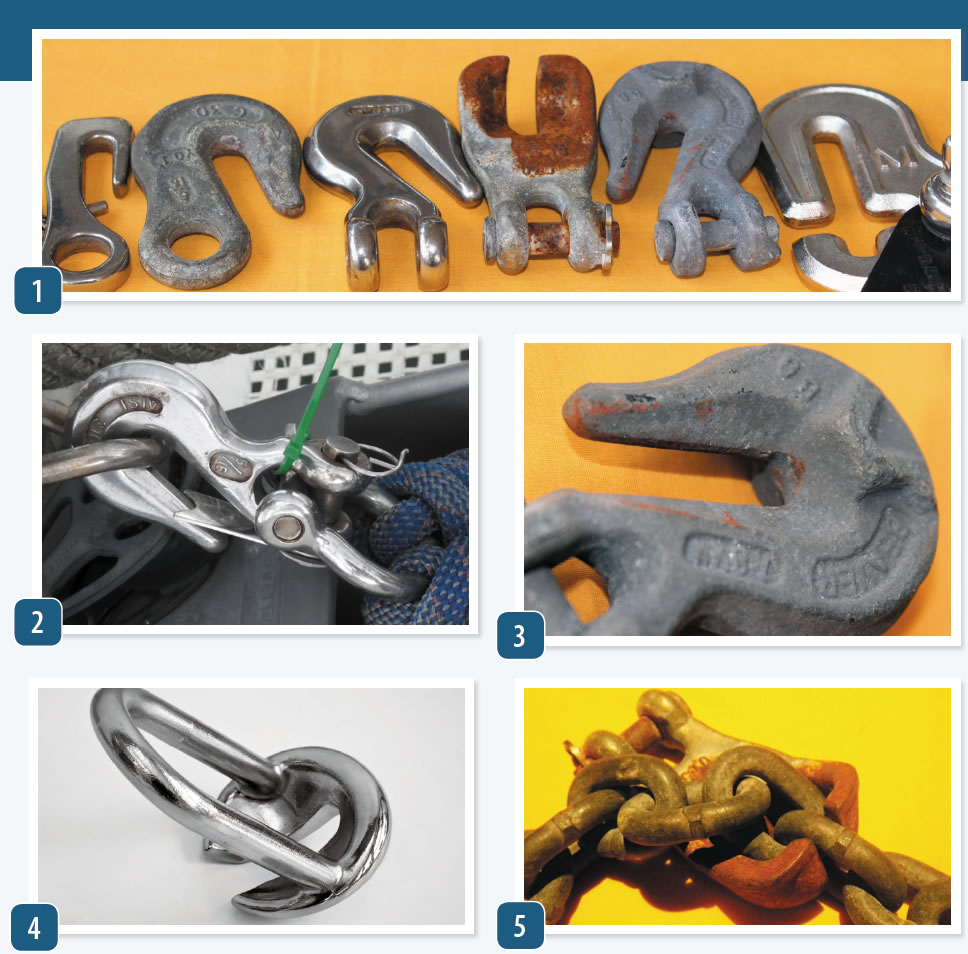 Our report on chain hooks and their impact on anchor chain prompted spirited comments online. Based on those comments, it is clear we need to clarify some terms used and add details. A response from one hook maker, Mantus, is online at www.practical-sailor.com/blog.
The hooks we reviewed: a Wichard patented hook, a Peerless generic hook (G30), a no-name (made in China) stainless-steel clevis-pin hook, a high-tensile clevis-pin claw, a saddle or cradle-style clevis-pin hook (G70), and the Mantus hook.
The generic, stainless-steel, clevis-pin hook in this photo has been modified with a latch. It will point-load chain.
This cradle-style hook has been galvanized using the Armorgalv process.
This stainless-steel hook from Ultra was omitted from the April 2016 article. We plan to test it soon.
This hook was misidentified as a cradle hook in the April 2016 article. It is commonly referred to as a claw hook.