When we last checked in on bottom paints in March 2011, the move toward a copper ban in antifouling paints was gaining steam in Washington and California. In May, Washington state passed a new law prohibiting the sale of new boats with copper-based bottom paint after Jan. 1, 2018. The law also prohibits the use of antifouling paints with more than 0.5 percent copper on recreational boats after 2020. Violators face fines of up to $10,000.
Meanwhile, in California, Senate Bill 623—calling for similar restrictions—was shelved by the state legislature, but it is slated to be considered again in 2012. In both states, the laws apply only to recreational craft, and this is one of the strongest objections from opponents, who say commercial and military vessels should not be exempt.
It is unlikely that the anti-copper movement will be limited to the West Coast. Environmental concerns in the U.S. and abroad, coupled with the rising price of copper (above $4.20 per pound when this issue went to print) are driving paint companies to explore other biocides. The movement mirrors a similar transformation during the 1990s when tributyl tin was banned from recreational vessels and, eventually, all vessels.
As a result of this copper conundrum, the antifouling paint market is in a state of flux. Manufacturers are reducing the amount of copper in some of their existing brands, introducing new budget-priced, low-copper paints, and trying new copper-free paints on recreational boats. And of course, the price of premium high-copper paints continues to go up.
How all this will play out over the next five years remains to be seen, but it seems unlikely that bottom paints will become more affordable or more effective in the next few years. If anything, the trend bodes well for at least one enterprise: professional bottom scrubbing.
What We Tested
Practical Sailor is simultaneously testing two panel sets, one that has been in the water more than two years, and another that will hit the one-year mark in November. This article focuses on the results from the newest set of panels. Sailors looking primarily for longer-term protection should use the article and tables on pages 12 and 13, supplemented with our 24-month report last spring.
This article covers one set of 56 antifouling paints that PS began testing in November 2010 at the Sarasota Sailing Squadron in Sarasota, Fla. The panels were inspected in June 2011. The participating companies include Blue Water Paints, Interlux, Pettit, and Sea Hawk. An experimental stick-on antifouling, BoatKoat Laminate, is also being tested.
The eight-month test results are tabulated in the Value Guides on pages 10 and 11 and are divided by paint category, hard and ablative. These two types of paint work differently, but for most boat owners, the key distinction is the maintenance regimen.
Hard paints hold up well to underwater cleaning and can usually be burnished smooth for racing. However, they leave behind resins and pigments that build up over time and eventually will need to be sanded off. Also, many hard paints lose their punch when they are stored out of the water for long periods, while most ablatives can be hauled and relaunched without worries.
Ablative paints wear away, so they don't build up thick layers. There are two main types—bottom-tier workboat ablatives that slough away with water friction to activate more biocide, and more expensive copolymer ablatives that release biocides at a controlled rate. Some "hard" ablative paints resist light underwater cleaning and are suitable for trailering.
Most paints are formulated for specific needs: freshwater paints, aluminum paints, racing paints, water-based paints (easy for the do-it-yourselfer to apply), and eco-friendly paints. The best performers in each of these subcategories earn a Recommended check mark in the Value Guides. Freshwater sailors should keep in mind that our saltwater test is particularly hard on freshwater paints, and these will do much better in lakes. Except where noted, all of our recommended paints should perform the same or better in fresh water.
Before buying, be sure to check compatibility. Some previously painted surfaces are not compatible with some paints, requiring more prep work.
Blue Water
Blue Water Paints is one of several companies trying to gain a foothold in the U.S. recreational boating market dominated by Interlux and Kop-Coat (Pettit), and its general-purpose antifouling coatings have fared well in our tests. After eight months of immersion in this go-around, its two copper-laden hard paints, Copper Pro SCX 67 Hard and Copper Shield 45 Hard, earned Fair ratings. Copper Pro SCX 67 Hard, containing the antimicrobial pesticide Irgarol, is the company's top of the line, long-life paint and is also still doing well in our 24-month report.
In the ablative category, all of the Blue Water paints were free of hard growth, although not as clean as some of the others in the test. The two cleanest ablatives were the Coppershield 45, a budget-priced ablative with no biocide and Copper Pro SCX 67, the company's most potent, Irgarol-boosted ablative. All of these paints, as well as the company's new water-based ablative, Aquashield 45, were doing well on our long-term panel set at 24 months. Blue Water Paints are also available at boatyards or distributor Donovan Marine (www.donovanmarine.com) under the MarPro label.
Epaint
Epaint has been doing well in PS tests recently. The company's antifouling paints contain no copper, and historically no-copper paints have done well in PS tests over the long term. Epaint 2000 and Epaint ZO are among the few no-copper brands that have kept hard growth at bay for 24 months in our past tests. Pettit's Alumacoat SR and Interlux's Trilux 33 are two others. Given the stated theoretical coverage, the cost per square foot of Epaint's three most popular blends—EP2000, Epaint ZO, and ZO-HP (a high-performance racing paint)­—is higher than any paint in this test. Epaint also advises at least three coats in areas of the hull that see a lot of sunlight exposure, since the paints are photoactive.
All three of Epaint's hard paints were at the top of the field at eight months. Of the three, EP2000 was the cleanest, and it was still holding up in our simultaneous long-term test at 24 months. Epaint's ablative water-based paint, Ecominder, rated Good. Both Ecominder and EP2000 rated high enough in panel testing to make it to field trials in the recent antifouling tests carried out by the San Diego Port Authority, which we reported on in the March 2011 issue.
Although Epaints' zinc coatings are marketed as biocide-free, they act like biocide-boosted paints. When exposed to sunlight, water, and dissolved oxygen, they release an inhospitable layer of hydrogen peroxide around the boat hull. EP2000 is not compatible with most other bottom paints, although EPZO and EPZO-HP can be recoated over some hard paints and Ecominder is compatible with a wider range of paints. Epaint has recently expanded its color range, but we have only tested white, one of the original colors.
Interlux
Among the hard paints in the Interlux stable, the water-based Bottomkote Aqua was the best performer at eight months. This easy-to-apply and modestly priced paint has consistently done well up to the 12-month mark in previous tests. It didn't make the cut in our most recent 18-month report, however. The only Interlux hard paint still alive on our 24-month panel was the offshore racing favorite VC Offshore. Earlier this year, Interlux introduced a new general-purpose hard paint, Bottomkote NT, which will go into testing this winter.
Interlux's top-tier self-polishing copolymer paints Micron Extra VOC, Micron CSC, and Micron 66, all showed very little slime growth, with only Micron CSC (which lacks the biocide boosters) showing slightly more growth than the others, dropping into the Fair category. Fiberglass Bottomkote ACT, with the slime fighting additive Irgarol, and Trilux 33, an aluminum-friendly paint with a zinc biocide booster, also scored Good.
On our 24-month panels, Micron 66, Micron CSC, and the soft ablative Bottomkote XXX were still effective. Micron 66 is the longest lasting of this group, but it is recommended only for salt or brackish water, as fresh water can rob the paint of its potency.
Pettit/West Marine
Pettit's hard paints gave a very strong showing at the eight-month mark, with all but two of its paints scoring Good, with very little slime. In a repeat of Practical Sailor tests during previous years, one of the cleanest hard paints was the budget-priced standard modified epoxy paint, Unepoxy. Unepoxy was followed closely by Vivid, Trinidad, and Trinidad SR. All of these except Unepoxy were also still preventing hard growth on our 24-month panels. Pettit's rebranded West Marine Bottomshield, which earned a Budget Buy recommendation in our 24-month report, was still fending off hard growth at 8 months, although it showed more slime than other similarly priced paints.
In the ablative paint category, Pettit's lineup—including some newly reformulated blends the company supplies for West Marine—were also doing well. Its two top ablatives were Hydrocoat and Ultima SR 40. Hydrocoat is a water-based paint, while the Ultima SR 40 uses 2-percent NCN, the generic chemical equivalent to the pesticide Irgarol.
West Marine's Irgarol-boosted PCA Gold also scored very high. West Marine CPP, which incorporates the Pettit's relatively new copper composite technology (CCT, also used in West Marine's hard paint Bottomshield) was one of the few ablatives to score Poor. Oddly, this paint had scored well in March on our long-term panel, fighting barnacles up to 18 months. According to Pettit, the new formula—which was applied to both the 8-month and the 24-month panel sets—uses 25 percent less copper than the previous formula (now discontinued). The company says it has seen no drop-off in performance during the past three years since the new formula was introduced.
West Marine's newest addition to the ablative category, the budget-priced West Marine Pure Oceans made by Pettit, scored Fair. Horizons, one of four Pettit ablatives to make it to the 24-month mark on our long-term panels, also scored Fair. Both of Pettit's aluminum safe ablatives—the identically formulated Vivid Free and Alumacoat SR—were struggling, with only Vivid Free keeping the hard growth at bay.
Sea Hawk
Florida-based Sea Hawk paints yielded five top performers at eight months, three ablatives paints and two hard paints. All of its biocide-boosted ablatives showed very little slime. Biocop TF, an ablative formula that matches closely against Interlux's Micron line, was the cleanest paint from Sea Hawk. The paint is currently involved in head-to-head testing with Micron 66 on one of our test boats on the Chesapeake Bay, and the two are neck and neck after six months.
Islands 77 Plus, a new ablative formula aimed at warm-water sailors, was also among the cleanest paint from Sea Hawk. (The paint also gave a strong performance in our parallel long-term test panels up to the 18-month mark.) The Irgarol-boosted Cukote Biocide Plus also nudged into the top tier at eight months, with very little slime. Among the hard paints, the copper-saturated Tropikote, with 76-percent copper, was the cleanest Sea Hawk panel.
The only unexpected Poor rating in the Sea Hawk line was Monterey, a water-based ablative paint that has done well in past tests and is, in fact, still barnacle free at 24 months in our simultaneous long-term test. Smart Solution, the only paint in our test with no metal—neither copper nor zinc—in its formula made it to the eighth month free of barnacles. This is good news for the steadfast environmentalist who likes the idea of a paint that won't leach biocide into the water, and who doesn't object to a regular bottom cleaning.
Alternative Coatings
Our unique alternative product, an experimental stick-on film from BoatKoat Laminates, did not make it to the eight-month marker without succumbing to barnacles. According to the maker, the static nature of our test panels will reduce the coating's effectiveness.
Conclusion
An eight-month-long bottom paint test is most useful to someone who intends to haul out after a season of sailing and repaint the hull. And if seasonal, eight-month protection is all you want, it makes little sense to pay extra for a premium paint loaded with copper. Some of the least expensive paints were among our top performers at this stage. That doesn't mean price should be the driving factor. Some attractively priced paints—particularly some new, highly touted paints—have turned out to be flops. If a paint can says the word "Pro" on it, that doesn't mean it is the most potent formula.
We are still hesitant to throw our weight behind new formulas designed to bring prices down by reducing the amount of copper. Without several seasons of testing and boater feedback, it is hard to get a consistent picture of performance. Pettit's new copper composite technology (CCT) is one example. While some paints that employ CCT, such as the hard West Marine Bottomshield, have so far excelled in our tests, others, like the ablative West Marine CPP, have been less consistent.
Almost every brand has experienced teething pains with new paints. Eco-friendly formulas seem particularly troublesome. Interlux's original Pacifica blend flubbed early testing, as did Sea Hawk's Smart Solution (although it survived this round). Pettit's new Hydrocoat Eco with Econea was a dud. Results such as these make us generally wary of new formulas.
Except for racing sailors looking for burnishable, smooth paint, or sailors driven primarily by environmental concerns, an affordable ablative paint is the most practical choice for the seasonal sailor who repaints each year. This keeps paint build-up to a minimum and cuts down on prep work. This year, Pettit's Ultima SSA came out as our budget-priced general purpose paint. Pettit's Hydrocoat, which is unaffected by haulouts and is hard enough to stand up to the rigors of trailering, also looks good. Its easy water cleanup makes it ideal for the do-it-yourselfer.
For those who want longer-term protection and are willing to pay for it, the ablative paints Hydrocoat, Petit's Ultima SR40, and Interlux Micron 66, all scored well in both the eight-month and 24-month panels. Pettit Vivid, which also did well on the two panel sets, is our pick for those who covet bright colors.
Among the budget-priced hard paints, Pettit's Unepoxy and Copperguard (available only to boatyards and professionals) stood out as the cleanest. Unepoxy was clearly the most affordable paint that scored Good or better, making this our Budget Buy. For a water-based do-it-yourself hard paint, Interlux's Fiberglass Bottomkote Aqua makes a good choice.
For the racing sailor, Epaint's HP-ZO offers the slickest finish, although all three of the hard Epaint blends offer smooth finishes. These are also good choices for aluminum hulls. Unlike some other hard paints, all three of Epaint's hard paints can also be hauled and relaunched without any impact on antifouling performance. On a cost-per-square-foot basis, Pettit Trinidad or Trinidad SR are less expensive than Epaints, and both have done well in long-term testing. Owners of aluminum boats also have the option of Trilux 33, which was still very clean at eight months.
Hard Paints - 8 months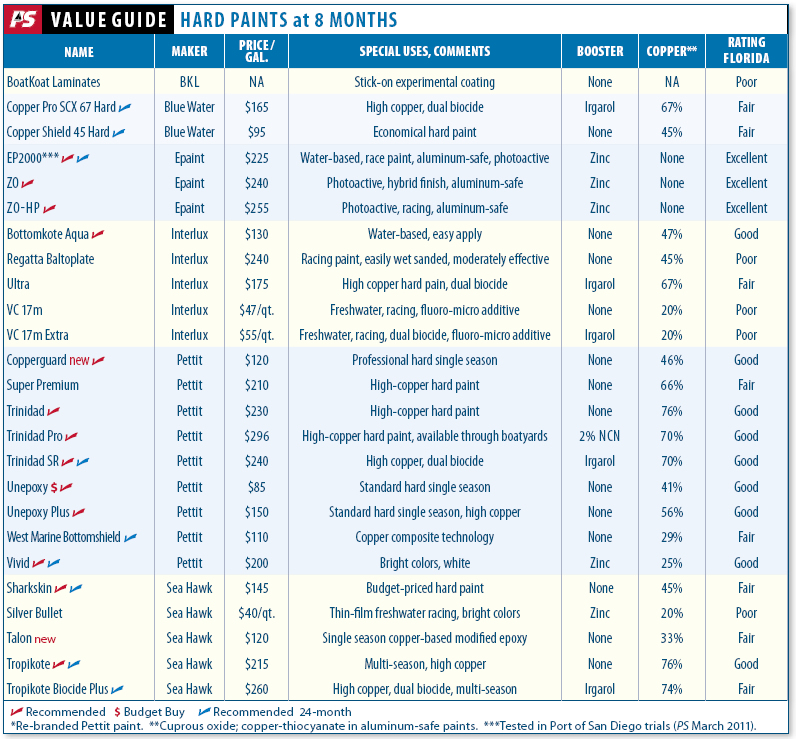 Checks indicate Recommended paints in one or more of five key categories—overall, aluminum-safe, water based, eco-friendly, and racing. Budget Buy paints offer good value. Prices are based on a Web search and do not include shipping. Percentages of copper re determined by weight, so paints with heavier solids in the resin may have more total copper, but a lower percentage.
Ablative Paints - 8 months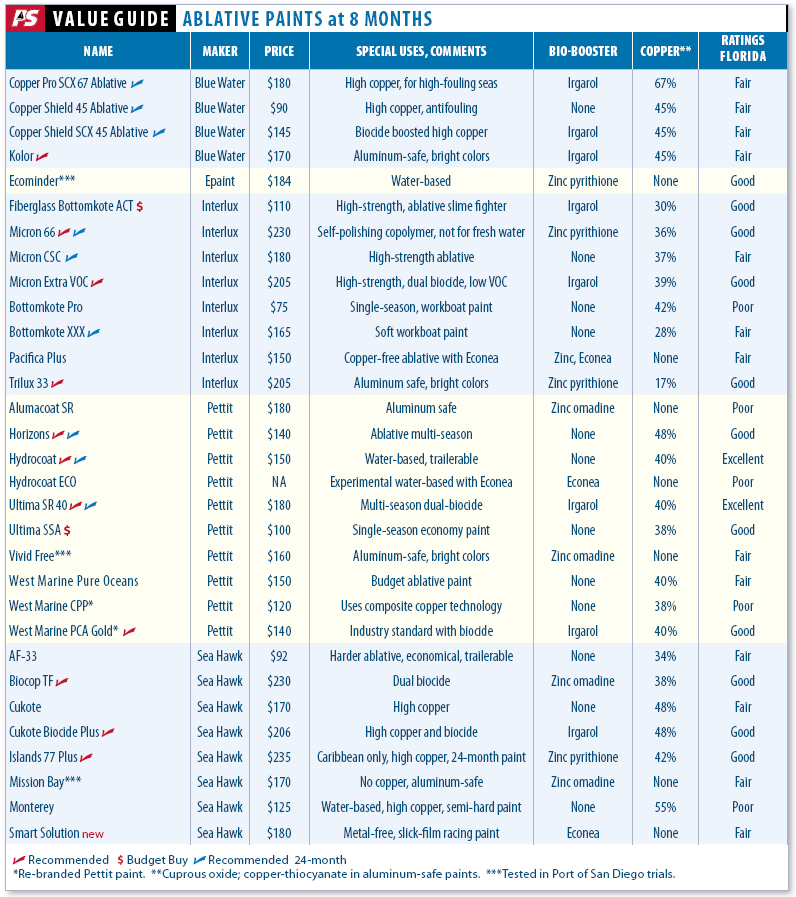 Contacts
Boatkoat laminates 352/243-1460