When a man-overboard (MOB) incident occurs at night, the odds of recovery become slimmer. The fate of the person in the water hinges on how fellow crewmembers respond and what the victim has intentionally or inadvertently taken with them into the water. A well-prepared offshore sailor will carry essential personal safety gear on him at all times while standing watch during a passage. At the top of the must-have list are a combination harness/inflatable personal flotation device (PFD) and a tether that can be clipped to a jackline to prevent you from being launched over the lifeline. (For an in-depth look at gear and techniques associated with an MOB incident, our downloadable e-book, Man Overboard Prevention and Recovery, is available through our online bookstore.)
If you wind up in the water, hopefully you are wearing a PFD. The PFD will keep you afloat and allow you to focus your energy on signaling for help. Time is of the essence, and the more discernible the distress signal, the better. Now that radio-distress-signal devices like Personal Locator Beacons (PLBs) have become so compact and affordable, it is easy to downplay the importance of a bright personal distress light. Although activating a PLB will alert shore-bound rescuers, they may arrive too late. And even professional rescuers equipped with the latest beacon-tracking capabilities need to visually spot the victim in order to make a rescue.
This report focuses on those potentially life-saving personal distress lights. We scrutinize six MOB lights, including some with new LED technology, lithium batteries, and more versatile flash patterns. We chatted with search-and-rescue (SAR) professionals at the major boat shows and got some useful insight from safety equipment experts.
Our light evaluation included tests in the field as well as in the lab. The field test included an on-the-water visibility test from 0.62 nautical miles away. As a benchmark, we compared the luminance of each light to the ubiquitous Fulton 102, a battery-operated MOB light that has been around for at least 25 years.
In addition to comparing the effectiveness of each lights flash pattern, we rated each light according to luminance, omnidirectional visibility, means of attachment, and construction quality. We favored 360-degree horizontal visibility, hands free self-alignment, easy attachment and wearing options that might help preserve our night vision. For details on the test procedures, see the accompanying How We Tested.
The MOB Lights Tested
We tested six lights from four manufacturers: ACR, Electric Fuel, North American Survival Systems, and West Marine. While there are a variety of compact lights that could be used as man-overboard locator lights, we focused our test on products that were designed for this use. The markets most prominent company in the test is ACR, a major player in the manufacturing of emergency signaling and radio-beacon distress signaling. ACR services both recreational and commercial interests, and the two ACR Firefly Waterbug strobes we tested have both international (SOLAS) and U.S. Coast Guard approval. At the time of our test, ACR was working on four new MOB lights with an expected launch date of spring 2016; we plan to test these lights for a followup report, once they reach the production stage.
Findings
Brighter is better, especially in populated areas where brightness is relative to the surrounding ambient light. Identifying a man overboard light in a coastal area where the horizon is illuminated with city lights is much more difficult than spotting the same signal light in offshore darkness.
In our bench testing, we noted that light-meter readings did not always tally with how the human eye ranked visual brightness in the field. For example, we found that the visibility of strobes and flashing lights were influenced by the duration and spacing of the light pulses not just peak radiance. Pulse duration and frequency made a big difference in spotting a victim and keeping track of their location. A specific peak brightness in the strobe cycle resulted in the same light-meter reading regardless of the pulse length. But in many cases, a slightly lower peak reading and a longer pulse were far more noticeable to testers searching for a light on the water.
ACR Rapidfire
In tests, the smaller, lightweight, modestly priced ACR Rapidfire strobe delivered approximately 60 flashes per minute for about four hours and then slowed to about 20 flashes per minute for the final half of its eight-hour run. In the 65-degree test conditions, the test unit continued on until the non-replaceable lithium battery expired-just after 10 hours of operation.
Testers liked that they could switch from automatic to manual activation, for scenarios when spray or rain might accidentally trigger automatic activation. They also liked the small rotating deflector that keeps much of the flash glare out of the victims eyes. A test tab can be pressed against the housing in order to determine whether or not the unit has a charged battery.
The Rapidfire has a rubber ring that loops over the oral inflation tube of a PFD and a short tether that attaches to the bottom edge of a PFD bladder. When the PFD is automatically or manually deployed, the expanding bladder causes the line to tug on a pull switch, and the light starts blinking. Care must be taken when attaching the rubber loop to the inflation tube and securing the pull-tab line to the life jackets bladder seam. Also make sure that the lights test tab is kept clear of the test slot so unintentional battery discharge does not occur. You must replace the light after five years, even if it is never used.
Bottom line: The compact, lightweight Rapidfire is fine for a basic PFD light if all youre concerned about is emergency use. Its single-use design and strict five-year replacement guidance adheres to common principles for safety gear (non-replaceable batteries, and single-use design reduce the risk of user error), but this also limits its versatility.
ACR LED Firefly Pro Waterbug
For many years, ACRs xenon-strobe Firefly3 Waterbug has been a familiar friend of recreational sailors and commercial mariners. Recently, ACR launched an LED version, the LED Firefly Pro Waterbug. Nearly identical in appearance, the lights have a robust plastic housing that meets military specifications; both are water-activated; and both have two loops for attachment. Battery type (alkaline or lithium) and replacement date determine whether the unit is Coast Guard or SOLAS approved.
The Firefly Pros LED strobe offers an array of operating modes. In addition to a 60-cycles-per-minute strobe, the unit will deliver repetitive SOS signals and can even be turned on as a continuously operating white light. Another big plus with this new strobe is the extended battery life derived from the use of LEDs. In an initial Practical Sailor review (see PS August 2015 online), a prototype unit fell well short of the makers claimed 56-hour capacity with alkaline batteries, but in this round of testing, an off-the-shelf unit running in strobe mode on two AA Lithium batteries ran for 54 hours, which met expectations.
Bottom line: The second brightest light in our tests, the Firefly Pro earned a Best Choice rating, chiefly because of its overall performance and water-activation feature.
Electric Fuel CFX-1
Electric Fuels CFX-1 light is a flashing incandescent lamp rather than a high-frequency-rate strobe. Although it is no longer in production, the CFX-1 is still in wide use. The single-use device is powered by a sealed, lithium manganese dioxide battery that must be replaced every five years. Its light is a flashing, almost occulting light, rather than a short-duration strobe. This can be quite helpful for a close-in approach as some observers feel that a bright but short-period strobe is harder to steer toward. A handy auto/off switch allows the user to manually shut off the device when it is stored or when rain and spray accidentally activate it.
Bottom line: The pulse pattern caught our eye, but the incandescent light is weaker than LED and is harder to distinguish when viewed at a distance. It was not a top performer in this test.
NASS EF-20A-1 Lightning
North American Survival Systems (NASS) calls its new distress light an electronic flare. Based on our test results, the EF-20A-1 Lightning lives up to its name. Shaped like a mini-flashlight, it has four LEDs and its output is refracted by an elliptically shaped, polycarbonate dome that allows for 360-degree illumination. It weighs just over 4 ounces and delivers 12 hours of approximately 60-flashes-per-minute strobe illumination. It can be attached to a PFD or carried in a jacket pocket.
The Lightning was the brightest light in the group and the most noticeable in our close-quarters and longer-range (.62-nautical-mile) field tests. Its anodized alloy case and 360-degree polycarbonate mini dome are very well made. A carefully sealed pushbutton turns it off and on.
The light is intense, and directions advise users to hold it above eye level. Our universal complaint about all of these lights is the lack of a stalk or means of keeping them above ones line of sight without resorting to a Statue of Liberty pose.
Bottom line: We Recommend the Lightning for those who do not need automatic activation. This LED strobe led the pack in all three tests, but the brightness comes with a warning; hold or mount above eye level and avoid looking directly at LED while active.
West Marine See Me
The least expensive light in this group, West Marines See-Me is a single-diode, personal locator rescue light. It uses two AAA alkaline batteries, has an IPX7 waterproof rating (can survive submersion in 1 meter of water for 30 minutes), and will deliver a steady white light for 17 hours. The light turns on and off with a twist of the wrist. It comes with webbing to attach it to a PFD. Testers noticed that if you twist too hard toward the off position, the entire LED holding head and lens can come away from the unit and possibly get lost.
This compact, single-diode light stood out pretty well in the high-clutter conditions in which we tested.
Bottom line: The See-Me is the Budget Buy. While its visibility wasnt the best, the $12 price tag works for those with a tight safety budget and who rarely sail after sunset.
Conclusion
It was clear right from the start that background light swallowed up dimmer, constantly lit personal MOB lights. The two most influential factors controlling whether a light will be spotted at night is the lights relative brightness and the intensity of the ambient background light. A big problem is that both steady white lights and blinking white lights are too often assumed to be part of the coastal backdrop. If your MOB lights color temperature, flash signature, and intensity doesn't provide much contrast to navigational aids and background light, your call for help will get lost in the light-scatter. Further offshore, even a modest light source provides contrast and takes on a bolder character.
The question of whether a distress signal should flash or not has been hotly debated. On one hand, we found the momentary radiance of a flashing strobe to be much greater than the continuous output of most fixed light sources, but on many occasions (especially in low ambient light situations), the fixed lights were easier to see. We also noted that when the strobe rate was at least one flash per second, there was little concern about losing the victims bearing during the nulls.
When the spray settled after all our testing, the EF-20A-1 Lightning electronic flare from North American Survival Systems had out-shone its competitors and garnered top meter readings, the brightest light signature at 100 yards and the most noticeable light at .62 nautical miles. This is our Recommended light for manual activation. ACRs breakthrough, pulsing LED Firefly Pro Waterbug was a close second and a versatile light, yielding Good brightness and long-pulse illumination, plus the ability to switch to a constant on or SOS pattern. The ability to be both water-activated and manually activated nudged it into our Best Choice spot.
Price-point shoppers who shy away from more expensive lights should look closely at West Marines SeeMe-a Coast Guard-approved personal MOB light. It was the least bright light in our test, but it showed up as well as the old Fulton 102 and can be easily attached to an inflatable life jacket.
You cannot place too much confidence in these lights, particularly if no one is searching for you. During our on-the-water testing, we noticed the blue flashing lights of a state police boat less than quarter-mile away. There were also about a dozen commercial and general aviation aircraft that flew over us in their low-level approach to Baltimore-Washington International Airport. Not once during the one-hour test did anyone raise an alarm on the VHF radio. The point is, if no one knows youre in the water, a PLB, AIS beacon, or a small, waterproof, handheld VHF radio is also worth having in your pocket.
Personal MOB Lights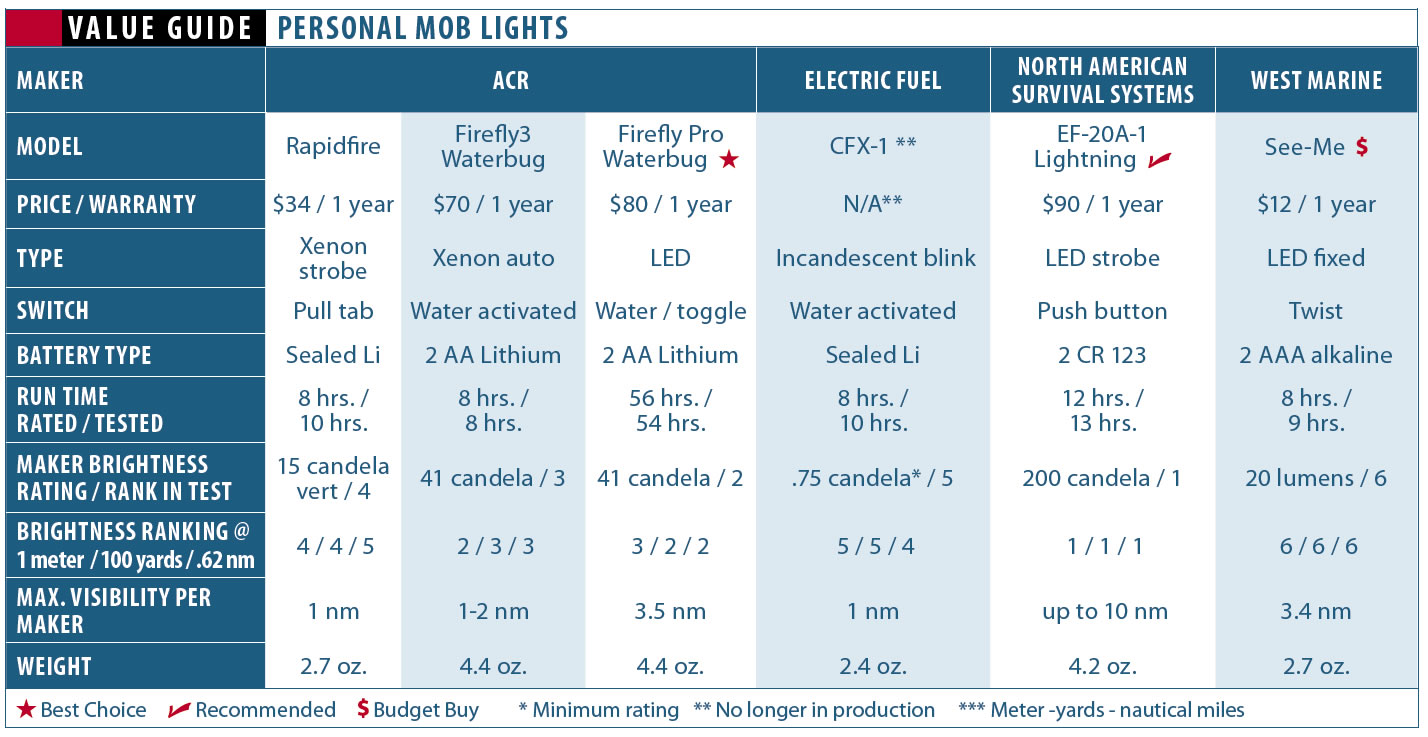 MOB Light Details