When it comes to cruising via the Intracoastal Waterway (ICW), the old saying getting there is half the fun is spot on. From historic towns and peaceful anchorages to big-city bustle and vibrant nightlight, there is so much to see and do along the 1,100-mile stretch that youd be hard-pressed not to find something enjoyable for every crew.
Most sailors find entering a new anchorage or harbor after a long day on the ICW an adventure. However exciting it may be, most of us also find that it carries a considerable amount of stress, particularly if entering in fading daylight or deteriorating weather. Not only do you have to contend with navigational issues, but there are other burning questions like wheres the best place to anchor; where can I get supplies or fuel; is tonight all you can eat ribs at Hawg Heaven Restaurant; or is there a dinghy dock nearby?
To help you navigate all these questions and concerns-not to mention the unknown waterway-you need a good ICW guide that has all the facts, figures, and the right array of local knowledge. A thorough, well-written ICW cruising guide, one that not only gives accurate, updated info, but also provides a good read as you plan your next adventure, is worth its weight in gold. A lousy one is a waste of money, and can even pose a danger if the information is outdated. To help you get the most out of your time on the ICW, we reviewed a number of current cruising guides with the aim of offering some insight into which ones are the most useful when planning an ICW adventure.
What We Tested
We tested a total of 13 cruising guides, marina guides, anchorage guides, piloting guides, charts, and an app. From cruisers Mark and Diana Doyle, authors of On the Water ChartGuides (formerly Managing the Waterway), we evaluated CruiseGuide for the Intracoastal Waterway: A Mile-by-Mile Cruising Guide for Norfolk, Va. to Miami, Fl. and AnchorGuide for the Intracoastal Waterway, volumes 1 and 2. We reviewed two of Doziers Waterway Guides, trusted sources of cruising information since 1947; the two we used were the Atlantic ICW and Southern editions. We also tested two popular Skipper Bob publications, Anchorages Along the Intracoastal Waterway and Marinas Along the Intracoastal Waterway. From publishing giant International Marine/McGraw-Hill, we tested John and Leslie Kettlewells Intracoastal Waterway Chartbook-Norfolk Virginia to Miami Florida.
Richardsons Maptech, one of the worlds largest chartmakers, submitted two of its Maptech ChartKits for review: Region 6 (Norfolk, Va., to Florida and the Intracoastal Waterway) and Region 7 (Florida East Coast and the Keys.). We also field tested two Maptech Embassy cruising guides: the Chesapeake Bay to Florida and the Florida editions. From Navionics, a leader in marine mapping software for over 20 years, we evaluated the electronics charting product Navionics Plus and mobile app Navionics Boating HD.
We divided the test field into five categories for ease of reference:
General cruising guides: These are all-in-one guides that touch on a wide variety of information, from marinas and anchorages to the best nightspots while in port. These guides feature full-color spreads, aerial photos, chartlets, etc. They also contain lots of ads.
Piloting guides: These are mile-by-mile cockpit companion guides that provide useful, specific information (navigation, anchorages, marinas, etc.) for use in transit.
Marina guides: These provide a comprehensive list of marina options along your route with specific details for each, including fuel prices, services, water depths, and dockage rates.
Anchorage guides: These offer specific information on possible anchorages, including approach depths, shore access, bottom type, holding quality, etc.
Charts (paper and electronic): The paper books we tested range in heft from 78 to 584 pages, but the shortest books are accompanied by CDs. Navionics Plus comes on CF and SD cards, and the On the Water cruising and anchoring guides are available as print and digital books (ebooks). All of the paper books have spiral binding, so they lie flat when open. The test products range in price from free (the app) to $125.
How We Tested
Testers evaluated the products during a two-month cruise along the Atlantic Intracoastal Waterway aboard a 1978 Union 36. The field test extended from Norfolk, Va., southward to Fort Lauderdale, Fla., where testers exited the ICW to begin a six-month cruise of the Bahamas. (Look for a review of Bahamas guides and charts in a future issue.)
To compare the products, testers rated each one on the amount and usefulness of information provided, how well it was presented and how accurate it was. We also considered price and frequency of updates.
Testers kept them handy for quick reference at all times. Although we used them on deck some, we tended to primarily use the guides at the navigation station or seated around the dinette table as the crew planned the next days run or future stopovers.
General Cruising Guides
Waterway Guides
Advertised as the only cruising guides of their kind that are updated annually, Doziers Waterway Guides have helped boaters along Americas waterways for over 60 years. The Atlantic ICW and Southern editions feature mile-by-mile navigation information, aerial photography with marked routes, marina listings, and locator charts. The guides also provide information on potential anchorages, while their Goin Ashore articles offer everything from historical information to popular restaurants for each port of call.
Each section is color-coded for quick reference and clarity-a nice touch that makes finding what you need fast and easy. Having helpful cruising data like GPS waypoints, detailed planning maps, distance charts and bridge tables all in one place means less stress when trip planning.
Although not waterproof, the guides flexible spiral binding and heavy laminated cover (with bookmarker flaps) made them easy to use in the open cockpit of our test boat.
Bottom line: When planning a trip along the ICW, youd be hard-pressed to find more informative and easy-to-use material for shore-based information than whats in the Dozier guides. This is the Best Choice among the general cruising guides.
Maptech Embassy Cruising Guides
Both the Maptech Embassy cruising guide for Chesapeake Bay to Florida and for Florida provide detailed navigational information and trip-planning tips, and they can serve as handy quick-reference books while on your way. Each contains information on marina facilities, aerial photos, destinations, bridge tables, and GPS waypoints.
The guides layout makes locating information quick and easy. Harbors are indexed by chapter, while marine facilities are presented in tables that display key information, allowing you to find the right facility quickly. Full-color harbor chart segments allow you to easily cross-reference locations, while showing marina approaches and facilities locations in relationship to one another.
The Local Knowledge sections provide detailed navigation advice to help you approach new harbors like, well, a local. Birds-eye aerial photos of harbor entrances improve a skippers situational awareness during approaches. Information on what to do while in port, as well as full-color photos of local landmarks and sights to see along your trip are also a plus.
Each section is color-coded for quick reference and clarity. Testers found this to be great for locating the right section easily. While not waterproof, the books crush-proof spiral binding and wrap-around covers made the guides easy to use at the helm.
Bottom line: The Maptech guides are informative, well laid out and easy to use. However, their lack of annual updates is a con, particularly for information that may have a shorter shelf life.
Piloting Guides
On The Water Cruiseguide
Captains Mark and Diana Doyle, authors of the CruiseGuide for the Intracoastal Waterway (ICW): A Mile-by-Mile Cruising Guide for Norfolk, VA to Miami, FL, joke that they may be the last of the cruising cruising-guide authors.
Rather than a marina directory or a crowd-sourced compendium, we have personally depth-recorded and photographed every single anchorage, marina, and trouble spot-multiple times, they explained.
The result is a well thought-out, mile-by-mile cockpit navigation guide that alerts the helmsperson ahead of time to anything requiring attention or advance planning-like restricted bridges, shoaling trouble spots, and potentially confusing areas (channels, turn-offs, etc).
In addition to detailed descriptions of nearly 600 anchorages, marine facilities, and hundreds of waypoints, the CruiseGuide also includes a well-written what to expect section, and compendiums such as ICW Trouble Spots, 30 Favorite Anchorages, and 50 Frugal Favorites. Free daily updates and alerts are also sent out via Facebook, Twitter, RSS, SMS text, or email. It was the only piloting guide we reviewed.
The Rolling Header found atop each navigation page shows a mile-by-mile list of items that can impact schedules or safety for that pages area and beyond.
Testers also liked the Safety Info section of the header, which provides contact info and locations of the nearest Coast Guard stations, commercial towing operations, as well as which National Oceanic and Atmospheric Administration (NOAA) weather channels serve the area. The Big Pictures section provides custom maps created for ICW boaters, showing counties, capes, and sounds commonly referred to in local weather broadcasts, boater cities, accessible airports, NOAA weather towers, and more. The Heads Up! section highlights low-clearance bridges and other navigational hazards, while the Interpretive Vignettes offer interesting accounts of the historical, cultural, and natural highlights of the ICW.
The print guide is robustly constructed with high-quality paper, but the guidebook is not waterproof.
Bottom line: An excellent guide that provides valuable information in a logical, fast, and easy-to-use format, and you can't beat the price. A Budget Buy and Best Choice pick, its a must-have for those cruising the ICW.
Anchor Guides
On The Water Anchorage
Theres a lot more information that the prudent sailor wants to know when pulling into an unfamiliar anchorage than just its statute mile marker. The two-volume On the Water AnchorGuide for the Intracoastal Waterway (ICW) is designed to help safely choose and approach nearly 300 anchorages, mooring fields, and free docks along the ICW, aka The Ditch. The Doyles say theyve visited each anchorage at least twice (more in most cases) while recording tracks and depths for each.
Each anchorage listing is accompanied by a full-color NOAA chart screenshot with depth-annotated tracks showing you exactly where to anchor, the safe route in and out, and depths every 120 feet. Survey depths are easily translated to current depths by referencing the included tidal graph; these allow you to more easily visualize anecdotal statements such as avoid shoal at entrance. Concise, consistent, detailed descriptions allow you to choose an anchorage based on your particular needs-proximity to the ICW, depth, wind protection, current, scenery, or nearby services.
Testers also liked the details listed with each anchorage, including descriptions of the surrounding shore, noise level, scenery, alternative locations, nearby marinas, boat ramps, dinghy docks, and navigation alerts. Icons make it easy to plan pet landings and provisioning, with details on shore access presented in the summaries.
In April, On the Water ChartGuides announced that the anchorage guides are now available in digital format at the iBooks Store for $4 per ebook. This new format includes enhanced multimedia content, such as geotagged anchorage photos, raster and vector charts annotated with digital breadcrumb tracks, satellite images of the anchorages with digital breadcrumb tracks, street maps for going ashore, and audio summaries.
The Doyles pride themselves on being able to offer the guides for almost free, as the business is now a nonprofit organization looking to only recoup printing costs.
Bottom line: The visual nature of these print guides greatly reduces the stress of first-entry, while suggesting additional possibilities for first-timers and ICW veterans alike. For $10, its a steal; if you go the digital-only route, youll be getting an incredible amount of information for just a few bucks. It gets the Best Choice for anchorage guide.
Kipper Bob Anchorage Guide
The late Skipper Bob (Robert Reiband) and his wife, Elaine, cruised over 44,000 miles while living aboard both a trawler and a sailboat. Their travels were the genesis for their line of cruising guides, which are now written by Ted Stehle.
Purchased by Doziers in 2007, the Skipper Bob publications have remained essentially the same. Anchorages Along the Intracoastal Waterway provides a mile-by-mile listing of anchorages, free docks, bridge and lock restrictions, waterway problem areas, and average fuel-price comparisons from Troy, N.Y., to Key West, Fla.
The Skipper Bob ICW anchorage guide is a benchmark that many ICW veterans still swear by, but we found the black-and-white, text-only format to have a decidedly dated feel to it when compared to the visual information provided in other guides. We tended to use the Skipper Bob anchorage guide as a supplement to other guides, comparing comments or seeing if it provided additional anchoring options. It is available as an ebook through the Doziers ship store.
Bottom line: The Skipper Bob anchorage guide is a no-frills guide that is worthy of a place on any ICW cruisers book shelf, but its not our top pick.
Marina Guides
Kipper Bob Marina Guide
Like its sister anchorage guide, the Skipper Bob Marinas Along the ICW guidebook has a black-and-white, text-only format. It provides a mile-by-mile and an alphabetical listing of hundreds of marinas, as well as the location and contact information for each, but it does not offer waypoints. Included are details on fuel prices, transient slip fees, long-term slip fees, information on do-it-yourself boat yards, and haul-out fees. Ancillary information on courtesy cars, propane, shopping, CNG refills, approach depths, the number of transient slips, phone numbers, approach directions, etc., is also included.
The guide provides a lot of good information, allowing boaters to drill down to the specific items that are important to them (like where can I liveaboard or change out my own cutless bearing). It is available as an ebook through the Doziers ship store.
Bottom line: A compact, no non-sense guide that delivers blow-by-blow information on marinas. For those so inclined, a smartphone and Internet access may prove just as useful.
Charts
Maptech Chartkits
Maptech ChartKits are full-color reproductions of government and private charts. We reviewed the Region 6 (Norfolk, Va., to Florida and the Intracoastal Waterway) and Region 7 (Florida East Coast and the Keys) ChartKits. Each spiral-bound, full-size kit covers a complete region and includes features such as GPS datums, lat/lons, and distances in nautical miles. They provide aerial photos of harbors and anchorages in popular destinations, as well as small-scale, wide-area charts and large-scale detailed charts of harbors and approaches. Bridge tables and general ICW navigation advice are also included.
Chart grids simplify vessel positioning, and major navigation aids are identified with named GPS waypoints. Charts feature pre-plotted courses between major navigation aids (complete with distances in nautical miles) but also provide the information (compass rose, scales, etc.) needed to do such calculations yourself. The Chart Page Index (inside front cover) and Go-To page numbers allow you to quickly and easily find the chart you want.
Each ChartKit comes with a companion CD containing raster versions of each chart, along with a copy of Maptechs Offshore Navigator Lite GPS positioning software. The software allows you to view real-time positioning on your PC (provided it has a GPS input), as well as transfer waypoints from your PC to a number of chartplotters.
These are the charts our testers used when planning longer routes, and for plotting vessel position during the few outside hops we made while heading south. We also noted that in a number of cases, they provided a bit more coverage of rivers and ICW side trips than the strictly ICW chartbooks.
The ChartKits are not waterproof, but Maptech sells a heavy-duty vinyl ChartKit cover with a zipper that will protect the kits.
Bottom line: While electronic charts are great, nothing shows the big picture quicker and easier than full-sized paper charts. ChartKits are much easier to manage and less expensive than purchasing separately all of the full-sized paper charts youd need. We highly Recommend these.
Navionics Plus
We tested Navionics Plus charts using a Raymarine e7 multifunction display (MFD). We also downloaded the Navionics Boating HD mobile app to our trusty iPad and gave it another whirl; for a full review of the app, check out the February 2012 issue.
Compatible with a wide range of chartplotters and MFDs, Navionics charts are clear and easy to read, with depth contours, spot soundings, port plans, port service guides, navaids and more, all on a pre-loaded, plug-and-play memory card. For initial downloads (as well as updates), users plug their Navionics Plus card into a PC/Mac, then select and download the coverage they want from the companys website.
In addition to the paper chart feel of Navionics Plus, testers liked the wide variety of display options and features like Intelligent Clarity, which provides a clear, uncluttered display for easier reading at all scales. Quick access to tide and current information was a huge plus when planning and following our route, as was the XPlain feature, which gives a plain-language description of navigational symbols with a click of the cursor.
We love our paper charts, but not so much the time and effort required to keep them properly updated. Navionics Plus charts Freshest Data lets users update their card within 12 months of purchase by adding or removing any charts available as many times as they wish. The update option ensures you always have the most recent maps, while the ability to download only maps needed for a particular trip or segment ensures your display wont become bogged down trying to process too large a map.
Navionics recently announced an expansion of its Plotter Sync app, which allows owners of Raymarine WiFi-enabled MFDs to easily update charts wirelessly (without removing their Navionics Plus card).
As for the mobile app, having the Navionics data loaded on our iPad, in essence, created a second display. With our iPad temporarily mounted at the helm, we were able to simultaneously view both zoomed-in and expanded chart displays while underway. Being able to view charts on the iPad down below made planning the next days run easier as well.
Bottom line: What sailor doesn't love the benefits of electronic charts-particularly when they can easily be updated. We Recommend Navionics Plus.
ICW Chartbook
Another favorite of ICW cruisers, the Intracoastal Waterway Chartbook is a spiral-bound collection of miniature charts (approximately 8 by 10 inches) covering the whole trip. Youll find complete coverage of the magenta line, as well as passages to the Atlantic Ocean at major inlets and commonsense advice about waterway travel in general. We reviewed the Norfolk, Va., to Miami Fla., (6th edition) book of chartlets.
Statute miles are noted in five-mile increments in the margins, while marinas and their contact information are marked on the charts along with bridge names, lock information, and anchorage notes and locations.
The biggest advantage provided by the ICW Chartbook is having all of the charts needed to transit the ICW in a compact, easy to use, cockpit-friendly sequential format. We like having full sized charts for planning or whenever the big picture is needed, but for daily use in the cockpit, tracking progress with the ICW Chartbook is dead simple. (We used two large chip-bag clips to tame the pages and mark our progress.)
The biggest complaints testers had was the flimsiness of the Chartbooks paper and the fact its extremely non-waterproof; the pages eagerly rip themselves from the book at the slightest hint of a breeze in an effort to sacrifice themselves to the sea gods (or at least those inhabiting the ICW). Extending the coverage area to include the Florida Keys would also be a great addition.
Bottom line: While you may have the same charts on you plotter, laptop, or tablet, the benefits of having manageable paper charts at hand can't be overstated. Its a Best Choice for charting guidance.
Conclusion
All of the test products can make your trip along the ICW safer and more enjoyable; however, most sailors wont have the room, budget, or inclination to buy and carry them all. If we could only pick a few, wed choose those that brought additional features to the game (more accurate information, better layout, ease of use, etc.) and were used regularly during our ICW field test. For day-to-day running along the ICW, the Doyles CruiseGuide for the Intracoastal Waterway coupled with the Intracoastal Waterway Chartbook Norfolk Virginia to Miami Florida is a powerful combination to have in the cockpit, one that will get you from point A to point B with greater safety and less stress. If you have more space on your onboard bookshelf, consider our other recommendations as well.
When it comes to selecting that perfect anchorage, youll be hard pressed to top the information provided by the Doyles Best Choice AnchorGuide for the Intracoastal Waterway (ICW), Volumes 1 and 2, or the price.
We found both the Doziers Waterway Guides and Maptech Embassy Cruising Guides to be extremely useful, and in fact, we often consulted both before pulling in to a port. That being said, the annual updates of the Doziers guides gave them a slight edge in our opinion, earning them the Best Choice for general cruising guides.
Because we like having both paper and electronic charts onboard (for daily use and planning purposes), we highly recommend Maptech ChartKits and Navionics Plus.
ICW Guidebooks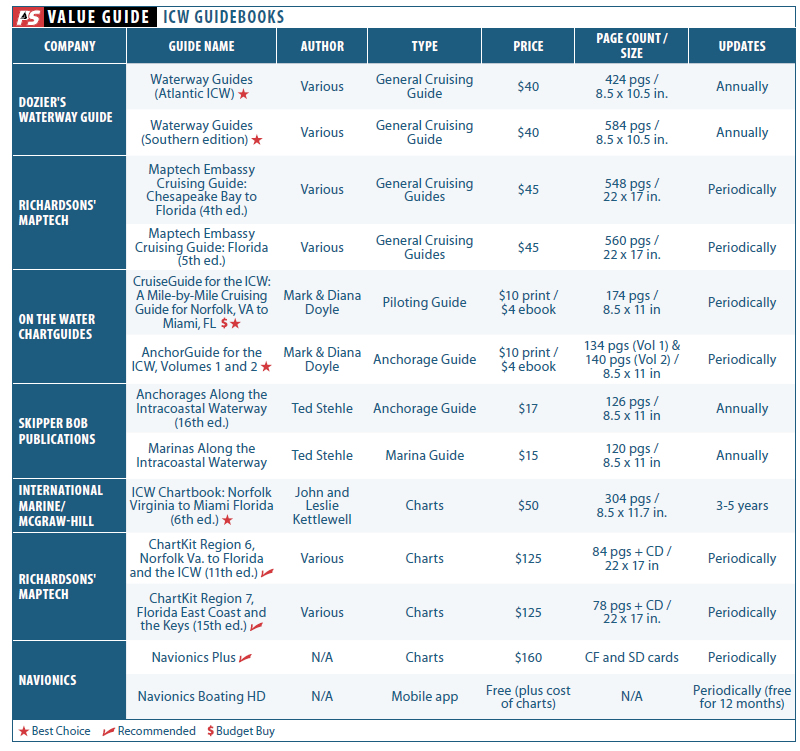 ICW Guidebooks