The Bahamas are often viewed as the Holy Grail of East Coast cruising due to their beauty and proximity to the Florida coast. Although they appear tantalizingly close (particularly when viewed on those nautical chart-themed placemats down at the Oyster Shack), make no mistake about it: A cruise to the Bahamas is an open-water passage that demands both attention to detail and proper safety precautions. Planning and executing a successful cruise to the Bahamas can be an extremely rewarding experience, one that provides ample opportunity to test preparedness of both boat and crew, while offering a reasonably do-able taste of bluewater cruising.
In an effort to help you live the dream, PS recently took a look at some of the most popular cruise-planning guides and charts covering the Bahamas.
What we tested
For our matchup of Bahamas cruising resources, we tested 13 products from five manufacturers. From Doziers Waterway Guide, a trusted source of cruising information since 1947, we evaluated the Bahamas and the Turks and Caicos Islands (2014) guide as well as the popular Skipper Bobs Bahamas Bound. White Sound Press sent us The Cruising Guide to Abaco Bahamas by Abaco legend Steve Dodge.
Richardsons Maptech, one of the worlds largest chartmakers, submitted its Maptech ChartKit Region 9, The Bahamas to Crooked Island Passage, as well as the Maptech Embassy Cruising Guide Florida and the Bahamas. We also tested electronic charting products from Navionics and Garmin. From Navionics, a leader in marine charting software for over 20 years, we tested the Navionics+ Plus and mobile app Navionics Boating HD; Garmin, a worldwide provider of navigation, communication and information devices and applications, was represented by its BlueChart g2 BlueChart Mobile products.
How we tested
All products were evaluated while cruising to and in the Bahamas during the first half of 2014 aboard our test boat, a 1978 Union 36. The south-bound cruise began in the fall of 2013 as we left Norfolk, Va., and transited the Atlantic Intracoastal Waterway to Fort Lauderdale, Fla. (See our review of AICW guidebooks in the May 2014 issue online.) We crossed over to the Abacos, and ultimately based our boat at Mangos Marina in Marsh Harbour.
While theres a certain amount of cross-pollination between many of the products, for ease of reference during our comparison, we divided our test group into three broad categories:
1. General Cruising Guides: All-in-one guides that touch on a wide variety of information, from planning your crossing to marina and anchorage information, and even the best nightspots while in port. Resources in this category (with the exception of the black-and-white Skipper Bob book) feature full-color spreads, aerial photos, chartlets, etc.
2. Chart books: The primary focus of these publications are the charts and navigational data youll need while cruising the Bahamas, although like the above cruising guides, theyre also liberally spiced with useful, need-to know information-from general cruising info (weather, outfitting, etc.) to area abstracts, services, and local history.
3. Charts: While this was not a test of paper charts per se, we did look at a chartkit and a companion chart, along with digital charts. We did not delve into many NOAA print-on-demand chart options for this particular test.
General Cruising Guides
Doziers Waterway Guides
Touted as the only cruising guide of its kind thats updated annually, the Dozier family of Waterway Guides and publications has helped boaters get the most from their travels for over 60 years. The Waterway Guides Bahamas and the Turks and Caicos Islands 2014 edition features nearly 500 pages of navigation information, as well as aerial photography with marked routes, marina listings, and locater charts.
The Things to Know Before You Go section provides a wealth of pre-cruise planning data on topics ranging from medical services to flag etiquette, while the Skippers Handbook section touches on equally diverse topics-provisioning, routing, entry procedures, and day-to-day living during your adventure. The guide also covers possible anchorages, and its Yellow Pages sections and Goin Ashore articles provide everything from historical information to popular restaurants for each island and port of call.
Cruising grounds are divided into four sections: northern, central, southern, and the Turks and Caicos. Each section is color-coded for quick reference and clarity-a nice touch that makes finding the right section quick and easy.
Helpful cruising data like GPS waypoints, detailed planning charts, and distance charts help cruisers travel with more safety and less stress. Also included is a skippers notes section, Bahamas overview planning chart, and a (hopefully never needed) hurricane tracking chart. Need to find a particular marina or service? The marina listings and locator charts show locations and amenities offered.
The flexible spiral binding and heavy laminated covers (with bookmarker flaps) made the guides easier to use in the open, sometimes breezy cockpit of our test boat. While we kept them handy for quick reference at all times, we tended to use it primarily at the navigation station or seated in the cockpit at the end of the day while planning our next adventure.
Bottom line: When planning your cruise to and in the Bahamas, youll be hard-pressed to find a more informative resource. We recommended the Dozier guide.
Skipper Bob
Bahamas Bound is one of a series of popular cruising books by the late Bob Skipper Reib, who with his wife Elaine cruised more than 44,000 miles while living aboard both a trawler and a sailboat. According to Elaine on the publications website, Bobs purpose in writing the Skipper Bob guides was to make fellow cruisers adventures as comfortable and safe as possible. In authoring these guides, he wanted to provide others with the knowledge he gained through his years of experience. Added to that was sharing the years of experience and knowledge of other boaters that we met along the way. Bobs theory was If you are going to be here, you might as well pay attention.
Purchased by Doziers in 2007, the Skipper Bob books format has remained essentially the same. Bahamas Bound is, in essence, a step-by-step guide for planning your Bahamas adventure.
It covers a wide range of topics, including outfitting your vessel, planning the Gulf Stream crossing, and where to go and what to expect while cruising the Bahamas. Want to know how much toilet paper you should bring or the cost of water in Marsh Harbour? Look no further; Skipper Bob covers it.
Also included is a list of marinas, with available services, as well as current long-term and transient rates. Although no charts are provided, Bahamas Bound does feature helpful overview sketches of the islands, cruising characteristics of both the Abacos and the Exumas, and a list of recommended cruising guides and charts along with pricing and sources.
Bottom line: A great overall source of information on planning your Bahamas cruise. We Recommend it.
Maptech Embassy
Maptechs Embassy Cruising Guides provide detailed navigational information and advice to help plan your cruise, and they serve as handy quick-reference books while youre on your way. According to the publisher, the Florida and the Bahamas guide we evaluated is first and foremost a Florida cruising guide. The Bahamas portion of the book (18 of its 560 pages) is a short introduction to the Islands, basic considerations for planning your cruise (the crossing, weather to expect, etc.), along with a facilities guide and general overview charts.
Bottom line: This guide is more of a teaser for Florida cruisers interested in trying out the Bahamas than a resource for cruising the islands.
White Sound Press
Although grouped within our general cruising guides, the truth is the White Sound Presss The Cruising Guide to Abaco Bahamas would be just as fitting in our chart-book category. A multipurpose guide thats updated annually by Steve Dodge and family, this 25th edition continues the tradition of promoting safe navigation and providing interesting, useful information. It includes updated charts covering Walkers Cay to Cherokee Sound, approaches and advice on cruising from Florida to Abaco, as well as general cruising advice. The magazine section includes a brief history of Abaco, articles of interest on the island, a road map, classified Abaco business directory, and tropical medical tips. This latest addition contains 76 full-color charts and tide tables for 2014.
The easy-to-read color charts, based on original hydrographic research and 40 years of local knowledge, are the only charts that show locations of submerged power lines and do not anchor zones in the central part of Abaco. Also included are recent color aerial photographs of all principal harbors (what cruiser doesn't love good aerial photos) and GPS waypoints, both of which help reduce the stress of entering new harbors.
We found the book to be accurate and informative. We also found the expanded coverage of approaches to Abaco-Bimini, Northern Eleuthera, and West End (our point of entry)-to be a helpful aid while planning and executing our cruise.
Bottom line: If your cruising plans include Abaco, this is one reference youll definitely want onboard. We highly Recommend it.
Chartbooks
Explorer Chartbooks
The first Explorer Chartbook covered the Exumas and was produced by cruising authors Monty and Sara Lewis in 1994. Since then, the Explorer Chartbook line (Near Bahamas, Exumas and Ragged islands, Far Bahamas) have become cruising bibles of sorts and are extremely popular among Bahamas-bound sailors.
Each book provides essential instructional information for boaters, including general articles on Customs, history, weather, anchoring, use of GPS, communications, piloting and navigating, reading the water, snorkeling and dinghy safety, plus an expanded, alphabetized list of specific tips in the help menu.
The company states that the hallmark of Explorer Charts continues to be accurate and up-to-date navigational data supplied by the Lewises and their experienced research team. Their website reports that the Lewises have cruised the Bahamas every winter since the inception of the Explorer Chartbooks and are constantly updating the charts and Need-to-Know Info.
Printed on waterproof paper, the chartbooks are robust and conveniently sized, making them equally handy for use at the navigation station or in the cockpit. Charts are full-color and feature shoreside facilities, landmarks, roads, and elevation contours. Theyre also cross-referenced for ease of use and provide a combination of small- and large-scale charts (allowing you to get the big picture before planning out a detailed route). Soundings (in meters), tide tables, and compass roses (with the latest magnetic variation) are also provided.
Bottom line: If you can afford only one publication for cruising the Bahamas, these are the ones youll want to have on board. They are the Best Choice chartbooks.
Paper charts
White Sound Press
Produced as a companion chart to their cruising guide to Abaco, White Sound Presss Chart AB001 Great Abaco and Cays is a single-sheet, two-sided chart of Great Abaco and its cays, including waypoints and suggested courses. Printed on waterproof / no-tear paper, Chart AB 001 is suitable for use above and belowdecks for planning adventures and underway.
Side 1 features Walkers Cay to Cherokee Sound; Side 2 covers Cherokee Sound to Hole-in-the-Wall and Florida to Abaco. Also portrayed are 12 inset charts of harbors and other areas of interest.
Bottom line: As advertised, Chart AB001 is a great companion to The Cruising Guide to Abaco Bahamas and an excellent overview of the entire Abaco cruising area. Highly recommended.
Maptech ChartKit
Maptech ChartKits are 22- by 17-inch, full-color reproductions of government and private charts. The Region 9 ChartKit, The Bahamas to Crooked Island Passage 7th edition, that we tested features GPS datums, lat/lons, distances, color satellite photos of harbors and anchorages in popular destinations, as well as small-scale, wide-area charts and large-scale, detailed charts of harbors and approaches.
Chart grids simplify vessel positioning, and major navigation aids are identified with named GPS waypoints. Charts feature pre-plotted courses between major navigation aids but also provide the information (compass rose, scales, etc.) needed to do such calculations yourself. The Chart Page Index (inside front cover) and Go-To page numbers allow you to quickly and easily find the chart you want. Tables showing marine facilities and services are also provided.
Our testers used these charts when planning longer routes and for plotting vessel position during our crossing from Florida. We used the ChartKit primarily at the chart table at the navigation station. They can also be used in the cockpit, although theyre a bit bulkier and not as convenient as the chartbooks. Theyre also not waterproof, so if your cockpit is exposed, youll want to use a plastic chart protector. The kit we tested came with a protector, but it was pretty flimsy.
Although not inexpensive at $150, the ChartKit is much easier to manage and less expensive than purchasing all the full-sized paper charts youll need.
Bottom line: Recommended. The chartkit is an economical and convenient size and package for paper chart coverage of the Bahamas.
Electronic charts and apps
Navionics
We installed and tested Navionics Plus charts using a Raymarine e7 multifunction display (MFD). (See PS July 2012 and July 2014 online for more on the e7.) We also downloaded the Navionics Boating HD mobile app to our iPad and gave it a whirl. (See PS May 2014 online for more on testing the Navionics products.)
Compatible with a wide range of chartplotters and MFDs, Navionics cards provide charts that are clear and easy to read, with depth contours, spot soundings, port plans, port service guides, nav aids, and more, all on a pre-loaded, plug-and-play memory card. For initial downloads and updates, users plug their chip into a PC/Mac, then select and download the coverage they want from the companys website.
In addition to the paper chart feel of Navionics Plus, testers liked the wide variety of display options such as shaded contours and features like Intelligent Clarity IC, which provides an uncluttered display for easier reading.
Quick access to tide and current information was a huge plus when planning and following our route, as was the XPlain feature, which gave us a plain-language description of navigational symbols with a click of the cursor.
We love paper charts, but not so much the time and effort required to keep them properly updated. Navionics Plus charts Freshest Data lets users update their card within 12 months of purchase by adding or removing charts as many times as they wish. The update option ensures you always have the most current charts, while the ability to download only charts needed for a particular cruise ensures your display wont become bogged down processing too large a chart.
Last year, Navionics announced an expansion of its Plotter Sync app, which allows owners of Raymarine WiFi-enabled MFDs to easily update charts wirelessly (without removing their Navionics Plus chip).
As for the mobile app, having the Navionics data loaded on our iPad basically created a second display. With our iPad mounted at the helm, we were able to simultaneously view both zoomed in and expanded chart displays while underway. Being able to view charts on the iPad (either down below or during dinner at the local bar) made planning the next days adventure a breeze.
Bottom line: What sailor doesn't love the benefits of electronic charts-particularly when they can be easily updated as many times as desired for a whole year. Recommended.
Garmin
In addition to providing information on tidal stations, currents, depth contours, and IALA symbols, Garmins BlueChart g2 marine charts offer good transitioning between zoom levels and seamless continuity across chart boundaries.
It also features a number of customizable display features such as safety shading-which enables contour shading for all depths shallower than a user-defined safe depth, a nautical no-go zone if you will-chart view options like standard 2-D direct overhead or 3-D over-the-bow chart views for easier chart reading and orientation.
BlueChart Mobile allows you to plan and view routes on your tablet, smart phone, or iPod. Routes, waypoints, and tracks can also be wirelessly transferred to your networked chartplotter using a marine Wi-Fi adapter kit (sold separately). Once underway, the Wi-Fi adapter also lets you view real-time track data on your tablet by wirelessly sharing the GPS location from the marine network.
We loaded BlueChart Mobile on our iPad, which allowed us to interact with the chart using the radial menu to mark waypoints, establish routes, etc. We didnt test the Wi-Fi adapter, however, we were able to use our wireless-only iPad to follow the boat along its route by using the Bad Elf GPS Pro (see PS January 2014 online).
The biggest draws that make the Garmin BlueChart g2 and BlueChart Mobile app popular with a number of Bahamas-bound cruiser are: The charts feature data from the popular Explorer Chartbooks line, and BlueChart Mobile allows you to access data from ActiveCaptain, a Web community that provides real-time content generated by mariners. ActiveCaptain allows users to read and write reviews about marinas, shared local boating knowledge, anchorages, and hazards.
Bottom line: Electronic charts coupled with access to ActiveCaptain make the Garmin products our Best Choice for electronic cruising resources.
Conclusion
While any of the above products can help make your Bahamas cruising experience safer and more enjoyable, most sailors lack the stowage space, budget, or inclination to buy them all. Those products that brought the most useful features to the table (frequent updates, accurate information, better layout, or ease of use) stood out in our evaluation pile and were used regularly during our there and back again cruise to the Bahamas.
For pre-departure cruise planning and reference while in the Bahamas, Skipper Bobs Bahamas Bound is a great read and will satisfy dreaming armchair captains, as well as those actively planning the cruise. If your cruising plans include the Abacos, youll also want to have The Cruising Guide to Abaco Bahamas, along with its companion chart AB 001 onboard.
Accurate charts are the cornerstone of any successful voyage, and we like having both paper and electronic charts onboard. For long-range planning purposes and a solid look at the big picture, we found the Richardsons Maptech ChartKit to be a great tool for navigation station, although less than ideal for use at our somewhat exposed helm.
As a day-to-day cockpit chart companion that also covers pretty much anything else youll need during your cruise of the Bahamas, the Explore Chartbooks are viewed by many as the gold standard, and wed have to agree.
As far as electronic charts and their associated apps, testers liked the charts, display, and features offered by both Navionics Boating HD and Garmin BlueChart Mobile. We have no problem recommending both, however, access to ActiveCaptain data and seamless compatibility with those using Explorer Chartbooks give Garmin the edge-and the Best Choice pick-in our opinion.
Testers found the annually updated information provided by Doziers Waterway Guide to be extremely useful when planning that liberty call ashore to sample the delights a port has to offer. We highly Recommend it.
Bahamas Sailing Guides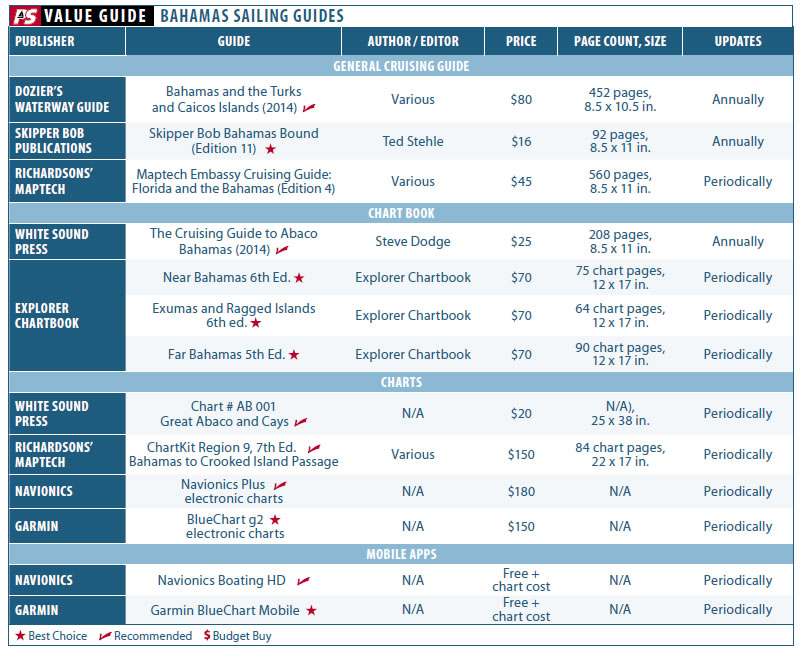 Bahamas Sailing Guides